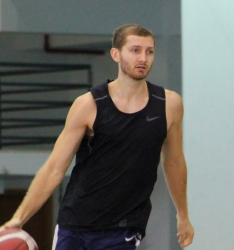 Latest posts by Adam Gotelli
(see all)
When most people think about Indiana, they think of cornfields, small towns, and basketball.
And it's no wonder why: the sport is practically a religion in the state.
This beloved sport captured the hearts of Hoosiers for generations, and there's no sign of that ending anytime soon.
So why is basketball so popular in Indiana?
The state has a rich history with the sport – Indiana is where the sport first spread like wildfire.
As an agricultural state, the conditions were correct for the sport to take hold. Players could play in winter, they didn't need many players to form a game, and it was very accessible and cheap – perfect for rural areas.
Now, the popularity of the sport is still growing. Today, few things bring together people from all walks of life like a good basketball game does.
The rest, as they say, is history.
The birth of basketball culture in Indiana
The birth of basketball culture in Indiana started from the inventor himself: Dr. James Naismith.
His love for sports led him to pursue a physical education career at Springfield College. That's where he established the school's new department of physical education in 1891-92, with an initial curriculum dedicated exclusively to health and fitness.
It wasn't until after being hired by the YMCA Training School (now called Springfield College) that Naismith discovered his true calling: inventing a new game called basketball.
In the winter of 1891-92, while working at the YMCA Training School, Naismith sought to keep his students active indoors during the cold New England winters. Naismith thought of alternatives and came up with the idea of using a soccer ball but placing peach baskets at either end of the gymnasium.
Thus, on December 21, 1891, basketball was born. The following year in 1893-94, Indiana's love affair with the game began.
Let's be clear:
Even though the game wasn't invented in Indiana, that's where the sport experienced rocket-ship growth. Naismith's protégé, Rev. Nicholas McCay, brought the game to Crawfordsville, Indiana and the "first" basketball game in the state took place.
Now, Indiana is known for its passionate basketball fans, and it produced many great players such as Oscar Robertson, Larry Bird, Mike Conley Jr., and Shawn Kemp.
What makes Indiana basketball fans so passionate?
There are many reasons, but one of the most important is that basketball is part of the state's DNA.
From a young age, Hoosiers learn to love and appreciate the game. It's in their blood, after all.
Another reason is that Indiana is a basketball hotbed. The state has a rich history with the sport. It's simply a crucible for producing great players because it has the best basketball programs in the country.
This combination of passionate fans, talented players, and successful programs creates an unbeatable recipe for basketball success.
Indiana high school basketball history (Hoosier Hysteria)
Hoosiers' passion for the game is evident in the state's love affair with the high school state tournament. From small towns to large cities, basketball is king in Indiana.
The roots of high school basketball in Indiana dating back to the early 1900s, when the sport began to gain popularity across the country. In 1911, Indiana held its first statewide tournament, and it quickly became one of the most anticipated events of the year.
In the early days, nearly every school in the state had a basketball team. And with no professional teams to compete for newspaper coverage, the high school games became the main attraction.
As interest in the sport grew, so did the size of the state tournament. By 1916, 204 teams were competing for the title. By the 1950s, the tournament had grown to include nearly 900 schools.
In fact, the passion for basketball in Indiana has become so well-known that it has been dubbed "Hoosier Hysteria."
To learn more about the history of basketball, watch this video:
In part, the enthusiasm stemmed from the one-class tournament, in which the underdog could pull off an upset against a larger school. This created excitement and drama as fans followed their local teams throughout the tournament.
The biggest victory of all time was achieved by a tiny school with virtually no basketball tradition. In 1954, Milan, Indiana (161 students) defeated Muncie Central to win the state title – an improbable triumph that will likely never happen again!
The "Milan Miracle" upset generated national headlines. The story became a movie, Hoosiers, which helped cement Indiana's reputation as a basketball hotbed.
Today, high school basketball is more popular than ever in Indiana. The state tournament routinely sells out the 17,000-seat Bankers Life Fieldhouse in Indianapolis, and fans travel from all over the state to attend.
Why is basketball so popular in Indiana?
Served as a way to combat the cold winters
One of the original reasons that basketball became so popular in Indiana was that it served to combat the cold winters. People would gather in their local gymnasiums to watch high school games and get warm.
In essence, basketball became the "fireplace" where communities would gather around – it was a social event.
Indiana is "corn country" – there was nothing to do
There is nothing to do in the small towns and rural areas of Indiana. The only thing that keeps people entertained is going to the local basketball games, watching them on TV, or playing basketball.
Indiana is a wholesome place, but it's not known for being the world's entertainment capital. So it's no wonder why it was a breeding ground for some of the best basketball players in the country.
Indiana is an agricultural state
Indiana is an agricultural state, so fielding a football team was out of the question. The state lacked the heavily populated industrial cities neighboring Illinois, Michigan, and Ohio had.
Football teams require a sizeable roster. On the other hand, basketball requires five starters and a handful of reserves.
Most of the kids lived on small farms miles from each other, so they turned to basketball. The game was easy to play and didn't interfere with the harvest season in the fall or planting season in the spring.
I hope this answered the question: why is basketball so popular in Indiana.
The love of the game
Basketball is more than a sport in Indiana; it's a way of life. The people in Indiana love their basketball, passing that passion onto their children.
It seems like every small town has a basketball court, and there is always someone playing on it! Basketball was a way for people to escape from their everyday lives.
Basketball is accessible and cheap
What's more, the game is easy to play and doesn't require much money. You don't need a lot of equipment or a lot of space. This made it perfect for rural communities in Indiana, where basketball courts could be found in almost every town.
Indiana's basketball legends
Since then, Indiana has produced the most successful high school basketball programs, NCAA programs, professional players, and basketball minds.
As a result, the state is home to the "Cradle of Basketball," a nickname given to the area that has produced more state champions than any other region in the country.
Oscar Robertson
Oscar Robertson hails from Crispus Attucks High School in Indianapolis, Indiana. During his NBA career, was the first player to average a triple-double in a season. He accomplished this feat by accumulating 10 points, rebounds, and assists per game throughout an entire campaign!
Larry Bird
Larry Bird was an unlikely superstar as a small-town kid from French Lick, Indiana. But he had a fierce competitive drive and an uncanny shooting ability that made him one of the most successful players in NBA history.
Larry attended Indiana State University before being drafted by the Celtics in 1978. Bird led the Boston Celtics to three championships in the 1980s and was named MVP of the NBA Finals three times.
He is also the only player in history to win consecutive MVP Awards and Defensive Player of the Year Awards.
In his 13 seasons with Boston, he averaged 24 points per game and 10 rebounds per game. One of his most memorable moments occurred when he made an 18-foot jump shot to force overtime against the Los Angeles Lakers during Game 5 of the 1987 NBA finals, which eventually led to victory for Boston.
Larry's career ended on February 6, 1992 when he retired due to back injuries while playing against Michael Jordan's Chicago Bulls at Madison Square Garden.
During his career, Bird was one of the most popular players in the NBA. He was inducted into the Naismith Memorial Basketball Hall of Fame in 1998 and continues to be an icon of basketball greatness.
John Wooden
Wooden was born in Martinsville, Indiana, and grew up playing basketball. He was an All-American at Purdue University, and then became head basketball coach and athletic director at Indiana State University.
After two successful years at ISU, Wooden moved on to UCLA, leading the Bruins to ten national championships in twelve years.
He is the only person in history to win a national championship as a player, coach, and administrator.
Wooden's record is unparalleled. He never lost a championship game, and his teams were known for their unselfish play and tremendous discipline.
Wooden was a model of integrity and humility, and he taught his players the importance of doing the right thing, both on and off the court.
Wooden's legacy extends far beyond basketball. He is a national treasure, and his teachings have inspired people worldwide. He is a role model for coaches and athletes everywhere, and his philosophy of life is a guide for all of us.
What is Indiana's favorite sport?
Basketball is Indiana's favorite sport. Basketball is a part of Indiana culture. James Naismith invented it in 1891, and it quickly spread to be one of the most popular sports in Indiana soon after its inception.
Where was basketball invented?
James Naismith wrote the first published basketball rules in the 1890s at the Springfield YMCA in Massachusetts. While the birthplace of basketball is not Indiana, it quickly gained popularity in the Hoosier state and has been a mainstay of American culture ever since.
Invented as an indoor winter game to keep students active, the popularity of basketball has grown around the world. There are now professional leagues in over a hundred countries, and the sport is an Olympic event.
Argentina hosted the first international basketball tournament in 1950. Since then, the United States won the most gold medals of any country.
Now, basketball is truly a global game.