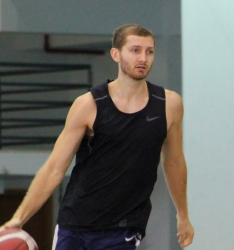 Latest posts by Adam Gotelli
(see all)
Whether you're looking to impress your friends down at your local ballpark or you have aspiring hoop dreams, training and daily exercise are imperative in shaping you into the best basketball player you can be.
But it's not just about running shooting drills or court spreads; much of the work that a basketball player puts in to get the dexterity, power, and strength they need to execute happens in the weight room.
---
Quick answer: The best basketball shoes for lifting in 2023 are "Peak."
---
If you want to pull off the pro-moves and finish, you're going to need to pick up a set of weights with enough support, durability, high performance, and stability in your equipment to go the distance.
We're counting down our top 5 picks for the best basketball shoes for gym training and lifting. Each shoe considered offers you, the hooper, the chance to up your reps and your weight with proven results. Let's take your training and, thereby, your game to the next level.
Best Basketball Shoes For Lifting – A Comparison Table
Image
Product
Features
Price

Best Overall

Size: 7-14
Ankle: High-Top
Peak STA Stabilization provides superior lateral support and stability

Check Price At Amazon

Premium Choice

Size:7.5-14
Ankle: Mid-Top
Curved cushioning from heel to toe for smooth side-to-side movements

Check Price at Finish LineCheck Price At Amazon

Budget Choice

Size: 7-13
Ankle: Mid-Top
Lightmotion technology features responsive energy return for supported movements

Check Price At Amazon

Size: 7-16
Ankle: Mid-Top
Reinforced heel counter and midfoot shank provides additional support when in explosive, quick movements

Check Price At AmazonCheck Price At UA

Size: 7-13
Ankle: Mid-Top
Rip-stop textile with suede counter makes the Puma's impervious to seam tears or rips

Check Price at Amazon
How We Reviewed
To bring you the best basketball shoes for lifting, we scoured the web and the shelves, while also putting in that work in the gym. We tested our top picks through a number of exercises and training regiments, including circuit training, HIIT intervals, and high-intensity powerlifting.
Weighing factors like durability, support, traction, stability, fit, ankle type, and not to mention the price tag, our expert team approached our research as follows:
Invested 35+ hours of research into the best products, that included reading buyer feedback and reviews
Over 30 products were considered, 5 of which made our best-of list
I personally tested our top picks, looking for performance and power
Consulted my LBA teammates in Messina, Italy for product analyses and expert thought
Consulted a certified orthopedic surgeon for support and stability concerns
Let's get you that new PR and take your training up a notch!
Best Basketball Shoes For Gym Training—In-Depth Product Reviews
Best Overall
Size: 7-14
Ankle: High-Top
Peak STA Stabilization provides superior lateral support and stability
The Peak High-Top Basketball Shoes are the bar none basketball shoe for intense training. You'll notice an almost immediate improvement in your gym sessions and, thereby, your performance on the court. And their price is unbelievable. Check them out!
Pros
STA Stabilization maximizes support for effectively changing lateral routes with ease
Hot-melt integration eliminates discomfort for training without the blisters
Breathable upper with PP film technology for a snug, cooling fit
Wear-resistant rubber offers excellent durability for years of heavy-usage
Streetball Master Outsole has deep, thick traction for multi-surface use
Cons
Shoes require a longer break-in period than others on our list
Allow me to start this review by mentioning the impressive stability these basketball kicks offer.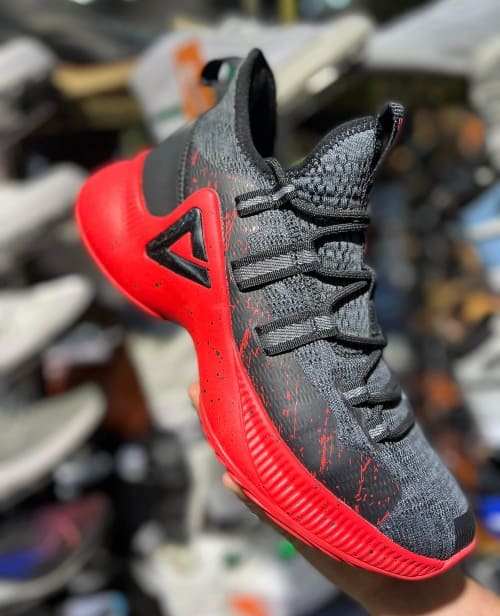 STA Stabilization
For the Peak's, the standout STA stabilization unit offers a superior support structure. This unique design exclusive to Peak helps reduce your risk of injury by providing support and stability to the foot during activity.
I own a pair of these shoes and the stability they provide to my feet rivals expensive shoe models such as Air Jordan or LeBron.
This design features a TPU (thermoplastic polyurethane) arch support plate that is inserted into the midsole to provide additional stability for the foot.
The arch support plate is contoured to match the shape of your foot, which helps to provide a more customized and comfortable fit.
With stabilization and proper, comfortable foot support, the Peak's can help reduce the risk of overpronation (when the foot rolls too far inward) or supination (when the foot rolls too far outward), which can put strain on the foot and lead to injuries. Plus, the high-top design gives you an extra layer of protection from potential ankle injuries.
The result of the STA unit is a support system at the highest level that keeps you safe, especially in quick route changes or lateral movements during exercises like side-to-side lunges.
Pair this tech with the Streetball Master Outsole, and you have one-of-a-kind traction that offers an intense, multi-layered hold on any surface.
Comfort That Lasts
Where the Peaks surpass other basketball shoes designed for lifting is in just how comfortable they are. But not only that, but how that comfort, and the shoe as a whole, will uphold its robust, top performance for years of hard training to come.
The hot-melt engineering integrated into the Peak's upper is designed to eliminate any blisters or general discomfort that can come from heavy-weight, lower-body sessions. I wear the shoes when doing deadlift in the gym and can vouch for their support and upper rigidity.
Add in the breathable PP film technology, and you get a snug, cooling fit that allows air to freely flow through the shoe. A shoe this breathable with as much support and stabilization as the Peak's is hard to find when searching for lifting shoes.
The wear-resistant rubber lining the outer and midsole means you can bank on the Peaks as your lifting shoe of choice for eons.
Premium Choice
Size:7.5-14
Ankle: Mid-Top
Curved cushioning from heel to toe for smooth side-to-side movements
The newest signature shoe of Giannis Antetokounmpo offers the same comfort as the previous model, with only a few improvements. Breathable, and with superb support, these shoes are a proof that premium doesn't necessarily mean expensive. You don't have to have deep pockets to experience the comfort these shoes provide. Check them out!
Pros
Curved cushioning from heel to toe for smooth side-to-side movements
Foam cutouts make this shoes lightweight and perfect for training flexibility
Engineered mesh overlay for breathable comfort
Grooved outsole with a firm traction pattern for a stable, secure hold on any gym floor
Internal strap wraps prevent interior slippage for a sturdy fit
Cons
Poor traction on dusty courts
I own the previous model – the Nike Giannis Immortality, and to be honest, they are pretty much the same in terms of traction and fit.
The only noticeable difference comes from the materials. In that regard, the Immortality 2 is better because of the lightweight mesh upper and fuse overlays.
I feel that shoes are very well ventilated and super lightweight, something that I like a lot when doing intense gym sessions.
Responsive Cushioning
Starting off with the cushioning system, the 2's feature a curved, heel-to-toe cushion that makes for smooth lateral movements. This type of support will help elevate your medicine ball training by giving you proper, fluid support.
Medicine ball lifting is excellent for basketball players because it strengthens your core. Core strength will give you more driving power to the hoop, as well as improve your ability to take direct contact in the paint.
The foam cutouts in the 2's outsole also make this cushioned shoe lightweight and flexible, which is perfect for exercising your flexibility and training your lower body mobility for better results on the court. A shoe this flexible is a rarity in the lifting shoe world.
This cushioning system also features breathable, engineered mesh overlays that can also be found in the 2's upper. Lifting shoes with breathable fabrics provide the perfect blend of heat regulation, moisture management, and comfort for long-lasting peak performance.
Traction Pattern
The Immortality 2's grooved outsole keeps a firm hold on the floor, with its thick traction pattern designed to keep you stable and supported.
Meanwhile, the internal strap closure keeps your foot locked in place with a fit you can rely on, preventing interior slippage that can be the result of an ill-fitting, looser shoe.
Unlike what other reviews say, I found that the Giannis Immortality 2 require some break-in time, even though it's not long.
Budget Choice
Size: 7-13
Ankle: Mid-Top
Lightmotion technology features responsive energy return for supported movements
At our number 3 spot, we have the Adidas Own The Game 2.0 Lightmotion, a lifting shoe that's just as impressive as it is budget-friendly. If you're looking for an above-average basketball shoe for gym training without breaking the bank, this is the shoe for you.
Pros
Lightmotion technology features responsive energy return for supported movements
Sole cushioning for long-lasting comfort
Secure fit via lace-up, lockdown closure
Synthetic, textile insole provides moisture wicking for dry, comfortable feet
Affordable on practically any budget
Cons
Lacking in durability, hence, the cheaper materials and price tag
I've been playing basketball in these shoes for two years now on both indoor and outdoor courts. For the purposes of this review, I also brought them to the gym several times in order to test their training performance.
Lightmotion Technology
The Lightmotion technology found in the Own The Game is made to hold up under pressure with explosive energy return.
Energy return in basketball lifting shoes can help increase the power output of your lifts, allowing you to lift more weight and perform more reps. I noticed that when doing deadlifts and squats.
What's more, the Lightmotion tech keeps a pronounced court feel to its design, with a flat, low-to-the-ground feel. This keeps your feet centered over the midfoot with a rigid, fixed feel.
Get More Out Of Your Workout
With the 2.0's, you'll be lifting heavier and for longer, but not to worry, the sole cushioning engineering will have you in the gym with long-lasting comfort.
You can also thank the synthetic textile insole for this, as it provides moisture wicking for the driest, easy fit possible. Plus, the lace-up, lockdown closure keeps your foot from shifting or sliding, allowing for a stable, secure base for even the most dynamic movements.
You can have all this at a competitive price; the Adidas own the Game 2.0's are affordable on practically any budget.
The only downside that I noticed is the durability of the materials. They are cheap and started showing signs of wear and tear after several months of intense play. However, if you use them only in the gym, for lifting, they should last much longer.
Size: 7-16
Ankle: Mid-Top
Reinforced heel counter and midfoot shank provides additional support when in explosive, quick movements
The UA Jet 21's come in at the #4 spot of our top picks list, with reinforced, ultra-responsive heel countering, midfoot shank, and a top of the line herringbone pattern. Last but not least, the price is more than attractive.
Pros
Reinforced heel counter and midfoot shank provides additional support when in explosive, quick movements
Herringbone traction pattern provides optimal traction
Plushly padded tongue and collar
Molded from a mix of synthetic leather and mesh for improved durability
Available in a variety of stylish colorways
Cons
Inconsistent sizing
Not suitable for wide feet
I bought the Jet 21 last year when I needed a second pair of basketball shoes for indoor play.
I am a big fan of Under Armour not only because they make great affordable shoes for basketball but because their shoes are perfectly suitable for gym sessions.
This specific model doesn't disappoint when it comes to lifting weights.
Support
The midfoot shank and heel counter, with reinforced, TPU sturdy materials, provide an additional layer of support for long-lasting backing during explosive movements.
This extra layer is crucial in maintaining your rearfoot stability, while also making for effective cardio/driving mechanics and injury prevention.
Meanwhile, the grippy, herringbone outsole is one of the best traction patterns you can hope for in a training shoe.
The herringbone pattern consists of a series of interlocking V-shaped lines that are designed to provide better traction and grip on smooth or slippery surfaces.
I train in an indoor gym (like most of you, I suppose), so having basketball shoes with a traction for indoor courts, will works just well.
Dependable Style
The 21's, while offering excellent support for your next lifting session, also come in a number of stylish colorways; show up and show out in the weight room.
Meanwhile, the plush, padded tongue collar will have you squatting, deadlifting, and lunging with improved comfort. Add in the mix of synthetic leather with mesh overlays, and you're getting a shoe that's built tough and engineered to last.
Keep in mind, and essentially why the 21s are lower on our list, the fact that there are reports of inconsistent sizing. For some, they tend to run a little small and narrow, so I wouldn't recommend them for big men.
Size: 7-13
Ankle: Mid-Top
Rip-stop textile with suede counter makes the Puma's impervious to seam tears or rips
The final shoe in our best of series is the Puma Rebound Future Evo's, a great shoe for lifters to go hard in the gym with the comfort, support, and the utility you'll need in a training shoe. Check those out!
Pros
Rip-stop textile with suede counter makes the Puma's impervious to seam tears or rips
SOFTFOAM+ cushioned footbed and sockliner maximizes comfort
Polyethylene vinyl sole requires little to no maintenance to maintain its integrity
Lightweight, IMEVA midsole keeps you moving and less fatigued
Cons
Lacking in breathability and proper airflow
Yes, Puma is not a basketball-oriented shoe brand like Nike or Adidas, but that doesn't mean they don't make comfortable shoes that are good for both basketball and lifting.
Read on!
Rip-Stop
The Evo's rip-stop technology is exactly as it sounds: intended to prevent seam tears or rips in your shoe's outer materials.
The suede counter is also designed to contour and mold itself to the form of your foot over time, while suede materials are incredibly durable when compared to other fabrics or heavy lining materials.
Despite the Evo's protection and premium materials, this shoe is lightweight, with an IMEVA midsole that promotes high-intensity movements. You'll be able to work up a sweat without feeling fatigued as fast, while also needing less time to recover.
Lose The Maintenance Routine
With the Evo's, the polyethylene vinyl sole requires little to no maintenance to keep its shape and integrity. You can spend more time in the gym and less buffing, cleaning, and maintaining your shoes.
What's more, the SOFTFOAM+ cushioned footbed maximizes comfort and keeps your foot supported and cradled during even the heaviest of PBs. I would've liked to see more airflow/breathability in the Evo's, but they're still a great selection for lifters looking for a lightweight but sturdy pair of shoes.
---
What Separates Lifting Shoes From Regular Basketball Shoes?
Lifting shoes and basketball shoes are designed for different purposes and have different features that reflect those purposes. Generally, basketball shoes for lifting focus on support and stability, while regular basketball shoes lean into flexibility, cushioning, and explosive speed.
Here are some of the key differences and what you should be looking for when weighing the right basketball shoes for lifting for you:
Check out the following article if you want proper lifting shoes.
Choosing The Right Basketball Shoes For Lifting For You
Now that we've crossed off our in-depth product reviews, let's take a look at the specs and find you the perfect shoe for your lifting regimen.
Durability
Weightlifting involves repetitive movements that can take a toll on your shoes. The indicative, high levels of stress on your shoe's components mean you need your footwear to be able to withstand heavy loads, repeated impacts, and abrasive surfaces.
Polyethylene materials or polyurethane, TPU materials, are the operative choice for lifters looking for a dependable shoe that won't break down fast through intense workouts.
These materials are categorically known for their excellent shock absorption and strong resistance to the traditional wear and tear you can expect to see during your workouts. This means your outsoles or mids won't be cracking over time or fading with direct UV ray exposure.
Support
Support really boils down to cushioning and how molded to your individual foot a shoe can be; no one likes the blisters, swelling, and the general discomfort from hard, uncushioned shoes.
Shoes like the Giannis Immortality 2, with smooth heel-to-toe cushioning, offering improved, comfortable support that takes much of the shock of weightlifting out of your joints and into padded, plush materials.
Inversely, the Peak's feature technology one-ups typical cushioning by introducing hot-melt upper materials, where the bonding of the shoe components is gentler on your feet compared to thick, rigid leather and synthetic leathers.
Ankle
Lifting shoes are designed to provide a stable and secure base for your feet, allowing you to generate maximum force and maintain proper form. Therefore, the ankle type of lifting shoes can vary depending on the individual lifter's preferences and needs.
Some basketball shoes suitable for lifting have a low-cut or mid-design, which provides greater mobility and flexibility in the ankle joint. This can be beneficial for lifters who have good ankle mobility and prefer a more natural range of motion.
Other powerlifting shoes have a higher cut, providing more support and stability to the ankle joint. This can be beneficial for lifters who have weaker or less stable ankles, or who prefer a more locked-in feel when lifting.
Traction
To avoid slipping, sliding, and potential injury when lifting, you'll need shoes with a multi-layered, thick, and grippy traction pattern.
Herringbone is the best traction pattern for athletic shoes to date, making for effective, multi-directional footwork, route changes, and dynamic movement.
The herringbone grooves allow court and gym floor surface debris to naturally fall out of the shoe as you move; herringbone traction can be found in the UA Jet 21s.
Stability
When lifting heavy weights, your body is under significant stress; any instability in the feet can increase the risk of injury to the ankles, knees, and other joints. By providing a stable and secure base for the feet, lifting shoes can help to reduce this risk.
Shoes like the Peak's, with STA stabilization, offer superior stability when compared to other shoes because the STA unit features an arch support plate.
This plate is inserted into the midsole to provide additional stability for the foot. The arch support plate is contoured to match the shape of the foot, which helps to provide a more customized and comfortable fit.
Fit
Your basketball lifting shoes should fit like a glove while also maintaining less give than your regular basketball shoes do, especially within the midsole. Lifting shoes have a notoriously rigid midsole to protect your foot from rolling during heavy lifts (i.e. supination).
Meanwhile, shoes like the Adidas 2.0 Lightmotion have a secure interior lockdown closure; this is to ensure there will be no interior slippage while you're working out.
Price
Always be sure to know your limits and play within them; consider your budget and just how high is too high for the price tag.
Keep in mind that price is largely a determinant of durability, where the shoe's construction is largely based on cheaper, less high-quality materials for budget-friendly shoes.
With that being said, I don't recommend going for super expensive basketball shoes with fancy features if you're going to use them primarily for lifting. You will be perfectly good with moderately priced shoes.
FAQ
Are Basketball Shoes Good For Lifting?
Basketball shoes aren't good for lifting unless they incorporate a few key elements into their design. Basketball shoes are designed with different movements and mechanics in mind. For lifting, and if you're using basketball shoes as a placeholder, you should look for shoes with a harder outsole, rigid midsole, a raised heel, and high arch for the ultimate support and protection. You can find more on the topic here.
What Shoes Are Best For Lifting? 
The best shoes for lifting are the Peak High-Tops. With an optimal STA Stabilization unit, hot-melt upper, breathable PP film tech fit, as well as a thick Streetball Master Outsole and wear-resistant rubber, the Peak's will make a noticed and welcomed improvement to just how hard you can go in the gym.
Are Jordans Good For Lifting? 
Jordan's are good for lifting, though they have a certain amount of ceiling to how much support, traction, stability, and cushioning they can offer you in your lifting routine. The Air Jordan 1's feature a smaller heel-to-toe drop with a wider toe box that some lifters may find helpful during weight training.
Can You Squat In Kyries?
No, you shouldn't squat in Kyries. Basketball shoes like Kyrie's are designed to absorb impact and provide cushioning for the feet, which is beneficial for jumping and running. However, when squatting, you want a solid and stable base, which is not provided by the cushioning in basketball shoes. The cushioning can reduce stability and make it harder to maintain proper form during your squats.
Do NBA Players Lift Weights? 
NBA players do lift weights: there is absolutely no other way for NBA players to perform at the highest level without doing so. Lifting weights can help basketball players develop their endurance and stamina, while also applying greater overall strength and power to their game. Lifting can enhance an NBA player's ability to jump higher, run faster, and move more explosively on the court.
Should I Deadlift For Basketball
Yes, you should deadlift for basketball. Deadlifting, both the OG as well as its variation exercises, improves strength throughout your entire body; you're training the posterior chain of development, most responsible for speed and strength within the body. Deadlifting also incorporates your core, gripping muscles as well as your quads, all areas a basketball player relies on for exceptional performance.