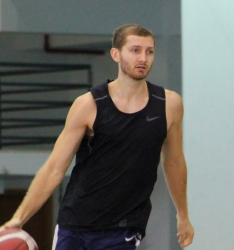 Latest posts by Adam Gotelli
(see all)
Volleyball players!
Are you tired of using basketball shoes that don't provide the support and stability you need on the court?
Look no further.
We've tested and reviewed the top 5 best basketball shoes for volleyball, and have narrowed down the list to the cream of the crop. From improved ankle support to increased traction, these shoes will take your performance to the next level.
---
Quick answer: The best basketball shoes for volleyball as of 2023 are "Nike Kyrie 8 Infinity."
---
Interested in finding the perfect shoe for your game? Keep reading to discover our top picks and why they made the cut. Whether you're a beginner or a pro, these shoes will help you step up your game when playing volleyball.
Your feet, and your game, will thank you.
Let's dive in!
Best Basketball Shoes For Volleyball – A Comparison Table
Image
Product
Features
Price

Editor's Choice

Size: 7.5 - 15
Ankle: Mid-Top
Weight: 13.0 oz

Check Price At AmazonCheck Price At Finish Line

Premium Choice

Size: 7.5 - 14
Ankle: Low-Top
Weight: 13.7 oz

Check Price At AmazonCheck Price At Finish Line

Best Budget Choice

Size: 7 - 16
Ankle: Mid - Top
Weight: 12.3 oz

Check Price At AmazonCheck Price At Under Armour

Size: 7 - 16
Ankle: Low - Top
Weight: 12.25 oz

Check Price At Amazon

Size: 7.5 - 14
Ankle: Mid - Top
Weight: 15 oz

Check Price At AmazonCheck Price At Finish Line
How We Reviewed?
Our group of sports enthusiasts at Outdoor Basketball Hub here takes great pride in delivering the absolute best with detailed research, and no stone is left unturned.
It would come as no surprise to you that we went through hundreds of basketball and volleyball shoes to see which of them were the absolute best in terms of traction, durability, cushioning, shock absorption, and other factors.
Because of our values, we believe in sharing our expert findings on this topic. Therefore, below is a little showcase of how my team and I approached this topic to provide you with an actual researched listing:
Invested 45+ hours to research the best basketball shoes in town. This included going through several articles, reviews on eCommerce websites, and expert reviews from professional players.
Our team then shortlisted 25 basketball shoes for volleyball that seemed to be favorites in terms of stability, cushioning, ankle support, aesthetics, traction, and of course, price.
Then, I tested the top 5 picks and inspected their quality, overall comfort and feel, and performance on the court.
Lastly, I consulted my LBA teammates for product testing in Messina, Italy, as well as a certified podiatrist.
I'm Adam, a professional basketball player in Messina, Italy and chief editor and main product tester for this blog. And one of my passionate hobbies is volleyball.
Both sports – basketball and volleyball rely on the same type of movements, with basketball requiring more running than volleyball. Both sports involve a lot of jumping. The main differences come from the fact that volleyball implies more lateral movements, while basketball relies on vertical movements and speed. So besides being lightweight, the most appropriate basketball shoes for playing volleyball have good cushioning and shock-absorbing midsoles to minimize jump impact, among other important features.

Adam Gotelli, professional basketball player and volleyball enthusiast.
#1 Nike Kyrie 8 Infinity - Best Overall
Editor's Choice
Size: 7.5 - 15
Ankle: Mid-Top
Weight: 13.0 oz
The Nike Kyrie 8 Infinity basketball shoes are the latest iteration of the Kyrie line, offering a high-performance shoe for professional basketball players. Often called "the best shoe of the year", the Kyrie 8 is a fantastic choice for volleyball players thanks to their lightweight materials, superb cushioning, and solid traction.
Pros
Improved rubber outsole with herringbone pattern provides excellent traction
Lightweight and well ventilated materials
Great support and lockdown
Very snugged fit and excellent cushioning
Cons
Takes time to break-in
Not great for playing outdoor volleyball
After testing the Kyrie 8 on an indoor basketball and volleyball court, I can safely say that these shoes are designed for quick, agile players who rely on quick cuts, sudden movements, and precise footwork on the court.
I really liked the snugged fit and the secure lockdown they provided on my feet. I felt stable during volleyball games, and was able to jump and land effortlessly.
One of the most distinctive features of the Kyrie 8 Infinity is its outsole, which features a new pattern of herringbone grooves that provide excellent traction and grip on the court.
This allows for quick changes of direction and improved stability during sudden movements, which is great for volleyball.
The shoe also features a lightweight, breathable upper that keeps the foot cool and dry. Usually, my games are quite intense and that's why I appreciate that feature.
One of the major pros of the Kyrie 8 Infinity is the Zoom Turbo cushioning system, which provides a high level of energy return and comfort during play. The impact protection I got from it during several volleyball games was quite impressive.
This shoe also features a dynamic Flywire lacing system that allows for a customized fit, ensuring that the foot stays secure during quick movements. I have narrow feet and that lacing system increased my overall stability.
Compared to the previous Kyrie models – the Kyrie 6 and Kyrie 7, the Kyrie 8 Infinity offers an updated design with improved traction and cushioning. In my opinion, this is the best Kyrie model so far.
What I didn't like about the shoes is the performance on outdoor volleyball courts. The traction is inconsistent and the impact protection doesn't feel as good as on indoor courts. Keep that in mind if purchasing.
The Kyrie 8 Infinity is not specifically designed for volleyball, but the shoes' high level of traction and support and the dynamic Flywire lacing system make them a perfect option for players looking for a shoe that can withstand the quick movements and sudden changes of direction that are common in volleyball.
If you're looking to get the best basketball shoes for volleyball, you can't go wrong with this pair of basketball sneakers. Plus, they are supportive enough for you to use them when training in the gym and lifting weights.
Premium Choice
Size: 7.5 - 14
Ankle: Low-Top
Weight: 13.7 oz
Seconds are just as good when it comes to basketball shoe folks. Named after LeBron James, the shoes are popularly known as the "shoe line for the big boys." Grippy, well-cuchioned, and with an impressive feet, these are the right choice for fast volleyball players.
Pros
Aesthetically pleasing with a streamlined look
Extremely grippy
High impact protection
Amazing foot containment
Cons
The shoe needs long break in time
Not durable for outdoor sports
As LeBron has mentioned in an interview that he "has the mental edge over his opponent when that player is wearing LeBrons" and while it may be true that you won't be able to beat LeBron, these shoes will certainly enhance your agility.
Previously, the shoe line has been known to be bulky, but with the latest edition, the identity seems to be changing for the better. The LeBron 19 model weighs 14 oz., while the LeBron 20 weighs 13.7 oz.
Nike LeBron 20 has three different materials in the upper layer, consisting of the Nike Sphere with two layers of macro woven thread, which makes for an extremely well-sustained airflow.
However, compared to other options on the list, such as the Nike Kyrie 8, for example, LeBron 20 does make a compromise on ventilation.
Perhaps the best feature about the shoe, however, is its traction. The outsole has been made out of solidified rubber which allows you to make sharp movements while retaining the grip.
Similarly, LeBron 20 integrates Zoom Air technology, allowing for enhanced cushioning with impact protection with premium bounciness. I must admit, the cushioning is awesome, and it feels like walking on clouds. That foamy feeling when you walk or run is a trademark of most Nike basketball kicks.
As for aesthetics, the shoe has a notable transition from the outsole to the toe with a solid curve. This also creates more flexibility, especially when sprinting with a jerk.
All in all, the Nike LeBron 20 is one hell of a pair that is arguably one of the best basketball shoes for volleyball players around.
#3 Under Armour Lockdown 5
Pros
Excellent traction
Extremely comfortable due to the padded tongue and collar
Has a removable sock liner that can be replaced with an orthotic for added arch support
The rubber outsole with flex grooves allows for steady and natural movement
Made from high-quality materials, which makes it extremely durable
Cons
The cushioning is massively compromised
The narrow shape may not make it suitable for every player
In essence, Lockdown 5 is perfect for those that love to play outdoor sports, as it can pretty much withstand any terrain, including concrete courts. And that's what I love about them. Unlike other shoes on our list, these work well on both indoor and outdoor volleyball courts.
And we can't forget the name now, can we?
It lives up to its name with enhanced lockdown around the ankle and tremendous grip on the court. It also has a removable sock liner, which you can replace with an orthotic.
This can greatly boost your arch support and provide a softer feel during jumps and sprints on the court when playing volleyball. I felt that when I played outdoor volleyball in a school yard in Messina, Italy, near my house.
What I didn't like abiut that pair of shoes?
Perhaps the main drawback with the Lockdown 5 is impact protection since heavy players cannot avail of its perks to the fullest.
However, it more than makes up for it with top-of-the-line comfort and well-crafted ventilation. I'd go as far as to say that it would also be perfect for hiking.
Last but not least, the price is very tempting, and the shoes really have a perfect price to quality ratio. If you're on a budget, these won't disappoint.
By the way, if you're on a tight budget, check out this article related to the best basketball shoes under $50.
#4 Adidas D.O.N. Issue #3
Pros
Extremely appealing in terms of appearance with a slick curved design
Lightweight
Extremely comfortable to wear
Heel to toe transition is smooth
Cons
Poor traction
Reviews report issues with support
I've been owning this pair of shoes for over a year now and they are one of my go-to-choices for indoor basketball and volleyball.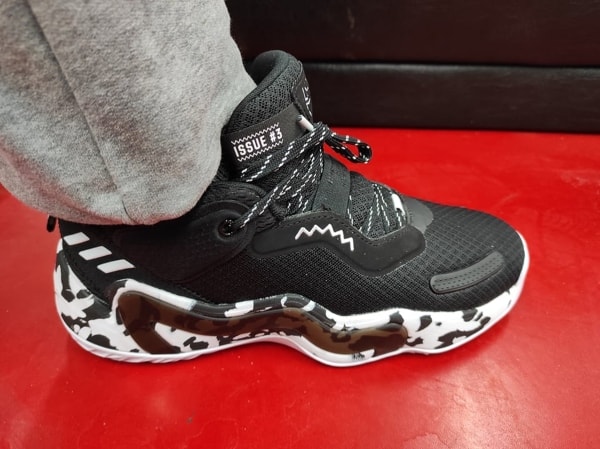 Compared to Issue #2, the newer pair is much more refined and follows a great transition from the outsole to the midsole.
It also integrates a tpu plate as the support bar, which makes it quite stiff and allows for better cushioning. This factor is reinforced by the light strike that replaces the bounce cushion from the previous two models.
Another aspect that can't be left is the upper, which has a textile base and thick padding. Personally, this did not feel as premium, but the color grading makes up for it. It also has a line design on the outsole, providing a unique look from the get-go.
Unlike many other basketball shoes, the Adidas D.O.N Issue #3 basketball shoe is also true to size, so you won't have to worry about ordering online.
I found the outsole to be comparatively softer, somewhat similar to the rest of the competition on the market. The deep traction pattern allows for explosive multi-directional movements, thus enhancing agility but keeping the bar high in terms of bounce – something that makes them perfectly suitable for volleyball and netball, too.
In a nutshell, the Adidas D.O.S Issue #3 is a must-have in your collection if you're looking for the best basketball shoes for volleyball. The shoe fits well and has a unique and aesthetically pleasing design with a variety of color options.
I would have loved to see this shoe have a more pronounced outrigger to nail the lateral support department, but other than that, it's a solid build.
These are great for other sports such as badminton too.
Size: 7.5 - 14
Ankle: Mid - Top
Weight: 15 oz
The Adidas Harden Vol. 6 basketball shoes are a solid choice if you're looking for a combination of support, stability, and responsiveness. The shoes feature a lightweight and breathable upper, a surprisingly well-padded collar and tongue for added comfort, and a durable rubber outsole for impressive grip on the court. Overall, the Harden Vol. 6 offers a well-rounded performance for volleyball players at all levels.
Pros
Good traction
Cheaper than other shoes on the list
The full-length midsole is quite soft
Reasonable cushioning
Cons
Materials do not feel that premium
Limited color options
The price of this pair of basketball shoes has seen a 10-dollar increase from the previous model, which is low as compared to other brands like Nike, for example.
Aesthetically, the basketball shoes have a low profile with only two color options. The light color grading resembles a cream texture, which I find pleasant.
In terms of traction, let me just say that it is a behemoth, and the shoe truly lives up to its name. I wore these basketball sneakers on five intense outdoor volleyball games and can vouch for their uncompromised traction and stability.
The outsole is hard and follows an uneven herringbone traction pattern with deeper grooves on the sides.
The middle of the outsole integrates a midfield chain plate to take torsional support a notch up.I found this to be extremely useful when making sudden fast movements, accelerated in speed, and landed from jumps.
If you're playing on a clean court, then the vol 6 will work great, but with dustier terrains, the shoe can get some dust stuck inside. However, a few wipes are all it takes to clean it.
Overall, the rubber outsole is quite hard, and the shoe has unparalleled durability with a slick heel-to-toe transition. You will certainly feel that when playing volleyball and understand why they are suitable for volleyball.
As for the upper, the shoe is heavily caged, but the material is soft, so you'll have no issues making heel-dominant strides on the volleyball court.
The cushioning of the basketball shoes is also extremely responsive, and the midsole provides effective compression. It's not too hard, nor too soft, but just in the ballpark.
The only thing I did not like about these basketball shoes was the insole, which is quite mediocre at best. It's embedded with a thin paper stock patented Adidas insole, which doesn't improve stepping comfort. That's a missed opportunity.
Other than that, the basketball shoes conform to your foot quite well, and you might have to break them in, but once you're through, it's smooth sailing from thereon. That makes them great for power forwards as well.
Choosing The Right Pair Of Basketball Shoes For Volleyball For You
Getting the best basketball shoes for volleyball is not just about aesthetics. While those certainly count, there are plenty of other factors that need to be taken into account when deciding which pair to get.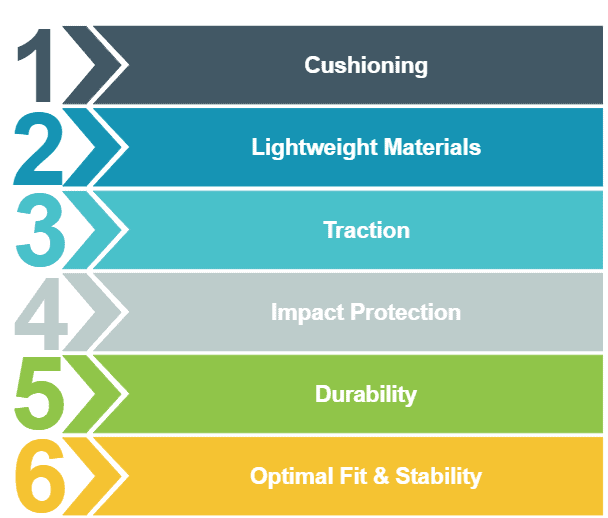 I've made a summary of factors that you need to be looking at, so let's get down to business.
Cushioning
Perhaps the most important facet of every basketball shoe for volleyball players is cushioning. The best kind provides a layer of protective and comfortable padding to help with mobility.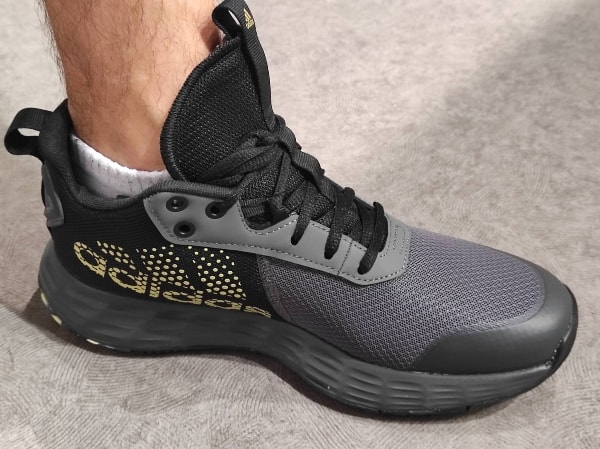 There are several different types of cushioning technology that is commonly used in basketball shoes, including air cushioning, foam cushioning, gel cushioning, and spring cushioning.
Air cushioning uses pressurized air to provide a soft, bouncy sensation underfoot. An air-cushioned basketball shoe typically has a visible air chamber in the sole that helps to absorb impact and provide energy return and shock absorption.
With the advent of the new lightweight shoes in the market, air soles have become the talk of the town. These are promoted under the terms, Zoom Air or Air Zoom unit, which is essentially a highly pressurized gas, injected in the synthetic rubber sole. A major alternative to this, however, is react foam, which you can often see in shoes for volleyball.
This enhances durability but provides a cushioning layer to increase impact protection around the foot.
On the other hand, foam cushioning is a soft, spongy material that is used to absorb shock and provide cushioning for the feet. Many basketball shoes use foam cushioning in combination with other materials, such as air cushioning or gel, to create a more comfortable and responsive ride.
Gel cushioning is a silicone-based material that is used to provide a soft, cushioned feel underfoot while spring cushioning uses small, flexible springs or coils to provide a bouncy, energetic sensation underfoot.
Overall, the choice of cushioning technology in basketball shoes depends on the preferences and needs of the individual player. Some players may prefer the soft, cushioned feel of foam or gel cushioning, while others may prefer the responsive ride of air or spring cushioning.
Lightweight Materials
In the past two decades, lightweight shoes have come under the limelight of the sports world due to the popular belief that they can make enhance your problem, and rightfully so too.
According to a recent study done at Sirnack University in Turkey by Bereket Köse, a sample of 10 male basketball players was taken, and they were tested in terms of sprinting and jumping with different shoe masses.
The findings concluded that the group with the lighter shoes was able to jump 2.1% higher, with sprints also improving by 1.6%. These results indicate the significance of shoe weight in sports.
In essence, the lighter the shoe, the better. In the past decade, nearly all shoe manufacturers have changed their materials to lightweight polyester fibers, which are durable yet still light as a feather.
On our list, the lightest basketball shoe is the Adidas D.O.N. Issue #3, which is only 12.2 oz.
Traction
Traction is an important factor in the performance of basketball and volleyball shoes, as it affects the ability of the player to make quick cuts, change direction, and maintain balance on the court.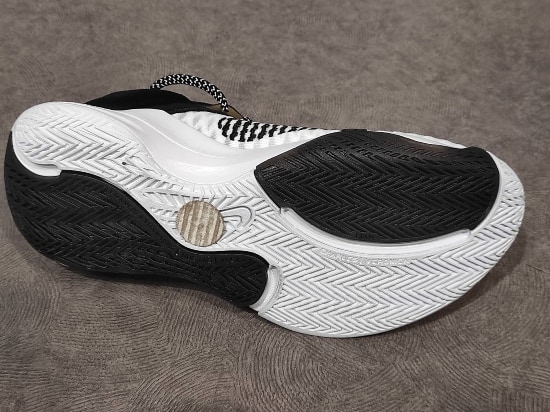 Several factors can affect the traction of a basketball shoe, including the type of rubber used in the outsole, the depth and spacing of the grooves or bumps, and the surface of the court.
Shoes with a soft rubber outsole may provide a better grip on indoor courts, while volleyball shoes with a harder rubber outsole may be more suitable for outdoor courts.
The spacing and depth of the grooves or bumps can also affect traction, as a shoe with deeper, wider grooves may provide a better grip on slippery surfaces. At the moment, the most critically acclaimed pattern in the sports world is known as the "herringbone pattern", which can provide excellent grip.
In addition to the design of the outsole, the condition of the court can also affect traction. A clean and dry court will generally provide a better grip than a dirty or wet court, so players need to ensure that their basketball shoes are clean and in good condition before playing.
Overall, the traction of a basketball shoe is an important factor in the performance of the player, as it can affect their ability to move quickly and maintain balance on the court.
By choosing basketball shoes for volleyball with good traction and taking care of them, volleyball players can improve their performance and reduce the risk of injury.
Impact protection
Impact protection, also known as "shock absorption" in volleyball shoes, is a feature designed to absorb shock and reduce the risk of injury to the feet and ankles during high-impact activities like running and jumping.
According to a study done at Nanyang Technological University, when 18 players were studied for dropping at various heights with different shoes, it was reported that "there was increased muscle activation in preparation to landing with softer midsole hardness."
This depicts the importance of softer midsoles in basketball and volleyball shoes.
Many basketball and volleyball shoes include features such as padded collars, cushioned insoles, and specialized foam in the midsole to provide extra protection and support.
Some shoes may also have additional support elements in the heel or arch to help stabilize the foot and prevent excessive movement.
It's important to choose a shoe that offers sufficient impact protection to help prevent injuries and ensure a comfortable and stable fit during play.
I recommend you go for the Under Armour Lockdown 5 in this regard.
Durability
Durability is an important factor to consider when choosing sports shoes, as it can greatly affect their performance and lifespan.
Shoes that are not durable may break down more quickly, which can lead to discomfort, reduced support, and decreased performance. This can be especially problematic for athletes who rely on their shoes to perform at their best, as a failure in their footwear can have serious consequences.
On the other hand, shoes like the Adidas Harden vol. 6 that are designed with durability in mind will be able to withstand the demands of sports and athletic activity and will likely last longer as a result.
Ultimately, the importance of durability will depend on the specific needs and preferences of the athlete and the type of sport or activity they are participating in.
That said, I always recommend going for more expensive shoes because usually they last for longer.
Optimal Fit and Stability
Proper fit and stability can help you maintain proper form and technique, which can improve your performance and reduce the risk of injury.
The fit of a sports shoe is important because it can help to prevent foot slippage and blisters, which can be uncomfortable and hinder your performance.
Shoes that are too loose or too tight can also cause problems with your balance and stability, which can impact your ability to move and react quickly during a game.
Stability is also important because it can help to prevent injuries by supporting your foot and ankle during lateral movements and sudden changes in direction.
Shoes with good stability features, such as a wide base and a firm heel counter, can help to keep your foot in place and reduce the risk of rolling your ankle or losing your balance.
The best way to go about it is by trying on shoes in person instead of ordering them online since many shoes (with exceptions like Adidas D.O.N issue #3) are not true to size.
FAQ
Is It Good To Use Basketball Shoes For Volleyball?
Yes, it is good to use basketball shoes for volleyball. Basketball and volleyball are similar sports, both of which include jumping and quick movement and require shoes that stack high in factors such as lateral support and cushioning. For this reason, using basketball shoes for volleyball is a no-brainer. Shoes like the Nike PG 6 are technically made for basketball, but most volleyball players agree that they do just as well for volleyball and can often be seen wearing them.
What Type Of Shoe Is Best For Volleyball?
The best types of shoes for volleyball typically have a flat, non-marking sole to allow for quick movements on the court and provide good traction to help volleyball players change direction and jump. The upper part of the shoe is usually made of lightweight, breathable material to keep the foot cool and comfortable, while the outsole integrates a Herringbone pattern for increased agility. In this regard, the best basketball shoes for volleyball players include the ones in this guide. 
Can You Play Volleyball In Kyries?
Yes, it is certainly possible to play volleyball in Kyrie's shoes since volleyball involves a lot of lateral movements, jumping, and quick changes of direction, and shoes designed specifically for these activities can provide better support and traction. Kyrie's shoes are designed for basketball, which has similar demands but also includes more running and cutting. This will provide support and comfort for playing volleyball, with the addition of stability, cushioning, and durability.
Are Volleyball Shoes And Basketball Shoes The Same?
No, volleyball shoes and basketball shoes are not the same. While both types of shoes are designed for use in indoor sports, they have some key differences.
Volleyball shoes are specifically designed for the unique movements and demands of the sport of volleyball. They typically have a low profile and a sturdy, stable base to provide support and traction during quick lateral movements and jumps. The soles of volleyball shoes are also generally made of non-marking materials to avoid leaving marks on the floor of the court. Basketball shoes, on the other hand, are designed for the sport of basketball.
They tend to be higher off the ground than volleyball shoes and have more padding and support around the ankles to help protect against the impacts of jumping and landing. Basketball shoes also typically have a more flexible sole to allow for a greater range of motion and agility on the court.
Are High-Top Shoes Good For Volleyball?
Yes, high-top shoes can be a good choice for volleyball, as they provide additional ankle support and stability, which can be beneficial for quick movements and lateral jumps on the court. However, it's important to choose a shoe that is comfortable and fits well, as well as one that is suitable for the specific playing surface.