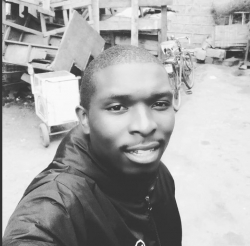 Latest posts by Nelson Nells
(see all)
I guess I'm spitting facts when I say that, having a strong grip in basketball is as inevitable as breathing is for living.
I mean, what's even the point of choosing a sneaker that doesn't offer proper grip?
That said, my discussion today revolves around the best traction basketball shoes. Besides this primary focus, I'd also keep some other factors such as cushioning, and overall comfort in mind.
Coming right to the point, my list of top-rated traction basketball sneakers that offer strong grip both indoors and outdoors is as follows:
Best Traction Basketball Shoes – Comparison Chart
Have a quick look at the comparison chart of all our hand-picked yet best-selling shoes available on the market.
Best Grip Basketball Shoes For Traction Reviews
1. Under Armour Men's Curry 5 – Best Traction Basketball Shoes
Built specifically for Stephen Curry, the Under Armour Curry 5 is definitely a footwear option to look out for in 2021.
The brand focuses more and more on providing enough grip both indoors and outdoors. Curry thus features a thick and flexible outsole along with a comfortable cushioning.
More than that it's designed casually so that you can wear them out of the court as well.
Cutting right to the point now!
All Grip System is Subliminal!
As our focus is more on traction and grip, so I'm giving it my full concertation. Curry 5 feature a thick flexible rubber outsole with an all-grip traction pattern.
To put that into perspective, it ensures quick movements and instant stops. Plus, it also enhances the overall footwork of athletes.
Synthetic and Textile Construction ensures Durability!
Well, textile and synthetic offers a lightweight interface and keep the shoes as rugged as possible. You'd get complete support and sturdiness while playing basketball in the sneakers.
Mid-Top Design Keeps Ankle Supportive Enough!
On the contrary, it also offers enough freedom to the feet to ensure proper lateral movements. Thus, the sneakers, in short, allows aggressive players to improve their gameplay at all costs.
Full Knit Construction for 360° Fit and Feel!
The story doesn't end here as the manufacturer focuses on keeping the feet as comfy and relaxed as possible. In this aspect, Curry 5 does offer full knit construction that keeps the feet snugged and ensures a superior feel at the same time.
EVA Midsole Cushioning For Comfort and Support!
Not only that, but the EVA technology ensures absorbing shock and offers proper response at the same time. Thus, the feet remain properly comforted no matter how high you want to leap for slams or dunks.
Being a basketball fan who loves to play the game wherever there's a chance, I've loved the Curry 5, to be honest. These shoes help me maintain a strong grip both outdoors and indoors.
Plus, I've been using them to flex my outfit in some recent parties as well. Works like a charm, thanks to Curry 5 grip basketball shoes.
Specifications
Thick rubber outsole.
Synthetic and textile construction.
EVA midsole cushioning.
Full knit upper.
Mesh overlay.
All-Court Grip traction pattern.
Weighs 12 oz. only.
One of the best grip basketball shoes, i.e. Under Armour Curry 5 ensures quick movements and reflexes. I'd definitely suggest them if you want a versatile footwear pair with a justified price tag.
Pros
Lightweight basketball sneakers.
Stephen Curry's recommended footwear.
Improves off the ball movements.
Strong grip with all-court grip traction pattern.
EVA midsole cushioning keeps the feet comfortable.
Extremely durable and rugged.
Cons
Could run too tight on some feet.
No other major issues.
2. Nike Men's Kobe Mamba Fury – Basketball Shoes With Good Grip
Men's Kobe Mamba Fury with a stupendous design, lightweight feel, proper cushioning, and a strong grip, becomes one of the most reliable sneakers in the market.
Dedicated to Late Kobe Bryant, the shoes perform quite well on different courts. Besides, the grip these sneakers offer is out of this world.
With a snug fit, breathable upper, and durable design, they've impressed many basketball athletes out there.
Nike uses its special ZOOM traction pattern in the outsole!
Besides the flexible and genuine rubber used in it could help you improve your game on the court. You can, in fact, perform more aggressively and quickly with the kind of traction that these shoes offer.
Extended Rubber for Immense Stability:
The Nike traction basketball shoes also come with rubber paddings at side to improve stability and balance. These paddings play a crucial role in offering instant stops to make your body as stable as possible.
Air Zoom Cushioned Midsole for Comfort!
As expected, Kobe Mamba Fury does feature an air zoom cushioned midsole for charged efficiency and controlled gameplay. The midsole is shock absorptive and could keep the feet comfy enough with a lightweight feel.
Minimalistic Upper Overlays!
Well, the brand has its concentration fixed on improving the upper construction. It uses different overlays to improve the overall support and balance. The uppermost layer is of mesh that enhances breathability by keeping the air ventilated respectively.
Related resource: "5 Astonishing Non-Basketball Shoes For Basketball".
Wondering what others are saying about these shoes?
Sylvia Hill, who recently got the Mamba Fury for her husband says that "Jack loves these sneakers. Although the delivery was a bit late, it was worth the wait. He feels elevated and comforted enough while wearing them and often plays basketball in them without any hurdle."
Specifications
Low-Profile Silhouette construction.
Multiple upper overlays.
Thick rubber outsole with side paddings.
Zoom traction pattern.
Air Zoom cushioned midsole.
Mid-top design.
Weighs 11 oz. only.
Kobe Mamba Fury, one of the versatile basketball sneakers offers superior grip to keep you away from injuries. More than that, you could use them to ace your position and play the game with more aggression. So, check them out before it's too late.
Pros
Lightweight traction sneakers.
Rugged and sturdy construction.
Offer a strong grip on different surfaces.
Side rubber paddings guarantee instant stops.
Improves lateral movements on the court.
Snug fit with Air zoom unit cushioning.
Cons
Seems a bit bulky.
Expensive as compared to Curry 5.
Color variety ain't attractive enough.
3. Adidas Men's Pro Next – Best Grip Basketball Shoes
Adidas doesn't lag behind when the talks of sneakers with strong traction arise. For instance, Pro Next, a rugged basketball shoe, ensures proper grip and keeps the feet comfortable at the same time.
Cherry on top is their exceptional design, which attracts more and more athletes towards it. For me, adidas has improved a lot and is now competing with Nike side by side.
Zonal Herringbone Rubber Outsole Will Do the Job Perfectly!
Starting with a bang, the shoes do feature a durable and flexible rubber outsole with a herringbone pattern.
Believe me, it offers premium grip no matter what kinda court you are playing in. There won't be any injuries or other issues as the shoes would keep you stable enough.
Cloudfoam Midsole Offers Superior Cushioning!
Something to appreciate here. The shoes with Cloudfoam midsole offer adequate cushioning for proper comfort and relaxation. On top of that, it's shock and impact absorptive, plus it also ensures proper response.
100% Synthetic Construction Adds to Lighter Feel!
One thing I can assure you about the adidas traction basketball shoes is that they don't overburden the feet with weight. The brand uses 100% synthetic material to keep the weight as low as possible. Thus you could play with strength and agility all the time.
Synthetic Upper with Visible Pores for Support and Breathability:
The traction basketball shoes from Adidas also feature a synthetic upper that keeps the feet as balanced as possible. Visible pores, on the other hand, improves air and blood circulation for a comfortable gameplay experience.
Pro Next with Regular Fit and Mid-Top Design Offers Sheer Dominance!
Just so you know, wearing the sneakers would automatically boost your morale and you'd look more confident. The freedom to ankle along with proper protection would help you dribble past your opponents with the speed of light.
Dan, a student of mine that plays as a point guard often wears Pro Next when an important game arrives. As per his remarks: "I've been a big fan of adidas since 2017 and now I prefer wearing sneakers from this brand only. Pro Next help me improve my gameplay and footwork. On the better side, my feet feel more relaxed and energetic in them. One of the reasons I wear them for important games only, as I don't want to degrade their quality."
Specifications
Regular Bball shoes.
100% synthetic construction.
Rubber outsole with Zonal Herringbone tread pattern.
Synthetic upper with visible pores.
Mid-top design.
Cloudfoam midsole.
Weighs 14 oz. only.
Adidas Pro Next Bball shoe offers exceptional grip and feel to help athletes get past their opponents in a blink of an eye. Would definitely recommend them if you want a versatile sneaker option at a justified price tag.
Pros
Improves grip both indoors and outdoors.
Suitable for casual use.
Proper midsole cushioning keeps feet comfy enough.
Visible pores enhance breathability.
100% synthetic construction ensures light and durable feel.
Offers a wrapped-up fit.
Cons
White color attracts dust easily.
Not recommended for wide feet.
Shoes could wear out if you don't maintain them.
4. Adidas Men's Explosive Bounce – Good Traction Shoes
Want a reliable grip basketball sneaker at an affordable rate?
You will get interested in reading the Adidas Explosive Bounce review. Regarded as a top-notch basketball sneaker with immense grip, this footwear will help you improve your footwork and lateral movements.
Besides, the shape is quite aesthetic and attractive. With that said, the price tag of the sneaker is quite affordable and that's one of the reasons I included them on this list.
Enhanced Traction Pattern does the Job Well!
Thanks to the thick rubber outsole with an enhanced zig-zag traction pattern, the sneakers do offer proper grip. You can move forward, backward, sideways, or stop instantly while wearing the sneakers.
Midfoot Strap Offers an Anatomical Fit!
Up next, we've got a midfoot strap present on the top of the shoes that ensures an anatomical fit. You could adjust the strap as per your feet's posture to keep enjoying basketball to its fullest.
Bounce Cushioned Midsole for Comfort and Response!
Adidas uses a bouncy cushioned midsole to keep the feet comfy and away from expected impacts. On top of that, it also offers a sublime push to help athletes jump higher than expected. The landing is also smooth as the midsole would never let your feet get hurt.
Talking of the upper, it's made of Textile!
Besides the two-layered Mesh, TPU overlay confirms durability and keeps the shoe lightweight at the same time. Mesh overlay could also keep the feet as dry as possible.
Mid-Top Shoes Offer Impressive Lateral Movements!
The shoes feature a mid-top design which means freedom to the ankle combined with support and protection. Thus, you'd surely enjoy moving past your opponents for a 3 points shoot or dunk without spraining your ankle.
Want to hear some verified buyer feedback?
Derrick, one of the owners of Explosive Bounce gives his views about the shoes. As per his remarks: "Adidas just got THIS ONE right. I'm extremely happy to put all my money getting the sneakers that not only help in offering a strong grip, but they've also improved my jumping skills. Absolute beast of a performance and I'm not even kidding!"
Specifications
Rubber outsole.
Textile and Synthetic construction.
TPU mesh overlays.
Textile upper.
Bouncy cushioned midsole.
Enhanced traction pattern.
Adjustable strap.
Weighs 12.8 oz. only.
Adidas Crazy Explosive are one of the most affordable basketball shoes that offer a strong grip with a lightweight yet comfortable cushioning. Get them before it's too late.
Pros
Good traction basketball shoes.
Recommended for Bball drills and workouts.
Adjustable strap ensures a wrapped-up fit.
Bouncy cushioned midsole offers enough energy.
Durable and rugged sneakers.
Offers premium grip on wooden courts.
Cons
Not recommended for narrow feet.
Size issues are common.
Limited color options.
5. Nike Mens KD Trey 5 VIII -Grip Basketball Shoes For Ankle Support
Kevin Durant, a famous NBA player who currently plays for Brooklyn Nets prefers playing in the Men's KD Trey 5.
Why?
Well, the sneakers offer him a plush and snug feel. More than that, this pair helps him advanced forward with aggression and agility as he plays either Power Forward or a Small Forward.
Nike traction basketball shoes feature a rubber outsole with a multidirectional traction pattern!
To put that into context, it helps aggressive players move without facing any hurdle or problem related to slips or other injuries. The shoes would stop you whenever you want, keeping you one step ahead of your opponents.
KD Trey 5 VIII also comes with a foam-cushioned midsole!
Not only is it responsive, but it also maintains a proper natural posture of the feet. Thus, you'd feel more comfortable and relaxed while playing in them. The midsole also offers a small push while you are trying to jump vertically.
Mid-Top Design Ensure Ankle Support!
I already captioned the shoes as "Ideal for Ankle Support". While keeping your ankles' freedom intact, you'd enjoy lateral movements without spraining or twisting the ankle muscles at all.
Perforated Foam Pods For Breathability!
The Nike grip basketball shoes do ensure a fantastic breathable design. Thanks to the perforated foam pods, athletes would surely enjoy roaming around the court without facing any wetness on their feet.
Mark, a colleague of mine who loves to play basketball has recently got himself the latest Nike KD Men'ss Trey 5 sneakers.
According to him: "The shoes offer a comfortable feel and I feel more relaxed while playing in them. Being a Small Forward, they help me move with aggression and I could maintain my control, thanks to its multidirectional traction pattern."
Specifications
Rubber outsole.
Multidirectional traction pattern.
Foam cushioned midsole.
Textile and synthetic upper.
Perforated foam pods.
Mid-top design.
Weighs 13 oz. only.
Nike Men's Trey KD 5 VIII offers superb control on different courts. Plus, the lightweight design of the sneakers makes them an ideal choice for professional NBA players. Consider getting the best traction basketball shoes, if you have enough money.
Pros
Shoes that offer control and grip on shiny surfaces.
Mid-top design keeps the ankle protected.
Rugged textile and synthetic upper.
Perforated foam pods maintain air ventilation on the inside.
Properly cushioned midsole keeps the feet comfy.
Cons
A bit expensive compared to other sneakers.
Might take time to break in.
6. Under Armour Men's Spawn – Basketball Shoes with Good Grip
Want a confession?
I am not a big fan of how Under Armour has designed their latest traction sneakers. However, it does the job of offering a strong grip pretty well and that's what amuses me.
To start with, the sneaker has an ugly design. No offense, but it looks like the brand's been sleeping while designing the shoe.
Other features are quite impressive though. I mean, the presence of a multidirectional rubber outsole, EVA sockliner, and Micro G Foam midsole, is something that could not be ignored.
First things first, the shoes come with a flexible outsole and an enhanced traction pattern!
That's the main reason I've added them to my list. You can wear them and run riots across the court without facing any hurdle. The outsole is compatible with both outdoor and indoor courts respectively.
Micro G Foam Midsole offers proper Cushioning!
It, in fact, keeps the feet quite comfy and relaxed respectively. On top of that, there's enough response from the midsole to keep up with higher jumps and improved dunks.
Under Armour Men's Spawn features a low-top design!
That said, it offers complete freedom to the ankle, hence ensuring an aggressive gameplay interface. However, you have to make sure that no one hurts your ankle or it doesn't get rolled.
Talking of the upper, it's made up of interwoven layers of TPU and Mesh overlays!
So, what happens is that your feet receive proper balance and support from the upper part of the shoes. Besides, Mesh could keep the airflow at a high rate to keep your feet dry enough.
Don't get me wrong, but the shoes look quite ugly. Josh, one of my Bball friends often wears them and they look quite weird as I judge him. But, he says that "Laugh all you can man, but I know how gem of a shoe Under Armour has made. I literally feel so much comfortable and controlled while playing in them that I don't care whether they look ugly or not."
Specifications
Micro G Foam Midsole.
Rubber outsole with multidirectional traction.
TPU and mesh overlays.
Synthetic and textile construction.
EVA sockliner.
Low-top design.
Weighs 11.9 oz. only.
Go get the sneakers if you want to improve your gameplay and could compromise on the design of the best grip basketball shoes.
Pros
Offers a premium gameplay experience.
Ensures proper control and grip on the court.
Suitable for point guards, and Small Forwards.
Rugged synthetic and textile construction.
Micro G Foam midsole offers cushioning and comfort.
Cons
Ugly design. (Personal Opinion,though)
Look a bit bulky.
Ankle remains exposed to injuries.
7. Nike Men's Air Precision NBK – For Indoors and Outdoors
Versatility is something that athletes like me demand while looking out for Bball sneakers. And in terms of this feature, no one stands close to Air Precision NBK from Nike.
The basketball shoes with an aesthetic design, rugged body, strong traction, and powerful cushioning ensure a versatile gameplay experience.
As a matter of fact, you could wear them to play outdoors, indoors, or to parties without any hassle.
Phylon Outsole in Air Precision NBK Offers a Controlled Gameplay!
Well, this kinda outsole ensures strong traction thanks to its deep tread pattern. Therefore, you could enjoy running past your opponents like a charm no matter if it's an indoor or outdoor court.
Mesh upper Increases Breathability!
That's true though. Whenever I wear these sneakers, the sweat doesn't arise at all. I've been using them to do my Bball workouts, drills, and even some intense exercises and my feet never get excessive sweat even with the socks.
Air Zoom Unit Cushioning for the Win!
Keeps the feet as comfortable and relaxed as possible. Features like-charged energy, responsive cushioning, and abrasion resistance make it one of the best traction basketball shoes in the market.
Mid-Top Design Offers Versatility!
Lastly, the shoes do offer versatility while you are moving on the court. The mid-top padding keeps the ankle secure with limited freedom. It also enhances forward movements.
Specifications
Phylon outsole.
Deep tread pattern.
Air Zoom Unit cushioned midsole.
Mid-top design.
Mesh upper overlay.
Weighs 16 oz.
Nike Air Precision NBK is what I'd recommend if you want to play basketball indoors and outdoors without facing any major injury.
Pros
For indoor and outdoor use.
Perfect for long-term use.
Rugged textile and synthetic construction.
Mesh upper increases breathability.
Responsive and charged midsole cushioning.
Offers a strong grip on shiny courts.
Cons
Expensive as compared to brands like Under Armour.
No other major issues.
8. Adidas Men's Dame – Adidas Shoes for Traction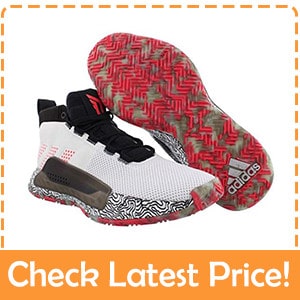 Wrapping up the traction basketball shoes reviews section with Men's Dame 5. The sneakers have got popularity among many athletes across the globe.
They've got a beautiful and unique shape with a lightweight body. Plus, the grip these shoes offer is well up to the mark.
Considering the qualities these sneakers got, it's safe to say that you can trust them for many years to come.
Rubber outsole with Herringbone Tread Pattern!
Makes the shoe ideal for indoor courts. You can literally run riots in the court moving past your opponents like a flash.
The outsole also comes with instant stopping technology that could jam your movement anytime you want.
Bounce Cushioned Midsole for Sheer Comfort!
It keeps the feet in a natural posture and elevates them whenever the athlete wants to make a vertical jump either for a dunk or a slam.
The Signature Damian Lillard sneakers have got a textile upper!
Helps the feet remain balanced and supportive enough. Plus, the air ventilation is well up to the mark as you can play in them all day long without facing any sweat issues.
Specifications
Herringbone rubber outsole.
Bounce cushioned midsole.
Textile upper.
100% synthetic construction.
Signature Damian Lillard Bball shoes.
Weighs 15.5 oz.
Men's Dame 5 should be a priority for you in case you want to excel on the court with some quick and agile movements.
Pros
Worn by Damian Lillard.
Suitable for Point guards.
Mid-top design keeps ankle protected.
Rugged synthetic construction.
Herringbone outsole ensures a firm grip.
Cons
Not recommended for defensive players.
Not an ideal choice for beginners.
Traction Basketball Shoes – Buying Guide
Believe it or not, you are in for a surprise if you think that deciding on a perfect traction basketball sneaker is easy.
First off, there are hundreds and thousands of options available in the market that could confuse you within a second.
Second of all, the only traction doesn't matter. You have to keep track of other features as comfort is also of utmost importance while choosing a Bball sneaker.
In short, you are doomed if there's no one available to guide you on how to select the best traction basketball shoes.
Fortunately, you've got a Pro like me (HAHA) who loves digging deep into basketball sneakers every day in and out.
With that expertise, I know the thick and thin of what you should look out for in a grippy basketball shoe.
Sit tight! Give this buying guide a thorough read and I assure you that you'll make the wisest decision of your life for sure.
Take a look:
Pointers to look before Choosing the Best Grip Basketball Shoes
Material of the Shoe:
While choosing footwear for yourself, it's important to pay a little bit of attention to the type of materials it's been made up of.
The most common materials are either synthetic, textile, or a combination of both. Shoes with mesh overlays are also available.
That said, what you wanna do is to figure out what type of player you are. If you are an all-rounder, then you'd need to be extremely versatile. I recommend getting a shoe with synthetic construction and light ankle support for this kind of gameplay.
Similarly, for forwards they also need to improve their agility at all costs. So, the shoes for them must come with durability as well as a lightweight design. In this aspect, you should check out sneakers made up with a combo of textile and synthetic material.
Focus more on the overall construction as you'll have to rely on the sneakers for at least 6 to 12 months.
Cushioning:
Something you should never underestimate. No doubt traction does matter, but so do the comfort and relaxation of your feet.
Bball sneakers usually come in with properly cushioned midsoles. Brands like Nike with Air Zoom Unit cushioning suits the demands of players who want to play with aggression and support.
Similarly, Bounce and Cloudfoam cushioning from adidas could elevate you to make higher jumps without hurting your feet.
Under Armour with its Micro G Foam midsole focuses more on absorbing the impact and offering a premium comfort feel to the feet.
The standout among them is the Boost Responsive cushioned primarily offered by adidas. This midsole not only ensures comfort but offers enough response and could resist the shock to its fullest at the same time.
That's what you should prioritize as many adidas sneakers listed above do offer Boost cushioning. If not that, then make sure that you at least get a Nike sneaker with Air Zoom Unit cushioning.
Ankle Support:
Keeping your ankle safe and secure has become a necessity as Basketball is already advancing with pacier gameplay.
That said, you simply cannot survive a professional game without taking care of your ankle.
You guys already know that Bball sneakers either have a low-top, mid-top, or high-top design, right?
Now, coming right to the point, I recommend investing in a mid-top sneaker. It can keep your ankle secure while offering it enough freedom to help you in forwarding movements.
High-tops are already excluded from the discussion as these sneakers completely limit ankle movement. You can consider low-tops, but do get ready for ankle sprains and twists if you don't play with care and attention.
Outsole and Grip:
The most important factor, i.e. considering the outsole and traction of the sneaker.
While deciding on a grip basketball shoe, make sure that you choose the sneaker with a thick and rubber outsole. As a suggested read, check "Why Do Basketball Players Wipe Their Shoes".
Traction patterns also matter. No matter what the brand is, you have to check whether its outsole offers a deep traction pattern or not. If not, then DON'T CHOOSE THAT SNEAKER.
I simply loved the herringbone traction pattern that is available in most Adidas sneakers.
Other than that, I'd suggest a shoe that offers multidirectional traction. It will offer a superb grip making sure that you can move without facing any hurdle.
Breathability:
Breathable sneakers could act as a blessing in disguise for you.
That said, shoes with a breathable upper could keep your feet dry and ensure proper air ventilation.
This way, it would be easier for you to focus on the game more rather than worrying about your feet at all.
It's a wrap-up of this buying guide.
For more easy selection, simply hover up and go through detailed reviews of the top 8 best traction basketball shoes I've listed. You'll find many attractive choices with justified price tags over there.
So, now the last section remains, i.e. to answer some of the frequently asked questions.
Frequently Asked Questions:
What basketball shoes have the best traction?
Under Armour Men's Curry 5 has the best traction when we talk about overall grip on multiple surfaces. The shoes feature a thick and flexible rubber outsole with an all-court grip traction pattern.
It offers complete control, stability, and balance on the court, allowing you to dribble past your opponents without any hassle. So, that's what I recommend when it comes to the Bball sneakers with sublime traction.
What are the best basketball shoes for grip?
I'd first go with Nike Kobe Mamba as these shoes feature a flexible outsole with a deep Zoom traction pattern along with a lightweight cushioning.
Apart from that, I really like Adidas Men's Dame 5 as these shoes show some promising results especially in the indoors.
Finally, Nike Air Precision NBK is my personal favorite as the traction this shoe offer is compatible both indoors and outdoors. On a side note, don't miss checking out our list of the top-notch outdoor shoes for basketball this year.
How can I make my shoes grippy again?
Taking care and responsibility for the sneakers you own could deliver long-lasting results.
If you play the game indoors, then make sure that you clean the outsoles of your sneakers before entering the court. Use a damp cloth for that purpose and remove dust or debris from the outsole as much as you can.
For outdoors, it's possible that small pebbles could get stuck in the outsole. To remove them, use a toothpick. Plus, finish off the cleaning work by scrubbing the outsole with a damp cloth.
Avoid machine wash at all costs. You can apply these methods to keep the shoes as grippy as possible.
Is it possible to make the basketball shoes grippy?
Although I'd recommend getting a new pair, some products available in the market could improve the grip of your shoes temporarily. Slip-resistant sprays, traction kits, or gels could be used to increase the grip of your shoes. I'm dropping a link to each product as follows:
How often should you change your basketball shoes?
As soon as you feel like you ain't feeling comfortable in them. Moreover, keep a track of when you start to slip on the court more than usual. Make sure that you make this decision as soon as possible or else your feet will remain exposed to injuries.
My Takeaways:
Choosing the best traction basketball shoes is not as easy as you might think.
However, I've made it easier for you with this extensive guide on choosing the right pair to play at an exceptional level.
Go through the list, have a look at the buying guide, and make your decision accordingly.