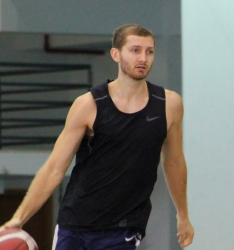 Latest posts by Adam Gotelli
(see all)
Let's face it – to play like the professionals, you don't need just talent and a ton of hard work. You also need the right gear. And when it comes to balls, playing with the best leather basketball is a must.
The right basketball has soft touch, solid control, grippy structure, and bouncy design, among other features.
But picking the right leather ball from the plethora of options out there is not a piece of cake. You must have the knowledge to distinguish a good ball from a substandard one.
After all, you don't want to lose your hard-earned money, do you?
That's why you're lucky to have landed on this article.
Our expert team and I invested a significant amount of time and effort to handpick some of the top-of-the-line leather basketballs on the market today.
After reading this informative guide, you will know what is the right leather ball for you. And you will learn what to look for in a quality leather basketball, no matter if you play on an indoor or outdoor court.
So if you want to see what leather basketballs the pros are using these days, continue reading.
Let's dive right in!
Best Leather Basketball – A Comparison Chart
Here are the top 10 cherry-picked leather basketballs available on the market as of 2023.
Image
Product
Features
Price

Editor's Choice

Size: 5-7
Pebbled texture
Perfect for school/college players

Check Latest Price

Premium Choice

Size: 7
Soft and wear resistant
With butyl liner

Check Latest Price

Budget Choice

Size: 5-7
With pressure lock bladder
Perfect for different grounds

Check Latest Price

Also great

Size: 5-7
Deep channel design
Super soft touch

Check Latest Price

NCAA replica ball

Size: 6 and 7
Has the features of an original NCAA basketball
Moisture absorbing coating

Check Latest Price

FIBA approved

Size: 7
FIBA approved
Signature GIUGIARO design

Check Latest Price

Best for indoor

Size: 6 and 7
With Stealth Valve
Microfiber material for superior grip

Check Latest Price

NIRSA approved

Size: 6
Official NIRSA game ball
With butyl bladder for longer air retention

Check Latest Price

Multi-surface

Size: 5-7
Faux leather
For all surfaces

Check Latest Price

Ships inflated

Size: 6
Zi/O tournament approved game ball
Comes inflated and game-ready

Check Latest Price
How We Reviewed
I'm a pro basketball player and I know the importance of playing with the right gear. No matter if it's shoes, shorts, or basketballs, the gear can make or break your game.
Our expert team and I always strive to provide you with credible, real reviews of gear that we have thoroughly researched and tested. To picks the top leather basketballs among many, we followed a strict methodology that included:
Investing a total of 62+ hours of research and testing, carefully examining product reviews and user feedback
Following the market trends about basketballs and brands
Performing 6 in-house tests to get a touch and feel of the basketballs (on indoor and outdoor court)
Comparing pros and cons and various important basketball features such as: grip, control, leather type, feel, bounce, elasticity, durability, air pressure and retention, and others.
Now, continue reading to learn more about each ball we reviewed.
Best Leather basketball Reviews
#1 Wilson Evolution – Best Leather Basketball
Editor's Choice
Beautiful composite material basketball with royal blue Evolution and Wilson wordmarks
Pebbles texture provides a strong and easy grip
Cushioned core carcass provides a soft feel
Offers unmatched control thanks to the Laid-in Composite Channels
Designed for passionate basketball lovers, this indoor Wilson Evolution game basketball is a go-to leather basketball with tons of exciting features. It offers awesome control, soft feel, and fantastic grip, all in a great price. Check it out!
Pros
Best leather basketball for high school and college players
Pebbled texture provides strong grip even on outdoor courts where paying with sweaty hands is not a rarity
Premium composite leather makes the control unparalleled while keeping the cost within budget
Feels soft like pure leather
Printed wordmarks add beauty to the design
One of the bestselling basketballs in the world
Cons
Deflates faster than other balls on our list
A bit spongy
For all the basketball lovers, this Wilson evolution game basketball is a go-to leather basketball, packed with exciting features. It has royal blue color Wilson and evolution word mark logos on it that attract all players whether they are kids or adults.
I tested the basketball by playing with it on indoor and outdoor courts in Messina, Italy. It performed really well and provided incredible bounce, control, and grip.
In every corner of America, it is the number 1 indoor game basketball that is used to play in the courts more than any other ball. Moreover, the cushioned core carcass provides the soft feel, these balls are famous for.
Check out the video below!
The popularity of Wilson Evolution Basketballs is due to its amazing grip and durable texture, which makes it extremely desired in high schools and colleges, where players often play on outdoor courts.
The pebbled texture provides a grippy and strong feel that makes this ball an ultimate choice for all NCAA tournaments, and the players don't prefer anything but Wilson Evolution. And I can understand why.
The pricing of this best leather basketball is from medium to a little high. But it's totally worth it. It comes in different colors and sizes to give some extra unique aesthetic features to players of all ages and levels.
My only complaint is that the ball deflates faster than other balls on our list, and that requires you to use your pump more regularly.
---
#2 Molten GM7X Basketball For Indoor And Outdoor Play
Premium Choice
Made of durable faux leather
Great elasticity
Approved by FIBA because of high-end performance
Deep pebbles and channels
The cover is resistant to scuffing
Coming from one of the most recognizable brands in the world, Molten GM7X is extremely durable, bouncy, easy to inflate and doesn't leak easily. And that price is awesome!
Pros
Highly recommended for high school boys
FIBA approved
Shows high resistance to scuffing
Can withstand extreme weather conditions
Cons
Deflates after several outdoor games
Molten is one of the best brands when it comes to quality and budget in one place. It offers premium quality basketballs that are famous for their grip and bounce control.
Likewise, this Gm7X basketball is not only suitable for indoor courts, but it also offers the same spectacular performance even in outside playgrounds and concrete courts.
You can easily go to your gym to play with it as it can withstand your sweaty hands without getting slippery. The material of this basketball is faux leather that performs well in any weather conditions, offering you a strong grip, air retention with optimum air pressure.
The proven quality of the faux leather makes this ball scuff resistant, and this basketball works great on concrete and hardwood floors. If you use this indoor, it becomes convenient and pleasurable as you go on playing your favorite game.
Overall, it's a great performing basketball that will help you elevate your game on indoor and outdoor courts.
---
#3 Xedge 3000 – Best Cheap Leather Basketball
Budget Choice
The ball is made of robust composite leather that offers maximum grip, control, and bounce during the game
Features a hygroscopic cover that absorbs the moisture from the environment or the hands of the player, optimizing the grip
Custom-made butyl bladder holds optimum air pressure
Includes a carry bag, air pump, and inflation needles
Comes in official size 7 which is 29.5" diameter basketball
Coming at a dirt-cheap price and packed with additional items that save you time and money, Xedge is your go-to choice for an indoor/outdoor basketball if you're on a budget. Don't miss out!
Pros
It offers outstanding bounce control and grip because of specially designed cover and leather
Butyl nylon bladder locks in the air to keep optimal air pressure and air storage.
You can use it to play basketball on any type of court
Made of nylon windings that maintain the elasticity and durability.
Non-deformed structure helps to maintain stability when the basketball is shot
The package includes inflation needles and an air pump so it is a cost-saving product
Cons
Doesn't come inflated and requires break-in time
The bounce is subpar
XEDGE basketball is the best package for all those people who are thinking of giving a gift to a basketball player. As this basketball comes with a ton of additional accessories such as a carry bag, air pump, and needles, it can be an awesome gift one can give without spending too much money.
The brand "XEDGE" has 20+ years of experience in the sports industry, producing the best basketballs that justify the quality at extremely affordable prices.
XEDGE Basketball is made of composite leather to provide a premium quality grip and bounce, with a hygroscopic cover that offers extra control.
The best part?
The ball comes in 3 sizes, including the official size of 29.5" and you can use it for both indoor and outdoor games.
Moreover, you can't ignore this basketball because it is designed to give you maximum bounce control, exact spinning, durability, grip, and long air storage.
As this basketball comes with an air pump and inflation needles, you don't need to worry about buying these tools, and as you receive your ball, you are ready to go.
---
#4 Chance – Premium Indoor And Outdoor Leather Basketball
Composite leather provides premium quality that suits for both indoor and outdoor play
Deep channels and pebbled pattern ensure excellent grip with a buttery texture
Comes in 3 sizes
Optimal pressure is locked in by butyl bladder
Available in different color schemes with cheerful aesthetics
Another affordable, yet high quality leather basketball, our test concluded that Chance performs great on indoor and outdoor courts. No matter your age and basketball proficiency, this ball will elevate your game performance. Check it out!
Pros
Composed of high-quality composite leather
Famous for its grip and bounce
Beautiful design and color
Suitable for both indoor and outdoor courts, gyms, hard floor, concrete playgrounds
Backed by a money-back guarantee
Cons
Playing on outdoor courts decreases its lifespan
The control of the ball is not the best as compared with other balls on our list
Advertised, as an indoor/outdoor basketball, I tested Chance on a hardwood court, and it didn't disappoint.
For all those players who want the best leather basketball for both indoor and outdoor games, this Chance premium indoor/outdoor basketball is an ultimate solution.
It is composed of premium quality composite leather that provides a strong grip and good bounce over other basketballs. The perfect grip associated with this Chance ball is due to the pebbled pattern and deep channels that don't let the ball slip from your hands. You can palm it strong with no issues.
As this ball comes deflated, so the butyl bladder locks in the optimal air pressure, providing consistent bounce throughout the game.
But the good news don't stop here!
The reason why it is so famous among all the people is the versatility of sizes. I really like the fact that the basketball comes in three sizes, which makes it suitable for players of all ages.
---
#5 Wilson NCAA Replica – Premium Leather Basketball
It is a replica ball of the original NCAA game ball
Made of moisture-absorbing material/hygroscopic
Laid-in composite channels for superior grip and control
The composite leather provides a strong and flexible texture
It has a cushioned core carcass that provides a fair soft and buttery texture
Comes in two sizes
Offers an inflation level of 7.9psi
If you want to own the same basketball used on official NCAA games without breaking the bank, then you will love this ball. It wowed us with great indoor performance, premium features, and unbelievable price.
Pros
It is a replica ball of the official NCAA game ball
Made of moisture-absorbing material/hygroscopic
The composite channels are formed inlaid in position for maximum grip
The composite leather provides a strong and flexible texture
It has a cushioned core carcass that provides a fair soft and buttery texture
Available in the two most popular sizes
Doesn't attract dust as other basketballs on our list
Cons
Not as soft as the Wilson Evolution
The color is a bit strange
If you are on a budget, you can have a quality basketball that meets all the standards and let you play your best game. To fulfill this dream, Wilson has launched its NCAA Replica Game basketball that provides you premium level grip and strong bounce control during the game.
I played with the ball on an indoor court and I really liked the control I had over it. Plus, the bounce is excellent. The grip is quite good too. I was able to shoot the ball after taking control over it quickly, and the basketball didn't slip. The palming is excellent.
As this Wilson basketball is designed with moisture-absorbing material, it survives under extreme weather conditions, and you can play outdoor games with this ball easily.
The composite leather is meant to provide you a strong and sturdy texture to give high grip and bounce performance during the game. The super-wide channels offer extra strength and let you palm the ball firmly, even if your hands are sweaty.
---
#6 Molten GG7X – Best Signature Leather Basketball
Composite leather basketball with strong grip and bounce control
FIBA approved product
Comes in adults' size 7
Consistent and focused pebbles with deep channels
Ships inflated
With a consistent bounce, controlled grip, and catchy signature design, the improved GG7X model is your ideal basketball choice when playing indoors. Check that one out before it goes out of stock!
Pros
Improved quality
Soft touch
Doesn't slip as much as other balls on our list
Perfect for indoor courts
Retains air pressure for long hours
Cons
Not as durable as other options on our list
Molten introduced these successful series back in 2016. The X series were optimized to provide a more consistent and focused pebbled design to ensure maximum handling and grip of the basketballs.
I've played with this ball numerous time on many surfaces, and it's one of my favorite basketballs ever. It's part of our list of the best Molten basketballs for a reason.
So, Molten GG7X basketball really improved its grip and bounce in sweaty conditions and turned up to be the best basketball for outdoor games.
The ball is made of composite leather and has a foam backing that offers a stronger grip, improved bounce control, and soft feel.
It comes in an adult size which is 7, 29.5" diameter and is best for both men and youth.
As FIBA has approved this ball as good for indoor as for outdoor games, many players even used this ball in wheelchair basketball tournaments and found it to be best.
---
#7 Baden Elite – Best Indoor Leather Basketball
Uses a microfiber leather cover that provides strong grip and bounce control
Created with an innovative cushion control technology that provides soft cushion under the cover, giving a wonderful bounce to the ball
Available in two sizes, suitable for men, boys, youth, and adults
Has a recessed stealth valve, that you don't feel when touching the ball
The design, size, and material is approved by NFHS.
Baden Elite amazed us with impressive control, soft touch, and fantastic cushioning. The grip is also great thanks to the microfiber leather cover. Overall it's the best indoor basketball on our list.
Pros
Microfiber cover offers excellent grip and bounce control
The advanced cushion of the ball gives a soft and techy texture, that helps to maintain softness with a wonderful bounce
The stealth valve is hidden under the cover for an unobstructed touch
Comes in two sizes that suits youths and adults alike
Cons
Gets deflated fast and you need to inflate it
Baden has a small family of lovers and users if we compare this ball with Wilson or Spalding, but still, it is worth buying. Those who have a strong affiliation for Baden basketballs believe that the grip and touch it offers is different from other basketballs of the same price.
The ball doesn't have pebbles on its surface, but it is made of a few shallow channels that solidify the grip and let you palm the ball strongly. What makes this ball stand out is the hidden valve.
Unlike other balls on our list that have protruding valves, the valve on Baden Elite is almost hidden. That's cool because it won't obstruct palming the ball.
Moreover, Baden features this basketball as their top-of-the-line products because of customer satisfaction and increasing demand in high school students.
It comes in three sizes to meet the needs of every player.
---
#8 Spalding TF-1000 – Leather Basketball For Youth Players
Comes in brown color
Premium composite leather provides decent grip and good bounce control
Microfiber composite cover for a buttery soft texture
Nylon winding helps to maintain air retention and air pressure, keeping the ball non deformed while playing
High school approved, intermediate size 6
Spalding is a leading basketball brand and the TF-1000 is one of their bestselling models. The ball boasts a strong grip and nice touch that's perfect for indoor courts.
Pros
Comes inflated
It has a microfiber cover with composite leather fabrication.
Durable, reliable, and long-lasting design
Lightweight
Butyl bladder retains air pressure
Budget-friendly leather basketball
Cons
Bouncing sound is a bit too high
Spalding TF-1000 has become the ultimate choice for basketball lovers because of its adaptive structure.
The more you play the game with this ball, the more it becomes handy, strong in grip, and offers premium bounce control. Its custom-made design is best for hardwood floors, and it is highly recommended for indoor courts alike.
The texture is so amazing and soft because of the premium composite leather material, and the microfiber cover helps to palm the ball even in sweaty conditions.
As it has wide channels with pebbled design (the so-called dots), it offers super easy handling with a strong grip, maximizing the chances of winning the game.
It comes in an intermediate size of 6 which is 28.5" diameter and is approved as a high school basketball by NIRSA.
The best part of this basketball is it comes inflated with a recommended 8 PSI, so there is no need to worry about air retention and pressure. The butyl bladder makes sure that the ball doesn't lose air easily. Works as advertised! And it comes inflated and game-ready! This ball is also included on our list of the best Spalding basketballs.
---
#9 Spalding React TF-250 – Leather Basketball For Shooters
It comes in official NBA size 7 which 29.5" and it's available in two more sizes for younger players
The improved composite cover provides solid grip on all surfaces
The butyl bladder locks in air for premium air retention
Ships inflated
Pebbled design with deep channels
This impressive Spalding model comes in three sizes to choose from. On top of that, the basketball is designed with "Spalding Shooter's Seam" that allows you to unmatched control and touch when shooting. Check it out!
Pros
Super strong grip and bounce control
Deep channels and pebbles provide easy grip on all surfaces even when the hands are sweaty
Available in three sizes
Comes inflated
It's an all-surface basketball
Cons
Loses air quickly when you play with it outdoors
Being a reputable brand that players love, "Spalding" is known for its wonderful and economical basketballs that hoopsters enjoy playing with. So the list cannot be complete if we don't discuss the "Spalding TF-250" indoor-outdoor basketball.
It has all the distinctive features you can imagine at such an economical price. It is all covered with a composite leather and provides superior quality performance including grip, bounce control, and air retention.
It comes in NBA official size 7, so it is one of the favorite balls of adults. But younger players (students and high-schoolers) can also enjoy the ball as it comes in sizes 5 and 6 too.
The high quality of these basketballs is promised because of a butyl bladder that locks in the air to maintain the air pressure of the ball. This feature doesn't allow the ball to deflate after just several hours of play. Last but not least, this ball ships inflated and ready for you to play with it.
---
#10 Spalding Zi/O TF Indoor/Outdoor Leather Basketball
Features Zi/O composite cover
Wound with a foam backing to provide a softer feel
Intermediate size 6 - 28.5"
Comes inflated and ready for you to take it on the court
Another hit basketball from Spalding, the Zi/O game ball will amaze you with impressive durability on all courts. Besides, the ball is super soft, bouncy, and maintains great grip and control. You can't miss that one!
Pros
Zi/O leather provides extra strong texture to the surface for improved durability
Pebbled texture help maintain the grip and strong bounce control. You can easily palm it even when it's dusty.
Foam backing maintains a soft buttery feel
Comes in intermediate size, suitable for high school and college students
Performs well on both indoor and outdoor courts
Retains pressure for long time, unlike some other basketballs on our list
Ships inflated
Cons
The grip is not so good on outdoor courts
We already highlighted that Spalding is an evergreen brand that has its die-hard fans all over the world because of their world-class basketballs and their brand reputation.
All the professionals, high school students, and even beginners love this ball because it can go from indoor courts to outdoor playgrounds without impairing the quality of the game.
I played with this ball on a dusty court and even with dust on it, the grip and control of the ball remained intact.
A Zi/O tournament-approved basketball, it is made of composite leather that can withstand all the rough conditions of indoor and outdoor use. This flexibility is due to the design that offers a pebbled surface area that resists outdoor weather conditions without spoiling the quality of grip and bounce control you need.
It comes in the intermediate size 6 which is 28.5" diameter, and it has a foam backing under the leather cover, which helps to keep up the softness of the touch with strong striking.
---
How To Choose A Leather Basketball
According to a recent study, developing a ball control when playing basketball is very important for the performance of each player.
And guess what?
That quality of the basketball you play with has a significant role in maintaining that control. Before you buy a leather basketball, you must know there are many features to look after.
After all, the quality and outcome of each game you play will heavily rely on this basketball. Buying an expensive ball is not a solution to all of your problems until you know your own requirements. A basketball can be your lifetime friend that goes with you through thick and thin if chosen wisely.
We have discussed some important factors in the section below that will help you buy the best basketball and dominate any court.
Grip
According to a scientific study, finger and palm dynamic pressure play a key role in controlling a basketball during a game. Basketball is a game of grip.
If you can't palm a ball, you cannot really win the game. A high-quality basketball offers a strong grip even in sweaty hands. Such balls often have deep pebbled channels that make strong contact with the ground, not allowing any slippage.
However, even the best basketball wears off with when used for a long time. That is why it is strongly advised that you regularly clean your leather basketball with a rag soaked in dish soap.
That will preserve the material, thus not only extending the life of the basketball, but also ensuring a better grip for many games ahead.
Control
Yes, dribbling skills are a must if you want to master controlling a leather basketball. But it's also true that the ball itself should be easy to control. And that largely depends on its material and texture.
For example, our top pick "Wilson Evolution" is easy for you to control because it has composite leather pebbled texture that allows you to easily palm the ball. In addition, the ball boasts with built-in channels on the surface that maintain strong contact with your hands. So, you definitely want to look after these features when buying a leather basketball.
Soft Touch
A hardball can make your hand tired during a game. If a basketball is soft and tacky, it's easier for your hands to maintain contact with the ball.
Most quality leather basketball these days have a cushioning technology under the leather cover that improves that softness and enhance the bounce of the basketball. A little tacky ball is far better than a non-tacky ball. Plus, tacky balls are a bit sticky, and they don't slip from the hands.
Bounce
A good quality leather basketball should have consistent bounce. Often, the bounce of the ball decides the quality of the game. A ball that has good pebbles, deep channels, and cushioning inside the cover, offers the bounce that is required for a good play.
Moreover, many basketballs come with nylon winding that also provides good cushioning, leading towards a superior bounce.
As a kid or teenager, you must have encountered a slippery basketball that deflates after every shot.
Isn't that annoying?
Size
Getting a basketball with the right size for you is crucial. You don't want to end up playing with an uncomfortable ball that is either too big or too small for you.
| Player Age | Recommended Basketball Size |
| --- | --- |
| 9-11 | 5 (27.5″) |
| 12-14 | 6 (28.5″) |
| 15+ | 7 (29.5″) |
Basketballs, no matter if they are made of leather or not, come in three sizes as usual.
Size 5: Size 5 ball has a circumference of 27.5" and is the smallest size which is used for small kids, ages 9-11.
Size 6: This ball is usually used by women leagues, youth leagues, and children of ages 12-14. The circumference of this ball is 28.5".
Size 7: Men's leagues and adults use size 7, which is 29.5" circumference basketballs.
Leather Type
There are two types of leather fabric used for basketballs.
Genuine Leather
Official NBA basketballs ("Wilson") are made of real leather coming from animal hides. That fabric is softer and very comfortable. Expectedly, basketballs made of real leather are also more expensive.
They require a longer break-in period and are more prone to wear and tear. That is why they are mostly recommended for playing on indoor courts.
Faux Leather (Composite Leather)
Composite leather, also known as faux leather or synthetic leather, is the preferred material for outdoor basketballs.
Such balls are more durable and don't require several games to break-in. I've played many times with faux leather basketballs and in my opinion, they provide better grip and control.
Plus, you can use them on multiple surfaces.
So, my recommendation would be to choose a composite leather basketball if you play on indoor and outdoor courts and to go with a real leather basketball if you play strictly on indoor courts.
Plus, such balls are cheaper.
Air Retention
There are many leather basketballs that don't retain air very well and require you to inflate them after each game. To overcome this, look for a basketball that ideally has a butyl bladder. Butyl bladders help the ball hold air for longer. And if your ball deflates too fast, it might be damaged. Luckily, a basketball can be patched.
FAQ
Is composite leather basketball good?
Yes, composite leather basketballs are good, especially if you play on multiple surfaces. They provide greater control and grip and are cheaper than real leather basketballs.
Moreover, they don're require a long break-in period. A composite leather basketball is designed to meet all the optimum requirements of quality at a much lower price. Unfortunately, synthetic leather basketballs show wear and tear quite quickly on outdoor courts.
What is the best material for a basketball?
Genuine leather basketballs are considered to be the best leather basketballs out there. All the professional leagues use original leather basketballs, and they show better durability on indoor courts and last longer.
Plus, they demonstrate superior air retention. As the leather ages, it becomes more soft and seasoned to provide a wonderful game experience. Being expensive, these basketballs are recommended for indoor courts to have long life spans.
Are NBA basketballs made of leather?
Yes, the official NBA game ball is made of genuine leather that comes from "Horween Leather Company" in Chicago.
Which basketball is better leather or rubber?
Leather basketballs are of better quality than rubber basketballs. Rubber basketballs are more appropriate for beginners, as they are also cheaper.
Rubber basketballs are recommended for concrete courts. They have fewer pebbles and unlike with leather basketballs, their touch is rougher.
What brand is the best basketball?
"Spalding" is the best basketball brand as of 2023 along with "Wilson".