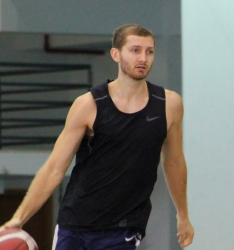 Latest posts by Adam Gotelli
(see all)
As ballplayers, we all want to improve our skillset. But we sometimes settle for a low-quality basketball. This, in my opinion, is a bad choice to make.
To find you the most durable basketball you can count on, today we will reveal the top Molten basketball that will complement your playing style.
---
Quick Answer: The best Molten basketball as of 2023 is "Molten GM7X."
---
Molten is one of the leading basketball brands whose products are FIBA approved. The design of their basketballs is exquisite. Their major sellers are the leather-based basketballs that provide extraordinary grip and ball control.
After careful market research, I have chosen the following 7 molten basketballs that are of supreme quality.
Without further ado, let's get the show started!
7 Best Molten Basketballs – A Comparison Table
How We Reviewed
I'm a pro basketball payer, and I dare to say I know a thing or two about basketballs. During my extensive career, I've played with hudnreds of Molten basketballs.
To bring you a detailed buying guide with accurate reviews of each basketball, we followed the strict methodology we follow when crafting each review article that we write:
Our expert team and I spent nearly 50 hours of research and testing to choose the top Molten basketball among more than 25 models.
I tested 3 basketballs myself
I consluted two of my teammates to check their opinion on what the coolest Molten basketball is
We sifted through buyer feedback and online reviews to form a more objective opinion
We analyzed important basketball features such as grip, ball control, slippage, materials, durability, bounce, size, and price
We always strive to bring you authentic reviews to help you make the right decision.
Best Molten Basketball Review
#1 Molten GM7X - Best Indoor/Outdoor Molten Basketball
Pros
Improved pebble distribution
Better Bounce and visibility
One of the top-rated basketballs on the web
Composite cover material
Indoor/Outdoor version
1-year warranty
Cons
Some buyers report durability issues after prolonged use
From the streets to the basketball courts, Molten fuels your passion and brings you the perfect companion in your basketball journey. This Molten X-series has surely seen major improvement from its predecessor.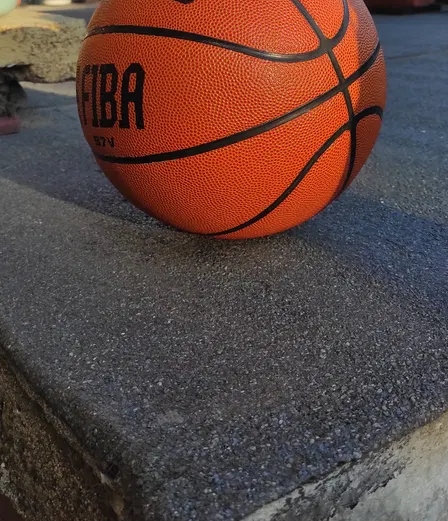 In terms of style, performance, and materials, this is a much superior ball than any of the previous models. We shall look in-depth at what this basketball offers below.
Features That You Need To Know:
Consistent Touch
No matter how flashy and cool design does a basketball possess, at the end of the day hooping is all that matters.
What's the use of all the style and swagger if the ball doesn't even have a consistent touch? To address this very reason, Molten has changed its traditional pebble style and introduced a much more improved pebble pattern, one with a uniform surface texture.
Designed by GUIGIARO
Once again Molten's partnership with the designer Giorgetto Guigiaro pays off. This basketball has a great stylistic look, one that you will prefer to hoop with. When you are on the court, the basketball will show off itself because of the superb work that is done by Mr. Giorgetto Giugiaro.
Better Visibility
Basketball is one of the major sports that are played at a very fast pace. You are on the court trying to get the best out of your mate. You do not want any sort of distractions to break your composure.
Therefore, the team at Molten came up with a refined design that has some brilliant patch distributions. This will ensure that you don't lose your focus because the color contrast of the ball is much more apparent.
Consistent Grip On All Surfaces
When I played with it, the basketball proved to be extremely grippy no matter if I played indoors or outdoors. The ball control was good as well.
---
#2 Molten GG7X – Best Molten Basketball 2022
Pros
Has a proper clean look
FIBA approved
2-year extended warranty
Ready for indoor fun
Durable composite leather cover
Popular among fans
Cons
Durability might be compromised on outdoor courts
If you are looking to find the perfect indoor basketball to have fun, then you are in luck!
As the Molten GG7X has all the brilliant features that are required to play basketball in the true sense. We will talk about the various things that this sublime basketball offers below.
Features That You Need To Know:
Topnotch Composite Leather Cover
One of the best basketballs that you can hold, the molten GG7X is here to furnish your passing capabilities. The ball has the best grip that you can ask for because of its premium composite leather cover and dots.
Do you have consistent difficulties in your practice?
Is it because the ball has an awkward response? Well, be assured that the pebbles pattern has been modified to provide you with a more consistent touch.
Offers The Best Indoor Experience
If you are an indoor player, then the Best Molten Basketball 2023 is the perfect choice for practice. The GG7X improved model has a highly durable build, and it greatly helps in ball control.
Do you want to hook up with your friends and play a 5 on 5? Then this is surely the one of the best indoor Molten basketballs you can use.
Suitable For Adults
The size of this basketball is perfect for an adult to play with. It has a comfortable design that lands in perfectly when you are trying to catch a pass. The composite leather build also improves your shot release and offers fantastic bounce.
This basketball is also included in our list of the best leather basketballs of 2023.
---
#3 Molten BG3800 - Best Value For Money Molten Basketball
Pros
Value for money price
Spectacular grip and smooth to the touch
Durable synthetic materials
2-tone designed dull color looks fantastic
FIBA approved ball suitable for both outdoors and indoors
1-year warranty
Official 12-panel Molten design
Cons
It's smaller than advertised once inflated but it gets bigger with time
The next basketball on our list is an underrated one! It has so much to offer but I don't know what the reason for its unpopularity is.
I find the ball's grip extremely compact, and I would surely not mind hooping with this ball any day of the week. To find out, what the ball brings with itself, let's get into reviewing it.
Features That You Need To Know:
Made From Synthetic Materials
Although, synthetic material is not the best material for a basketball. But in terms of pricing, it is not a bad option at all.
You can get extremely durable synthetic materials. One thing which is seen quite commonly is that synthetic basketballs rarely fail on any sort of surfaces.
Spectacular Grip
As a beginner, while hooping you surely struggle with gripping the ball. It is one of the struggles that turn you into a major player. For your development, the surface of the best value for money molten basketball has been kept compact and non-slippery.
In this way, you will be able to grip the ball better while you apply some nasty handles on the court.
FIBA Approved
You know a ball is good when it is used on the biggest of the basketball stages. FIBA has a brilliant partnership with Molten for a few years now. It is great in the sense that it brings competition among the basketball brands to produce a better quality of b-balls.
---
#4 Molten GR7 - Best Outdoor Molten Basketball
Pros
The combination of blue and orange is awesome
Compact and durable build
Very popular among fans
Suitable for all courts
Great hand control
Cons
Poor packaging
Size might be too big for kids
Next on our list is the molten G series basketball that I like a lot. Basketball brings the best out of you and takes your game to another level. So, that you can create chaos on the court by playing with the top-rated molten basketball.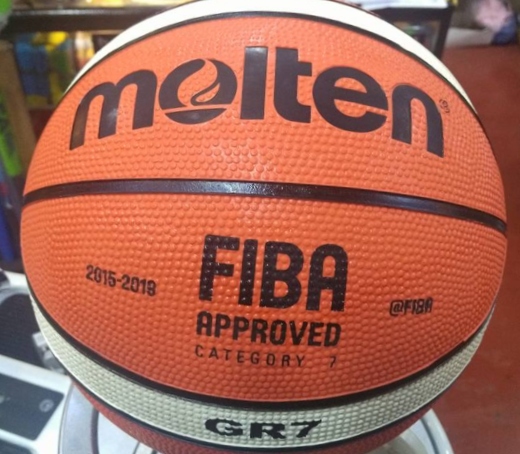 Features That You Need To Know:
Compact & Durable
Available in size 07, Molten has produced this ball with extra care. With improved engineering behind it, the basketball is truly long-lasting. You can test this beautiful ball on any court, and you won't be disappointed.
Fan Favourite
Fans are rolling with this ball, the ball is quite grippy and the bounce is extremely stable. It's dimensions and weight are on spot for a dunker who wants to learn different ways to dunk. These are some of the reasons why it is so popular among fans, especially teenagers.
Best Color Combo
The orange/blue color is the real deal we are talking about. Finally, Molten has brought a change for once and brighten things up. The GR7 comes with a better color combination, a solid cover, and a sublime design pattern that is second to none.
---
#5 Molten BG5000 - Best Molten Basketball To Improve Handles
Size suitable for kids
With an improved less slippery design and outstanding grip performance, the BG5000 is yet another popular basketball from Molten that's FIBA-approved. Its size is perfect for kids and adults alike and the ball is super easy to control. Check it out before it runs out of stock.
Pros
FIBA-approved
Offers solid grip and soft touch thanks to the EVA foam coating
Ideal choice for kids
Durable leather material provides greater grip and improved durability
Cons
Slippery in wet conditions
I hope you're aware that you can't play basketball effectively with a random basketball.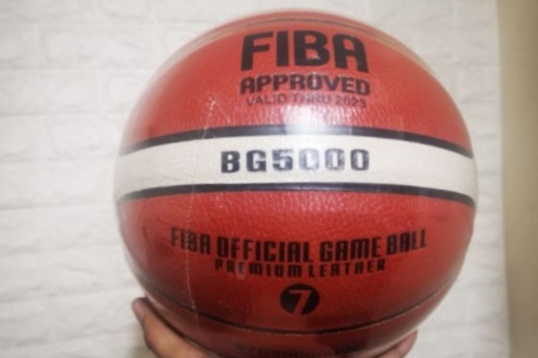 Well, the BG5000 model from Molten is not your regular basketball. Like other balls on our list, it's FIBA-approved, meaning that you play with the same ball used in FIBA tournaments.
In fact, this is the flagship Molten model that boasts true leather material, which makes it super durable and grippy.
What better way to emulate the pros?
I played several games with this ball, both indoors and outdoors, and it impressed me with its overall quality. It's bouncy enough but not too much, which is perfect.
The grip is quite good, and I must say – better than the one offered by the previous BG4000 model that's also on our list. For this one, Molten uses more EVA foam which adds to the ball control, while making the basketball softer. It also has a reinforced winding layer that makes it sturdy. I really liked that.
The leather material feels nice and allows you to use the ball outdoors without compromising durability and control.
The size of that particular ball is 3. It's designed for younger players, teens, and people with small hands. Mine are quite big, so it was tough for me to dribble and shoot with it. So make sure to get the right size if you're an adult. If you're taking size 3, it should be for your kids.
In terms of slippage, Molten BG5000 stays behind other options on our list. Even though it's advertised as an anti-slip basketball with improved texture, I found that not to be so true when moisture is involved.
When my hands became sweaty, the ball was slippery, and I almost lost control of it several times.
Overall, and not without its minor flaws, this is a top-of-the-line Molten basketball that's ideal for outdoor courts. It won't disappoint you if you're willing to pay the more expensive price. Just make sure to take the right size.
---
#6 Molten BG4000 – Best Molten For Indoor Courts
Great for indoor
Material: Composite leather
Size: 5,6,7
This Molten basketball wowed us with its scuff resistant design and excellent handling and grip. It boasts a butyl bladder that makes sure the ball keeps its shape and doesn't loose air for a long time. If you prefer practicing indoors, that's the basketball for you.
Pros
Sturdy design
Air and shape retention features
FIBA-approved
Great feel and finger control
Above-average grip on outdoor courts (it's designed for indoor use)
Cons
Picks up dust quickly
Not so suitable for outdoor courts
BG4000 is the new model right after Molten GG7X. I played two games with the BG4000, and I loved it.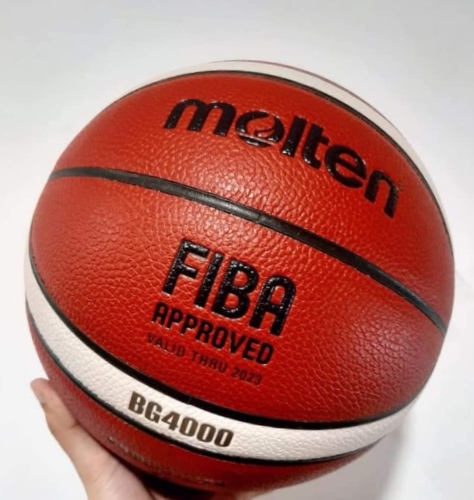 It performs above-averagely on outdoor courts, and it's awesome on indoor courts. Remember that since this is the entry-level addition to Molten's indoor line-up, it lacks the durability and cushioning of its successors (BG4500 and BG5000).
Unlike BG5000 which uses genuine leather, the BG4000 is made of synthetic leather.
That's why the price is lower.
What I really like about the Molten BG4000 is that it has a built-in butyl bladder. It allows the ball to keep its shape long enough, something that other cheaper balls don't have.
Plus, it doesn't lose air even after multiple games, and you don't have to use your pump as often as with other balls.
I found the size to be a bit strange. I mean that the ball is not exactly size 7 as advertised but not size 6 either. It's somewhere in-between. That's not a flaw but something you should keep in mind.
The grip on this basketball is quite good. I didn't have any issues with that.
However, my biggest complaint about that one is related to the control. If you're a fast-paced, explosive player, you will have difficulty controlling the ball.
The bounce of the basketball is good unless you're a heavy-handed player
When it comes to slippage, the ball performs great. I'd say even better than Molten BG5000. I played with sweaty hands during the entire game and the ball didn't slip, and the moisture evaporated quickly.
Another small issue is that the ball picks up dust like crazy. So if you play on dusty courts, that could be an issue because the ball could became slippery.
Overall, this is a very good Molten basketball that I'm sure you'll love. Just give it several games to break-in since the synthetic leather is a bit stiff at the beginning.
---
#7 Molten GR6 – Best Molten Basketball For Outdoor Courts
Also affordable
The main difference between the GR6 and the GR7 is the size. The GR6 is more suitable for teenagers and folks with slightly smaller hands. Other than that, the GR6 is above-average pro basketball with 12-panel design for improved grip and control. If you're serious about your game, you can't go wrong with this basketball.
Pros
Very sturdy rubber fabrics
Great coloration for improved visibility
Suitable for young players and teenagers
Superior response thanks to the 12-panel design
Perfect for outdoor courts
Cons
Not suitable for adults with big hands
Not the best option for indoor play
Molten GR6 basketball comes with a lot of interesting features but most importantly, it has one of the best prices on this list.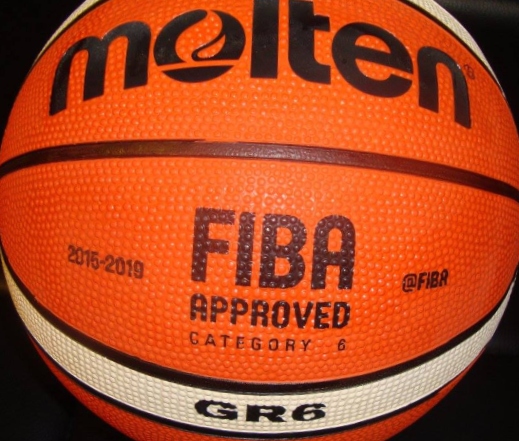 Just for a few pennies, you are getting a highly compact basketball that works accurately on all surfaces.
Let's see what else it offers.
Features That You Need To Know
Stunning Colors
The best thing that I have to say about this basketball is that it comes in some brilliant colors. The contrasting colors chosen by molten are just eye-catching. My personal favorite is the black/silver duo. However, the standard orange/yellow also steals the show.
Premium Rubber Cover
I am glad that Molten have worked on this area and provided the GR6 with an improved rubber cover. Because some of the previous variants of the G series were struggling badly on concrete surfaces. But this basketball works effortlessly both indoors and outdoors.
Excellent For Teenagers
Coming in size 6, the basketball has perfect dimensions to fit teenager's hands. If you are a point guard that wants to work on his handles, or a small forward that is looking to attack the basket. This basketball will provide you with the perfect combination of comfort and grip to showcase your skills.
5 Factors To Look After When Choosing The Best Molten Basketball For You
Based on my pro basketball experience and rigorous tests on both indoor and outdoor courts, here are 5 crucial features to look after when buying a Molten basketball.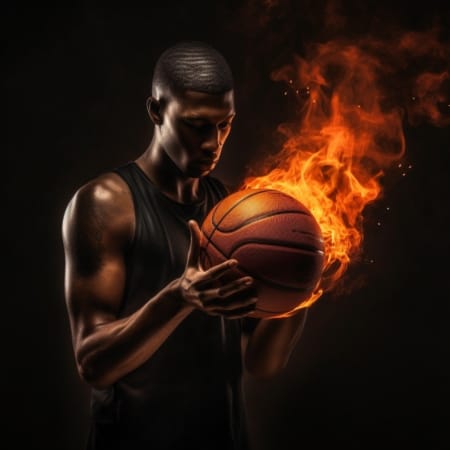 As a basketball specialist, here are five features to look after when buying a Molten basketball:
Size
Molten basketballs come in different sizes, so it's important to choose the right one for your needs. Most adult men's leagues use a size 7 basketball, while most women's leagues and youth leagues that cater to children ages 9-12 use a size 6 ball.
Finally, a size 5 basketball is a full two inches smaller than the men's size. So, consider that when choosing the right size Molten basketball for your needs.
Material
Molten basketballs are made of different materials, including synthetic leather, composite leather, and genuine leather. Synthetic leather is the most durable and affordable, while genuine leather is the most expensive and offers the best grip.
An important factor here is also the court on which you play. If you play mostly on outdoor courts, you need a more durable ball. If you're on a budget, then, choose a rubber basketball. Otherwise, invest in a basketball made of synthetic leather.
For indoor play, basketballs made of composite or genuine leather are the most suitable materials. Composite leather basketballs are more affordable than genuine leather, but they still offer a good grip and feel.
Genuine leather basketballs, on the other hand, are more expensive but provide the best grip and feel. Both materials are designed to perform well on indoor courts.
Grip
The grip of a basketball is important for ball control and shooting accuracy. Molten basketballs feature a pebble design that provides a better grip and control, such as my "Molten BG2010" shown in the picture below.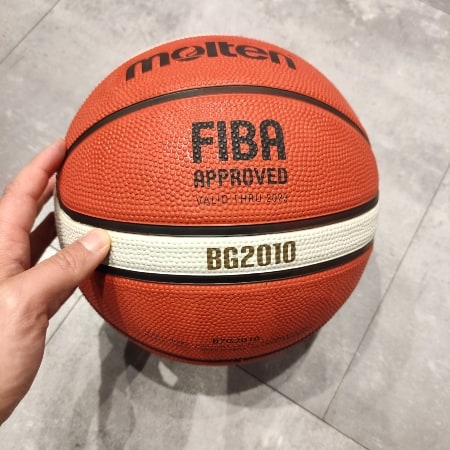 For grip, moisture-wicking features matter. Moisture can affect the grip of a basketball. Look for basketballs that have moisture-wicking properties to keep your hands dry and improve grip.
Also, proper inflation is important for the grip of a basketball. Overinflated or underinflated basketballs can affect grip and control. Make sure to inflate the basketball to the recommended pressure level. Also, you need to know how to properly deflate a basketball.
Last but not least, the cleanliness of the basketball can also affect its grip. Make sure to keep the basketball clean and free of dirt and debris that can affect grip.
Weight
The weight of a basketball can affect your shooting accuracy and ball control. Molten basketballs are designed to meet official weight standards, which is 22 ounces for men's basketballs and 20 ounces for women's basketballs.
Inflation
Proper inflation is important for the performance and longevity of a basketball. Molten basketballs come with a recommended inflation pressure, which is usually between 7 and 9 psi. It's important to use a reliable air pump and gauge to ensure proper inflation.
FAQ
Which molten basketball is the best?
Molten X-Series GM7X Composite Basketball is the best Molten basketball as of 2023. If you're on a budget, the right Molten basketball for you is "Molten BG3800".
What Molten does FIBA use?
The exact Molten basketball that FIBA uses in its competitions is the Molten BG4500. This basketball is made of composite leather and features a pebble design that provides a good grip and control. The BG4500 is also designed to meet FIBA's official size and weight standards, which is size 7 and weighs between 567-650 grams. This basketball has been used in all FIBA competitions since 2010.
What is the difference between GG7X and BG4500?

The Molten GG7X and Molten BG4500 are both high-quality basketballs, but they have some key differences:
1. Material: The Molten GG7X is made of composite leather, while the Molten BG4500 is made of synthetic leather.
2. Design: The Molten GG7X has a unique pebble pattern that provides a good grip and control, while the Molten BG4500 has a traditional pebble design.
3. Intended Use: The Molten GG7X is designed for indoor use, while the Molten BG4500 is designed for both indoor and outdoor use.
FIBA Approval: The Molten BG4500 is the official game ball of FIBA and has been used in all FIBA competitions since 2010, while the Molten GG7X is not officially approved by FIBA.
4. Price: The Molten GG7X is generally less expensive than the Molten BG4500.
Is Molten GR7 good for outdoor?
Yes, the Molten GR7 basketball is made of rubber and is designed for outdoor use.
What is the difference between molten BG4000 and BG4500?
The Molten BG4000 and Molten BG4500 are both high-quality basketballs, but they have some key differences:
1. Material: The Molten BG4000 is made of composite leather, while the Molten BG4500 is made of synthetic leather.
2. Design: The Molten BG4000 has a unique pebble pattern that provides a good grip and control, while the Molten BG4500 has a traditional pebble design.
3. Intended Use: The Molten BG4000 is designed for both indoor and outdoor use, while the Molten BG4500 is primarily designed for indoor use but can also be used outdoors.
4. FIBA Approval: The Molten BG4500 is the official game ball of FIBA and has been used in all FIBA competitions since 2010, while the Molten BG4000 is not officially approved by FIBA.
5. Price: The Molten BG4000 is generally less expensive than the Molten BG4500.
Which Molten basketball is the best for outdoors?
The best outdoor Molten basketball is "Molten GR6". The GR7 model is also good. Both basketballs have sturdy rubber fabrics and added durability that makes them a great choice for outdoor basketball games.
Is Molten GG7X good for outdoor?
The Molten GG7X is rather an indoor basketball. In rare occasions you can use it on outdoor courts, but there are better basketballs for that.
Is molten BG4000 good for outdoor?
Yes, Molten BG4000 is good for outdoor courts. The best thing is that it's suitable for indoor play as well.
Is molten BG4500 good for outdoor?
The Molten BG4500 is primarily designed for indoor use, but it can also be used outdoors. The basketball is made of synthetic leather, which is durable and can withstand outdoor play.
Is Molten a good basketball brand?
"Molten" is one of the most recognized basketball brands worldwide. They manufacture FIBA-approved balls that are used in various official tournaments. In my opinion, it's as good as a Spalding basketball.
How can you tell if your Molten basketball is genuine or fake?
The easiest way to see the difference between a fake Molten basketball and a genuine ball is to look at the bar code. If you suspect that your basketball is not original, you should check with the manufacturer and verify that the barcode is the real one. Most counterfeits have the wrong barcode.
Why do basketballs get lumps?
Usually, this happens because of two major reasons. One is that the basketball is being kicked around on harder surfaces, which may create lumps. Otherwise, you may be using an indoor basketball outside; this affects its structure and may create lumps. Note that if your basketball becomes damaged, it can be patched easily.