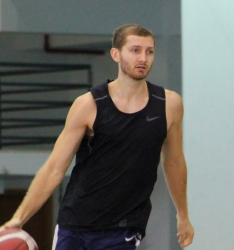 Latest posts by Adam Gotelli
(see all)
Suffering from endless knee pain could impact your game in a way that you won't be able to give your 100% on the court.
But I'm sure you know that already.
If you want to play basketball but your knees aren't supporting you enough, then it's time to change your footwear.
In this aspect, the best basketball shoes for bad knees could become a worthy solution. Such sneakers are well-cushioned, have a firm midsole, and can maintain the comfort of the feet, thus ensuring proper knee support.
One thing I must say here is that finding a shoe with such qualities ain't a piece of cake.
Good thing is that we at Outdoor Basketball Hub have already done the tough job of finding the most reliable Bball sneakers for knee injuries.
We followed our usual methodology that included personal testing, considering the customer feedback, and checking the durability and overall quality of each sneaker with the help of a professional basketball player.
So, have a look at the top 5 basketball shoes for knee injuries to make your decision accordingly.
Top 3 Picks
Editor's Choice
Incredible ankle support
Dual-density foam cushioning
Flexible enough (good for knee pain)
Premium Choice
Responsive Bounce cushioning
Great impact protection
Lightweight and breathable
Budget Choice
Breathable textile upper
Foamy midsole
Eva+Rubber outsole
How we Reviewed
Besides being far from easy, reviewing basketball shoes for players with knee pain is a responsible task. It requires a lot of attention to detail, meticulous skills, and assiduity.
In order to create this guide, our expert team and I (a professional basketball player) searched far and wide in order to shortlist 5 of the best shoes as of 2022. Here's how we did it:
It took us a total of 92 hours of meticulous research and testing
31 pairs of shoes considered
11 in-house tests with the help of a professional basketball player Adam Gotelli who suffered from bad knees at one point in his career
diving deep into product reviews and verified buyers' feedback online
consulted 7 experts, including 5 professional basketball players and 2 coaches
compared crucial shoe features such as flexibility, support, cushioning, and durability, among others
As usual, our in-depth methodology helped us shortlist only the most viable options as of 2022.
Best Basketball Shoes for Knee Pain – A Comparison Table
Based on my own experience with the shoes, here are the top three basketball sneakers designed to reduce knee pain.
Image
Product
Features
Price

Best Overall Value

Flexible and supportive
Midsole: Dual-density foam
Weight: 13 oz

Check Latest Price

#2nd best option

Internal pods along the midfoot
Midsole: Bouncy
Weight: 15.5 oz.

Check Latest Price

Budget Choice

With molded heel shield
Midsole: Foamy
Weight: 13 oz.

Check Latest Price

Unisex sizing

Ventilated textile upper with supportive overlays
Midsole: Bouncy
Weight: 15 oz.

Check Latest Price

Also affordable

Superior lacing system
Midsole: Extra Thick
Weight: 16 oz.

Check Latest Price
Best Basketball Shoes for Bad Knees Reviews
#1 Nike KD Trey 5 VIII - Best Basketball Shoes For Knee Support 2022
Editor's Choice
Dual-density foam midsole.
Signature Kevin Durant sneakers.
Textile and synthetic upper.
Mesh overlay.
Rubber outsole with wavy tread traction pattern
Lightweight design
Kevin Durant's celebrated budget model offers incredible support and amazing cushioning. KD Trey 5 should be a priority in case you want to enjoy any game without facing any knee injuries.
Pros
Designed for professional athletes suffering from knee pain.
Dual density foamy midsole offers extra cushioning.
Textile upper for immense support and balance.
Durable and flexible rubber outsole.


Cons
Limited size options
Heel support could be improved
KD Trey 5 is the celebrated budget model sneaker inspired by the signature motif of Kevin Durant. The shoes with an aesthetic shape, durable construction, and a lightweight body can reduce knee pain to a significant extent.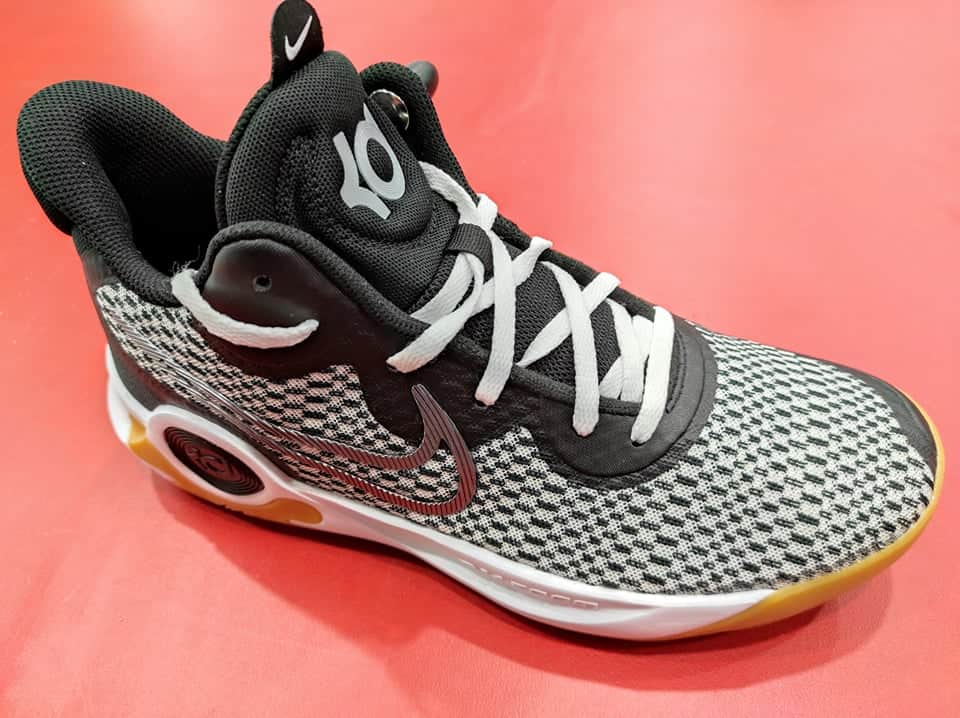 The best basketball sneakers feature a dual-density foam midsole that provides outstanding comfort and support to the feet as well as knees.
A rubber outsole along with a wavy tread traction pattern helps you move forward with proper safety and protection.
The upper, at last, comes with a textile and synthetic material construction combined with a mesh overlay to make the inside resistant to extra heat.
I tested these shoes myself, playing a total of 10 games so far with them. The traction indeed is top-tier as the rubber outsole with multidirectional pattern does an incredible job of keeping my feet firm on the ground when I do quick moves.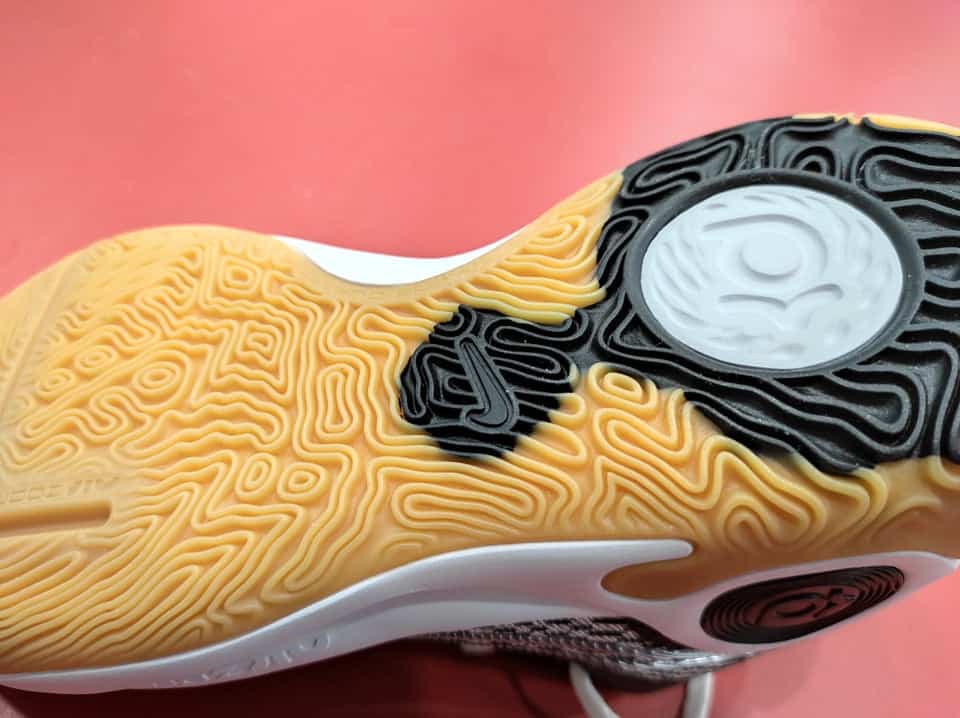 The plush and bouncy cushioning feels great on the feet and works like a charm for impact protection. I didn't feel any pain or strain when landing from high jumps.
The only issue with these shoes is the poor support they offer, especially as compared to other Nike models on our list. However, the flexibility of the shoes combined with the incredible cushioning makes them a fantastic choice for bad knees.
Pair them with the right socks, and you will feel comfortable in them all day long. Just don't forget to lace them up properly.
---
#2 adidas Men's Dame 5 - Best Basketball Shoes For Support And Cushion
Premium Choice
Textile and synthetic build.
Low-top design.
Rubber outsole.
Herringbone traction pattern.
Bounce cushioned midsole.
Weigh 15.5 oz.
Men's Dame 5 from Adidas with a lightweight design and cushioning could maintain the support and balance of your feet all the time. Consider checking them out if you are looking for a Bball sneaker to reduce your knee pain easily.

Pros
Lightweight basketball shoes for bad knees.
Extra thick boost cushioning for proper knee support.
Suede upper offers balance and support.
Visible holes for proper air ventilation.
Stylish Bball sneakers from Damian Lillard's signature series.
Not too expensive, even for Adidas standards.

Cons
Low-top shape could expose ankles.
Not recommended for point guards.


Adidas with the stylish and most comfortable basketball sneaker is making rounds in the basketball community.
The brand-new Men's Dame 5 comes in with aesthetic shape and a low-top design to offer full freedom to the ankle. However, it does feature a thick enough cushioning to keep the knee as relaxed as possible.
Starting with some basics:
The sneakers have got a durable synthetic and textile construction to enhance their overall durability. Not only that, but these materials also enhance the overall support given to the feet. And you will feel that when playing basketball.
Other than that, Adidas uses Bounce Cushioned midsole that absorbs shock and impact just like dry soil absorbs water. It can also keep the heel, toe, and arch area in a natural position.
Inspired by Damian Lillard's gameplay, the shoes offer proper balance and superb traction on the ground. Thanks to the rubber outsole with herringbone grooves, the sneakers could improve your movement within the court like a charm.
Low-top design, at last, has caught the attention of many athletes. It offers full freedom to the ankle to help out with lateral movements. I found these shoes to be quite comfortable for supination too.
---
#3 Beita High Upper - Best Budget Basketball Shoes For Knee Pain
Pros
Affordable basketball shoes for bad knees.
Offers superb support to the knees.
Capable of eliminating the pain and discomfort.
Textile upper ensures stability and balance.
Wear and slip resistant.
Versatile sneakers.
Cons
No removable insole.
Midsole isn't as comfortable as with Nike or Adidas sneakers.
A new brand as compared to Nike or Adidas, Beita has taken the basketball world by storm with the introduction of its High Upper Shoes.
With a compact design, an extremely lightweight body, and a solid build, you can trust Beita to fulfill your knee support demands, and rightly so.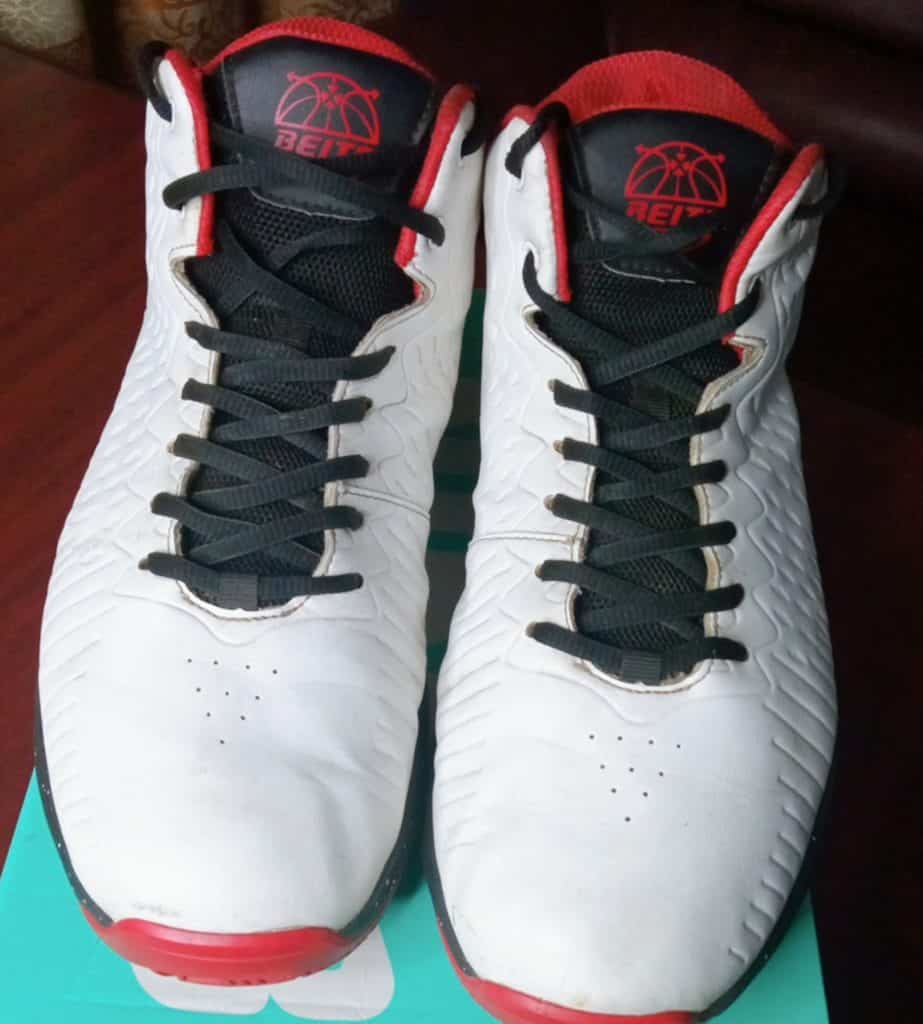 For starters, the Bball sneakers for bad knees have a quality textile upper along with a mesh overlay. Thus, it could keep your feet stable and firm enough for a long time. Besides, you won't face any sweating problems on the inside, as the perforated material allows for an easy air circulation.
Moreover, the rubber damping sole offers superb grip both indoors and outdoors. We've been using them in our academy since February, and they have not become slippery up till now.
A properly cushioned midsole is capable of absorbing extra shock and impact. Thus, it could reduce the burden on knees and keep them relieved of any pain.
Just don't expect the same quality of comfort as compared with Adidas or Nike, for example. But you can't get that at that price. Still, these shoes are super comfy overall.
One last thing to mention here is that the shoes are wear-resistant. Yeah, you heard that right! We've been using it since February, and they haven't shown any signs of getting degraded up till now. So they are long-lasting and sturdy enough, especially for that unbeatable price. These are also suitable for plantar fasciitis pain.
---
#4 Joomra - Cheap Basketball Shoes For Bad Knees
Pros
Versatile basketball shoes for bad knees.
Could be used for walking and running.
Help athletes improve their footwork skills.
Thick foamy midsole for knee support.
Tempting price
Cons
Poor insole quality
A bit heavy
"Joomra", an established manufacturer that produces affordable sportswear, has come up with a solution to tackle knee pain problems on an affordable budget.
The Men's basketball sneakers from this brand have got a high-top design to ensure maximum protection to knees and ankles.
The best budget sneakers for bad knees have got a synthetic leather upper for maximum balance and support. Visible perforations are also present on the toe area to enhance the ventilation and remove excessive sweat from feet.
With that, the shoes also feature an extra thick foamy midsole to improve the cushioning and thus offer sheer comfort to the feet as well as knee muscles.
A rubber outsole with deep grooves could help players maintain their grip on rough and harsh surfaces easily.
Now, while the overall quality of these basketball shoes is good, it's not as good as compared to Nike or Adidas. For example, I found the shoes to be quite bulky, and my feet got sweaty after intensive gameplay. But for that price, they are surprisingly durable, comfy, and super supportive.
Last but not least, they look pretty great.
---
#5 adidas Harden Stepback 2.0 - For The Fans Of James Harden
Unisex sizing
Bouncy cushioned midsole.
Mesh cage with textile upper.
Rubber outsole with multidirectional traction pattern.
Unisex mid-top design.
Weigh 15 oz.
Stepback 2 with a kick-ass unisex design is the ultimate choice both for male and female athletes. Get your hands on these sneakers if you want to keep your knees away from excruciating pain during games.

Pros
Perfect for outdoor and indoor use.
Multidirectional traction pattern enhances the grip.
Mesh cage improves breathability.
Supportive and balanced textile upper.
Bouncy midsole absorbs extra impact perfectly.
Made specifically for the fans of James Harden, the Stepback 2 from adidas has become a major hit in the basketball footwear market. Featuring a mid-top design, the shoes do a great job at keeping your ankles and knees protected from severe impact.
Stepback 2 also features a special Bouncy cushioned midsole to enhance the support and balance of your knee muscles. I own the previous version of the shoes – the "Stepback 1.0" and I must say that the major difference between both versions is the improved support, cushioning, and design of the "Adidas Harden Stepback 2.0".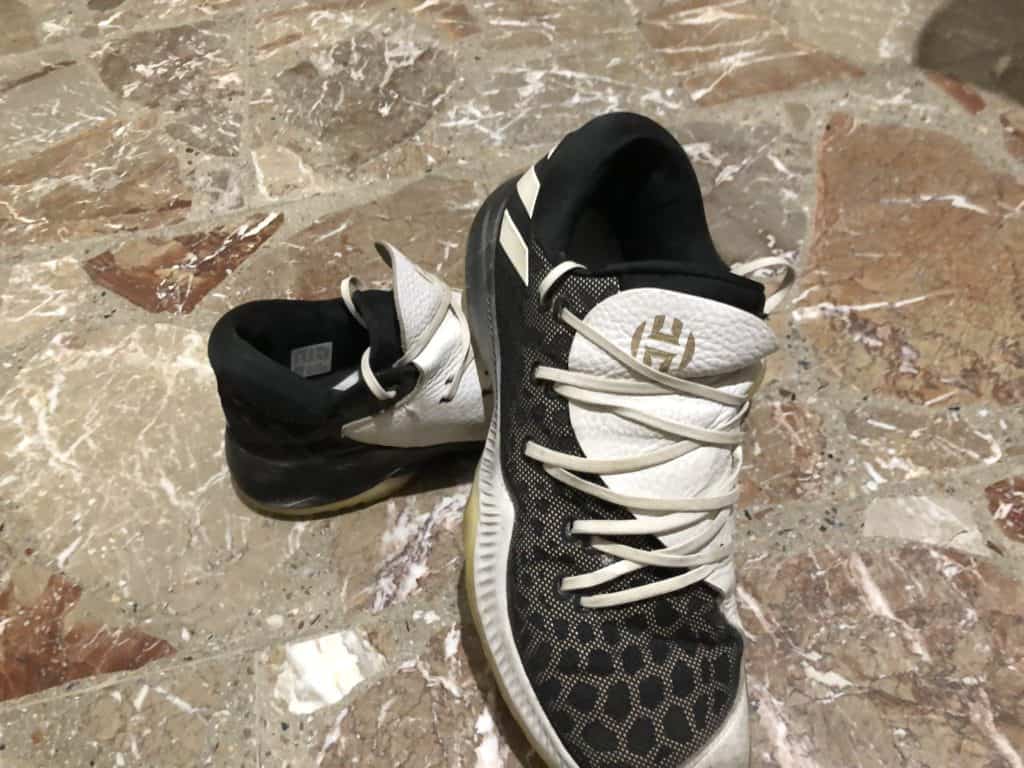 Plus, the sneakers do come with a textile upper combined with a mesh cage to enhance the air ventilation and to keep the feet away from extra sweat.
On top of that, these shoes are not meant for men only. The unisex design is compatible with men as well as women basketball athletes.
A thick rubber outsole with a multidirectional traction pattern is there to ensure superb performance on different surfaces. The basketball shoes are very suitable for winds and guards.
The only drawback of these shoes as compared to others on our list is the long break-in time. As a related read, check out "How To Break In Basketball Shoes".
---
Choosing The Appropriate Basketball Shoe For Bad Knee
Before reviewing the shoes, it's important to know about the Dos and Don'ts of choosing an ideal sneaker for your feet. Needless to say, playing with knee pain can seriously jeopardize your performance. Moreover, it can negatively impact your gameplay and conditioning in the long run.
That is why players who suffer from bad knees wear rubber bands.
So, some of the features that you should not overlook include:
Flexibility
Recent Harvard studies conclude that wearing basketball shoes that are flexible has a positive impact on reducing knee pain. If you can flex the shoe towards the laces easily, that means it's flexible enough.
Therefore, it won't restrict your foot and change your stride.
Thick Cushioning
The thicker the cushioning is, the better the knee support gets.
Find yourself the sneakers that offer proper cushioning and could thus absorb impact and shock after you jump or rush forward in the court.
So, a sneaker with a thickly cushioned midsole will help your knee remain safe and secure enough.
Stable Heel
Upon testing different brands and models, we have concluded that sneakers with a firm heel offer better stability compared to typical sneakers.
With a firm and elevated heel, it becomes easy for the feet to remain in a natural posture while you take on your opponents.
Therefore, you can enjoy the game without compromising on knee support.
Updated Midsole
Brands like Nike and Adidas install midsole with updated cushioning such as "Boost" or "Air Unit Zoom."
Such technologies make the midsole as firm as possible. Thus, it's able to reduce the shock and impact.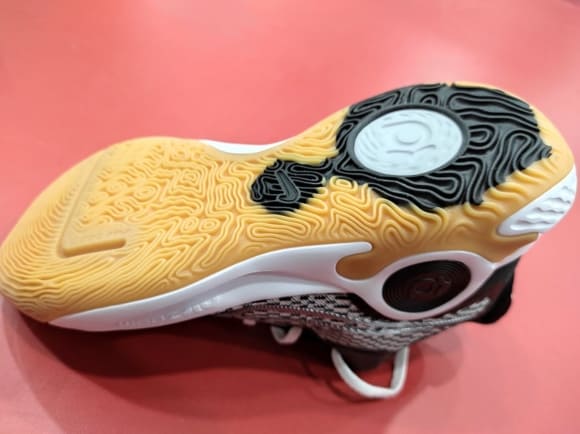 Hence, it's easier for the players to move forward or backward around the court with due comfort and stability.
Removable Insole Minimizes Knee Pain
Having a removable insole enhances the cushioning, which in turn helps the knee remain secure and sound enough.
On the positive side, you can always remove the insole and used the one that your orthopedic recommends.
So, don't neglect this feature before going for a bad knee basketball shoe.
Comfort and Relief
All in all, the main purpose of basketball sneakers is to keep you comfortable and relieved of any pain all the time.
In this aspect, we'd suggest you to invest in reputable brands such as Nike, adidas, Jordans, and Under Armour, etc.
Shoes from these brands offer impeccable comfort and will keep your knee relieved of any pain at the same time. Conversely, if you choose to go with a cheap shabby brand, the risk to end up buying a low-quality basketball shoe increases.
FAQs
Can you play basketball with bad knees?
Yes, you can still play basketball with bad knees and enjoy it as long as you use the right footwear.
What are the best shoes to play basketball in when you have bad knees?
Based on our extensive research process and testing methodology, the most suitable basketball shoes for knee pain are "Nike KD Trey 5 VIII." That's because they are flexible, well-cushioned, and incredibly supportive.
Final Verdict
The condition of bad knees could turn into severe pain if you don't care enough about it.
In this context, you must choose shoes with extra cushioning and a firm midsole along with a grippy outsole to ensure reduced knee pain. Once again, the most appropriate shoes for basketball players with knee pain are "Nike KD Trey 5 VIII".
Editor's Choice
Dual-density foam midsole.
Signature Kevin Durant sneakers.
Textile and synthetic upper.
Mesh overlay.
Rubber outsole with wavy tread traction pattern
Lightweight design
Kevin Durant's celebrated budget model offers incredible support and amazing cushioning. KD Trey 5 should be a priority in case you want to enjoy any game without facing any knee injuries.
Go through the models we have tested thoroughly, pick one, and consider it if you have the budget.