Suffering from endless knee pain could impact your game in a way that you won't be able to give your 100% on the court.
But I'm sure you know that already.
If you want to play basketball but your knees aren't supporting you enough, then it's time to change your footwear.
In this aspect, the best basketball shoes for bad knees could become a worthy solution. Such sneakers are well-cushioned, have a firm midsole, and can maintain the comfort of the feet, thus ensuring proper knee support.
One thing I must say here is that finding a shoe with such qualities ain't a piece of cake.
Good thing is that we at Outdoor Basketball Hub have already done the tough job of finding the most reliable Bball sneakers for knee injuries.
We followed the basic procedure of personal testing, considering the customer feedback, and checking the durability and overall quality of the sneaker.
So, have a look at the top 10 basketball shoes for knee injuries to make your decision accordingly:
Best Basketball Shoes for Bad Knee Pain [2021] Comparison
Take a look at what Lucas and his friends think about the top basketball sneakers meant to reduce knee pain:
Best Basketball Shoes for Bad Knee Reviews
1. Nike Men's Lebron Soldier XIII – Best Basketball Shoes for Knee Support 2021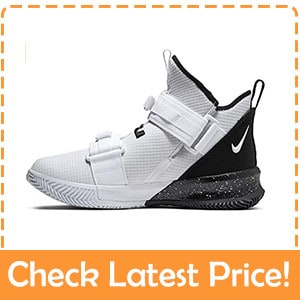 Soldier XIII with a robust shape, lightweight design, and extra cushioning could keep your knees away from all the pain and agony.
Made especially for LeBron James, the sneakers perform on a variety of courts and offer a comfortable game playing experience at the same time.
To start with:
Two adjustable straps present on the top of shoes offer a snug fit. Adjusting them could lock your feet completely, thus maintaining their natural posture for a long time.
The upper is made up of textile and synthetic. A mesh overlay on top keeps the inside breathable with proper air ventilation.
Moreover, Nike uses its patented Air Zoom Unit cushioning with a firm foamy midsole to neglect the extra impact and shock. Thus, your knees won't twist or dislocate even if you play with an aggressive style.
Last but not the least, the rubber outsole offers a firm grip on the ground, thus reducing the chance of any knee injuries. Deep grooves on the shoes are really helpful to the players who want to improve their footwork skills.
Specifications
Mid-top design.
Textile and synthetic upper.
Mesh overlay.
Air Zoom Unit cushioned midsole.
Rubber outsole with deep grooves.
Weighs 14.1 oz.
Nike Lebron Soldier XIII tops the list for ensuring proper knee support during the game. The shoes have got a solid build and could work for many years to come. Up to you whether you choose them or not, though!
Pros
Sturdy and rugged shape.
Helps maintain the knee muscles in a natural posture.
Perfect for outdoor and indoor use.
Air Zoom Unit cushioning absorbs impact and shocks.
Tough traction with rubber outsole.
Cons
Shoes could run small.
Not recommended for wide feet.
A bit expensive.
2. Beita High Basketball Shoes – Best Basketball Shoes For Knee Pain
A new brand as compared to Nike or Adidas, Beita has taken the basketball world by storm with the introduction of its High Upper Shoes.
With a compact design, an extremely lightweight body, and a solid build, you can trust Beita to fulfill your knee support demands, and rightly so.
For starters, the Bball sneakers for bad knees have got a textile upper along with a mesh overlay. Thus, it could keep your feet stable and firm enough for a long time. Besides, you won't face any sweating problems on the inside.
Moreover, the rubber damping sole offers superb grip both indoors and outdoors. We've been using them in our academy since February and they have not become slippery up till now.
A properly cushioned midsole is capable of absorbing extra shock and impact. Thus, it could reduce the burden on knees and keep them relieved of any pain.
One last thing to mention here is that the shoes are wear-resistant. Yeah, you heard that right! We've been using it since February and they haven't shown any signs of getting degraded up till now.
Specifications
High-top design.
Textile upper.
Mesh overlay.
Properly cushioned foamy midsole.
Rubber damping sole with a grooved pattern.
Weighs 13 oz.
Beita High sneakers offer proper support to the knee and that too at a reasonable price tag. Check them out before it's too late.
Pros
Affordable basketball shoes for bad knees.
Offers superb support to the knees.
Capable of eliminating the pain and discomfort.
Textile upper ensures stability and balance.
Wear and slip resistant.
Versatile sneakers.
Cons
No removable insole.
Midsole isn't as worthy as Nike or Adidas sneakers.
3. Adidas Men's Dame 5 – Best Basketball Shoes for Support and Cushion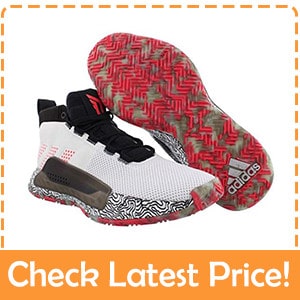 Adidas with the stylish and most comfortable basketball sneaker is making rounds in the basketball community.
The brand new Men's Dame 5 comes in with aesthetic shape and a low-top design to offer full freedom to the ankle. However, it does feature a thick enough cushioning to keep the knee as relaxed as possible.
Starting with some basics:
The sneakers have got a durable synthetic and textile construction to enhance their overall durability. Not only that, but these materials also enhance the overall support given to the feet.
Other than that, Adidas uses Bounce Cushioned midsole that absorbs shock and impact just like dry soil absorbs water. It can also keep the heel, toe, and arch area in a natural position.
Inspired by Damian Lillard's gameplay, the shoes offer proper balance and superb traction on the ground. Thanks to the rubber outsole with herringbone grooves, the sneakers could improve your movement within the court like a charm.
Low-top design, at last, has caught the attention of many athletes. It offers full freedom to the ankle to help out with lateral movements.
Specifications
Textile and synthetic build.
Low-top design.
Rubber outsole.
Herringbone traction pattern.
Bounce cushioned midsole.
Weighs 15.5 oz.
Men's Dame 5 from Adidas with a lightweight design and cushioning could maintain the support and balance of the feet all the time. Consider checking them out if you are looking for a Bball sneaker to reduce your knee pain easily.
Pros
Lightweight basketball shoes for bad knees.
Extra thick boost cushioning for proper knee support.
Suede upper offers balance and support.
Visible holes for proper air ventilation.
Stylish Bball sneakers from Damian Lillard's signature series.
Not too expensive even for Adidas standards.
Cons
Low-top shape could expose ankles.
Not recommended for point guards.
4. Nike Zoom KD 12 – Kevin Durant's Signature Bball Sneakers for Bad Knees
Kevin Durant with the Nike Zoom KD 12 has literally run riots all season in the NBA playoffs and that too without facing any injury.
That' s because the sneakers he wears have got re-engineered cushioning with a swift balance and support.
Nike Zoom KD 12 features:
A textile and synthetic construction for proper support. Moreover, the upper contains mesh material to enhance the overall breathability of the shoes.
Plus, Nike has used the Turbo Air Unit Zoom Cushioning midsole to enhance the overall comfort and convenience of the players with bad knees. The midsole is also capable of absorbing impact and shock.
A proper rubber outsole along with a patented traction pattern from Nike ensures a strong grip both indoors and outdoors. That's one of the reasons Kevin Durant flies around the court and no one is there to stop him.
Specifications
Turbo Air Unit Zoom Cushioned midsole.
Textile and synthetic construction.
Mid-top design.
Wrapped up lace system.
Mesh overlay.
Thick rubber outsole.
Weighs 13.5 oz.
Nike Bball basketball shoes for bad knees thrive when it comes to protecting the knee muscles from overpronation. Consider these sneakers if the above-mentioned choices aren't helping enough.
Pros
Extremely durable and rugged sneakers.
Suits the demands of aggressive players.
Ensures sound and safe traction on the ground.
Turbo Air Unit Zoom cushioning support knees.
Signature Kevin Durant's Bball shoes.
Cons
Limited sizes available only.
No other major issues.
5. ASHION Basketball Shoes – Best Kids Basketball Shoes For Knee Injuries
ASHION has finally listened to big kids who often face knee problems while playing basketball with their friends and family.
The latest sneakers from the brand feature a unique shape along with a thick and firm cushioning, thus supporting and balancing knee muscles in the best possible way.
Cutting right to the chase:
The best basketball shoes for bad knees feature a high-top design. Along with ankle support, the high-top design also offers security to the knee muscles.
Secondly, the mesh upper helps kids play the game for a long time without feeling any sweat or wetness on the inside.
Additionally, midsole of the sneakers is soft and extra thick to protect the feet from intense shock as well as impact. It could therefore keep your knees safe from pain.
Last but not the least, ASHION Bball shoes do come with an anti-slip rubber outsole combined with a zig-zag traction pattern. Hence, kids could roam around the court while getting past their opponents with ease.
Specifications
Mesh upper.
Soft and extra thick midsole.
Rubber outsole.
High-top design.
Weighs 14.5 oz.
ASHION Kids basketball shoes could keep the feet, ankles, and knees as comfy as possible. Consider this
shoes with ankle support
for your kids if they complain about knee or ankle pain.
Pros
Multifunctional basketball shoes.
Suitable for small and big kids.
Soft and thick midsole maintains the knee support.
Anti-slip rubber for improved footwork.
Rugged and sturdy design.
Cons
High-top shape blocks the movement of ankles.
Not recommended for adults.
6. Adidas Men's Ownthegame – Mid-Top Shoes for Bad Knees
Ownthegame by Adidas is a top notch shoe when it comes to reducing knee pain while playing basketball.
The shoes with a retro design, comfortable midsole, and durable construction have already become a favorite of professional athletes in 2021.
The synthetic leather and mesh upper combo not only offer proper support to the feet but also enhances the overall breathability.
Moreover, Adidas Ownthegame features a mid-top design to keep the ankle protected and free enough.
For knee support, the brand has used Cloudfoam midsole, which is soft, flexible, and lightweight at the same time.
Finally, with the introduction of Adiwear Rubber outsole, gripping on rough and slippery courts has become much more convenient than you'd ever thought.
Specifications
Synthetic leather and mesh upper.
Mid-top design.
Cloudfoam midsole.
Adiwear rubber outsole.
Weighs 11.6 oz.
Ownthegame from adidas is meant to reduce knee pain to offer athletes a comfortable playing experience. Get them before it's too late.
Pros
Retro adidas design.
Cloudfoam midsole reduces knee pain.
Rugged synthetic leather construction.
Could be used casually.
Inexpensive sneakers for bad knees.
Cons
Limited color options.
White color attracts dirt easily.
7. Adidas Harden Stepback – For the Fans of James Harden
Made especially for the fans of James Harden, the Stepback 2 from adidas has become a major hit in the basketball market.
Featuring a mid-top design, the shoes can keep ankles and knees protected from unwanted impact.
Stepback 2 also features a special Bouncy cushioned midsole to enhance the support and balance of knee muscles.
Plus, the sneakers do come with a textile upper combined with a mesh cage to enhance the air ventilation and to keep the feet away from extra sweat.
On top of that, these shoes are not meant for men only. The unisex design is compatible with men as well as women basketball athletes.
A thick rubber outsole with a multidirectional traction pattern is there to ensure superb performance on different surfaces.
Specifications
Bouncy cushioned midsole.
Mesh cage with textile upper.
Rubber outsole with multidirectional traction pattern.
Unisex mid-top design.
Weighs 15 oz.
Stepback 2 with a unisex design could become beneficial both for men and women athletes. Get your hands on these sneakers if you want to keep your knees away from immense pain.
Pros
Perfect for outdoor and indoor use.
Multidirectional traction pattern enhances the grip.
Mesh cage improves breathability.
Supportive and balanced textile upper.
Bouncy midsole absorbs extra impact perfectly.
Cons
A bit expensive.
Exaggerated color selection.
8. Joomra Men's Sneakers – Cheapest Basketball Shoes For Bad Knees
Joomra, a local manufacturer in the market has come up with a solution to tackle knee pain problems on an affordable budget.
The Men's basketball sneakers from this brand have got a high-top design to ensure maximum protection to knees and ankles.
The best budget sneakers for bad knees have got a synthetic leather upper for maximum balance and support.
Visible perforations are also present on the toe area to enhance the ventilation and remove excessive sweat from feet.
With that, the shoes also feature an extra thick foamy midsole to improve the cushioning and thus offer sheer comfort to the feet as well as knee muscles.
A rubber outsole with deep grooves could help players maintain their grip on rough and harsh surfaces easily.
Specifications
Synthetic leather upper.
Thick foamy midsole.
Anti-slip rubber outsole.
Weighs 16 oz.
Joomra Men's Basketball sneakers have got the attention of many newbies who are facing the bad knees problem. Check them out if you have got a low budget to spend.
Pros
Versatile basketball shoes for bad knees.
Could be used for walking and running.
Help athletes improve their footwork skills.
Thick foamy midsole for knee support.
Available at a reasonable rate.
Cons
Not ideal for professional athletes.
No other major issues.
9. Adidas Men's Crazy Explosive – Best Value For Money
Men's Crazy Explosive from adidas has been around since 2017 and many professional basketball athletes have used them in this time.
According to these athletes, they have not endured any knee pain whenever they wore Crazy Explosive to the court.
The shoes have got a 100% fabric construction to ensure a durable yet lightweight design.
Plus, adidas uses Boost Cushioned midsole to absorb most of the shock and maintain the comfort level of feet at all costs.
Rubber outsole with a herringbone traction pattern is there to enhance your footwork as well as your grip. Thus, you can get past your opponents in a single go.
Specifications
Boost cushioned midsole.
Fabric construction.
Perforations on upper.
Rubber outsole.
Herringbone traction pattern.
Weighs 14 oz.
Crazy Explosive from adidas is, in fact, the best basketball shoes for bad knees. Check them out if you are okay with their design and shape.
Pros
Suitable for players with aggressive gameplay.
100% fabric construction increases durability.
Perforations enhance breathability.
Improved grip, thanks to herringbone outsole.
Cons
Out of fashion design.
No other major problems.
10. Nike KD Trey 5 – Newest Addition to the KD Series
KD Trey 5 is the newest sneaker inspired by the signature motif of Kevin Duran. The shoes with an aesthetic shape, durable construction, and a lightweight body can reduce knee pain to a certain extent.
The best basketball sneakers do feature a dual-density foam midsole that can provide immense comfort and support to the feet as well as knees.
Rubber outsole along with a wavy tread traction pattern helps the players to move forward with proper safety and protection.
The upper, at last, comes with a textile and synthetic material construction combined with a mesh overlay to make the inside resistant to extra heat.
Specifications
Dual-density foam midsole.
Signature Kevin Durant sneakers.
Textile and synthetic upper.
Mesh overlay.
Rubber outsole with wavy tread traction pattern.
Weighs
KD Trey 5 should be a priority in case you want to enjoy the game without facing any knee injuries. Make sure that your pocket is full of money before you think about getting these sneakers.
Pros
Meant for professional athletes suffering from knee pain.
Dual density foamy midsole offers extra cushioning.
Textile upper for immense support and balance.
Durable and flexible rubber outsole.
Cons
Expensive as compared to other sneakers on our list.
Limited size options.
Choosing The Appropriate Basketball Shoe For Bad Knee
Before reviewing the shoes, it's important to know about the Dos and Don'ts of choosing an ideal sneaker for your feet.
Some of the features that you should not overlook include:
Thick Cushioning
The thicker the cushioning is, the better the knee support gets.
Find yourself the sneakers that offer proper cushioning and could thus absorb impact and shock after you jump or rush forward in the court.
So, a sneaker with a thickly cushioned midsole will help your knee remain safe and secure enough.
Stable Heel
Upon testing different brands and models, we have concluded that sneakers with a firm heel offer better stability compared to typical sneakers.
With a firm and elevated heel, it becomes easy for the feet to remain in a natural posture while you take on your opponents.
Therefore, you can enjoy the game without compromising on knee support.
Updated Midsole
Brands like Nike and Adidas install midsole with updated cushioning such as "Boost" or "Air Unit Zoom."
Such technologies make the midsole as firm as possible. Thus it's able to reduce the shock and impact.
Thence, it's easier for the players to move forward or backward around the court with due comfort and stability.
Removable Insole Minimizes Knee Pain
Having a removable insole enhances the cushioning, which in turn helps the knee remain secure and sound enough.
On the positive side, you can always remove the insole and used the one that your orthopedic refers to you.
So, don't neglect this feature before going for a bad knee basketball shoe.
Comfort and Relief
All in all, the main purpose of basketball sneakers is to keep you comfortable and relieved of any pain all the time.
In this aspect, we'd suggest you to invest in reputable brands such as Nike, adidas, Jordans, and Under Armour, etc.
Shoes from these brands offer impeccable comfort and will keep your knee relieved of any pain at the same time.
Conclusion
The condition of bad knees could turn into severe pain if you don't care enough about it.
In this context, you must choose shoes with extra cushioning and a firm midsole along with a grippy outsole to ensure reduced knee pain.
Go through the models we have tested thoroughly, pick one, and consider it if you have the budget as well as the resources.