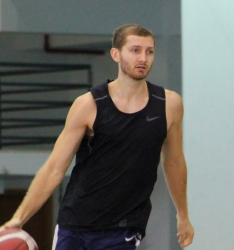 Latest posts by Adam Gotelli
(see all)
Everybody's started somewhere, and I know for myself that the at-home roof-mounted basketball hoop helped foster my love of the game from the very first shot.
After all, that's where I scored buzzer-beater, Game 7 winning buckets over and over again. Or at least, that's what I would imagine, running up and down the driveway. 
---
Quick Answer: The best roof-mounted basketball hoop of 2023 is "Spalding Performance Acrylic."
---
Whether you're a beginner or a seasoned player, the best roof-mounted basketball hoops are an excellent, affordable way to get yourself a durable basketball hoop that you can depend on.
You can bring the game home to practice, run drills, get shots off, or enjoy pick-up games with friends and family. 
Let's dive right in!
Best Roof-mounted Basketball Hoop In 2023 – A Comparison Table
Image
Product
Features
Price

Top Choice

Backboard Size: 52"
Material: Acrylic
Height Adjustment: N/A

Check Latest Price

2nd best choice

Backboard Size: 54"
Material: Polycarbonate, Nylon, and Alloy Steel
Height Adjustment: Up to 6 inches

Check Latest Price

Budget Choice

Backboard Size: 44"
Material: Acrylic
Height Adjustment: Sold separately

Check Latest Price

Backboard Size: 44"
Material: Polycarbonate and alloy steel
Height Adjustment: Up to 7 inches

Check Latest Price

Backboard Size: 60"
Material: Tempered glass
Height Adjustment: 6'-10'

Check Latest Price
Reviewing Process
We're bringing you our favorite roof-mounted hoops after careful consideration and research conducted by our experts in the field. A lot of time went into assembling these hoops, as well as energy in pounding the pavement to test their game readiness.
From pick-up scrimmages to H.O.R.S.E, we found our top picks give you the optimal performance for however you play while also providing a tough hoop that can withstand the elements and wear and tear over time.
As a player who's played games in the driveway to college and later at the professional level, I know what I'm looking for in a hoop I can count on.
Weighing backboard, rim, installation specs, and material with durability, here's how our expert team and I approached our research and what brought us to the 5 best roof-mounted basketball hoops:
Invested over 40 hours of research into the best products, which includes reading buyer feedback and reviews.
Over 35 products were considered based on backboard, rim type, installation, weight, flexibility, and material, among other factors to be expanded on below.
I personally tested our top 5 picks, looking for the highest performing hoops with advanced durability to ensure you have a hoop for the long haul.
Consulted two experts, of which one is a roofing mechanic and the other is a sales representative from "First Team Roof Nitro" who provided invaluable insights on important characteristics and roof-mounted hoop installation.
Now, let's take a deep dive into our product reviews, starting with our editor's choice and best overall pick for roof-mounted hoops: Spalding Performance Acrylic."
Best Roof Mounted Basketball Hoop Reviews
#1 Spalding Performance Acrylic
Top Choice
Backboard Size: 52"
Material: Acrylic
Height Adjustment: N/A
Acrylic design with authentic padding gives you superior rebounding opportunities
With a performance acrylic backboard padded in the style of the pros, you get a hoop at an affordable price with all the authenticity of the NBA. Compared to blow-molded boards, the 4.55 mm thick acrylic design of the Spalding gives you superior rebounding opportunities with responsive cushioning.
Pros
Performance acrylic board with authentic-style padding
Steel board frame for added durability
Pro Slam breakaway rim responds to force with spring-loaded security
Included white "all-weather" net resists decay from harsh weather conditions
Cons
No available height adjustments without uninstalling and repositioning the hoop
The Spalding Performance Acrylic is for the premium baller who wants a hoop that will take their game to the next level.
The Pro Slam (or Slam Jam) rim has breakaway style flexibility. This spring-loaded secure rim can bounce back game-ready for the next scoring chance.
Even after I missed shots, the Pro Slam rim didn't send my ball flying and was able to cushion the impact of my basketball's points of contact. The thing that set this hoop up above other acrylic-based designs is its ability to withstand unrelenting elements.
Coming from Cali, I have yet to see the intense weather conditions that can deteriorate the quality of your outdoor hoop over time.
That said, the steel board frame and the all-weather net of the Spalding Acrylic are proven to survive the weather in Atlantic Division rain and snow.
The only downside to this hoop is the inability to adjust the hoop's height. This will require a bit of trial and error, or incredibly precise measuring, to ensure you have a hoop that's the right height for you.
With that being said, the installation of the hoop was surprisingly easy. Make sure to have a friend to help you and the right tools. More on that later in the article.
---
2nd best choice
Backboard Size: 54"
Material: Polycarbonate, Nylon, and Alloy Steel
Height Adjustment: Up to 6 inches
The look and feel of a professional game, now with Makrolon polycarbonate
With the pro-look backboard constructed from Makrolon polycarbonate and designed to be shatterproof, you're getting a hoop with the features necessary to take your game to the next level. If you want to hoop like the pros, you need a hoop like the pros.
Pros
Shatterproof backboard with fade-resistant graphics keep your backboard looking like new, even in the rain
"Slam It" rim with wraparound bracing and double compression springs can take a beating
Black-hammertone finished alloy steel frame for improved durability
The look and feel of a professional game, with pro-look backboard made from Makrolon polycarbonate
Cons
Mounting kit sold separately, with some online reviewers claiming they've been sent the wrong brackets
Another entry from Lifetime comes from the 71526, with all the look and feel of a professional game.
Optical clarity, with a robust yet lightweight frame, are the definitive characteristics of Makrolon polycarbonate.
This is a board made to be easy to install, lift, and spot from anywhere on the driveway court while maintaining its strength and stability. You will notice that when installing it for the first time.
And with its fade-resistant graphics, your hoop's backboard will look like new even though the winters to come.
The "Slam It" rim with wraparound bracing and double compression springs can take a beating and is made for hoopers who bang in the paint and take their dunks seriously.
While the 71526's black-hammertone finished alloy steel frame can take a beating from the elements for improved durability as the seasons change.
As is the case with the Lifetime 73650, the 71526's mounting and height adjustment kits are sold separately.
This can be especially frustrating for hoopers looking for a game-ready hoop with easy installation, while a handful of online reviewers claim their mounting kits were packaged inconsistently, as they were sent the wrong brackets.
While this is more of an exception rather than a rule, it's definitely a thing to keep in mind.
---
Budget Choice
Backboard Size: 44"
Material: Acrylic
Height Adjustment: Sold separately
A lightweight hoop that maintains a rugged, reactive performance
The Lifetime 73650 is a roof-mounted hoop that's great for beginners and intermediate players looking for a reliable hoop they can shoot on at home. At its 44" backboard size, this is great for new players to continue training.
Pros
Blow-bolded high-intensity polyethylene frame with frame pad
Shatterproof backboard design
Sold steel rim with compression springs
Five-year warranty
Cons
Mounting bracket and height adjustment kit sold separately
Exposed breakaway spring may be susceptible to rust over time
The blow-bolded, high-intensity polyethylene frame with frame pad (man, that's a mouth full) ensures you have a sturdy, reactive hoop that remains lightweight yet tough.
And the shatterproof backboard design only adds to the ruggedness of a hoop specifically designed for rough outdoor play.
The Lifetime has a solid steel "Slam It" rim with compression springs. Spring-loaded compression is essential for basketball hoops, and the 73650 is no exception.
While the exposed breakaway spring can break down easier than flush springs, this hoop has a 5-year warranty covering these kinds of expected damages due to rust, decay, etc.
A downside to the Lifetime is the mounting bracket, and height adjustment kits are sold separately. If you're willing to dish out the extra cash, this is a versatile hoop that can be mounted to a rooftop, pole, or wall and last you a considerable amount of playing time. The best part about it (and generally all roof-mounted hoops) is that you don't have to drain the water from it or fill it with sand.
---
#4 Spalding Polycarbonate
Backboard Size: 44"
Material: Polycarbonate and alloy steel
Height Adjustment: Up to 7 inches
Ultra-durable polycarbonate board with alloy steel frame
As strong as they come, the Spalding Polycarbonate holds up against the rain, cold, and countless banked-in jump shots, all at an affordable price for the budget hooper. If you want a quality hoop without spending too much money, check this one out!
Pros
Arena-style board padding adds authentic, NBA feel to back-in shots
⅝ " solid steel "Slam Jam" breakaway rim
Shatterproof polycarbonate board
Alloy steel frame for ultra durability against inclement weather
Cons
Tough to assemble
Polycarbonate materials are prone to scratching
The Spalding is constructed with ultra durability in mind, split between its shatterproof polycarbonate board and alloy steel frame. This is a hoop that will last through season after season of inclement weather and intense playing conditions.
Polycarbonate provides outstanding impact resistance because of its dense chemical structure that creates solid bonds in high numbers. This is a strong and stiff material that can compete with other tempered glass, A-grade backboards.
According to experts, polycarbonate materials are known to be susceptible to scratching, and while they maintain their endurance and strength over time, hoops like the Spalding Polycarbonate will appreciate scratches and scuffs.
The arena-style padding to the backboard gives this hoop an authentic NBA feel for back-in shots and all from the driveway. The extra padding allows for a more controlled impact and bounce when a basketball makes contact.
The design of the Spalding's steel frame comes in a striking red polish; you're going to want to keep your head up during your dribbling handles, not just to keep your bearings on the court but to keep an eye on this sleek hoop.
The ⅝ solid steel "Slam Jam" breakaway rim gives you the right amount of give in your close-shots, rebounds, and dunks without being too flexible or not sturdy enough to support your game.
Each Spalding Polycarbonate hoop is backed by a 5-year warranty, which was appreciated by online reviewers, as they also highlighted Spalding's excellent customer service.
That said, many online reviewers also noted that the Spalding Polycarbonate was trickier to assemble than other hoops.
---
Backboard Size: 60"
Material: Tempered glass
Height Adjustment: 6'-10'
Breakaway rim with hand-welded wire net locks keeps your rim intact from big dunks and bad weather
The First Team Roof Nitro is the be-all and end-all of roof mounted basketball hoops. This heavy-duty hoop with an adjustable arm allows for game after game in the driveway without worrying about structural integrity.
Pros
Heavy-duty breakaway flex rim, perfect for dunkers and aspiring big men
Hand-welded wire net locks
Tempered glass backboard will last game after game under the harshest weather conditions
Easily adjustable arm from the roofline; can extend up to 10 inches
Free shipping and includes free composite leather basketball
Cons
Enormous size and weight, though it adds to the hoop's durability
Starting off with the backboard, the Nitro features a tempered glass, reinforced design with alloy steel backings: this backboard is able to withstand everything from sleet and snow to monsoons. 
Excellent rebounding and second-chance points are to be expected with the Roof Nitro, with a robust 60" backboard size allowing for more sustainable performance.
For the rim, the heavy-duty flex feature is capable of withstanding the stress of even Shaquille-level dunks from aspiring big men. If Shaq was dunking on this hoop, he'd more likely pull the roof down before the rim cracks off.
The rim is also designed as a breakaway rim without the cheap plastic net clips holding it into place. Instead, you'll find hand-welded wire net locks throughout the rim's diameter.
This is a rim that's up for any challenge and any style of play, with the ability to sustain high-intensity drives, springing back into action.
The First Team Roof Nitro is fully adjustable in playing size and makes for a professional-grade hoop size you can lean into overtime, especially if you're new to the game. The height classes range from 6' to 10'.
The turning mechanism to the included hand-crank sits 38" from the roofline and I found it to be very simple to operate, while the Nitro's arm features easy-to-read rim height indicators; you can spend less time finding the right height for diverse players of different skill levels and more time playing the game.
You can mount this hoop to any vertical wall surface or flat roof edge. The hulking weight of 258 lbs. means once you've mounted the Roof Nitro, it isn't going anywhere; it performs with the rigid security and versatility you've come to need from an outdoor hoop.
That seems to be the only drawback here: the heavyweight 258 lb. size. It will require a lot of extra hands to install, but once it's there, boy is it worth the extra effort.
Also, that one is pricey, but if you're willing to invest in a high quality hoop that you last you forever, that's the one for you.
---
Choosing The Best Roof Mounted Hoop For You 
Here in our buyer's guide, we highlight some important factors to consider when choosing between hoops and finding the most suitable one for you: the hooper.
Assembly
The hoops with the easiest assembly will be lightweight and easy to install. Unless you have a couple of extra sets of hands, positioning, installing, and maneuvering an overweight backboard up to the roof may be a challenge.
Check out the Lifetime series 73650 or the 71526. These lightweight hoops don't compromise their durability for a thin frame, but rather make for easy assembly and adjustments.
For players who just want to dive into the game, the Lifetime series roof-mounted hoops require separate purchase of the mounting kit, and although they ordered the hoop and mounting kit at the same time, many online reviewers claimed that their shipping times varied.
For impatient hoopers, this may not be the way to go, but if you're up for longer than expected shipping times, the Lifetime hoops are excellent picks for easy, hassle-free assembly.
Backboard
Here's a closer look at what to expect from a backboard's material in the table below:
| | | |
| --- | --- | --- |
| Material | Pros | Cons |
| Tempered Glass | NBA, NCAA certified material; Exceptional rebound opportunities; 5 times stronger than the average glass sheet | Heaviest material which requires a strong frame and base to support its weight; Most expensive material |
| Acrylic | Lightweight; Unaffected by UV light and warping due to extreme heat temperatures; Durability is the central focus in construction and dependent on thickness (strongest is 4 mm and above) | Thin acrylic backboards make for unpredictable rebounds, with no flex; Not as strong as tempered glass |
| Polycarbonate | Most inexpensive material; Limits how much a basketball bounces after missed shots – better rebounds; Shatterproof | When exposed to UV light, polycarbonate can yellow and haze; Susceptible to scratching |
For the purposes of our research, the best outdoor, roof mounted basketball hoop is a tempered glass, heavy-duty hoop that can withstand the elements while giving you optimal performance opportunities; check out the First Team Roof Nitro.
Also, take into account the size of the backboard. 44" on the backboard makes lay-ups and bank-in shots that much harder, while 52"-54" tends to be a good middle-ground, and 60" and up is closer to the NBA regulation of 72", but is more for those with a limitless budget. 
As a related resource, check out my article on how to convert a portable hoop to inground.
Rim
All the hoops featured in our top picks have breakaway rims with compression springs that react to your game with responsive, flex energy.
But the best rim boils down to how it is attached to the backboard. A more secure, supported fit equals a longer-lasting rim that can flex and give as you play.
For rims with exposed breakaway springs, your rim's performance will deteriorate at a faster rate than springs flush or fastened into the board. Exposed springs will gather more dirt, debris, and rust, which will impact how the rim responds.
Breakaway springs that are flush to the backboard or secured through the backboard's protective layer offer a weather and rust-resistant feature that will protect your rim from decay without adding increased rigidity as you'd expect from tightly fastened inner springs.
Durability
Durability is tied to the source materials for constructing not just the backboard, but also the frame. All of our top picks feature high-quality, ultra-strong steel or alloy steel framing.
Any hoop with reinforced alloy steel framing or steel framing, in general, will add to the hoop's strength and durability over time.
Steel, in its purest form, is made with tensile strength and a greater distribution of grain. Alloy is a combination of different metals used in the forming of steel materials, with greater attention to detail paid towards how the steel metal is to be used and operated.
For basketball hoops, this means the alloy steel frame is designed to meet mechanical requirements, not chemical.
These mechanical requirements revolve around a basketball hoop being able to remain securely in place, perform with intensity and through rugged demand, and not break down through consistent playing or inclement weather over the years.
Height Adjustment
For families with ballers at different skill levels, ages, and sizes, making on-the-fly height adjustments to even the playing field is a must.
Height adjustment mechanisms allow you to make the one-time purchase of a basketball hoop that's perfect for any player in the family to lean into as they progress.
No more upgrading your hoop size to match your game; you can now have a hoop that will perfectly accommodate your playing needs and continue to gel with your hooping style as you get better and bigger.
Consider our editor's pick and top overall, the First Team Roof Nitro, as its adjustable height has the widest range: up to 10 inches. 
How Do You Attach A Basketball Hoop To A Roof?
You can attach a basketball hoop to a roof by:
First, locating the studs in the roof for the most secure installation.
Next, center the hoop's mounting bracket over two studs with the front edge of the bracket flush to the roof — indicate the mounting holes and mark them.
Then, drill your pilot holes in the marks on your roof with a drill bit ¼ of the size of the lag bolts used to mount your drill bracket.
Place the mounting bracket onto the roof, line the holes up, and secure the bracket to the roof with the lag bolts included in your mounting kit
Secure the backboard with supplied bolts and fasten your hardware
Watch the useful video below to see the process in action.
A pro-tip is filling your drilled holes with caulk to prevent water from seeping into the holes and rotting the studs.
FAQ
What Is The Best Roof Mounted Basketball Hoop?
The best roof-mounted basketball hoop is the "Spalding Performance Acrylic", for its unparalleled performance based on its durability, padded acrylic backboard, and ease of installation. The highest performing hoop with incredible durability and a sleek, pro-like design. 
Can You Mount A Basketball Hoop On A Sloped Roof?
You can't mount a basketball hoop to a sloped roof, as most will obstruct the hoop by the roofline. You should attach your roof-mounted hoop to a flat surface or the peak of your garage. This is the sturdiest, most secure fit for a hoop that needs to withstand its own weight and the physical pressure it's put under. 
How Do You Mount A Basketball Hoop To Brick?
You can mount a basketball hoop to a brick by using a drill bit specifically designed to penetrate tougher material. Try a concrete or masonry bit, and don't forget to drill your holes the depth of the long sleeve. 
It's also important to note that while you may think the tighter, the better — especially with brick— you can run the risk of stripping your screws, warping your mounting bracket, or cracking your brick surface. Make sure your hoop is fasted properly, right in the sweet spot, not too tight but not too loose. 
Do You Need A Bracket For A Roof Mounted Basketball Hoop? 
Yes, you do need a bracket for a roof-mounted basketball hoop. Brackets attach your hoop to straight vertical poles that hold the safety net. Without the use of a base, hoops that are attached to roofs, walls, garages, etc., require a mounting bracket for an optimal, unshakable fit.
Is Acrylic or Polycarbonate better for a basketball backboard
Acrylic backboards are generally more expensive than polycarbonate backboards, but they offer a more authentic bounce and feel when the ball hits the board. They are also lighter, making them easier to install and move around if needed. However, they are more prone to cracking and breaking compared to polycarbonate. Polycarbonate backboards, on the other hand, are more durable and can withstand more abuse without cracking or breaking. They are also more affordable than acrylic backboards. However, they do not offer the same level of bounce or feel as acrylic backboards. So, if you are looking for a backboard that offers a more authentic playing experience and are willing to pay a bit more for it, acrylic may be the better option for you. However, if you prioritize durability and affordability, polycarbonate may be the way to go.
Can you hang on a Goalrilla hoop?
Yes, you can hang on a Goalrilla basketball hoop. According to the Goalrilla website, their hoops are designed with a heavy-duty steel frame and powder-coated finish that make them able to withstand the weight of a hanging person. However, it is important to note that hanging on the rim is unsafe and not recommended by Goalrilla.
Can you put a basketball hoop on a house?
Yes, you can put a basketball hoop on a house. There are several ways to do this, including installing a permanent pole in the ground or getting a wall mount for the hoop and installing it on the garage, the house, or a wall.