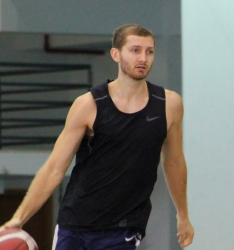 Latest posts by Adam Gotelli
(see all)
Are you here to find out the best portable basketball hoop for dunking this year? Worry no more as we've got your back.
This is Adam, and today the discussion is focused on finding the best portable basketball hoop for dunking.
A portable dunking basketball hoop must be stable enough to bear the slams and dunks easily. Plus, it must offer durability and longevity. Portability also matters, as you'd want to move the hoop around from place to place.
Keeping all these things in mind, I along with Nelson and Damien (Basketball Experts) have decided to dig deep into the basketball hoop market.
The top 5 picks thus include portable hoops that we've properly tested while keeping the customer feedback in mind. We've also invested 62 hours doing research and comparison.
Let us, therefore, take a look at the absolute best dunkable basketball hoop options available in 2023.
Best Portable Basketball Hoop for Dunking – A Comparison Chart
Here is the comparison chart of our hand-picked dunkable basketball hoops, available on the market.
Image
Product
Features
Price

Editor's Choice

Backboard size: 54"
Material: Acrylic
Base capacity: 35 Gallons

Check Latest Price

Premium Choice

Backboard size: 60"
Material: Acrylic
Base capacity: 19 Gallons

Check Latest Price

Budget Choice

Backboard size: 52"
Material: HDPE
Base capacity: 21 Gallons

Check Latest Price

Also affordable

Backboard size: 50"
Material: Alloy steel
Base capacity: 34 Gallons

Check Latest Price

Best overall quality

Backboard size: 60"
Material: Glass
Base capacity: 55 Gallons

Check Latest Price
How We Reviewed
To sift through hundreds of portable basketball systems for dunking, our expert team and I compared the following important features:
Quality of the rim
Pole quality
Base capacity and stability
Portability
Durability
Backboard material
Adjustability
Price
Brand reputation
To do that, we invested 62+ hours performing in-depth research. It included reading online reviews, reaching out to people who own the hoops and asking for their honest feedback, as well as consulting 2 professional basketball hoop experts.
I have also tested three of the portable hoops for dunking myself.
---
Portable Basketball Hoops For Dunking Reviews
#1 Lifetime 71522 XL – Best Portable Basketball Hoop For Dunking 2022
Editor's Choice
Easy to use pneumatic height adjustment system
Reinforced "Slam-It Pro® Rim" holds up to brutal dunks
Bouncy acrylic backboard that's shatterproof
Weather-resistant pole and net
35-gallon base for maximum stability
Lifetime 71522 tops our list of the best portable basketball hoops for dunking for a reason. The system has flawless construction, super sturdy rim that you can dunk on, and a huge base that ensures great stability. Don't miss on this one!
Pros
Easy to move thanks to the two wheels
Hassle-free assembly
Holds up to massive dunks
Huge base that you can fill with water or sand for maximum stability
Very durable and weather-resistant
Cons
The manual instructions are not so clear (better watch a YouTube video)
If you or your kids like to dunk and want to do it worry-free, then I can ensure you that you will love the "Lifetime 71522 XL Competition" basketball hoop.
I knew that there are two major portable basketball hoop brands that stand out from the rest – "Lifetime" and "Spalding". That's why I paid close attention to hoops of that brand during our research process.
I must say, our team and I were amazed by the amount of positive feedback that this hoop received. So, we decided to find a way to test it and see if it works as advertised.
I'm 6"4', 208 lbs., and I was able to dunk on this thing like a boss. It held up pretty well. The basketball hoop is super stable, without any vibrations. We filled the 35-gallon base with water. Sand is usually even better for stability, though, but in this case, it's not needed.
The rim is very flexible, yet robust. It uses the "Slam-It Pro" technology with enclosed hoop springs that don't rust. No matter if you're a kid or adult, you will be able to dunk effortlessly without risk of injury or corrupted materials.
The acrylic backboard offers excellent rebound and is quite sturdy. It's advertised as shatterproof and indeed that's the case.
Do you know what's best?
Two things actually.
First, it will be very easy for you to move the portable basketball hoop. It has two wheels that make the job a breeze.
Second, both your kids and adult friends will be able to dunk on the hoop thanks to its amazing adjustability. You can change the height from 7.5 feet to 10 feet using the pneumatic mechanism on the pole.
One f my teammates, John owns the same hoop and he says that it's very resistant to normal wear and tear. I guess that's because the alloy steel, anti-rust pole.
Overall, it's a fantastic hoop for its price. My only complaint is about the assembly instructions in the manual.
They are not clear at all, and if you rely solely on them, it will take you up to 4-5 hours to assemble this thing. My advice would be to watch a YouTube video like the one below and to ask at least one tech-savvy friend to give you a hand.
---
#2 Spalding Ultimate Hybrid Hoop – With "Arena Slam" Breakaway Rim
Premium Choice
60′' Acrylic backboard.
Screw Jack Lifting system for height adjustment
Arena Slam breakaway rim.
19-gallon base (or 4 50-lbs. sand bags)
Stainless steel pole.
All weather Nylon net.
Weighs 154 pounds.
Our verdict is final! The Spalding NBA Hybrid hoop is one of the top basketball hoops that you can brutally dunk on without any issues. The portable basketball system costs half when we compare it to "Spalding The Beast". Check it out before it gets out of stock.
Pros
Reasonable price. (Compared to The Beast)
Shatterproof acrylic backboard.
Reinforced breakaway rim ensures stability while dunking.
Stable and balanced hybrid base with adjustable pole.
Durable, weather-resistant design
Cons
Assembly is cumbersome
Bolt quality is poor
Spalding Ultimate Hybrid is the next highly popular portable basketball hoop that we are about to discuss. It's a bit more expensive compared to the "Lifetime 71522" model mentioned above.
But rest assured, this comes with a few nice perks. This hoop continues to meet the demands of athletes who want to dunk almost every shot into the hoop.
Featuring an acrylic backboard, durable pole and base construction combined with a solid rim, the strong basketball hoop have been the go-to-choice for basketball lovers who like to slam dunk for a few years now.
First things first.
The backboard has a large 60″ size, and it's made of acrylic. Acrylic is also shatterproof. More than that, the backboard has proper illumination to keep your focus on the target. Acrylic backboards provide great rebound and this is the case with this one too.
Furthermore, this dunkable basketball hoop also comes with a really sturdy, yet flexible breakaway Arena Slam rim. On top of that, it's made up of stainless steel alloy. The all-weather resistant Nylon net helps the players to try every type of shot without any issue.
Four moveable wheels are also included to ensure enough portability. Nelson even tried moving it on the driveway with the base filled, and it moved without causing any hurdle.
I'd like to talk about the base that accommodates at least 19 gallons of water. The good thing is that you can mix 4 bags of 50 pound sand in it to ensure maximum stability for dunking and slamming shots.
A local customer in our area – Stephen, purchased the "Spalding Hybrid" for himself. He's 30 years old and says that 'I had a limited budget, so I decided to choose the "Spalding Ultimate Hybrid". I've been dunking and throwing random hoops on it since March, and it hasn't disappointed me up till now.'
---
#3 Merax – Best Cheap Portable Basketball Hoop For Dunking
Budget Choice
Jump 'n Reach scale to measure your vertical leap
Two wheels
18" dual-spring rim that's flexible and durable
21-gallon base with two wheels
Weather-resistant pole
Dirt cheap, yet with stunning quality, the bestselling "Merax" portable basketball hoop for dunking is the ultimate proof that you don't need to spend a fortune to have some fun at home. It boasts a robust construction with a solid breakaway rim that withstands even excessive loads and super cool design that allows you to measure your jump height. Check it out!
Pros
Very affordable compared to other models on our list
Features a fun "Jump 'n Reach" Design that kids love
Tool bag included
Perfect for beginners and younger kids
Easy to set up
Cons
Not as sturdy as other hoops on our list
Low rebound because of the HPDE backboard (which is a plus for beginners)
Who said you need to spend a fortune to dunk at home?
The budget portable basketball hoop for dunking from "Merax" is an excellent choice for you if you're on a budget and still want to please your kids.
It boasts a 44" backboard that's perfect for beginners. Note that unlike other hoops son our list, such as the "Lifetime 71522 XL", for example, the backboard of "Merax" is made of HPDE (polyethylene).
So don't expect a high bounce. On one hand, that could disappoint you if you're an experienced player, but on the other hand, that's great for beginners who still miss shots a lot. The ball won't go a long distance after it hits the backboard and you won't get tired chasing it.
I dunked several times on this portable hoop and I was impressed by the quality of the steel rim. It's flexible, yet robust and withstands even brutal force. It's designed to alleviate pressure from the backboard.
What's fun about this hoop is that it has a printed vertical leap scale on the backboard. It allows you to measure your jump height and compete with your opponents. Your kids will surely love that.
The height adjustment is quite easy thanks to the telescoping mechanism that lets you adjust the height from 6.6 ft. to 10 ft. with the flip of a button.
The 21-gallon base has a lid that you can open and fill it with either water or sand. If you are a heavy dunker, I'd recommend sand.
What about the assembly?
Unlike other portable hoops for dunking on our list, I was amazed how easy it was to set up "Merax". It took me and a friend a little over two hours to assemble it.
The best part?
There is a tool bag that includes all the instruments you need to assemble the portable hoop. That saves you a lot of headaches.
All in all, "Merax" is a decent portable basketball hoop that does its job pretty well. Of course, it's not as stable and durable as other more expensive hoops, but this is what you get for that ridiculously low price.
---
#4 Lifetime 51544 – With One-Hand Height Adjustment
50′ steel-framed backboard.
Solid "Slam-it" rim.
Speed shift one-hand height adjustment (8 ft. to 10 ft.)
34-gallon base with built-in wheels
3-piece steel powder coated pole with a pad
5-year limited manufacturer warranty
Lifetime 51544 is indeed one of the best slam dunk portable basketball hoops available on the market. Boasting some really useful features that only a few hoops have, it easily beats out the competition. For kids and adults alike!
Pros
Affordable
Remains stable and balanced enough even when you hard slam
Helps you enhance slamming skills.
Very easy height adjustment.
Portable and compact enough.
Long-lasting and flexible rim.
Cons
The manual is not so clear
Difficult to move
One of my personal favorites! "Lifetime 51544" is one of the most reliable budget options when we talk about the best portable basketball hoop for dunking.
Costing half the money compared to the Spalding "The Beast" hoop that I discuss below, this system features a steel alloy pole with a stable enough base. I dunked on it, and it showed no vibrations at all.
The special Slam-in rim with durable stainless steel construction works like a charm when players try to dunk their shots in it. I ain't a big fan of the quality of the net, though, as it won't last for long.
Jackson has tested the backboard of this hoop with some rough shots and it stood quite firm and solid. Measuring 50′, the steel-framed backboard is stable enough to resist harsh dunks and slams without any worries.
The height of the Lifetime dunkable basketball hoop is also adjustable from 8 to 10 feet. You can easily increase or decrease the height of this hoop as per your will and wish.
Coming towards the base, it's made up of durable HDPE material and can accumulate around 34 gallons of water or sand. This ensures peak stability and the hoop won't move even an inch no matter how hard you try to dunk.
Featuring two sturdy wheels at the front of the base, you can easily transport the hoop from one place to another. I also like it because the mobile basketball hoop is quite compact, which ensures easy adjustment and storage.
I purchased the Lifetime 51544 for one of my cousin's kids to enhance his skills. Liam still uses it and often talks about how durable, stable, and easy it is to use the hoop for multiple drills.
---
#5 Spalding "The Beast" – With the best quality
60" Tempered glass backboard
Steel pro image rim
All-weather net
Height adjustment from 7.5 to 10 feet
55-gallon base with four wheels
Height adjustment from 7.5 ft. to 10 ft.
If you're ready to invest in a portable hoop that really stands out from the pack, then look no further. The highly popular "The Beast" has all the features required to offer you and your family tons of fun for many years to come. Check it out!
Pros
Superb rebound
Ideal for serious players
Super stable
Insanely durable
Easy to assemble and move
Cons
Requires extra attention when setting up because of the glass backboard
The rim color fades after a few months
We'd all agree on one thing when it comes to Spalding, i.e., 'Perfection.' The Beast is one such portable basketball system that you could use to practice your dunks or jumping shots.
Once you assemble it and start dunking on it, you will see why it's called "The Beast". This thing is incredibly stable, and you can tell the quality is sky-high.
The basketball system features a sturdy and durable hoop along with all extra peripherals respectively. Other than that, it offers a professional basketball gameplay experience with immense balance and stability. You can almost say that this hoop offer the stability and balance of an in-ground system.
My colleague Damien meticulously tested the backboard of the hoop. It measures 60″ and is made of tempered glass, unlike all other hoops on our list whose backboards are made of HPDE, acrylic or steel. The glass ensures the best rebound and allows you to improve your skills fast. Such hoops are used on indoor courts.
The only downside is that you need to be extra careful when assembling it in order not to break the glass.
I also like how the proper illumination is done to make it easier for athletes to target the sweet spot.
Other than that, I asked Damien about the rim, and he said it was the most sturdy rim he'd ever tested. The special steel pro image rim is there to help athletes hop on to it. Talking of the net, it's resistant to almost all weather conditions.
I, for one, am a big lover of the stability that "Spalding The Beast offers". That's thanks to its 55-gallon base that won't move even a bit as soon as you fill it with sand and water. The pole is also made up of stainless steel, and you could adjust its height from 7.5 to 10 feet easily.
Portability is ensured. The base is equipped with 4 heavy-duty wheels that you can utilize to move this beast basketball system from one place to another easily. Once you've adjusted the space, simply lock the wheels, and you are good to go.
Clay Morrison, one of my close neighbors, recently bought "The Beast", and he has his views about the system. As per his words, 'My teenager kids are always looking to dunk their shots, so I got them this hoop, and it's working just fine for me. Absolutely worth every penny I spent on it.'
If you want top quality and your budget allows you, then certainly invest in this hoop. We'll include it on our list of the "Best Portable Basketball Hoop Reviews".
You can also check my guide on this year's top roof-mounted basketball hoops.
---
How to Choose the Best Portable Basketball Hoop for Dunking?
According to a recent report, Vince Carter is the most prominent dunker in NBA history.
If you want to be like him and train at home, then you definitely need to consider some important features before buying your next dunking basketball hoop. And definitely consider improving your jump height with these vert jump programs.
So, here they are.
Durability
Obviously, that matters the most! A durable portable basketball hoop will offer a better gameplay experience and will work for a long time.
On the contrary, if you don't keep this aspect in mind, then the hoop you choose may break off with few dunks.
Make sure that the portable basketball hoop you choose for dunking is made of premium materials, i.e. stainless steel or steel alloy at least. Invest some time analyzing the backboard and rim construction too.
The pole should be made of stainless, rust-resistant steel. More on that later.
Stability
While choosing the dunking basketball hoops for this buying guide, me and my colleagues Nelson and Damien have tried our best to test the stability and balance of each basketball system.
There's no point in getting a portable basketball hoop that's instable. Mind you that you want to practice either simple dunks or slam dunks, which require immense stability.
Keep this feature in mind, or you might end up hurting yourself. I've got injured multiple times in the past while trying to dunk on some cheap basketball hoops. I'd, therefore, recommend you not to repeat my mistake.
The hoop should not vibrate or move when you dunk. For that, the base of the portable hoop matters the most. More on that in the next section.
And this research report showcases an excellent biomechanical analysis on dunk technology. It will be useful to you if you want to become a serious dunker.
Base Quality
While choosing a strong basketball hoop for dunking, make sure that its base is large enough. At least a 40-gallon base would be required to keep things balanced enough.
Usually, the bigger the base, the more stability you get, especially if you fill it with sand instead of water. The sand is denser and heavier. However, keep in mind that a base filled with sand is quite heavy, therefore it'd be more difficult to move the hoop. If you're a heavy dunker, then I suggest you fill it with sand to maximize stability.
In addition, it's highly recommended to read our article on how to drain the water safely and efficiently.
Pole Quality
The pole of your portable basketball hoop is its spine. It's what holds it still.
For home dunks, a 3-piece pole would work well. But, you need to analyze its construction and see whether it's made of stainless steel or not. Luckily, most quality poles these days are made of stainless alloy steel.
What's even more important is the steel thickness. It defines the stability of the basketball hoop system. An important metric for steel thickness is the gauge. Aim to get a hoop whose pole has a 7 gauge steel as a minimum. The smaller the number, the thicker the steel is. That will prevent your hoop from shaking or moving when you dunk.
Rim Quality
The best portable basketball hoops for dunking have sturdy, yet flexible rims.
What does that mean?
The rim should flex when you dunk on it without breaking, and then it should immediately return to its original position. Opt for an 18″ rim that has double springs made of heavy-duty alloy steel.
Reputable brands such as "Lifetime" has their proprietary rims, specifically designed for fierce dunks. Once such rim is a "Slam-it Pro" or their most durable "Mammoth" rim.
A proper rim, should be one of your priorities when choosing the best portable basketball hoop for dunking.
FAQ
Can you dunk on a portable basketball hoop?
Well, I still recommend dunking on an in-ground basketball hoops. However, brands like Spalding and Lifetime have worked a lot on making portable hoops compatible for dunking. So, from the list I mentioned above, you could perform dunks on either of the basketball hoops without facing any injury or imbalance.
What is the best portable basketball hoop for dunking?
The top portable dunking basketball system as of 2023 is "Lifetime 71522 XL Competiton". Another great choice is "Spalding The Beast". Featuring a 60′ tempered glass backboard, a breakaway rim, 50 gallons base, and easy height adjustment pole, the hoop is worth every penny you spend on it.
What backboard material is best for dunking – acrylic, glass or polycarbonate?
Acrylic is the most suitable backboard material for dunking. The dunkable hoops that have glass backboards are quite expensive, although they are perfect for slam-dunking. Acrylic is strong enough to maintain enough rebounding force and durability for a lower price. Polycarbonate comes in the last, and it has a weak rebounding force but is quite affordable Of all, I consider acrylic backboards to be a perfect fit for dunking as they offer enough support and are affordable.
Is a portable or in-ground basketball hoop better?
Both have their pros and cons, and it depends on your needs. In-ground hoops are definitely more stable, while portable hoops allow you to move them whenever you wish. In terms of overall playability, in-grounds hoops are better, especially for pro athletes.
Can you dunk on A "silverback" hoop?
Yes, you can dunk on a "Silverback" hoop as long as it is a three-piece pole system that's stable enough. A good model is "Silverback NXT". However, it is designed for light dunks only.