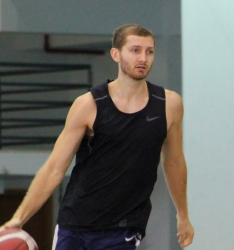 Latest posts by Adam Gotelli
(see all)
Wilt "The Stilt" Chamberlain, among the top of the top big men to play the game, once dropped 100 points in a single contest against the Knicks in just 48 minutes; he was wearing Chuck's.
Kareem, who's leading all-time points record of over 38,000 (soon to be eclipsed by Lebron), had a record night of 55 points against the Celtics in 1971; he was wearing his signature shoes, the Adidas Jabbar's.
What do these two—or frankly all—big men have in common?
---
Quick Answer: The best basketball shoes for big guys in 2023 are "Adidas Harden vol.6."
---
Besides banging in the paint, battling for rebounds, and creating space, screens, and blocks, the secret is that they were wearing the highest-performing shoes of their time that supported the functioning of their role on the court.
Basketball shoes and shoes for big men have come a long way since flat-top Converse and the like; for the top basketball shoes for big guys, you need a shoe that will hold up under pressure while bringing you state-of-the-art support, stability, cushioning, and protection.
That's where we come in: We're counting down our top 5 picks of the best basketball shoes for big guys, the shoes that will last game after game and make a noticeable contribution to your work on the court.
Best Basketball Shoes For Big Guys – A Comparison Chart
Image
Product
Features
Price

Best overall

Size: M 7.5—14
Ankle: Low-Top
BOOST midsole provides superior cushioning with powerful energy return

Check Price At AmazonCheck Price At Finish Line

2nd Best Choice

Size: M 7—12
Ankle: High-Top
Forefoot Zoom Air unit for a flexible bounce and improved speed

Check Price At Amazon

Best Budget Choice

Size: M 5—15
Ankle: Mid-Top
Secure, comfortable lockdown bands that dynamically feed the laces through the upper

Check Price At AmazonCheck Price At Finish Line

Size: US M 7.5—14
Ankle: Low-Top
Multi-surface, futuristic traction pattern that keeps its hold no matter the court

Check Price At AmazonCheck Price At Finish Line

Size: US M 7.5—14
Ankle: Mid-Top
Tracy McGrady inspired play with secure, strong torsion

Check Price At Finish Line
Our Review Methodology
To bring you the most in-depth and informed analysis of basketball shoes for big guys, I pounded the paint and put in the work.
Together with a handful of my teammates from the LBA, we posted numbers off the glass and tested from every angle of the court to mirror the typical functions, expectations, and play-through of a 3, 4, or 5 position.
Weighing a number of factors, including but not limited to durability, support, traction, stability, and cushion, we put over 40 pairs of shoes to the test; only 5 made the highly sought-after starting roster.
If you want numbers like Giannis or Jokic, it's time you took your footwear as seriously as they do; below is our research approach:
Invested over 45 hours of research into the best products, which includes reading buyer feedback and reviews
Over 60 pairs of basketball shoes for big men were considered based on stability, traction, ankle and heel support, durability, cushioning, price, and look, among other factors
I personally tested our top 5 picks, judging performance and court feel
Consulted my LBA teammates for product testing in Messina, Italy, as well as a certified podiatrist.
Basketball Shoes For Big And Heavy Guys—In-Depth Product Reviews
Best overall
Size: M 7.5—14
Ankle: Low-Top
BOOST midsole provides superior cushioning with powerful energy return
The Adidas Harden Vol. 6's, designed for 'The Beard,' bear impressive specs and features, analogous to what you'd expect from an NBA superstar and top-tier, high performance. With an unmatched price to quality ratio and superb features, these shoes for big guys top our list.
Pros
BOOST midsole
Herringbone traction grip
Rubber sidewall for added stability
Responsive cushioning pods along Achilles' structure
Textile upper for snug breathability
Cons
Indoor courts only; will break down from excessive outdoor usage
Being a big and heavy guy myself, I was eager to put these shoes to test. And they didn't dissapoint.
The foam midsole BOOST unit is lightweight and flexible, allowing for maximum agility and quickness, making fast-breaks and put-back opportunities that much easier to create and convert. Stiff midsoles, unlike the Vol. 6's, limit your ankle joint's mobility while reducing plantar forces under lesser toes.
The BOOST's structural integrity is made for improved performance, accurate shot selection, and conversion (and don't forget comfort), all rolled into one pair of basketball shoes for heavy play.
The Harden Vol. 6's engineering is made for big men looking to up their game. How so? Through the herringbone traction pattern, a rubber sidewall, Achilles cushioning pods, and textile design.
The herringbone pattern makes your lateral route changes, cuts, and hard stops safe and dependable. Herringbone is one of the best outsole patterns for grip and provides a bite compatible with any playing surface, though I'd recommend you stick to indoor courts.
Meanwhile, the rubber sidewall design adds an extra layer of stability through a cushioned, supported structure. This will help keep your foot in place and prevent interior slippage, while the included Achilles cushioning pods support your ankle and give you proper protection, preventing any ankle rolls or awkward landings when returning to the hardwood.
2nd Best Choice
Size: M 7—12
Ankle: High-Top
Forefoot Zoom Air unit for a flexible bounce and improved speed
The Nike Lebron 19's are for ballers with deep pockets. If you have the funds to spare, the 19's are a stellar choice for basketball shoes for big men and centers alike. They have it all - from supreme materials anc construction, to unebliavable durability and comfort.
Pros
Forefoot Zoom Air unit
Explosive cushioning system
Lightweight, Flyknit upper with heavy-duty impact protection
Improved lateral containment
Premium materials that give nice look and provide durability
Cons
Inconsistent traction, less grippy than the previous model
Featuring forefoot Zoom Air technology, the unit measures in at a thickness of 4-8mm with a PSI of 20. Shock absorption is integral to being able to perform at the highest level with longevity; log more minutes while keeping your body protected. The Zoom Air unit accomplishes this goal and then some:
Because of the Zoom Air unit, you can expect more responsive cushioning than traditional foam or gel cushions found in lesser shoes from Nike contemporaries. This cushioning is supportive yet crazy explosive, which in turn can improve your bounce control when landing and the speed of your footwork.
The lightweight, Flyknit flexible upper wraps around your ankle for a firm yet plush fit. When you pair this with the forefoot Zoom Air unit, the stellar impact protection of the 19s is incomparable.
The 19's are made from premium materials, with the highlight being a hybrid blend of mesh and ripstop. Ripstop is exactly as it sounds; it stops small tears from spreading, otherwise shortening your shoe's life cycle. This is thanks in part to a regular double woven thread count when the 19s are constructed.
The result is a premium material with unmatched durability: you can bang in the paint for many games to come, whether pick-up or pro.
What's more, the lateral stability and containment in the LeBron 19's are designed to support quick cuts and lateral mechanics for big men to create space or beat defenders off the dribble; quick, efficient lateral footwork and containment is crucial, though the 19's are less grippy than the 18's in terms of traction. 
Both models are great for lifting, though.
Pros
Secure, comfortable lockdown bands
Edgy, multi-directional tread pattern
3-layer cushioning support
Pronounced court feel
Smooth heel-to-toe transition
Cons
Not enough torsional rigidity
Featuring high-tech lockdown bands, lacing your shoes is done by dynamically feeding the laces through the upper. The result is a fit that's as secure as it is comfortable, perfect for driving to the hoop without worrying about interior slippage or discomfort.
And with slippage in mind, the outsole's edgy tread pattern wraps the medial side of your foot to support the multi-directional movement and expected curvature that comes with intense footwork.
The pronounced court feel of the 8's is only heightened by the smooth, heel-to-toe transition feel. This will help you re-establish and maintain your balance as you play.
This updated, 3-layer cushioning system uses a Nike Air Zoom unit in the forefoot that's sandwiched between a molded, sock-like liner and soft foam. Improved, state-of-the-art cushioning at a fraction of the price.
The drawback here for a more budget-friendly shoe is the lack of torsional rigidity. When I played with them, a few times I felt that my ankles are not as stable as they were while I was wearing other shoes on the list.
Stiffer shoes with torsional rigidity in place compensate for the force driven down on the ankle through given play; without such energy redirection, you could be at a greater risk of ankle injury.
Size: US M 7.5—14
Ankle: Low-Top
Multi-surface, futuristic traction pattern that keeps its hold no matter the court
The Jordan Max Aura 4s boast the classic Jordan design from the G.O.A.T himself. Featuring durable leather, synthetics, and a color scheme that's famous around the world, you can now look and play like Jordan in the 90s (or, in this case, Longley or Rodman).
Pros
Multi-surface, futuristic traction pattern
Timeless Jordan design
Durable leather and synthetics
Split, lightweight outsole.
Included ventilation in upper mesh
The 4's traction pattern is notably futuristic, with a multi-surface design that alternates its herringbone patterning.
You're getting maximum grip on a variety of playing surfaces, whether it's parquet, hardwood, asphalt, or concrete; a versatile shoe that's adaptable to your chosen court.
What's more, the front and back outsole rubber is split for reduced weight, letting the outsole flex and give, perfect for keeping speed and maintaining a stretch 5 status.
Plus, the ventilation in the Aura 4's upper mesh is designed to keep your feet cool and dry. With the hard-fought work of big men, ventilation is important for preventing sweat and bacteria build-up, which in turn can lead to blisters and other unwelcome foot conditions.
The 4's upper mesh is designed with strategically placed holes to allow air to flow freely in and out of the shoe while also providing structural support through a unique lacing system that helps provide a dependable fit and lockdown feel.
The only drawback for the Aura 4's is in their cushioning system. The dense, nylon carbon fibers of the cushioning system won't be as protective or dense as Polyurethane or EVA. I found that the previous model, the Jordan Max Aura 3 is slightly better cushioned.
Size: US M 7.5—14
Ankle: Mid-Top
Tracy McGrady inspired play with secure, strong torsion
Adidas has made the T-Mac 1's a shoe for aspiring big men who want to walk the walk just like Tracy McGrady. If you want comfy shoes with exceptional torsional rigidity and fantastic fit, look no further. Check them out!
Pros
Tracy McGrady-inspired play
Adiprene cushioning
Midfoot torsion plate
Herringbone outsole
Forefoot embroidery pattern
Tracy McGrady, the 6'8" Forward at the starting 3 spot, once pointed out to an opposing team the fact that they could try to beat him at the rim, but they were all wearing T-Macs.
T-Mac was known for mismatching up against defenders at his oversized stature as a Guard, as well as his imposing physical play at the perimeter. To play with attitude, confidence, and power, you'll need a shoe that holds up: that's where the T-Mac 1's come into play.
With herringbone traction and adiprene cushioning, you're getting a durable, long-lasting shoe that will continue to perform at the highest level while offering you superior playing protection and traction, no matter what the run calls for.
Adiprene, a material patented and exclusive to Adidas, absorbs impact forces around the heel, offering big men long-term cushioning and comfort.
When testing these shoes for big men, I was surprised to learn that the midfoot torsion plate provides just enough stiffness to lock the foot into place, providing even more impact protection.
This is also an excellent feature for players with high arches, as the plate serves as a platform to prevent improper flexing of the arch, allowing for more control and greater safety during gameplay.
Meanwhile, the forefoot embroidery and synthetic raw material lend themselves to enhanced durability during even the most explosive jump-and-recover movements.
The drawback here is in the lack of ventilation, yet for comfort and durability's sake, this is an impressive shoe for big men to bang around, shoot, and jump in; no matter your play style, the T-Mac 1's will hold up for many seasons to come.
Choosing The Best Shoes For Big Guys
After reviewing our starting 5, here are some more factors to consider when finding the perfect basketball shoes for big and heavy men.
Durability
Big and heavy guys need shoes that can whitstand excessive loads. A big contributor to whether or not your basketball shoes are durable is going to come from its source material.
Polyurethane (PU)—Dense, highly resilient material formed by a reacting polyol. Naturally waterproof and oil resistant, Polyurethane is ideal for reducing slippage and moisture build-up as a result of sweat or by playing in unfavorable weather conditions outdoors.
Look for Polyether Polyol components instead of Polyester; Polyether is abrasion resistant and superior to Polyester in its resistance to discoloration or the breakdown of microbes found in well-worn, seasoned shoes.
Thermoplastic Polyurethane (TPU)—A subset of polyurethane that can be remolded and melted down after its set, which in turn opens up a little more flexibility and ability to create outsole curvature than in PU counterparts (i.e. Kyrie 8's TPU outsole a TPU grid layer).
EVA—Vinyl Acetate (EVA) has more bounce and energy dispersion than other materials. Features compression-molded engineering that makes the shoe fit like a glove; repeated impact will break down the compression faster (i.e. less durable).
Nylon—A self-lubricating, strong, flexible shoe that's lightweight and meant for speed. Woven knit polymers let the foot breathe and focus on proper ventilation. Nylon shoes are usually made from the ground up in one location with inexpensive, recycled materials, resulting in a shoe that's made from cheap synthetics not meant for long-term, heavy usage.
Support
Basketball shoes for big men require support in the ankle and Achilles area to prevent injury. Centers and big men who thrive in the post can be subject to a lot of trauma and damage to their ankles based on overcrowding in the paint.
In fact, these types of sprains make up over 70% of all ankle ligament injuries you'll see in professional basketball players. These lateral sprains are usually a result of a big's ankle/foot at large being stepped on, either when landing or through general contact.
An example of this can be found in Kevin Durand's season-ending injury in March 2019, when the Warriors faced the Suns, and Deandre Ayton landed awkwardly on KD's ankle on his way down from a block.
To avoid sitting out games and a long rehabilitation process, big men need proper ankle support. The best support a shoe can offer comes from a high-top design, where a satin, suede, canvas, or leather upper insulates and protects the area (i.e. the Lebron 19's).
For more on the best injury-preventing, best basketball shoes to support your needs, and keep you on the court, check us out here for the best basketball shoes for players with bad knees or here for the best shoes for ballers with shin splints.
Traction
Traction is imperative in basketball shoes for big guys and centers. That way, you can make sharp cuts and lateral route changes with confidence as you dominate the paint and rebound.
The most reliable traction pattern comes from herringbone, a strong series of grooves on the underside of a shoe that helps improve grip and traction on slick surfaces.
Basketball shoes like the Harden Vol. 6s, with tested herringbone and grippy bite, provide the enhanced traction optimal for the biomechanics of basketball.
Stability
A big contributor to stability in basketball shoes for big dudes is just how snugly they fit your foot. Poorly fitting shoes can cause blisters, chafing, and general discomfort that can all lead to decreased performance. Shoes that are too loose can lead to slipping and instability, while shoes that are too tight can cause poor circulation and reduce mobility.
The broken-in-court feel of the Kyrie 8s provide a pliable layer of cushioning, while the mold of the shoe is catered to your foot and provides a stable play-through.
Alongside the 8's broken-in engineering is the smooth heel-to-toe transition, which in turn, gives a big guy a greater chance of balancing when in dynamic motion on the court.
Cushion
If you're a big and heavy guy, having basketball shoes with excellent cushioning system is a must.
The T-Mac 1's adiprene cushioning system offers long-term protection and great support for shock absorption while acting as a heel counter to the stress you're putting on the joint and ligaments of the area.
A combination of foam, air, or gel cushioning is what you'll see in the best basketball shoes for big men these days, with Zoom Air and Air Max units by Nike being a revolution in the basketball world.
The units you'll find in the Lebron 19's, Kyrie 8's, and Jordan 4's provide impact protection while offering bouncy, explosive mechanics that will elevate your game.
Rival companies—like Adidas—offer cushioning advancements as well, though mainly centering around BOOST technology. You can expect a comparable rate of responsiveness when weighing a shoe like the Harden 6's against Nike basketball shoes.
The Adidas Harden Vol. 6's give you the support your Achilles and ankles need through cushioning pods, while the BOOST technology protects your midsole and maximizes your agility through the overall mobility of the unit.
FAQ
What Is The Best Basketball Shoe For A Big Man?
The best basketball shoe for a big man is the Adidas Harden Vol. 6. The 6's boast a stunning list of specs, including a flexible BOOST midsole, heavy-duty herringbone traction, a stable rubber sidewall, as well as a breathable upper and responsive cushioning pods along the ankle and Achilles area. These basketball shoes are engineered to elevate, support, and drive the play of big men at both ends of the court. 
Should You Wear Basketball Shoes A Size Bigger?
You should not wear basketball shoes a size bigger. Your basketball shoes should be the appropriate size for your foot and match the width of the cuboid (the outer part of your foot). Basketball shoes are the most critical, most important piece of basketball equipment, and it is imperative you are wearing the exact size you need in order to prevent injuries and discomfort. 
Do Adidas Basketball Shoes Fit Big?
Adidas basketball shoes don't fit big and are generally true to size. Some online reviewers have found that Adidas shoes, if anything, run a little small; if you are between sizes, it is recommended to size up. As always—and if you're not shopping online—try on a few size options in-store to find the best fit for you. 
What Size Should I Get For Harden Vol. 6? 
For the Harden Vol. 6 basketball shoes for big centers, you should get a size depending on the width or narrowness of your foot. The 6's toe box fits on the wide side; this is the perfect basketball shoe for wide-footed hoopers. That said, ifyou're looking for a narrow or medium fit, you might want to go true to size or even a half size down.