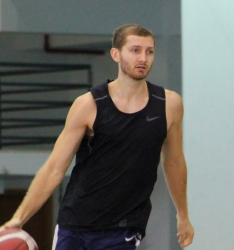 Latest posts by Adam Gotelli
(see all)
There's no question that the Converse All-Star is one of the most famous sneakers in the world.
With its iconic silhouette, it's a favorite among both basketball players and sneakerheads alike.
Now, the question is: are converse good for basketball?
Yes, the Converse All-Star Pro BB Model and the Converse All-Star G4 are good for basketball. Top caliber NBA stars such as Draymond Green, Kelly Oubre Jr., and Shai Gilgeous-Alexander wear them in games.
On the other hand, the original Converse All-Star (Chuck Taylor) is not good for basketball because it's inferior to modern shoes in padding, lateral stability, and arch support.
Do you wear converse to play basketball?
Yes, you wear converse to play basketball. The Converse All-Star Pro BB is specifically designed for basketball.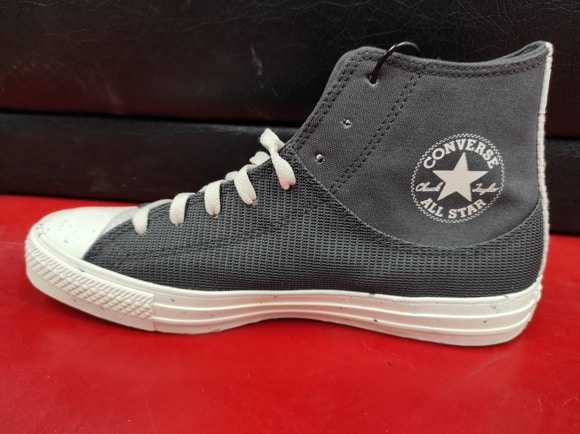 It is essential to look at what defines a good shoe for playing basketball. Basketball players often need more than just fashion when choosing their shoes.
One area that the All-Star Pro BB excels at is traction. The outsole has a lovely crosshatch pattern, giving you the ability to stop on a dime.
Players look for perfect grip in a good shoe because it helps prevent injuries and improve performance.
It is also important that a basketball shoe offers support and traction. The All-Star Pro BB has two different types of support: medial and lateral.
Can you wear Converse shoes in the NBA?
Yes, of course, you can wear Converse shoes in the NBA. Many historical greats like Kareem Abdul Jabar, Magic Johnson, and Larry Bird wore converse shoes.
Even modern players like Draymond Green are winning NBA championships wearing these shoes.
In 2018, the NBA decided to loosen its policy on footwear. As a result, players can wear any color they want, and there are no restrictions on what players should or shouldn't be wearing during games!
Conversely, basketball coaches usually have to wear suits.
Are Converse good for basketball? (Chuck Taylors)
No, they aren't good anymore, but they could get the job done if you're in a pinch.
They were first designed for the basketball player Chuck Taylor, hence the name. Chuck Taylor is an All-Star shoe with a signature canvas upper and vulcanized rubber sole.
What makes them good or bad for basketball? I will reveal my findings after testing them in an outdoor pickup game.
Traction
Traction on these shoes is better than anticipated, but not better than the traction on Vans shoes. I'm not someone who makes a lot of intricate cuts or sharp turns, so that attribute worked for me and my style of play!
Traction is essential to basketball players because it helps them stop, start, and pivot. Traction also prevents your feet from slipping off the court during physical play around the basket or when landing after a jump shot.
If the floor is dirty, these shoes need more grip.
As a suggested read, you may check out – how long do basketball shoes last.
Cushion
The lack of cushion is a potentially dangerous aspect of these shoes, in my opinion. And that's especially important if you have shin splints.
There is no cushioning in them at all, so when you hit the ground, it feels like your foot smashes against an unyielding surface with painful results.
Cushioning in basketball shoes reduces the shock felt when making contact with the floor.
Cushioning also protects your feet from being jolted when landing from jumps or changing direction too quickly on the court. And that is also important for volleyball shoes as well. If you want to learn more on that, check out our article on the best basketball shoes suitable for volleyball.
Cushion is also critical for players with supination. Check out the best shoes for supinators here.
Lockdown and lateral stability
I thought I'd get better lateral stability with these shoes, but it turns out they provide lateral support or movement prevention.
Lockdown is crucial because it prevents your foot from moving around inside your shoe. Shoes that are too loose can cause blisters and foot strain, while shoes too tight won't allow for proper movement and balance.
The Chuck Taylors don't have any lateral support, so your foot slides from side to side without any protection.
Lateral stability is essential to basketball players because it prevents side-to-side foot movement.
This is crucial in preventing injuries to ankles, knees, hips, and lower back. It also enables players to make quick cuts on the court.
All in all, I wouldn't recommend these shoes for basketball because they hurt when you land, don't have good cushioning, and don't provide the player with enough lateral stability to prevent injuries from occurring.
I also don't recommend playing in Converse if you suffer from Achilles Tendonitis or have narrow feet. You better go with Air Force 1s.
Do NBA players wear Converse?
Yes, NBA players wear Converse. The company started out making shoes for basketball players in 1917. In 1923, Chuck Taylor joined the company as a sales representative and helped design the All-Star basketball shoe.
The shoes became popular with basketball players and teams and eventually became the official shoe of the NBA. Many NBA legends, such as Michael Jordan, Kobe Bryant, and LeBron James, have worn Converse shoes.
You can learn more about the history of Converse by watching this video.
Wilt Chamberlin scored over 100 points in one game wearing his signature Chuck Taylor Hi shoes.
There is a new breed of NBA players who are also wearing Converse shoes. Kelly Oubre Jr. and Rudy Gay are two of the most notable players to wear converse, but many more.
Which NBA players wear Converse?
Shai Gilgeous-Alexander
Oklahoma City's newest star is Shai Gilgeous-Alexander, who wears the Converse All-Star BB Evo Low Pro. When Shai Gilgeous-Alexander takes the court, you can be sure that his shoes will put up some noise.
Kelly Oubre Jr
Kelly Oubre Jr is known to be an athletic slasher on the court. In addition, he's a "3 and D" player, which means he can shoot very well for his size and also be a versatile defender (who usually guards the opposing team's best player).
Oubre needs a shoe to endure the tremendous force that comes from his hops and quickness, which is why he wears the Converse All-Star BB Evo high tops.
Draymond Green
Draymond Green is one of the most versatile players in the NBA.
Green's athleticism and basketball IQ make him a nightmare for opponents. In addition, he's a dominant force on defense, where he's able to guard any position.
In an interview, Draymond stated, "I can guard anyone from 1 to 5 and sometimes even 2s."
This is why Green wears the Converse All-Star G4 Hi's. They're built for high-intensity players like himself and provide support and cushion where it's needed.
What Converse basketball shoes can you wear?
Converse Chuck Taylors
Are Chuck Taylors good for basketball? That's a question that has been asked for years. Some say that they are the best basketball shoes ever made, while others claim no benefits over other brands. So, what's the truth?
Chuck Taylors have been around since the 1920s, and they were originally designed as basketball shoes.
They don't have all of the bells and whistles that some newer shoes have, but many people feel that they provide a decent combination of comfort and performance.
Converse All Star Pro BB
Converse All-Star Pro BB shoes have a low profile and provide good traction and support.
The shoes are also lightweight and comfortable. As a result, they are a good choice for people who play basketball regularly.
NBA stars Kelly Oubre Jr. and Shai Gilgeous Alexander are top-tier players who dominate the game wearing these shoes!
Converse G4
The Converse G4 basketball shoes are a good option for looking for a durable and affordable pair of shoes. They are made with a suede and mesh upper and have a padded collar and tongue for added comfort.
The shoes also provide durability and traction on the court with its waffle-pattern rubber outsole.
Overall, the Converse G4 basketball shoes are a good option for looking for an affordable and durable pair of shoes. You can read our full breakdown of the Converse G4 below!
Are Converse skate or basketball shoes?
Converse designed shoes specifically for each activity, so they are made out of materials that will offer the best performance for each sport (skating or basketball).
For example, their All-Star Pro BB line is made specifically for basketball players and includes many beneficial features to any athlete.
Converse makes shoes designed for other sports, such as Skateboarding shoes made with a cup sole construction, which allows them to grip the board.
The Converse G4 shoe is also a popular basketball shoe released recently. It's made with leather and synthetic materials for added durability, and it has a rubber outsole that provides traction on the court.
The Converse All-Star Pro BB Basketball Shoe is a specific shoe explicitly designed with basketball in mind. It is made with quality materials and has good traction, stability, and support.
On the other hand, the Converse One Star Pro CC is a great skateboarding shoe because it has a durable suede upper, sticky rubber outsole, and Cons traction tread pattern.
Are the Converse G4 good for basketball?
Yes, the Converse G4 is good for basketball – Draymond Green won NBA Championships wearing this shoe.
While the Converse brand might not have the same "star power" like Nike or Adidas, this shoe is an excellent choice for anyone who plays regular pick-up games.
We decided to put it to the test and find out if it could handle the rigors of a basketball court.
Even after playing for hours at a time, the shoe performed well!
The Converse G4 has unique traction that makes pivoting on ball-of-your foot easier, with a waffle patterned bottom providing extra grip while playing indoors or out!
The rubber sole also looks different depending on what colorway you get. In my experience, the traction bit well into both indoor and outdoor surfaces.
In terms of durability, there are some minor signs of wear after a couple of months, but nothing major. The rubber sole will show some signs of use (outside white), but there's still plenty left.
The cushioning is one of my favorite parts of the shoe. They're using a react midsole and then forefoot zoom, which provides forgiveness with your foot strikes.