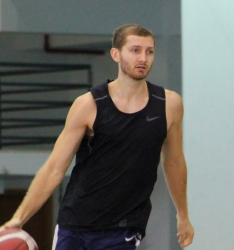 Latest posts by Adam Gotelli
(see all)
Vans shoes have been a household name since their inception in 1966. Synonymous with the skateboarding community, Vans creates its shoes to be the foundation of typical exceptional skate performance. This includes and is based on a high standard of traction support with exceptional flexibility.
But are Vans good for basketball? If you're a casual shoe or sneakerhead, what happens if you forget your gym bag and have no other option but the Vans you already have laced up? Are they basketball shoes?
Quick answer: No, Vans are not suitable for basketball and sustained, hard play on the court because they lack proper cushioning, support, and impact protection.
I'm going to unpack that statement and break down all the reasons why you should only play basketball with basketball shoes engineered for the sport.
Let's dive in.
Are Vans Good For Basketball?
While you're certainly able to play basketball in Vans, they are not a suitable shoe for the sport. If you're serious about your game and want to optimize your on-court performance, you're best opting for a shoe specifically designed for playing basketball.
Vans Sneaker Features
Let's take a closer look at the anatomy of your typical Vans shoes and see why they won't translate to a safe, reliable, or high-performance output on the court.
Cushioning
While some newer edition Van sneakers like the ComfyCush's feature an updated midsole with more cushioning that's light and softly molded to the foot, Vans as a whole just don't have the cushioning necessary to play high-performance basketball.
Vans are engineered with vulcanized rubber outsoles which are extremely hard and flat. Vulcanizing a shoe's outsole refers to heating the rubber frame with specific chemicals that are intended to make the shoe have greater flexibility and a sense of give to it.
The problem with that is, when it comes to basketball, vulcanizing a shoe essentially trades off any sort of substantial cushioning, comfort, and/or arch support for one that's more flexible.
Flexibility is important to the hopper for creatively driving, routing, and laying up to the hoop successfully. But without cushioning, even flexibility won't be able to sustain your game.
An uncushioned shoe will likely hurt your feet or worse when playing hard and competing for minutes.
Moreover, a shoe like Vans, where the outsole is designed to be flat, doesn't support the balance you need to stay on your feet and best your opponents. This could result in feeling more fatigued after a shift or losing your driving power. You'll be working harder when wearing your Vans.
Basketball shoes with insoles and/or outsoles with a protective layer of cushioning ensure you'll get the best performance out of your shoe while staying safe, healthy, and energized.
Ankle Support
Ankle support is imperative for basketball players. Injuries related to ankle sprains, stress or Jones fractures, and Achilles tendon ruptures lead the NBA in injuries sustained on the court. For shoes relied on by hoopers, ankle support is essential for not just performance but their overall well-being.
For big men in the paint, your ankles do most of the heavy lifting, while shoes that feature ankle protection decrease excess movement through the ankle joint by accurately distributing energy to other parts of the foot.
Vans Sk8-Hi are high-top shoes designed to support the function of skaters who are prone to ankle injuries by adding a protective layer of materials around the sock lining and ankle area. Besides this model, traditional Vans offer no such ankle support.
The traditional, low-cut Vans give you little to no lateral ankle support. For intense bully ball play and a sport that relies on explosive lateral movements, this is a no-go.
Materials
Vans are sourced from raw materials, including cotton for the canvasing, plastic for the foam insoles, and polyester for the laces.
The synthetic materials found in basketball shoes—like EVA foam or lightweight nylon casings—can't be used in vulcanized shoes because the materials can't hold up under the high heat necessary in the process of vulcanization.
Because of this, Vans are a more uncomfortable shoe to wear when it comes to running and jumping in excess. Our expert team of testers found that the discomfort was mainly in the heel area and the balls of the feet. The friction caused by rubbing up against the firm canvas material, if left untreated, can lead to pretty painful blisters.
That's why you should be extremely cautious if you decide to play basketball in Vans. It's not a basketball shoe, but a skate shoe.
Shock Absorption
Basketball relies on instantaneous acceleration, deceleration, and jumping. Because of the explosive nature of the game, shock absorption is crucial so that the impact and stress of your movements are controlled and redirected to other parts of the lower body.
Without proper shock absorption, you run the risk of not just blowing out your shoes, but potentially leading to impact-related injuries and/or acute fractures.
Vans offer no notable shock absorption. I'd say this is relatively surprising, considering skaters need shock absorption too, which protects the deck from shock while dampening vibrations running through the feet.
If you play basketball in Vans, you'll have no additional support as you jump, land, and switch routes; the integrity of your movements and the safety therein is entirely on you.
Traction
Vans tend to be softer in the heel cap and heel outsole, which, in turn, gives the shoe a looser fit.
Moreover, without any sort of breathable mesh material, as you work up a sweat, you're increasing the risk of your foot slipping within the shoe and going face-first into the hardwood.
Basketball shoes firmly lock the heel in place, with advancements in traction tech like TPU lockdown heels giving you improved security in how your shoes adapt to the shape of your foot when in intense, rigorous movement.
For outsole traction, this is where Vans shoes excel. Vans feature a grippy, vulcanized outsole engineered to grip any surface outdoors. The 'waffle' style sole, with diamond and rhomboid patterning, creates thick grooves designed to grip and hold.
Though the outsole is made for skaters to keep their feet steady on their board deck surface, other sports that require intense running and/or jumping will likely lead to your feet losing their hold in the housing unit of the insole.
That's why if you still want to play basketball in Vans, you should keep this in mind.
What Sports Are Suitable For Vans
Needless to say, the best sport for Vans shoes is skateboarding. With a firm but flexible outsole that is made to grip your deck with a secure hold, Vans shoes feature durably constructed materials for skating that you can count on for many seasons to come.
Another choice sport to think about for Vans shoes is weightlifting or powerlifting.
Because of the incredibly hard, flat outsoles with firm, diamond traction patterning, you're able to push and drive with greater stability during exercises like squats or deadlifting. This is why you may see some serious powerlifters at the gym rocking the Vans skate shoes or even Converse.
For hoopers, Vans may make for a better training shoe in the weight room rather than the hardwood. You shouldn't forget that if you still decide to play basketball in Vans.
Vans vs. Converse
Converse became the official shoe of basketball upon the league's formation in 1949 up until the 1980s, with G.O.A.T's like Larry Bird and Magic Johnson rocking the All-Stars, Pro-Leathers, and Converse Weapons, among others. Converse's shoe technology was pivotal in paving the way toward the game of basketball we play today; Vans holds no such title.
For players like the legendary Doctor J, Converse shoes were not only the staple in winning championships, but a source of great pride. In a 2017 interview with Bleacher Report, the Doc Julius Erving is credited for saying:
"We [Larry Bird and Magic Johnson] wore the shoes with pride…It's an American brand. So despite what people say, they're still loyal to products that are made here in America, just like basketball, which is perceived to be America's game because of the Springfield connection."
The Converse All-Star is widely considered the most influential basketball shoe to ever release. Created by Chuck Taylor and his All-Star team, these shoes featured a non-skid outsole, ankle patch, pivoting button, and 'Ox' cut design. These advancements pressed the pace and agility of NBA players, evolving into the high-speed, creative, and highly flexible game we see today.
Best Vans For Basketball
Though it's not recommended, if you're lacking the means and already own a pair of Vans shoes, you should hope for the Vans Sk8-Hi series.
Featuring more cushioning and increased ankle support around the joint (thanks to the hi-top design), these shoes will wear out on the court faster than a standardized basketball shoe. That said, the Sk8-Hi series will lead the hooper to perform in the most comfortable, reliable, and safe way on the court.
FAQ
Can You Play Basketball In Vans Shoes? 
You can play basketball in Vans shoes, although it is not recommended by professionals. Vans shoes are uncomfortable shoes to wear for sustained basketball play because of a lack of cushioning, shock absorption, and ankle support intrinsic to the slim, flat design of the shoe. This could lead hoopers, both amateur and professional, to experience painful blisters, swelling, or even sustaining serious injury. 
Are Vans Good For Sports? 
Vans are good for some sports, but not all. The best sports for Vans are skateboarding and powerlifting. With embedded, diamond-patterned outsoles with vulcanized rubber design, these shoes allow skateboarders to grip their decks firmly with confidence while allowing the powerlifter to push and drive through leg-dominant exercises with steady traction. 
What Shoes Make You Better At Basketball? 
The shoes that make you better at basketball are designed with deep traction patterns for stable lateral route changes, shock absorption and/or ankle support for safely exploding and returning to the floor, and a cushioned, breathable material for the most comfortable, tailored-to-you fit. When considering the best basketball shoes to elevate your game, the 2022-2023 shoes that feature the above specs are the lightweight, breathable KD 15's or the Nike Zoom Freak 3's with their molded, computer-generated outsoles for optimized traction.
Do Shoes Affect Basketball? 
Shoes affect basketball tremendously. The power of your footwear is directly correlated to your performance, whether it's at the professional level or at a local pick-up game. When shopping around for basketball shoes, start by, first and foremost, looking for shoes in your exact size. Then, weigh options based on flexibility, ankle support, lacing, cushioning, and stability. 
Do Vans Support Your Feet? 
Vans don't support your feet the way that a basketball shoe does when playing on the court. Vans are designed to support the performance of a skateboarder in training or at a competitive level. Because skating is at the forefront of Vans in their functionality, these shoes lack most of the arch support, ankle and heel support, as well as the cushioning a hooper needs; Vans opt instead for heavy-duty traction based on a firm, flat outsole.