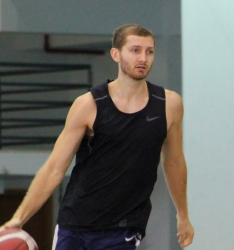 Latest posts by Adam Gotelli
(see all)
If you're like me, you'll play basketball in crocs if that's the only option. But thankfully, we don't have to because so many options are available to us these days.
Getting a shoe dedicated to basketball is not in the cards for everyone, since shoes can be expensive. It's a huge advantage when a shoe can have more than one use, like the Air Force 1s, which can also be worn casually. But Can you play basketball in Air Force 1s?
Quick answer: Yes, you can play basketball in "Nike Air Force 1", but these days there are better shoes for that purpose.
We know that's why they were invented, but do they still hold up in today's high-end technological world? The younger generation may not even know them as basketball shoes since so many Lebrons, Currys, and Jordans are out there.
I put these to the same test I would the newest basketball shoes to see if they can help you ball or if they should only be worn with jeans and a t-shirt.
The results may surprise you.
Can You Play Basketball In Air Force 1?
Yes, you can play basketball in Air Force 1 sneakers. They were originally designed for this purpose and contained many great features that support players up and down the court.
While they aren't as popular now as they once were, for recreational players, they still serve a purpose and deserve the title of "basketball shoe."
History of Nike Air Force 1
Not many shoes have the same story that this model does. Initially released in 1982, they were the first of their kind to introduce the basketball world to the power of air.
Hence, the name, "Air" Force 1, designers were able to lighten the shoe by replacing some of the midsole foam with an air pocket.
This had never been seen before, and it wasn't long before the NBA took notice, and players started not only wearing AF1s but winning in them too.
NBA Players Wearing Air Force 1
The first players to don these legendary sneaks are Moses Malone, Mychal Thompson, Jamal Wilkes, Calvin Natt, Bobby Jones, and Michael Cooper.
Affectionately known as the Original Six, they didn't know what kind of statement they were making at the time and how popular this line of basketball shoes would become.
Air Force 1s are also one of the first to be designed specifically for players or teams. The term "player exclusive" didn't exist before these shoes, and now every player in the NBA benefits.
Nike started making shoes custom for players' feet and also in their team colors. This opened up a whole new door for consumers who wanted AF1s in their favorite color.
Rasheed Wallace and Jerry Stackhouse are the last known players to wear AF1s in gameplay as late as 2013. That is unheard of for any basketball shoe.
These days, player shoes are dominated by technology and custom fitting, but that doesn't mean the reign of Air Force 1s is over.
Current Status Of AF1s
While you may not see them on Lebron's or Curry's feet these days, the AF1s have solidified themselves in our culture. The white-on-white colorway is the epitome of crisp, clean sneakers, and high school kids these days are still coping them.
This all started back in the early '90s when basketball shoe technology began to explode with larger air units and lighter foam.
As they were slowly phased off the court, they remained a part of our culture because they could be worn with almost any kind of outfit. I've even seen them paired with a suit at weddings.
Who Are Nike Air Force 1 Meant For?
The Air Force 1s are perfect for anyone who likes to play basketball casually but doesn't want a pair solely dedicated to it. Basketball shoes can be expensive, so spending $100+ on a shoe you will only wear to your local court once a month seems a bit excessive.
Air Force 1s will provide the safety and performance you need to hoop, but also look good with a nice pair of jeans and a button-up shirt for date night. 
Still, they are a better choice to play basketball in than Vans sneakers.
Pros And Cons Of Playing Basketball In Air Force 1s
Enough about the storied history of these shoes; the ultimate question is, 'Can you play basketball in Air Force 1 shoes?' Let's look at these objectively like we would any other shoe and put their prestigious reputation aside for a second.
Traction
At first, I did not like the traction. After a few games outdoors, they roughened up a bit and were much better. The dual pivot point design is not just for show; it allows your foot to move in any direction easily.
Being able to pivot on the ball of your foot and your heel is crucial when setting up plays in the offensive zone.
These will work on indoor courts as well, but the deep treads will pick up dust. I like the solid rubber construction, but that's what makes them heavier than current shoes. Use these shoes outdoors, and you'll benefit most from this "technology."
Pros
Dual pivot points on heel and ball
Thick rubber for durability
Deep treads provide excellent traction on outdoor courts
Cons
Comfort
Being the first to have an air unit was revolutionary. If you're under 35 reading this, then you don't know what life was like pre-air pockets, and that's ok. If you want a glimpse into the past, then check these out. Even though they have an air unit, it's tiny.
Most AF1s are made with leather, which is the best part; they will conform to your foot amazingly after a few hard-playing games.
You are going to sacrifice looks a bit because the creases that companies work so hard to avoid these days will appear. But they will feel like a second skin in the meantime, despite them being quite heavy.
Pros
Made with leather
Includes a small air unit in the heel
Strong construction for rough outdoor play
Cons
Tiny air unit doesn't provide much impact protection
Ankle Support
For maximum ankle support, and I do mean MAXIMUM, check out Air Force 1 High-Tops. They are as high as you can get, and the retro pairs even have a velcro strap for added security.
These shoes were originally made for the tough games played in the parks of NYC, so they had to be durable. They are much different than the flexible shoes we are now used to.
Low-top AF1s provide much less ankle support and might even be detrimental to those with ankle problems due to the bulky midsole.
Thankfully there is a mid-top available as well, and just like any other AF1, you can choose from hundreds of different colorways.
Pros
HIgh-tops lock in your ankle and keep it upright
Added velcro strap for support
Mid-top provides more maneuverability
Cons
Top Rated Air Force 1s
Nike Men's AIR Force 1 '07 Basketball Shoes
These are the quintessential high-tops that will keep your ankles safe on any court with any style of play.
Some players may find them restrictive, but one thing's for sure, your ankles will be protected. They even have the added retro velcro strap.
Nike Air Force 1
Here they are, the most popular Air Force 1 in history and have been a staple baller's lockers for decades now. Wear these off the court just as easily as on to make a statement no matter where you are.
You'll feel like a part of history walking or running in these, just think how many famous players and celebrities have sported these exact same shoes.
Nike Men's Air Force 1 Mid '07 QS Basketball Shoe
There's no shortage of variety when it comes to AF1s. If you want something slightly different from the classics, get your feet into a pair of mid-tops. They still embody everything that Air Force 1 stands for, but with a twist.
This suede version is all class and probably meant for the streets more than the courts, but no one will stop you from raining buckets in these.
Are Nike Air Force 1s Good For Other Sports?
Not really; they are a basketball shoe, first and foremost, transitioning to a casual shoe, just like the famous Fortnite-inspired kicks or the "Nike Air Jordan 1." They are too heavy to run in and not flexible enough for other court sports like volleyball.
You definitely don't want to play soccer or other grass sports, since you'll be sliding all over the place. Keep these shoes for basketball and everyday wear.
FAQs
Should I Get Nike Air Force 1 For Basketball?
Yes, you should get Nike Air Force 1 for basketball if you don't play that often. They serve a dual purpose in your closet, and you can wear them on the court just as easily as you can wear them to the movies. They were initially made for basketball and still have the necessary properties to help you score and keep your feet safe from injury.
Are Air Force 1s Good For Running?
No, Air Force 1s are not good for running. They are too bulky and way too heavy when compared to running shoes. Also, because they are made from leather, they offer very little ventilation. This will cause moisture to build up and can make your feet slip and slide in the shoe, which can be very dangerous.