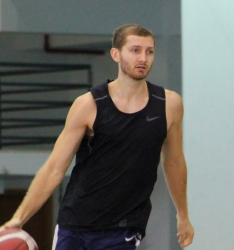 Latest posts by Adam Gotelli
(see all)
I remember the first time I saw Michael Jordan play basketball. I was glued to the TV, mesmerized by his incredible leaping ability. It wasn't just that he could jump high–he seemed to defy gravity, effortlessly soaring through the air.
I knew then and there that I wanted to develop my hops! And so began my quest to find the best basketball shoes for jumping.
Not all shoes are created equal, and I quickly learned that the right pair of shoes can make a massive difference in my jumping ability.
After trying out hundreds of shoes, I've finally found the top 5 pairs that give me the extra boost I need to take my game to the next level.
If you're looking for the best basketball shoes for jumping, you need to read on!
Trust me. Your jumps will thank you for it.
Best Basketball Shoes For Jumping – A Comparison Table
How We Reviewed
I'm a professional basketball player and it took me quite a while to improve my jumping. Needless to say, the right shoes play a key role in mastering that ability.
To bring you this guide, our expert team and I:
Invested a total of 91 hours doing thorough research both online and offline
Performed 4 in-house tests, jumping and dunking with shoes on an indoor and outdoor basketball court
Consulted 3 professional basketball players playing in Messina, Italy (my teammates)
Considered important shoe characteristics such as midsole, bounce, cushioning, weight, traction, and support, among others
So, you're in good hands!
Basketball Sneakers For Jumping Reviews
Editor's Choice
Size: 5-16 (US)
Upper Material: Premium synthetic textile upper mesh. Feels like these shoes are made for your feet.
Cushion: Future foam and robust heel cushioning system
Ankle: High-top. With a strap.
Load and Launch Technology
Want an additional 3.5" liftoff? The APL Superfuture will take you higher than ever before. Their "Load and Launch" technology is so powerful that the NBA banned it! Are you ready to leave your opponents in the dust?
Pros
Traction has a strong bite
High quality synthetic textile upper knit material
Very easy to put on
Robust impact protection in the heel area
Unique vertical-enhancing Load and Launch Technology
Zero break-in time
In our quest to find the best basketball shoes for jumping, The APL Superfuture is the top pick.
To put it bluntly, I was blown away.
First of all, it looks fantastic. The shoes are sharp, sleek, and stylish – like something from a sci-fi movie.
But it wasn't just the look of the dope silhouette that impressed me. The vertical leap-enhancing aspects of the shoe are incredible. At first, I was skeptical because I thought it was just a marketing ploy, but I felt a lot more spring in my step the second I put the shoes on.
Let's talk about traction. The APL Superfuture basketball shoes deliver. I tested the shoes on an outdoor surface, performing exceptionally well.
I tried various basketball moves like crossovers, stepbacks, suicide running, and the shoe gripped the court firmly with each movement.
The multidirectional herringbone traction pattern is especially impressive – it feels like the shoe is biting into the court harder than a pit bull.
This added level of grip gives you an extra boost of confidence when making quick cuts and explosive moves on the court.
Now, let's move on to the cushion. The full-length future foam cushioning is impressive, and the heel provides substantial compression and impact protection. I also appreciate that the shoe feels lighter than it is (14.53 oz), making it easy to move around on the court.
So here's my overall impression of the Load and Launch technology. It's pretty incredible. It makes you feel like you have more explosiveness when you're playing.
The springs are encased in plastic, so you don't necessarily feel them, but they're there. They sit below a casing below the forefoot and simply feel like a super bouncy midsole.
The APL Superfuture is made with some very nice materials. The full-on knit upper is very well ventilated, and the ankle collar has stretch knit, so the shoe is easy to put on.
The plush materials aren't rigid, so they don't lock your foot super tight like some other shoes.
Around the ankle, the lockdown is better because there is an ankle strap, but around the midfoot, it's standard.
All in all, I would still say the materials are in line with what you would expect for such a price point. Overall, the APL Superfuture is a very comfortable shoe that looks great and will perform well for most people.
Overall, the Superfuture is a comfortable and stylish shoe that performs well for its intended purpose – to jump higher. I'm not exaggerating when I say I could feel a noticeable difference in my vertical leap.
So if you're looking for basketball shoes to help you jump higher, definitely cop these badboys. Those are supination-appropriate as well.
#2 Nike KD 14 (Signature Shoe)
Premium Choice
Size: 3.5-18 (US)
Upper Material: Premium synthetic textile upper mesh. Feels like these shoes are made for your feet. Beautiful padded collar atop the synthetic upper in the ankle area. Rubber outsole
Cushion: Cushlon and full-length air cushioning Strobel - great for dunking
Ankle: Mid to High-top.
Amazing cushlon foam (ideal for jumping and dunking)
If you're a serious basketball player, the Nike KD 14 is the basketball shoe for you. You'll feel explosive when wearing these shoes - they're soft and springy (great for dunking)!
Pros
Traction is just uber strong
Superb lockdown on the foot
This shoe leads virtually all categories (no weaknesses)
Full-length Zoom Air Strobel
Cushlon foam for double the comfort
Minimal break-in time
Cons
I didn't find a lot of utility in the midfoot strap when playing basketball
The Nike KD 14 is the latest release of signature shoes from NBA superstar Kevin Durant.
Honestly, I really like the Nike KD 14s. The cushion is fantastic. In my opinion, they use this excellent cushlon foam, which is highly underrated. It's very soft and responsive and provides excellent impact protection.
In addition, the KD 14 features a full-length Zoom Air Strobel set-up that offers responsive cushioning and helps you feel low to the ground.
Let's get into the cushioning.
The Nike KD 14's feature a unique foam called cushlon. This foam (also typical in premium Nike shoes like the Jordan brand) adds bounce and helps with shock absorption.
I had a chance to jump in these shoes, and I can say that they live up to the hype. The cushlon foam does add an extra spring to your step. You also feel a ton of comfort and support.
The foam padding is bouncy and springy, making it great for jumping and playing over the rim. It also does a great job of absorbing impact, which is important because I often play on hard surfaces like concrete.
Also, the traction is incredible – I never had any issues with slipping, indoor or outdoor, with these types of traction patterns. It's like the court was made of velcro.
The best part is that they don't sacrifice comfort for grip. This is usually my experience when I rock basketball shoes with a herringbone traction pattern on the rubber outsole. It's very effective and helps you make quick cuts.
And the lockdown was great, too – I didn't feel like my foot was slipping around inside the shoe. This is partly due to the fuse shell upper, which is stiff at first but breaks in quickly and maintains its shape.
This provides excellent support for your ankles and feet while you're playing.
The other reason the lockdown is excellent is the lacing system. The laces are anchored down at the midfoot, which prevents them from slipping during play.
This ensures that your feet are secure in these basketball shoes and that you can make quick cuts without worry.
In terms of materials, these shoes are straight fire. I had em on the other day, just running around doing some drills, and they felt incredible.
They have this multilayer mesh material that's unreal in terms of comfort and breathability. I would highly recommend these to any hoophead out there. You won't be disappointed.
Here's a video that goes into the full breakdown:
Budget Choice
Size: 3.5-18 (US) (for narrow or wide feet)
Upper Material: Synthetic (mesh) upper, mesh tongue
Cushion: Phylon midsole
Ankle: Low-top
Herringbone traction pattern. Homage to Giannis's family on the outsole
Like the Gods of Mount Olympus, this shoe is freaking unbeatable. So if you're looking for something quick and explosive, look no further.
Pros
Unbelievable traction (multi directional herringbone traction pattern)
Lightweight engineering to increase vertical jump
Great ventilation
Unmatched value & this price point
Crazy explosive bounce
Padded collar in the ankle
Cons
There's not much tech in these basketball shoes, but that's expected with the price.
As you slip your feet into the Nike Immortality shoes, you'll feel power and energy coursing through your veins. You are now capable of sprinting across the battlefield or leaping over mountains.
Now, that's saying a lot for a budget shoe, I know. But this shoe is fire, for real.
I recently had the opportunity to try these out. Right after I put them on, I noticed how light (10.37 oz) and quick they felt on my feet, making them awesome basketball shoes for dunking. This allowed me to burst around and attack the defense.
If you play many pick-up games on outdoor courts like me, these shoes aren't going to weigh you down.
And sure enough, when I went out to play in them, my vertical jump felt on point.
So, how about traction?
The traction on this shoe is some of the best that you can get right now. The bite is unbelievable for indoor and outdoor play; it's like the shoe was designed for quick cuts and crazy explosive moves.
In truth, I wish Nike shoes would always have these types of traction patterns. The only downside is that it does pick up a little dust. But you can wipe it off, and you're good to go. Overall, the traction is impressive and provides excellent value.
So let's talk about the cushion. The full-length phylon midsole provides considerable compression, making for a very responsive feeling. You feel like you're low to the ground, and it's easy to jump higher in these shoes, even if you're not tall.
The heel also has a lot of impact protection on the court, which is excellent for someone like me who struggles with injuries from time to time.
At the same time, you can transfer your kinetic energy quite nicely into the ground for your vertical jump, making these perfect basketball shoes for dunking.
The Nike Immortality has a comfortable fit, too. I have wide feet, and these shoes were able to accommodate me without feeling too loose or too tight.
I have to say that, for the price, these basketball shoes are pretty darn comfortable. From our research, we discovered over 26 customers who commented on the comfort and overall value of the shoe.
The textile mesh upper is excellent in terms of material – it conforms to your foot very well and doesn't bunch up or feel uncomfortable. There's a bit of fuse on the medial side of the toe box, but overall the material feels very light and airy.
The only downside is that it gets thin through the midfoot, so you might feel like you're not getting as much support there. But overall, I'm thrilled with the materials.
I'm a sneakerhead, and I appreciate a well-made basketball shoe. Overall, I'm impressed with the Giannis Immortality shoe – I think it would work for most players out there.
I'd say these are one of the best basketball shoes for jumping and dunking. It's well-made and provides a great deal of cushioning, support, and protection. It's got my stamp of approval – it's a cop for sure! Plus, its design is convenient for players suffering from plantar fasciitis.
#4 Nike Men's Kyrie Flytrap IV
Good But Not Great
Size: 7-13 (US) (Better for narrow feet). If you have wider feet, you should move half size up
Upper Material: Synthetic upper
Cushioning: Phylon foam and Nike Zoom Air cushioning system in the forefoot
Ankle: Mid-top.
Kyrie Irving logo on the rubber outsole
We keep it real at Outdoor Basketball Hub. These are the least impressive basketball shoes on this list. We did a review anyway because we like to keep our readers informed. If you're short on time and looking for a quality budget shoe, we recommend going the Immortality (above), or the Jordan One Take 3 (below) instead.
Pros
Strong support and lockdown
Decent traction on clean courts
Rectangular Zoom Air cushioning unit in the forefoot
No heel slippage
Price
Cons
Cheap materials
Lack of cushioning
Poor traction on outdoor courts
The Kyrie Flytrap 4 is an updated version of the Kyrie Flytrap 3, and not much has changed. It's still a decent shoe, but there are better options. You can also find it in my detailed review of the bestselling kicks below $150.
Kyrie's budget-friendly Flytrap line provides a lightweight (10.4oz) and comfortable option for players looking for an edge on the court. Let's start with the positives of the shoe.
I was honestly surprised by how much support the Kyrie Flytrap 4 offered. There weren't any ankle support, side-to-side movement, or lateral stability issues.
I'm not sure exactly where the support comes from, but for some reason, it works (perhaps the lacing system and shell structure). There was never any heel slippage, either.
The torsional rigidity was also really decent, which I wasn't expecting. Overall, I was impressed by the support offered by this shoe.
Now those are virtually all of the positives worth mentioning. Unfortunately, the rest of the Kyrie 4 leaves us with more questions than answers. For starters, the materials feel cheap and plasticky. I'm not a fan of the fused overlays, either.
And while the rubber outsole traction is good on clean courts, it definitely could be better on outdoor courts. I was slipping and sliding on my home outdoor court on the first run, which is never a good sign.
The Kyrie Flytrap 4 could be decent for quick and responsive play. Unfortunately, the cushioning is quite stiff, using a phylon midsole provides less impact protection than other shoes on the market.
However, this makes the shoe more responsive, perfect for players who want good shoes for dunking (or quick on their feet). While responsiveness is conducive to higher vertical leaps, I couldn't see past the lack of cushion.
The Kyrie Flytrap 4 is a decent shoe, but it's not worth the money (this is to be expected since it's Kyrie's lowest tier shoe). I'm not the only customer who shared this opinion. Many other users also commented that they felt the materials were cheaply made.
Honestly, it's not that comfortable, and it's not durable. It's not a wrong shoe if you just want something to wear around the house or for light activity, but better options are on this list.
If you're looking for the best basketball shoes for jumping (and an excellent all-around basketball shoe), you should get the Nike Immortality or spend a few more dollars and get a better quality shoe.
Size: 7-13 (US) (Better for narrow feet). If you have wider feet, you should move half size up
Upper Material: Synthetic upper
Cushion: Super bouncy Zoom Air Cushioning system
Ankle: Low-top.
Different types of traction patterns on the bottom
Russell Westbrook's takedown model or budget model.
The Jordan one take 3 is the best basketball shoe for players who want to gain an extra edge in jumping and vertical leap. The shoe was designed with Russell Westbrook in mind, and it provides the same type of explosive power that he brings to the court.
Pros
Strong support and lockdown
Feels very light and explosive (like an extension of your foot)
Zoom Air cushioning unit in the forefoot
Beautiful lockdown
Price
Cons
I'd prefer pure herringbone traction on the bottom. I think they tried to get a little fancy here.
My first impression was that this was a speedy shoe and felt like an extension of my feet. It was highly responsive, which gave me an advantage when dunking and jumping. The responsiveness of the shoe helped me attack the rim aggressively.
The One Take 3 is light and comfortable, with a herringbone pattern that provides excellent traction. Additionally, the Zoom Air unit in the forefoot gives you responsive cushioning when you're making quick cuts or jumping for a rebound.
I really like the cushioning set up in the Jordan one takes 3. It's nicely cushioned in the heel with enough impact protection, and in the forefoot, there's a top-loaded zoom unit that is bouncy and very responsive – no lag.
I didn't have to break it in at all; it was comfortable from the start, without any break-in time.
The Jordan one take 3 provides incredible lateral containment and lockdown, thanks to the synthetic material in the footbed. In addition, the internal TPU heel counter ensures your foot stays in place, no matter your size.
The complete lockdown prevents slippage or sliding around inside the shoe. So whether you're on the court or just out for a casual jog, you can be confident that your foot will stay firmly inside.
Whether playing in the park or on the court, the Jordan one take 3 is an excellent choice for any player who wants to improve their vertical leap.
For materials, they use a lot of fuse and screen mesh. The materials are of good quality and conform to your foot very well. The overall feeling of the upper is super minimal, but in my opinion, it feels good on foot!
The shoe is an excellent value for the price and would be a good choice for anyone looking for a budget-friendly option. Want more budget picks – check out the top shoes below $200 and don't miss the best kicks under $50.
I felt extremely fast, and the shoe itself felt like an extension of my feet. Super responsive feeling.
Features to look after when choosing the best shoes for jumping and dunking
Weight
As any athlete knows, every advantage counts when improving your performance. Even something as small as the weight of your shoes can make you jump higher.
A study of 20 male basketball players found that those with lighter shoes jumped higher than those who wore heavier shoes.
The average jump height for the more lightweight shoes was 2.1% higher than the heavier shoes. The study suggests that this difference is due to psychological and physical factors.
The lighter shoes provide a psychological boost, making the athletes feel like they can jump higher.
They also reduce the energy needed to lift the feet, giving the athlete a physical advantage. In addition, the reduced weight makes it easier to accelerate, which is beneficial for creating momentum leading into your jump.
Cushioning And Shock Absorption
When choosing the right basketball shoe, shock absorption should be one of the most important characteristics to evaluate. The lower limbs experience large impact forces when jumping and dunking each time they land (especially on outdoor courts).
Since players land over 70 times per game and absorb over 9 times their body weight every time, impact protection and cushioning are vital.
This can lead to knee and ankle injuries, so it's essential to choose a shoe that will help absorb the impact force of a vertical jump.
Soft and comfortable shoes are your best bet! In addition, responsive cushioning technologies can provide excellent impact protection (shock absorption), so be sure to research before making your final decision.
Traction
Outstanding traction is significant for basketball players. It's the ability to transfer the force your body generates into the ground, and without it, some of that force is lost in the process.
Good traction can help you generate more power, which can, in turn, help you jump higher.
When you're jumping or dunking, your muscles generate kinetic energy, and that energy has to go somewhere. More of it will be transferred into the ground if you have good traction, resulting in a higher jump.
In addition to helping you jump higher, traction can also help you run faster and change directions more quickly.
So when selecting the best basketball shoes for jumping, good traction is essential for any basketball player who wants to perform at their best. Even for Steph Curry, who can't jump so high!
Ankle Support
In basketball, support is everything. When jumping or dunking, you need a shoe that will provide ample support to prevent injury. The best basketball shoes for jumping give you the stability and support to make a successful landing.
That's why high-top basketball shoes are so popular among basketball players who have a high vertical jump. They provide great lockdown and ankle support, reducing the risk of injury.
A heel counter is another essential support element in the best basketball shoes. The function of a heel counter is to stabilize the foot and prevent it from sliding around inside the shoe.
This is especially important when landing after a jump, as it helps to reduce the range of ankle motion and protect your ankle from injury. With so much at stake, it's no wonder that basketball players place such a high value on support.
Bouncy outsole
A bouncy outsole is valuable for any player looking to take their game to the next level. Most bouncy outsoles use technology such as Nike Air Zoom technology.
This provides a feeling of slight compression and elasticity in the rubber outsole, giving basketball players the extra spring they need to take their game to the next level.
The Nike Air Zoom unit comprises two layers of Nike airbags that compress and expand each step, providing a responsive and dynamic ride.
This "bouncy" feeling helps to transfer energy from the legs to the feet and through the rubber outsole into the ground.
FAQ
What are the best bbal shoes for jumping?
The best ball shoes for jumping are the APL Superfuture. They have Load and Launch Technology, which captures compression energy and then releases it to help you jump higher.
The device in the midsole helps with this process by storing the energy and then releasing it when you jump. This gives you an extra boost, allowing you to jump higher than without the basketball shoes.
Do Basketball Shoes Make You Jump Higher?
Yes, basketball shoes make you jump higher. The best shoes can provide the traction and stability you need to push off the ground with maximum force. They can also help you land more smoothly, reducing the impact on your joints and muscles.
In addition, a properly fitting pair of basketball shoes will minimize energy loss as you move, allowing you to use your full strength to jump higher. Of course, even the best shoes can't turn you into a superstar overnight. You can always invest in jumping shoes if you want to jump higher.
Are Kyrie 7 good for jumping (and dunking)?
The Kyrie 7 (signature shoe) is not designed for jumping, but it won't hold you back if you need to get some air. It's a more well-rounded basketball shoe that will help you with all aspects of your game.
If you're looking for basketball shoes specifically designed for jumping, there are better options. The Kyrie 7 won't weigh you down as you try to jump, but they also won't give you the same boost as some of the other options on this list.
Do Jordans Make You Jump Higher?
The Nike Air Jordan shoes will not magically make you jump higher. The vast majority of your vertical leap will come from your own strength and fast-twitch muscles.
However, they are often constructed with high-quality materials like cushlon and Nike Air technology that can add a little extra spring to your step.
Jordans are made with care and attention to detail for factors like traction, outsole, midsole, and support. They can create better conditions for you to show off your vertical leaping abilities.
Are KD 14 good for jumping?
Yes, they are. The Nike KD 14's features a unique foam called cushlon, designed to add bounce and help with shock absorption. I had a chance to jump in these shoes, and the foam definitely makes a difference. I felt I could get more height on my jumps, and the shock absorption was excellent.