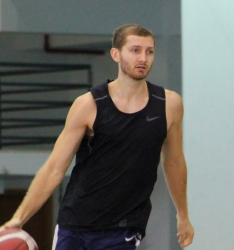 Latest posts by Adam Gotelli
(see all)
Identifying that you are a supinator is a massive step towards playing basketball at your best. This is your natural state that your body is comfortable with, so you must learn to play with it.
Our extensive research process involving real hands-on reviews showed that the best basketball shoes for supination are "Adidas D.O.N. Issue #3". They stood out as being the most comfortable and protective.
However, everyone's foot is different, so I found four other pairs, each with their own unique features.
So much of this game depends on confidence. If you don't believe you can cross that defender over or beat them to the loose ball, then chances are, you won't.
Having the best basketball shoes to address your specific needs is vital. The sport requires minimal equipment, so we have to ensure our shoes are helping and not hurting.
Improve your confidence and overall game with one of the best basketball shoes for supination.
Let's begin!
Best Basketball Shoes For Supination – A Comparison Table
Image
Product
Features
Price

Editor's Choice

Size (U.S.): 4-20
Ankle: Mid-top
Extremely supportive footbed

Check Latest Price

Premium Choice

Size (U.S.): 7-16
Ankle: Low-Mid top
Superb lateral support

Check Latest Price

Budget Choice

Size (U.S.): U.S. 6 - 16
Ankle: Mid-top
Quality Air Zoom unit helps keeping your ankle upright

Check Latest Price

Best For Narrow Feet

Size (U.S.): 7-13
Ankle: High Mid-top
Outsole curvature and small Air Zoom unit mean these shoes for supination are very responsive

Check Latest Price

Most Comfortable

Size (U.S.): 4.5-20
Ankle: Mid-top
A high-quality mesh and midsole cage keeps your feet in place and comfortable

Check Latest Price
Our Review Methodology
Finding and reviewing the best basketball shoes for supination took our expert team a total of 69 hours. Being a professional basketball player and a supinator myself played a key role in our extensive research process.
We considered over 50 basketball kicks, and I tested 4 pairs of supination shoes. Five stood out.
Here's more about meticulous review methodology. It involved
Interviewing 2 podiatrists (one of them is our basketball team physician)
Reading through reviews and verified buyer's feedback online
4 in-house tests on indoor and outdoor basketball courts (I've been owning two of the models for several months now)
Comparing crucial shoe features such as fit, stability, support, traction, and cushioning.
Continue reading to find out more about the shoes in more detail.
Supination Basketball Shoes Reviews
#1 Adidas D.O.N. Issue #3 Basketball Shoes
Editor's Choice
Size (U.S.): 4-20
Ankle: Mid-top
Extremely supportive footbed
There have been some excellent improvements to Donovan Mitchell's third signature shoe with Adidas. The first two weren't top quality, and this one still leaves some room for improvement. BUT, there are some great features here to help with any supination issues.
Pros
Premier Lightstrike cushion for optimized response
Low density and lightweight are great for players wanting more speed
Added curvature from previous models for better heel to toe transition
Slightly wider shoe protects against over supination
Midsole extends up for added lateral support
Cons
Traction is subpar on outdoor courts
Whether they planned it this way or not doesn't matter to me, all that matters is performance on the court.
I own these shoes, and I've been playing basketball in them for a few months now. I'm impressed with the overall snugged fit and comfortable, lightweight design. I even use them as walking shoes for casual wear.
Starting from the ground up, this basketball shoe uses Adidas' "Lightstrike" cushioning. This is the best that Adidas has to offer, and for good reason. It's a great combination of comfort and responsiveness.
You won't sink into this cushion, so it's not ideal for impact protection, but there's a sufficient amount of cushion to not worry about it when you do go up for boards.
This low-density material is also responsible for the shoe being on the light side. It's below average, which helps players preserve their stamina.
Due to the Lightstrike cushioning having some stability to it, it protects your foot from extreme supination.
The low-profile design also keeps your foot close to the floor, which lowers the center of gravity, further protecting your ankle.
I had some issues with the traction of this basketball shoe as it didn't seem to bite as much as other shoes. It was much less noticeable once I got them on a clean, hardwood court. But I was not blown away by the grip like other basketball shoes.
The lateral containment was very impressive. You'll feel extra support from a raised midsole. You can see on the outside that the foam extends slightly higher around the forefoot, midfoot, and front heel.
It may look decorative and straightforward given the design, but this minor modification makes a big difference in performance when your foot is in place.
The heel and toe are only slightly curved compared to the "Lebron Witness 5s". But with the Lightstrike foam in place, the flexibility makes transitioning from heel to toe very smooth.
Lastly, those with narrow to normal-sized feet may want to order a half size larger. The toe box is quite roomy, and even around the forefoot, I found it to be comfortable but almost too comfortable.
I like a snug fit, so the true size worked for me, but others may find a larger size supports better performance.
#2 UA Embiid One Basketball Shoes
Premium Choice
Size (U.S.): 7-16
Ankle: Low-Mid top
Superb lateral support
It's about time Joel Embiid got his own signature shoe. He's been killing it in Philly and looks like he will be around for a while. As a first edition signature shoe, overall, it's great. But for protection against oversupination, it excels.
Pros
Thick midsole runs the length of the shoe for supination prevention
Added lateral counter is perfectly placed in the middle
Hovr technology provides comfort and responsive cushioning
Two pod design is excellent for creating speed
Upper mesh is built for performance and supports the entire foot
Cons
Achilles' end is too high
The first thing I noticed when putting these on is the extra lateral support that runs the length of the shoe. It's a tall midsole that fits snuggly against the outside of your foot.
This added strength is deliberate, seeing as Embiid is one of the biggest players, yet he moves quickly and can cut on a dime.
The supination protection is locked in with the midfoot counter that's right in the middle. When the laces are tight, I could feel it dispersing the tension along my foot to keep it secured on the footbed.
Under the heel is U.A.'s Hovr cushion. It provides noticeable comfort and is great for response time, as you would expect. But it's a bit stiff and doesn't provide maximum impact protection.
The sole does come with a two airpod design with one under the heel and one under the forefoot. Again, these are both tight and built for responsive cushioning. They look softer than they feel and will keep you moving fast up and down the court.
The traction is excellent with this shoe, both on indoor and outdoor courts. It's great even on dusty courts. I recommend keeping them indoors, though, as the durability was not there. They started to wear rather quickly.
The upper mesh part feels a bit cheap at first, but once your foot is in there and you're playing basketball, you can tell there's nothing cheap about it. The fit is excellent for encompassing your entire foot, thus making these awesome walking shoes.
The mesh works great with the lateral counter to keep your foot and ankle aligned and centered on the footbed. The Achilles support comes up higher than most other shoes, which some may find a little restrictive, but only if your foot bends that way which is a rare angle
#3 Nike Lebron Witness 5 Basketball Shoes
Budget Choice
Size (U.S.): U.S. 6 - 16
Ankle: Mid-top
Quality Air Zoom unit helps keeping your ankle upright
Not all Lebrons are created equal, and this shoe proves it. Lebron has a few different lines of basketball sneakers, and this one is not from his signature line. However, it can help players who struggle with supination immensely.
Pros
Incredible traction to limit your supination
Forefoot Air Zoom units allow your arch to flex naturally
Cushion and outsole are incredibly flexible
Wider outsole to keep your foot on the footbed
Outrigger helps with lateral movements
Curve of the lower portion promotes quick breaks
Cons
Material around the outside of the ankle is cheap
Durability is suspect on asphalt courts
Specific features here help keep your foot in an athletic position and make it easier to transition. So you don't have to shell out big bucks to get a shoe that will have a noticeable effect on your game right out of the box.
The first thing to note is the traction and bottom portion. There are two air zoom units positioned under the forefoot. The outside one provides excellent support and flexibility to anyone with supination issues.
The inside air unit is a little close to the toes so your arch can flex properly. This helped me with comfort and speed as my foot had full mobility.
The traction on the shoe is excellent. For a shoe in this price range, I was pleasantly shocked. I experienced very little slipping on both indoor and outdoor courts. The tread design favors outdoor, although it did wear down pretty darn fast.
If you're going to play outside, try to stay away from asphalt courts as they will wear this sole down extra fast.
The cushioning is adequate for a wide range of players. It's not too soft, but I also wouldn't call it bouncy. It is a medium to wide platform, which helps those with supination. A small outrigger is also present for added protection.
It's also very flexible. I like this in a shoe because I don't want to break it in. I like a flexible shoe right out of the box. The upper material supports this design as it's mostly made from a high-quality knit. There's no lace bite or issues with breathability.
Although very thin, this material works well to keep your foot from sliding off the footbed. Something all players with supination should look for.
If you're on a budget, don't miss our guides on the best shoes under $50 here and the bestselling kicks under $150.
#4 Nike Men's Kyrie Flytrap IV Basketball Shoe
Best For Narrow Feet
Size (U.S.): 7-13
Ankle: High Mid-top
Outsole curvature and small Air Zoom unit mean these shoes for supination are very responsive
All Kyrie shoes have a defining characteristic to them. They all have varying degrees of outsole curvature. This is great for creating speed and helping you cut easily. It also helps to prevent supination. So check these out!
Pros
Significant outsole curvature for mobility jus tlike on running shoes
Heel to toe transition keeps your feet in an athletic position
Thin Air Zoom unit increases responsiveness
Unique lacing system helps customize the fit
Best cushioning in a Kyrie Flytrap to date
Cons
Traction is not very good at all
Ankle support could be too restrictive for some
I've played over 15 basketball games in these shoes and I must say I love them.
The curves of this outsole can be seen from all angles. The heel-to-toe transition is seamless and makes you want to run faster by keeping your foot in an athletic position. This is great for players with flat feet who want to build more speed. The arch support is minimal as well.
One of the best parts of this show is the Air Zoom unit under the forefoot. Although this is one of the smallest ones Nike makes, it fits perfectly in this shoe. Due to its size, you feel very low to the ground. This sensation is great for maintaining ankle support and keeping your supination in check.
The cushioning supports this and is very thin. When a rubber outsole and shock absorption is this thin, it tends to be stiff, which we have here. This makes it great for court interaction but not so great with shock absorption.
Compared to the other three Kyrie Flytrap shoes, this one does have the best cushioning.
The upper part of the shoe is definitely where Nike saved money. The mesh has excellent breathability, but it feels cheap to the touch. When you see it up close, it doesn't look like a premium material.
But on the court, where it matters, the mesh works great to secure your foot and create a booty-like feel. The tongue is also made from this cheap but functional material.
The fit is pretty snug. It's suited perfectly for players with slightly narrow feet who like a cozy toe box. If you have wider feet, you may want to go a full size up from what you usually wear.
You can adjust the fit slightly with the lacing system.
The top two eyelets ride pretty high and will provide either tight or loose ankle support depending on your preference. The bottom two eyelets extend down the foot a bit to keep your lateral movement in check.
This lacing system also plays a crucial role in preventing supination and plantar fasciitis. Check out our article on the best basketball shoes for plantar fasciitis.
#5 Adidas Men's Pro Bounce Low Basketball Shoe,
Most Comfortable
Size (U.S.): 4.5-20
Ankle: Mid-top
A high-quality mesh and midsole cage keeps your feet in place and comfortable
Adidas makes some fantastic basketball shoes for supination because they understand how the foot moves and how to optimize that. This is the second Adidas basketball shoe on this list because they are made to protect your feet just as they are made to improve your game.
Pros
Midsole cage runs almost the entire length of the shoe
Low profile keeps your feet close to the ground
Firm cushioning is great for responsive players
Radar designed traction works best after a short break-in period
Upper mesh is durable and provides breathability
Cons
Tongue not attached
Ankle support is minimal
This shoe's midsole was impressive and is a huge contributing factor to maintaining ankle and arch support. It looks like it's thick, and your foot sits high off the ground, but in reality, your foot sits lower in the shoe.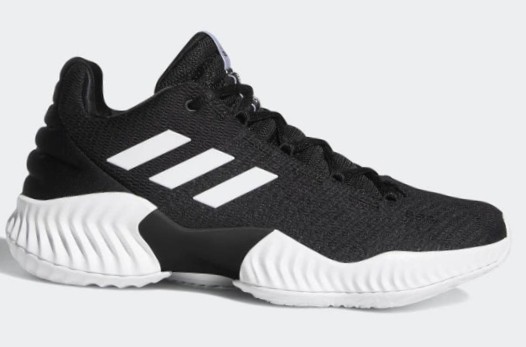 It acts as a cage around the bottom of your foot to keep you stable during lateral movements. It's a pretty thick material as well, so the protection is definitely there.
The cushioning is also pretty firm as well. This is great for response and helps you feel the court better. It's made to keep you low to the ground and fast. This basketball shoe is not made for shock absorption.
The traction could use some improvement, but I found it to work well enough for a shoe in this price range. It has a very cool "radar" traction pattern that looks great, but the treads aren't that deep.
This didn't effect the traction that much though because the rubber outsole is so rigid. It takes a bit of breaking in but as you do, it feels like this rubber sole gets grippier.
The upper mesh is a real highlight. You can tell right away that it's made from premium materials.
It's a textile mesh that Adidas calls 'Forged Fiber.' Whatever it's called, it feels great on your feet. It conforms very well, and the breathability is top-tier. It's made to play in for hours and keep your feet dry.
The only issue is the tongue; it's not attached to anything, so for me, it was shifting to the side like old-school basketball shoes used to do. I'm sure not everyone will have this problem, though.
They also squeak very loudly, so if that's a concern for you, opt for one of the other basketball shoes on this list or check out our top picks for the best basketball sneakers below $200.
Supination Explained
Supination occurs in either the upper body or the lower body. I focus strictly on lower body supination in the ankle for this article. This refers to how your foot bends.
Oversupination is when the bottoms of your feet are pointing at each other.
This is not as common as overpronation, which is when your feet turn the other way, but it's common enough that shoe manufacturers are addressing it.
Features To Look After To Find Comfortable Shoes For Supinators
Here is all the information you need to decide which are the best basketball shoes for supination.
Knowing that this is your tendency is a huge first step. Many players don't realize their natural gait, let alone address it.
If you're a supinator, have a peek at what you should be looking for in basketball shoes to help your game improve.
Stability
This is the number one thing to concern yourself with if you experience supination. Excellent stability helps with ankle support and will keep your feet centered within the shoe.
Using strong materials within the midsole and a durable rubber outsole are two key factors to look for.
Traction
This is a key component in all basketball shoes, but even more critical if you're a supinator. The best traction comes with a strong rubber sole. You want a firm and durable outsole, so it can provide the same traction after continued use.
Don't be worried about adding weight. The rubber compounds used today are durable and ultra lightweight.
Fit
No two basketball shoes are alike. Within the brand, they are relatively consistent, but that's not always the case.
Some basketball shoes are made for narrow feet, while others allow for more space. Knowing your foot shape is crucial to getting the right fit.
Supination tends to require more arch support, which all these shoes have in spades.
Cushioning
To help give your feet the support they need, a firm cushion in the footbed is required. Some basketball shoes may feel more comfortable, but you won't be as fast in those.
A firmer cushion keeps you light on your feet and very mobile. This will compliment good arch support as well.
Flexibility
You may think that a rigid rubber outsole means it's not flexible, but don't. Due to the particular compounds companies use, you should experience some great flexibility. Most shoes don't have a break-in period anymore, and if they do, it's not very long.
There will always be flexibility in the upper part with the abundance of mesh being used. Lower flexibility varies a lot more from shoe to shoe.
Bounce
The bounce on basketball shoes is very important. Otherwise known as responsiveness, this helps players stay mobile and increase their stop/start capabilities. Low bounce is sought after if you're shopping for shoes for supination.
Suppose a shoe is too springy, then it's easier to lose control and lose your ankle support. Unfortunately, this will affect your vertical, but it's a small price to pay to keep playing basketball.
Arch Support
This is more of a concern for players who experience overpronation. However, if you have too much arch support, it could force your ankle over and cause rolls. The arch support is fairly neutral in all the basketball shoes on this list.
As long as your feet feel firm to the footbed and have good support in the arch, you shouldn't give it too much thought.
Best Basketball Shoe Style
When choosing the best basketball shoes for supination, you want to consider how your ankle will move. Do you want more or less mobility? This is the big question that you have to be honest with yourself, so you don't cause any injuries.
Low-Top
Low-cut shoes are great for mobility in the ankle area. They are lighter than most and usually require less break-in time. A great low-top sneaker will increase your speed and agility.
They are much more common now as companies look for ways to help you play better. An example would be the UA Embiid One.
Mid-Top
Mid-top basketball shoes combine all the best features of the low rise and high-top basketball shoes. The market is flooded with them now, and they are arguably the most popular basketball shoes.
If you're new to basketball, then a mid-top will be your best option so you can try out the features and see what you like. The most versatile shoe on this list just happens to be a mid-top.
If you're new to buying basketball shoes, I recommend the Adidas D.O.N. Issue #3 Basketball Shoes.
High-Top
High tops are a bit outdated these days, but they are still used and can assist certain players. Buying shoes for supination means you're looking to protect your ankle support and create stability.
No basketball shoes will do this better than a high-top. They don't make them as high as they used to, but the Kyrie Flytrap IV is an excellent option if you want that extra stability.
F.A.Q.
What are the best basketball shoes for supination?
The best basketball shoes for supination are the Adidas D.O.N. Issue #3 Basketball Shoes. The premier Lightstrike cushioning supports your foot without being too soft. The footbed itself is slightly wider than most to prevent your ankle from rolling. These make a great pair of running shoes as well.
What type of shoe should a supinator wear?
The type of shoe that a supinator should wear is one with a prominent midsole. While this feature makes basketball shoes look chunky and high off the ground, it actually acts as a cage to keep your feet centered on the footbed. This feature is available in all three types of basketball shoes; low, mid, and high-tops.
Do supinators need stability basketball shoes?
Yes, supinators need stability basketball shoes. You just want to make sure you have the stability in all the right places. A firm cushion means your feet will stay in place better. Look for the best basketball shoe that also has a solid midsole. This keeps your ankle more upright and prevents it from rolling outside.
Do supinators need arch support?
Yes, supinators need arch support in a basketball shoe. They won't need as much as someone who has overpronation, but in order to keep your foot anatomically correct, some arch support is required. If all aspects of your foot are aligned and in an athletic position, playing basketball will be easier.
Is a neutral shoe good for supination?
Yes, a neutral shoe is good for supination. As long as the cushioning is stable and the midsole provides adequate support, neutral basketball shoes are great for supinators. I recommend limiting your time in the air as these are the best basketball shoes for shock absorption. You may feel some pain on your landings.