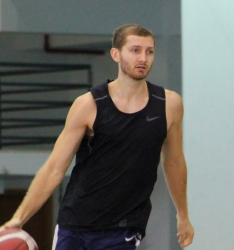 Latest posts by Adam Gotelli
(see all)
I love low-tops because they support the highlight reel steals, drives, and step-back 3's you'll see floating around ESPN and the NBA on TNT'a respective desks.
Low-tops encourage greater mobility, flexibility, and optimal speed thanks in part to many intentional design choices made by manufacturers.
But what kind of features can you expect from low-top sneakers? Which shoes stand out from the pack among the countless, countless signature shoes?
---
Quick Answer: The best low top basketball shoes as of 2023 are the "Air Jordan Luka 1"
---
Well, that's what we're here for: we're counting down our favorite shoes with a low cut to take your game to the next level and support all facets of how you play.
Whether you're a big man or a 1, there's something to love about low-tops for everyone. This is especially true of our team's selection for the best low-top basketball shoe – the Air Jordan Luka 1's.
Let's dive in.
Best Low Top Basketball Shoes – A Comparison Table
Image
Product
Features
Price

Best Overall

Size: 7.5—14
Weight: 13 oz.
Best For: Indoor courts (works well outdoors too)
Highlight: Full-length performance Formula 23 foam

Check Price At Finish LineCheck Price At Amazon

Best Premium Choice

Size: 7.5—16
Weight: 14.6 oz
Best For: indoor courts
Highlight: Quality, patented Zoom Air units

Check Price At Finish LineCheck Price At Amazon

Best Budget Option

Size: 7.5—14
Weight: 14 oz.
Best For: outdoor courts (work well indoors too)
Highlight: UA WARP tech

Check Price At Finish LineCheck Price At Amazon

Size: 8—14
Weight: 12 oz.
Best For: All surfaces
Highlight: Full-length shank plate

Check Price At Finish LineCheck Price At Amazon

Size: 7.5—15
Weight: 11 oz
Best For: Indoor courts
Highlight: Unique traction pattern

Check Price At Finish LineCheck Price At Amazon
How We Reviewed
To bring you the most thoroughly researched, unbiased, and extensive product reviews, our expert team of trained professionals analyzed each shoe considered both from the court and the lab.
We set out to bring you only the cream of the crop; the A-team of low-top basketball shoes, and as such, took our shoes through rigorous testing.
Weighing cushioning, traction, breathability, durability, support, weight, and look (among other factors), only our top 5 picks made the starting roster when creating the definitive best low-top basketball shoes list.
These basketball shoes will make a noticed contribution and improvement to your efforts in securing dubs for the win column, be it for a rec league trophy or a ring at the highest level.
Below, you'll find our research approach to finding the best basketball shoes with a low profile:
Invested over 30 hours of research into the best products, which includes scouring the web and retailers for buyer feedback and customer reviews
38 pair of shoes were considered based on stability, weight, traction, ankle support, durability, cushioning, price, and look, among other factors
As a pro basketball player, I personally tested our top 5 picks, judging performance, speed, and court feel through fundamental drills (i.e. ball handling, shootarounds, cone drills, etc.) as well as organized match-ups, from 1V1 to 5 on 5
Consulted a certified podiatrist as well as avid basketball players from both the amateur and the professional levels, with the pros sourced from my home team in the LBA
The Best Low Top Basketball Shoes—In-Depth Product Reviews
Best Overall
Size: 7.5—14
Weight: 13 oz.
Best For: Indoor courts (works well outdoors too)
Highlight: The full-length performance Formula 23 foam is engineered to offer a bouncy, responsive cushioning system that will keep you feeling fresh and ready to log more minutes on the hardwood.
Coming in hot, we have the Luka's at the 1 spot as the best basketball shoes with a low cut. This is Luka's first signature shoe by Jordan, with the partnership between the two household names beginning in 2019. This shoe is quite impressive. Check it out!
Pros
Full-length Formula 23 foam boost technology for an extra responsive heel-to-toe transition
Sturdy Flight Wire for an ultra-supportive fit like a glove
IsoPlate torsional rigidity will have you hitting Luka step-back jumpers
Rubber outer wrap for additional ankle support that doesn't hinder mobility
Deeply woven traction tread pattern offers superior bite for lateral cuts and route changes
Cons
Lacking proper ventilation
As you can see from my pics below, these shoes are quite stylish and that's why they initially drew my attention. Being a huge fan of the "Air Jordan" brand, buying them was a no-brainer.
I played 4 outdoor and 3 indoor games wearing these, and they amazed me with their lightweight snug fit and incredible support and stability.
As of July 2022, the Luka 1 was revealed, sporting some impressive specs and the makings for all-around inspired play for hoopers looking to dominate and demand control like the 4X All-Star himself.
High Tech "Wow" factors
The Luka's feature a full-length Formula 23 foam boost technology design, which smooths out the heel-to-toe transition for coast-to-coast movement that feels pronounced and balanced.
This technology is meant to give you a lightweight bounce while maintaining court feel for cushioned, impact loading that protects your feet while simultaneously not taking away from your touch.
Meanwhile, the sturdy FlightWire tech brings you a supportive fit that makes the Luka's almost feel like they're your signature ball shoes instead.
FlightWire is a thin, strong cable that is integrated into the shoe's upper. The cable is strategically placed and tightened to provide a secure fit that conforms to your foot.
The cable is also adjustable, allowing you to customize the fit to your desired level of tightness.
Add in the IsoPlate torsional rigidity, and you'll be hitting step-back jumpers from the baseline to the lane in no time.
Torsional shoe stiffness quantifies the resistance of a shoe to twisting along its axis, a result of cutting sports and foot/ankle kinematics in response to dynamic movement.
Not only will this thoughtful, intricate IsoPlate design compliment your jumper and give you the space to get creative with your step-backs, but it will also prevent the injuries associated with aggressive route changes.
And Even More Support
The rubber outer wrap along the Luka's brings you additional ankle support while not limiting your mobility. I love low-tops for the added mobility of the ankle proper, and I was glad to see the Luka's still offering ankle support while not opting for a bulkier heel counter.
For traction, we're looking at a deeply woven tread pattern that offers a grippy bite perfect for multi-directional floor work and varied court types.
Best Premium Choice
Size: 7.5—16
Weight: 14.6 oz
Best For: indoor courts
Highlight: Quality, patented Zoom Air units revolutionized and delivered by Nike, now with the 20s, where you can find a top-loaded forefoot Zoom Bag, a Zoom Air Unit along the heel, and a 13 mm Air-Zoom Turbo Unit along the shoe's underfoot, for a state-of-the-art, impressive, lightweight cushioning system that matches the high-speed and explosivity of the G.O.A.T.
The Lebron 20 by Nike is a shoe intended to honor the soon-to-be HOF career of Lebron James, with the 20's marking year 20 in the NBA. If you're a hooper with a higher ceiling to your budget, you can't go wrong with the 20s at the 2 spot; a legendary shoe to mark a legendary career.
Pros
Top-loaded, forefoot Zoom Bag brings you a smooth ride, coast to coast
Additional Zoom Air Units within the heel's construction for added stability and impact-absorbing tech that offers stellar impact protection
13 mm underfoot thickness with Air-Zoom Turbo Unit
Carbon fiber midfoot shank provides the essential energy return that supports explosive play styles
Upper, multi-mesh dimensional material offers a breathable, comfortable fit
Con
Cons
Not fit for outdoor courts due to ultra-soft rubber materials (you can play outdoors but the durability could be compromised)
Based on my extensive tests on both indoor and outdoor courts, the Nike LeBron 20 is the best indoor low-top basketball shoe as of 2023. The traction is superb, and the cushion is unmatched.
Nike Zoom Units
When pressure is applied to the Nike Zoom unit, the fibers compress and quickly rebound, providing a springy and responsive feel.
For the 20s, containing a host of Zoom units, this means you'll be springing into action with explosivity, perfect for dominating the boards, penetrating, and stretching 2-way play. Perfect for power forwards.
The top-loaded Zoom bag contains that explosivity along the forefoot that allows for a strong base, giving you a smoother ride.
The Zoom Air units along the heel add additional heel support that protects your joints; the 13mm underfoot Air-Zoom Turbo allows you to move aggressively on the court while we found the inherent thickness of its construction gave us larger stopping power.
All-in-all, the Zoom cushioned midsole, heel support, and underfoot thickness make the 20's a protective, cushioned shoe that still leans into the driving power and nimble versatility you'd expect from a Lebron signature.
A Low top and a high all in one
During my play-testing, I noted that the 20's carbon fiber midfoot shank aided in the explosive energy return found in the Zoom tech by providing the essential, almost "counter-weight" to lateral and heel-to-toe transitioning.
This type of thoughtful design along the shank makes the low-top versions of the 20s almost feel like a high, with the support and cushioning necessary for big players but with the rebounding and mobile fluidity of a 1 or a 2.
What's more, the upper multi-mesh dimensional design brings you a breathable, comfortable fit with excellent ventilation that prevents interior slippage and will have you logging minute after minute.
Best Budget Option
Size: 7.5—14
Weight: 14 oz.
Best For: outdoor courts (work well indoors too)
Highlight: UA WARP tech is sourced from durable, abrasion-resistant materials while still offering you enhanced comfort that supports dynamic play
Crafted to be more akin to a running shoe than clunky, overly-cushioned basketball shoes, the Curry Flow 9s continue what the 8s set out to achieve while catering to a wider range of play styles and in-game mechanics. If you're on a bidget, that's the best low-top shoe for you.
Pros
Highly durable UA WARP upper materials that support speed and agility
Molded collar for a tailored fit and feel
TPE sockliner with low compression setting for improved energy return
Single-piece foam traction treads give you a top-notch bite that's insanely lightweight for optimal lateral containment
UA Flow cushioning outsole for impressive court feel and creating separation
Cons
Lacking the bounce and propulsion harnessed by the previous model
After playing multiple outdoor games in these shoes, I can safely say that they are the best affordable low top basketball shoes for outdoor courts.
Chef Curry
Steph changed the game with his deceptive dribbling, impressive creativity, and mind-blowing accuracy from beyond the arch.
A fascinating, recent study concludes that not only did Steph Curry and, furthermore, the Warriors dynasty affect the pace of how the game is played, but also the frequency of 3-point attempts the league over.
If you're looking to walk the walk, talk the talk, and make game-defining moves like the Chef, the Flow 9's are the shoe for you.
The TPE sockliner gives you additional energy return with lower compression for a protective but thin, firmer ride that keeps its light frame.
What's more, the Under Armour Curry WARP upper—interlocking zigzagging fabric—combined with the Flow cushioning woven into the outsole further propels the smoothness and precision of how the shoe rides.
You'll be able to unlock your speed and really start getting creative in order to spread out the defense; we found the 9's encourage the stability, speed, and precision most akin to Curry when he performs on the balls of his feet moving off-ball.
Solid Traction With Less Material
The Flow 9's keep your foot secure in a fixed interior closure that feels tailored to you, thanks in part to the molded TPU collar.
On the outside, the security is derived from solid traction, whereas the single-piece design uses less material while still bringing you that optimal bite for lateral containment.
Size: 8—14
Weight: 12 oz.
Best For: All surfaces
Highlight: Full-length shank plate paired with 3-extra eyelets bring you a full lockdown feel to match up against even the toughest defenders while your shoes eliminate over-folding, twisting, and supination.
Mitchell suited up with the Cavaliers in the fall of 2022; in the coming weeks, he would also premiere the newest addition of his Adidas D.O.N Series, the 4's, a great shoe that's built for speed. Check these cool sneaakers out!
Pros
Full-length shank plate with 3-extra closure eyelets for lockdown fit
LIGHTLOCK upper for a reliable, lightweight, secure court feel
Lightstrike propulsion system offers explosive support along the heel, underfoot, and balls of the feet
Breezy textile lining for a refreshingly cool fit no matter the intensity
Multi-directional pixelated traction pattern
Cons
Online reviewers claim of foam "bottoming out" over excessive, hard use
Feel a bit heavy
I own the previous model, and I was eager to see how Adidas improved it with the newest edition. Based on my tests, the Adidas D.O.N. Issue #4 offers more support, better cushion and great traction on both indoor and outdoor courts.
I feel the need, the need for speed
Though the 4s feel a little heavy on the foot, that doesn't mean they're the bulkiest or the slowest responding shoe by any means; the Spida's signature shoe is for hoopers looking to maintain top speed with optimal control.
The Lightstrike propulsion system brings you Mitchell-level cuts and the ability to attack the rim with confidence through additional heel counter support as well as support underfoot and to the balls of your feet.
The wider base, along with the LIGHTLOCK upper is perfect for hoopers who crave stability during complex, creative footwork; LIGHTLOCK tech is incredibly reactive, and the low profile of the 4s only makes the shoes even more explosive.
The 4s have good traction through a multi-directional pixelated pattern that keeps their bite even on hard stops and harder crossovers. If you play on dusty courts, though, you'll have to wipe them from time to time.
Fit & Feel
The 4s include a full-length shank plate to redistribute stress on your foot mechanics, while the added 3-extra eyelets make the shoes feel secure with a lockdown, interlocked closure. The midfoot is moderately snug, though not as snug as your a-typical KD or Li-Ning Way pair.
What's more, the 4s are designed with plenty of breathable textile overlays that will keep your feet dry and refreshed.
Size: 7.5—15
Weight: 11 oz
Best For: Indoor courts
Highlight: One of Kyrie's most notable tattoos is "The Hamsa Hand," a symbol of protection and good luck in many cultures with its design featuring a palm with an eye in the center. The 5's traction pattern mimics the shape of the Hamsa Hand, with the circular shape and lines radiating outwards, providing a unique bite on the hardwood.
The Nike Kyrie 5 Lows round off the list of our top picks at the number 5 spot for the best basketball shoes with a low profile. If you're more of an indoor player, then these are awesome for you. Check them out!
Pros
Traction pattern inspired by Kyrie's tattoo
Nike Flyrap with Dynamic Strap system offers a fit that's secure, stable, and tailored to you
Forefoot Zoom cushioning offers superior support when cutting
Rapid energy return with Zoom turbo system
Highly reactive and ideal for crossovers or varied speed changes
Cons
Cheap laces; recommend switching them out
I use these shoes mostly on indoor courts because as indicated by my tests, their durability and traction is not so great for outdoors.
Improving on the 4 and implementing some exciting, sleek colorways, the 5s offer excellent impact protection, rapid energy return, unique traction, and have all the makings of supporting crafty, quick playing.
It's all In The details
The Nike Kyrie Flytrap technology with Dynamic strap provides a secure, lockdown fit for the foot, involving a lacing system that pulls the midfoot closer to the forefoot, enhancing stability and responsiveness for all-around dynamic, supportive movement.
For the forefoot, the Zoom cushioning engineering compresses on impact and quickly bounces back to its original shape, providing a springy and energetic feel underfoot. You be able to change directions efficiently with the 5s.
Add in the Rapid Zoom Turbo technology, and you'll be able to generate more force as you drive the lane, blowing past defenders to the lay-in.
The Hamsa Hand
As I mentioned earlier, the 5s are a highly reactive pair of performance basketball sneakers from Nike, providing optimal court feel for sprints, crossovers, and varied changes in your speed.
This reactivity also comes from and is thanks in part to, the Hamsa Hand traction pattern. Based on one of Kyrie's tattoos, the 5's traction pattern mimics the shape of the Hamsa Hand, which in essence, provides a grip that's superior and unique to the 5's design.
You'll be feeling the speed and shiftiness of the Kyrie 5s, and the traction pattern pairs with that effect perfectly. I wear these shoes casually too, and they look great off court.
Choosing The Best Low-Cut Basketball Shoes