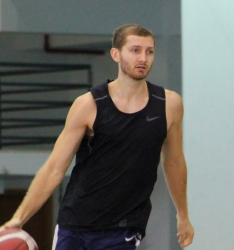 Latest posts by Adam Gotelli
(see all)
You're about to read an honest, hands-on Built 2 Ball review based on real testing and extensive research.
Editor's Choice
Comprehensive jump theory and basketball mechanics manual help you understand your game on a deeper level.

Extensive, OTA video library covering a wide range of topics

Accelerator calls pair you with an authentic OTA coaching professional to extract the best results possible and help you track your progress

90-day full refund policy
Feel a little stuck in your game? Are you looking to get better, log more minutes, and shape yourself into a certifiable threat on the court?
Built 2 Ball is exactly what you're looking for.
With its comprehensive training modules, interactive coaching, and a thriving community of dedicated players, Built 2 Ball brings you the real, tangible results you've been looking for and then some.
Over the course of 14 weeks, you'll train the core mechanics you'll need to ensure you have a high-performing, reliable output in-game: eccentric (muscle lengthening), isometric (muscle holding), concentric (muscle shortening), and plyometric (explosive movement).
Moreover, B2B has a ton of player resources, including an in-depth nutrition guide, athletic performance and physical optimization blueprints, player testing, an 88-page theory manual, and progress tracking.
We're taking a delve into everything Built 2 Ball for all players, whether a seasoned vet or in your rookie season, from the rec league to the big leagues; time to harness your potential and take your game to the next level!
Pros
Basketball theory bible with 88 pages

of invaluable mechanic info

Testing manual offers you the chance to test yourself and accurately track progress

Access to the OTA Database with detailed walkthroughs of each exercise, allowing you to perform with precision

Verified, 4-step training that focuses on making you a well-rounded hooper with a deep bag of skills

Accelerator calls pair you with actual OTA coaching staff

Perfect for all experience levels and regardless of positional needs

Nutritional guide with meal plans, delicious recipes, and supplement guides

Offers both workouts that are either gym-based or bodyweight-resistance based

Website and resources are easy to navigate, featuring a straightforward "dashboard" format
Cons
Requires serious commitment to the course to see results (it could be too much for some players).

Requires some additional purchases to gain access to all bonus content (the most important stuff is included, though)
Why Trust This Review
As a pro baller, I struggled for a long time to find the right program for me to prep for the next season: one that matched my goals and one that would really give me the results I was looking for.
Enter Built 2 Ball, a groundbreaking online basketball program designed to revolutionize the way aspiring hoopers approach training and approach their development.
These kinds of online programs and training methods weren't readily available when I first started my career, so of course, I was a bit reluctant to give B2B the dub.
I always keep a critical eye for the details and don't leave anything unsaid or to chance when it comes to my product testing. From extensive product research to reading buyer feedback, from consulting industry professionals to hard play-testing, I always make sure I'm crossing my T's and dotting my I's.
I tested the program in the course of 14 weeks, read all the theory, and did all the exercises. As a pro player, I was curious to see if it'd have helped me to improve my basketball performance.
Below is my honest opinion about the program.
Built 2 Ball Review
My meticulous tests concluded that Built 2 Ball is a remarkably thorough and versatile online ball-training experience that's perfect for all experience levels and the two-way play that's at the center of the high-performance basketball you see today. My only regret is that I didn't find B2B sooner.
By the way, here's what I have to say about Built 2 Ball:
Built 2 Ball positions itself as a comprehensive solution for players of all levels looking to be better. But does it really live up to the hype?
We'll take a look at its curriculum, the workouts, as well as its interactive elements to help you determine if Built 2 Ball is the missing piece in your pursuit of basketball greatness, whether that be winning the rec league or the Larry O'Brien.
Who's It For?
As basketball continues to move towards a positionless sport and away from the traditional role-based strategy you'd see up to the 90s, coaches look for versatility, specifically in players who have a deep bag of tricks who can spread the floor.
Big's hitting the same mid-range jumpers and post-fade's you'd see from Patric Ewing now hit them from the 3-point line; centers like KAT can easily match up against smaller defenders or force big's to the outside to create a mismatch.
On the other hand, you can see teams play "small ball," where teams like the Warriors force the pace and space of the game to create more scoring chances. This is achieved by playing more shooters (i.e., in 2023, Steph, Klay, and/or Poole) with an unconventional center that focuses on play-making and boards (ex. Draymond).
Basketball today is entirely about spacing and movement; B2B matches the versatility of today's game and helps you build the proper foundation to keep up and outperform the competition.
For programs like B2B, the training combines overlapping skills with static, standardized development that every hooper needs to be better: strength, speed, linear power, and lateral route changes.
That said, the program is perfect for players of all positions and levels.
How Does It Work?
With B2B, you're developing the 4 pillars of success when it comes to high-performance basketball: strength, power, acceleration, and deceleration, as well as agility.
I recorded a quick video of the program dashboard and its contents just for you. Take a look below.
Strength
Strength involves a blend of absolute and relative strength components.
As it sounds, absolute strength is the maximum amount of force you can generate, regardless of your size and body weight.
With relative strength, you're focusing on how much force you can produce relative to your body weight. Here, you'll see a concentration on stability in traffic, coordination, kinesthetic awareness, and much more.
As a hooper, you'll need to train both attributes. Too much absolute strength, and you'll lose speed and agility; you'll be stiff, rigid, and slow. Too much relative strength, and you'll get dummied by bigs and hoopers with more weight and size.
Power
Here, power can be broken down into multi-planar explosiveness:
Horizontal Power—explosiveness and the ability to blow past defenders with unpredictable speed
Vertical Power—involves your ability to take contact while in the air, jumping and maintaining control of the ball to get your shot off or grab that rebound
Lateral Power—allows you to switch routes effectively and get more scoring chances by getting yourself open consistently
Acceleration & Deceleration
One of the best examples of productive acceleration and deceleration in the NBA today is Kyrie Irving, who stops, starts, and cuts with precision to create scoring chances.
Creating scoring chances and switching routes doesn't have to mean you're the fastest guy on the court. Acceleration and deceleration or short spurt footwork helps you earn an edge over slow defenders lacking the traction and dexterity to keep up with you.
In many ways, your top speed starts with your ability to stop on a dime.
Agility
Agility is centered on making real-time adjustments as the game progresses. Here, you're teaching and training your body to cuts with responsiveness and flexibility.
Who Created Built 2 Ball?
B2B was created by Overtime Athletics founder Chris Barnard, who's been a strength and conditioning coach for over a decade.
Initially garnering some attention from his flagship "Flight Program," Barnard's OTA Youtube channel has over 322,000 subscribers; he offers over 30 programs in specialized concentrations like basketball, football, baseball, swimming, cricket, soccer, rugby, and more.
Barnard has trained countless clients from the high school level all the way up to the big leagues, with many of the OTA athletes who complete their training going on to secure college scholarships and professional contracts.
He's the creator of the popular Elite Vertical Academy program.
Program Structure
Each exercise listed in the workouts is linked to a tutorial video, where Barnard clearly and efficiently demonstrates the exercise while explaining the science, engagement, and mind-muscle connection. They're quick, easy to understand, and produced in high quality.
General Prep (Weeks 1-2)
Weeks 1 & 2 are all about reconditioning and building your work capacity to prepare you for the bulk of the program. Think of the first two weeks as an introduction or general prep for the regiment ahead, with a 2 on,1 off split.
I really enjoyed this part of the course because, as intended, it helped me build confidence for the road ahead. Other programs will have you diving right into the training with little to no preparation. Not that one, and that's why I listed in as the leading online basketball training program of 2023.
This can be a bit of an information overload out the gate, while—at its worst— can be dangerous when weighing your experience level.
Without proper load management and an "easing in," if you will, your body handles the physical stress and trauma of training differently: in a weaker state that requires more recovery time and lacks adequate injury prevention.
Barnard and OTA really take their time with weeks 1 and 2; I'm sure every athlete, myself included, can attest that training and/or program development is a marathon, not a 100M dash.
Workout Example (Week 1, Day 1)
Dynamic Warm Up
Plyometrics – Foundation
1. Pogo Jumps – 2 x 10 seconds
2. Lateral Pogo Jumps – 2 x 10 yards each direction
3. Line Hops – 2 x 10 seconds
4. Lateral Line Hops – 2 x 10 seconds
5. Squat Jumps – 2 x 10 seconds
6. Box Jumps – 10 x 1
Strength
1. Bench Press – 3 x 10
1. Band Pull Aparts – 3 x 15 [RED BAND]
Build
1. Incline DB Neutral Press – 3 x 12
2. Barbell Row – 3 x 12
3. Overhead Press – 3 x 12
4.A. Cable Tricep Extension – 3 x 12
4.B. Hammer Curls – 3 x 12
Trunk
1. Plank – 2 x 60 seconds
Structural Integrity (Weeks 3-6)
Once you've completed the first two weeks of Built 2 Ball, you're moving into what Barnard deems as a "true phase one."
Now that you've established a work capacity with the general prep phase, you can move into intensified conditioning that still emphasizes quality and successful volume loading while leaning on an almost entirely new routine of exercises.
Here, the workouts are a lot more taxing on the nervous system, focusing on quality reps and consistency while rotating from a push-pull format to an upper-body one day and lower-body the next. If you weren't tired or sore after weeks 1 and 2, let me tell you, you're going to feel it after weeks 3-6.
There are going to be days over the next month that'll feel tough—as I certainly experienced—and days where it's going to feel easy. While it may be tempting, it's essential to follow the progression the way it's laid out and not skip ahead or, inversely, repeat days.
Here, your body will take some time to acclimate before moving into a more manageable power and strength phase.
Structural integrity makes you a better ball player because, really, no one builds a house by starting with the windows. You have to develop a solid foundation in order to attack and compete at the highest level, and this phase is meant to do just that.
Workout Example (Week 3, Day 1)
Dynamic Warm Up
Plyometrics
1. Single Leg Pogo Jumps – 2 x 10 seconds each
2. Single Leg Forward Pogo Jumps – 2 x 10 yards
3. Single Leg Line Hops | Lateral Line Hops – 2 x 5 seconds each
4. Sprinter Step Ups – 2 x 8 each leg
5. Alternating Step Ups – 2 x 8 each leg
6. Bulgarian Split Jumps – 2 x 8 each leg
Strength
1. Trap Bar Deadlift – 4 x 8
1. Decel Step Ups – 4 x 8 each leg
Auxiliary
1. Bulgarian Split Squat – 3 x 8 each
2. BB RDL – 3 x 8
3. Lateral Lunge – 3 x 8 each side
Trunk
1. Ab Wheel – 3 x 12
Power & Strength (Weeks 7-10)
The next building block is dedicated to power and strength, where Barnard introduces workout variations with the advancement of form and intensity.
The goal here is to transition what you've developed so far to the court; by Week 10, I noticed a considerable difference in the amount of explosiveness I was able to generate, in addition to getting a higher vertical and feeling more stable in my cuts and route changes while maintaining force.
How it works and how that happened for me is based on B2B's strategic "added stress." For instance, you'll notice a drop in reps in weeks 7-10, indicating that you should be throwing more weight on the bar for most of the exercises.
By pushing the intensity and added weight through these incremental changes, you're constantly testing your body to keep up and make progress.
Workout Example (Week 7, Day 1)
Dynamic Warm Up
Plyometrics
1. Linear Pogos | Single Leg Linear Pogo Jumps – 1 x 10 yards each
2. Single Leg Linear Hops – 2 x 10 yards each side
3. Single Leg Double Broad Jump – 4 x 1 each leg (land 2 feet)
4. Single Leg Broad to 90 – 4 x 1 each leg
5. Half Kneeling Box Jump – 4 x 1 each leg
6. Approach Single Leg Box Jump – 4 x 1 each leg
Strength
1. Trap Bar Deadlift – 5 x 4
1. Lateral Monster Walk – 5 x 5 yards [HIP CIRCLE BAND]
Auxiliary
1. Bulgarian Split Squat to Foam – 3 x 6 each leg (dead stop on foam)
2. Single Leg RDL – 3 x 6 each leg
3. Band Single Leg Hamstring Curl – 3 x 12 each leg [GREEN BAND]
Trunk
1. Ab Wheel – 3 x 20
Speed & Power (Weeks 11-14)
The final phase of the 4-step program is all about pushing the intensity and finishing strong; this is most likely your last month before training camp, and Barnard emphasizes precision and executing the accumulated volume you've worked towards.
Phase 4 works towards making the workouts "sport-specific," where the majority of exercises you'll find here are tailored toward the mechanics you'll need to execute on the floor.
What's more, you're advancing the exercises you've already learned by incorporating external stimulants, where instead of acting off of cones or boxes, for instance, you'll be working with a partner or your coach.
Phase 4 also works on velocity by utilizing bands designed to unleash the speed demon in you by working against dynamic resistance; where the weights are concerned, you'll be operating off your max for many exercises, where some sets sport only one rep but eight sets in all.
In the final phase, Bernard recommends that if you do have more time before beginning training camp, you should repeat it.
The fourth stage is designed to be repeatable in order to maintain results without you burning out, an example of the incredible attention to detail I really loved about B2B.
Workout Example (Week 11, Day One)
Dynamic Warm Up
Power
1. Med Ball Pogo Jumps (overhead) – 2 x 10 seconds
2. Linear Med Ball Pogo Jumps (overhead) – 2 x 10 yards
3. Med Ball Box Jump | Med Ball Approach Box Jump (overhead) – 8 x 1 each
4. Med Ball Vertical Toss (Heavy) – 8 x 1
Strength
1. Close Grip Bench – 6 x 3 [X|1|X]
2. Med Ball Broad Toss – 6 x 2
Auxiliary
1. Landmine Single Arm Jerk – 3 x 6 each side
2. Standing Single Arm Cable Row – 3 x 6 each side
3. Dump the Buckets – 3 x 8
4. Band Tricep Extension – 3 x 20
Trunk
1. Band Windmills – 3 x 10 each side
To get through the program and extract the best results, OTA has made the B2B website easily accessible and navigable (think of a WordPress layout).
The OTA B2B website and dashboard are easy to navigate and user-friendly. The workouts are explained in detail, while the added resources bring you a host of critical, absorbable information designed to develop your confidence and further understanding for new players.
And that isn't to say it's going to bore seasoned vets.
As a hooper who's been playing professionally for over a decade, I can speak for the experienced ballers out there in saying that B2B is an engaging and inspiring program that delivers, and that's regardless of where you're at in your basketball journey.
Let's take a closer look at each subsection.
Get Started
Here you'll find everything to get the ball rolling (literally).
The Get Started page features welcome videos designed to help you learn the ins and outs of what Built 2 Ball is looking to accomplish and just how far it can take your game.
You'll find videos surrounding positional needs, critical components of physical development for basketball, and training, as well as programming for basketball.
The videos span over 20 minutes of content designed to fully prep you for the program and to help you understand the game and training pedagogy on a deeper level.
I found the videos both engaging and thought-provoking; Barnard has a great way of lecturing without talking down to you, while also keeping it interactive and the energy up and exciting.
While he's just simply talking to the camera and using a whiteboard, Barnard makes the videos feel like a standard locker room prep talk to discuss strategy and theory mechanics to put into the game ahead. It's a familiar and absorbing format. 
---
Further Reading: Don't miss my extensive Jump Manual program review.
---
Your Programs
Under your programs, you'll find everything included in the Built 2 Ball course, including the workout video library, as well as a comprehensive instruction manual detailing the course's objective and what to expect.
What "Your Programs" really highlight here is the versatility and adaptability of Barnard's course. No better example comes from the B2B bodyweight, beginner, and in-season tabs.
For athletes without regular access to a gym or training facility, Barnard's created a program that relies solely on bodyweight resistance exercises.
For ultra-beginner ballers who are taking their first step into training (ex., youth hoopers), B2B features a beginner course that still pushes you to your limits, but manages the workload and leaves more room for de-loading and with volume-training at a slower pace.
Although I used B2B over the course of the off-season before returning to my team in the LBA, Barnard has also created an "in-season."
That said, I was a little disappointed to find it wasn't included in my principal purchase alongside the "Elite Basketball Skills Academy" section.
Built 2 Ball Resources
By far, where B2B stands apart from other online basketball training programs is in the resources made available to you.
You're set up with everything you need to track your progress, better your game, and hold yourself accountable.
The testing manual is the baseline, where you'll track your progress over the program's 14 weeks and use the table as the marker for your growth; Barnard says it best with "you can't manage what you can't measure."
For the "Athletic Performance Optimization" tab, the staggering 88 pages of theory walk you through a host of options in order for you to find what works for you, implement it into your routine, and ultimately find that edge over your competitors.
Featuring chapters on supplements, sleep, hydration, conditioning, active recovery, and physical therapy, this is the bible for ballers looking to really talk the talk and walk the walk. If you want to prioritize your ball goals and see insane growth, check this out.
What's more, the "Performance Nutrition" tab brings you researched and thorough meal plans while also offering you a ton of critical information to maximize your performance.
The guide is written by OTA Director of Nutrition and Master of Nutrition and Exercise Science Jake Gottesman.
Offering insight into the science of sports nutrition, Gottesman defines why food is fuel and, ultimately, how you can eat to maximize your athletic performance.
The "Performance Mobility" page was something I was very curious to check out, but again, it requires an additional purchase.
What I Liked About Built 2 Ball
Training that focuses on proper load management and safety
Like other OTA programs (including the Elite Vertical Academy), sports science is explained thoroughly and in an easy-to-understand way
Incredible amount of supplementary material (i.e., nutrition guide, theory manual, testing sheets)
Versatile program that can fit any play-style, experience level, or gym access
Barnard's coaching style is engaging, thought-provoking, and thorough
Course navigation and formatting are smooth and inviting
90-day refund policy; try it risk-free
By and large, what I really enjoy about being an OTA athlete is the access to actual coaching staff. No other program brings you this.
You can schedule an online meeting with an OTA coach via accelerator call for added support and tailored help to ensure you're on track to meeting your performance goals.
What I Didn't Like
For Built 2 Ball, the only significant downsides I found through my experience were in the optional additional purchases required to access all the bonus materials the course has to offer and, ultimately, the intensity of the program.
Now don't get me wrong, I loved my 14 weeks, but speaking objectively here, this is a program that you can't afford to be passive with.
B2B requires a full, regular commitment in order to see results and meet the goals you've set. To be better, you have to let the program play out and follow it to the letter.
That said, the workouts can take anywhere from 1.5-2 hours to complete, with adequate rest between sets.
Meanwhile, this is just you in the weight room. Factor in your ball training on the court, and you could very well be looking at two separate workouts taking up to 3-4 hours of your day.
I have the privilege of being a professional athlete, and I can block off that time; for others, like youth athletes or college ballers not on scholarship, this may be a huge time commitment.
If you want to be the best, you have to train like the best, but in the spirit of being realistic, it may be tough for some to be able to carve out that time five times a week for the better part of 3 and a half months.
What The Others Say About "Built 2 Ball"?
Players from youth ball to the pros rave about Built 2 Ball's unique blend of rigorous, intense workouts backed by higher education in sports science, physical optimization, and nutrition.
The attention to detail and wealth of information made available through B2B's programming really shines through in the online buyer reviews I came across.
One such testimonial comes from Pacer's forward TJ Leaf, who, after going through the program and working directly with Chris Barnard, was able to sign a contract extension for a 4th-year team option worth over 4.3 million dollars.
For a player who hadn't proven much in the NBA, this is huge and precisely what B2B stands for; helping players unlock their optimal performance.
Alternatives
Now, let's look at some other programs that rival Built 2 Ball.
HoopStudy
HoopStudy is an excellent program for players who want to see a 180° in their game. You have access to a video library of over 3500+ videos dedicated to developing your shot, confidence, ball handling, and basketball IQ.
This is for hoopers whose primary concern is bettering their fundamentals, with more of a focus on transforming your on-court presence. You're likely an ultra-beginner and want to convert more chances before developing your conditioning, power, and strength.
Think of HoopStudy as an approach to the basics unlike Built 2 Ball whose content at times caters towards more seasoned players and evolves with time.
PJF Performance
Taking sports science even further, PJF Performance aims to blend training with genetic potential, providing the blueprint for ballers to reach new heights.
With testimonials from the likes of The Beard and Joel Embiid, players take the guesswork out of training by going through a series of rigorous tests made to craft you a personalized program based on your genetics, experience, and present-conditioning level.
That said, PJF Performance isn't that well-structured as compared to Built 2 Ball and doesn't contain much theory.
Final Verdict
Based on my comprehensive review and intensive testing, the Built 2 Ball program is an exceptional training regiment for hoopers looking to hit their stride and reach new heights in their game going into their next season of play.
With an emphasis on helping athletes unlock their optimal performance, B2B backs this mission statement through rigorous workouts supported by advanced sports science, nutrition, and supplement guides and through an extensive video library hosted by OTA founder Chris Barnard.
Built 2 Ball molds the foundation to what can be inspiring basketball performance, breaking down bad habits, and shaping you into the best ball player you can be. I saw incredible results, and if you stick to it, you can too.
FAQ
Is There A Refund Policy?
Yes, there is a refund policy. Built 2 Ball offers a 90-day hooping guarantee, where if you don't see the results you're looking for within a 90-day window, you can contact the OTA's customer support, and they will promptly issue you a refund, no questions asked. 
Is The Built 2 Ball Program Worth It? 
The Built 2 Ball Program is worth it, and then some, because it provides structured and specialized training designed to enhance your skills, improve your on-court performance, and develop your athleticism. B2B offers guidance, accountability, and access to expert knowledge, enabling you to reach your full potential and excel.
Do I Need Gym Access To Use The Program?
No, you don't need gym access to use the program. While the B2B proper requires access to a gym and suitable weight room, the bodyweight-only program can offer you just as competitive results while working out from anywhere; all you need is about 6 square feet of space and an additional purchase through the OTA website to gain access.  
Can I Really Increase My Basketball Performance Level With An Online Program? 
Yes, you can really increase your basketball performance level with an online program. Online programs like Built 2 Ball provide comprehensive training modules, expert guidance, and video tutorials tailored to your needs. With dedication, consistent practice, and proper execution of the program, you can significantly improve your skills, athleticism, and overall performance.
Can I Access Built 2 Ball From Any Device? 
You can access Built 2 Ball from any device by simply logging into your web browser from your phone or tablet. Keep in mind, if you're anticipating that you won't be connected to the internet where you'll be working out—or if there's no WiFi—you'll have to download the workout vids of the day by accessing your Vimeo download library. 
I'm A Complete Beginner, can I Still Benefit From The Program? 
Yes, you can still benefit from the program even though you're a beginner. Designed to cater to all skill levels, B2B brings you fundamental training, technique development, and gradual progression that can gel with all experience levels. With the right amount of dedication, you can build a solid foundation and improve your basketball performance exponentially.