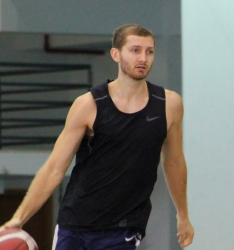 Latest posts by Adam Gotelli
(see all)
High tops have made a splash in the basketball world for many decades. From the introduction of A.I.'s ridiculous, signature shoe verging on a bulky moon boot, high tops have come a long way from where they once were.
---
Quick Answer: The best high top basketball shoes in 2023 are the "Jordan Max Aura 4."
---
What used to be a shoe intended solely for the pursuit of optimal ankle protection has given way to high tops with improved traction, flexibility via torsion, and lightweight, durable materials made for any position on the floor.
Having the right equipment for any athlete can make all the difference between maximizing your performance and getting benched. For basketball, shoes are no exception, and the best high-top shoe is what we're here to discuss.
Best High Top Basketball Shoes – A Comparison Table
Image
Product
Features
Price

Top Choice

Size: 7.5—14
Best For: all surfaces
Highlight: A split outsole tread

Check Price At Finish LineCheck Price At Amazon

Premium Choice

Size: 7.5—14
Best For: Indoor play (also good for outdoor courts)
Highlight: Top-notch herringbone traction

Check Price At Finish LineCheck Price At Amazon

Budget Choice

Size: 7—16
Best For: All surfaces
Highlight: Premium TPU heel counter

Check Price At Under ArmourCheck Price At Amazon

Size: 7.5—14
Best For: Indoor play
Highlight: Pump-lace closure

Check Price At Finish LineCheck Price At Amazon

Size: 7.5'14
Best For: Indoor play (also good for outdoors)
Highlight: Sprintframe plate engineering

Check Price At Finish LineCheck Price At Amazon
How We Reviewed
To bring you the most thorough, highly researched product reviews, our team of experts and pro ball players laced up and hit the hardwood, looking for court feel and the shoes that supported dynamic, high performance, whether that's from motion offense or lockdown defense.
As a pro-basketball player, I'm always looking for the best basketball shoes that can kick my game into overdrive and continue to develop my work on the floor; our top 5 picks, through our battle-tested, expert research, accomplish just that. Here's our review process:
We invested over 21 hours of research into the best products, which includes scouring buyer feedback and customer reviews
Hyper-focused on the key features basketball players look for in high-top basketball shoes
34+ products were considered based on stability, weight, traction, ankle support, durability, cushioning, price, and look, among other factors
I personally tested our top 5 picks, judging performance and court feel during drills, practices, and skirmishes from 1v1 to 5v5
Consulted a certified podiatrist as well as avid basketball players from both the amateur and the professional levels, with the pros sourced from my home team in the LBA.
The Best High Top Basketball Shoes—In-Depth Product Reviews
Top Choice
Size: 7.5—14
Best For: all surfaces
Highlight: A split outsole tread brings you the functionality, protection, and lockdown fit of high-top basketball shoes while combining it with lightweight materials for adding improved, high-performance aspects to your game.
Starting off our deep dive into the best basketball shoes with a high-top design, the Air Jordan Max Aura 4's are the penultimate Jordan signature shoe for hoopers looking for a durable, supportive, and thoughtfully designed high-top to take their game to new heights.
Pros
Visible Zoom Air Max Unit for optimal impact protection and comfort that lasts
Split, lightweight outsole compliments your game, no matter how you play or what position
Durable and long-lasting with mix of genuine and breathable synthetic leathers
Futuristic rubber outsole with 6 tread waves of tread for all-court coverage
Timeless Jordan brand style with quintessential Bulls colorways and sleek detailing
I own the previous model – the Jordan Max Aura 3, and I was eager to buy the new one too. I tested these shoes on an indoor and outdoor court, and they amazed me with traction, feel, and superb impact protection.
As compared to the Jordan Max Aura 3, the Max Aura 4 are more stable, with an improved look, and a bit more cushioned.
Futuristic Design
Take MJ-level ball, but fast-forward 25 years; the 4's are a tribute to Jordan's legacy as a player while also introducing some new and exciting features that are sure to have you continuing to push the envelope and developing your game.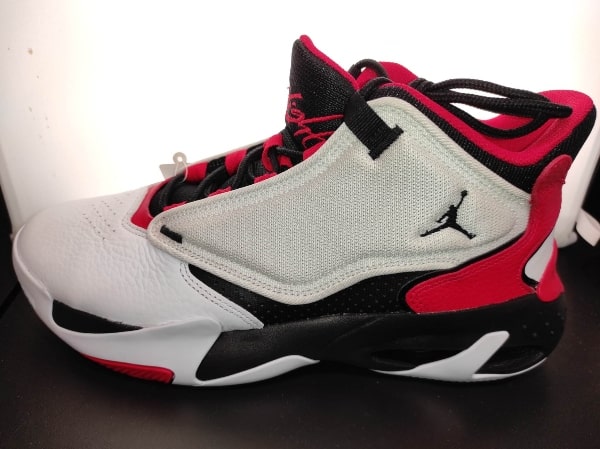 One such feature is the rubber outsole with six deeply woven tread waves, designed to provide all-court coverage no matter the dust, dirt, or debris you may find.
What's so great about this traction pattern is that it's an aggressive tread design that grips uniquely to varied playing conditions, which in turn allows you to maintain top speed, especially in full-court transition.
I was able to test that on multiple court surfaces and the shoes remained perfeclty grippy.
Meanwhile, the outsole's split, lightweight design keeps you moving without your shoes weighing you down; the split design encourages greater flexibility and movement in the forefoot region.
Rounding it off with the Visible Air Max unit, you're getting the impact protection and security of a big man without the added weight that other shoes have. That said, they add a bit of height, which is great for short players.
The Jordan DNA
The Air Jordan Max Aura 4's feature the timeless Jordan detailing with embroidered graphics and a classic Bulls colorway.
For the 4's, the Jordan DNA is very much at play here, with the padded upper borrowing from the Jordan 13s while the 'flight' logo alludes to that sweet, 90's Jumpman Jordan domination; for Air Jordan purists, these shoes tick all the boxes for the Jordan X Nike basketball shoes fanatics.
The 4's are designed with a mix of genuine and breathable synthetic leathers, striking a nice mix of durable rigidity with high-performance shoes that feature a bit of flex and give.
Premium Choice
Size: 7.5—14
Best For: Indoor play (also good for outdoor courts)
Highlight: Top-notch herringbone traction provides great stability for lateral cuts, whether on hardwood or dusty courts
At the 2 spot, we have the Air Jordan Jumpman Two Trey, another entry from the legendary Jordan brand and bringing all the class and high-value construction synonymous with MJ's signature shoe line. Check these out!
Pros
Herringbone traction for impressive stability
Pressure-treated, TPU perforation holes along the midfoot for added breathability
Nike Zoom Air units absorb impact effectively with solid support
Padded collar with added fabric lining for additional support and comfort
Injection molded phylon materials are soft and fit snugly to your individual foot
Cons
Missing the torsion plate; almost too flexible
I played 3 games with these stylish kicks on outdoor courts and what I liked most about them is the well engineered traction.
Support Meets comfort
For the Two Trey basketball shoes, there's a nice blend of features engineered to keep you comfortable while also supporting your foot's mechanics and the demands of your game.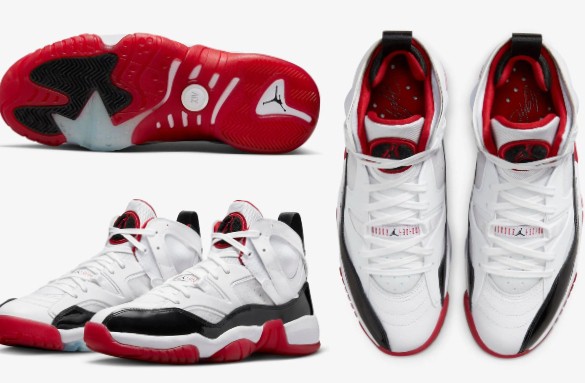 The injection molded phylon materials are made to offer a superior court feel externally while internally offering a snug fit that forms to the individual shape of your foot over time; the soft, tensile standard for basketball shoes.
The padded collar with additional fabric lining along the ankle will keep your ankle locked without it being stiff or tightly bolted into place; it's more like a hug rather than a bear hug.
For the Zoom air units, you can expect solid support through effective impact protection through pressurized air and stretched miniature fibers.
When a player's foot strikes the ground, the fibers compress to absorb the impact and disperse the force evenly across the chamber. As you lift your foot, the fibers expand, returning energy to the foot and providing a responsive feel in real-time. I was able to feel that during my tests.
A smooth ride
The smooth forefoot and heel-to-toe transition is aided by the incorporated herringbone pattern within the Two Trey's outsole. Herringbone is one of the best traction patterns out there, designed to supply optimal bite through its multi-directional design.
And while you're balling out, the pressure-treated, TPU perforated midfoot holes bring you additional ventilation for a cool, comfortable feel as you work up a sweat.
For hoopers with a higher ceiling to their budget, you can't go wrong with the Two Trey's. The price is totally worth it.
Budget Choice
Size: 7—16
Best For: All surfaces
Highlight: Premium TPU heel counter eliminates interior slippage while offering extra support to the mechanics of the ankle for a backed and sustainable performance
The Under Armour Lockdown 6's are an excellent, budget-friendly shoe for hoopers looking for a high top that kicks their game into overdrive while keeping their bank account out of overdraft. If you're on a budget, this shoe is your shoe.
Pros
TPU heel counter for extra ankle support
Lightweight, breathable upper for maxing your vertical
Plush foam sockliner for increased underfoot support
EVA midsole for lightweight, responsive court feel
Herringbone traction for ultimate control
Cons
Lacking durability, especially on outdoor courts as compared with other shoes on our list
I've been owning these shoes for 4 months now, and I can say they deliver the best bang for the buck. Their price to quality ratio is unbelievable. They are also super comfortable for working out.
Speed & Precision
Basketball is one of the fastest sports played today; Book averages a three-quarter sprint and lane agility drill combined in just 10.27 seconds.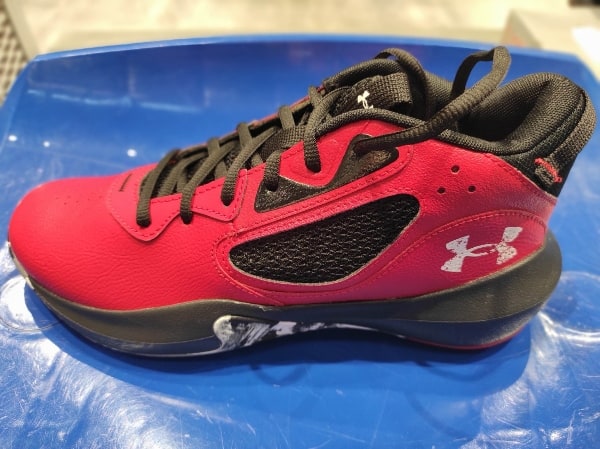 Booker's speed, in this case, directly translates to his ability to convert on the court, blowing past defenders and opening up fast-break chances, where he averages a total of 6.3 points just in transition per game.
This is just one example of how crucial your shoe's weight and materials are in aiding your ability to accelerate, decelerate, and control your route changes.
High tops generally come with a slower performance that's more dedicated to grabbing boards and banging in the paint, right?
Wrong.
For shoes like the UA Lockdown 6's, the herringbone traction pattern paired with the lightweight EVA midsole brings you a reactive smooth transition while the shoe's materials are both lightweight and filled with pressurized holes along the mid-foot and tongue.
And this is what I liked about them during my tests – their impressive breathability.
This is a welcomed surprise to the high top vs. low tops conversation; the lighter, the better—and by a minimum increase of 2%—and the Lockdown 6's deliver.
More Support
The Lockdown 6's feature a plush foam sockliner that pads the underfoot with additional protection. This type of cushioning technology helps stabilize your foot and distributes shock intensity away from the joints. Ideal for shin splints or Achilles Tendonitis.
Plus, like any high top, the added layer surrounding the ankle, and in this case the TPU lockdown heel, brings you more support and better confidence on the court without worrying about falling awkwardly or, worse, ankle sprains.
Size: 7.5—14
Best For: Indoor play
Highlight: Pump-lace closure - a small, inflatable chamber located on the tongue that can be filled using a small air pump, tech that was first championed by Reebok in the 90's used to offer the baller a customizable, fully tailored fit.
If you're a Center looking for a high top that's all that jazz and then some, look no further than the Shaq Attaqs by Reebok. These shoes deliver and then some. Check them out!
Pros
The Pump internal inflation and lockdown fit offer fantastic fit
Impressive, top-notch ankle support
High-grade stability along the midfoot thanks to Graphlite technology
Speed lacing system with sturdy eyelets
Grippy herringbone traction pattern along the outsole
Cons
Easily creases, especially in the toe box
Not so durable on outdoor courts
I bought these shoes a year ago because, honestly, I was hooked by their cool retro look. Then, my tests proved them to be incredibly durable, well-fitted, and supportive, especially on indoor courts.
Tech
And we're not talking about Free Throws (don't worry, Shaq); the Attaqs sport some impressive technology that sets them apart from other high-top basketball shoes for Centers.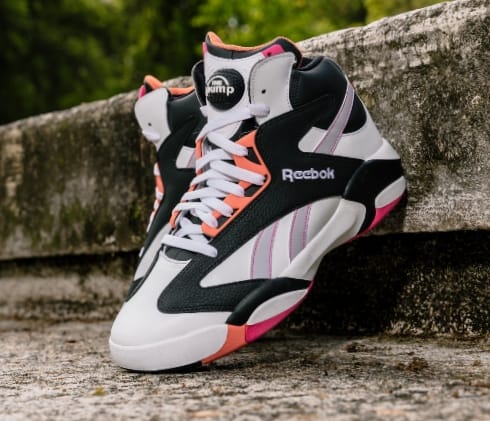 The Graphite plate is a rigid carbon fiber plate embedded in the sole of the shoe, intended to provide stability and support to your foot during quick lateral movements on the court.
And with The Pump internal inflation system, you have an extra level of customization that has yet to be rivaled in basketball shoes.
The Pump refers to a small inflatable chamber that is embedded in the tongue of the Shaq Attaqs, which can be inflated using a small pump mechanism.
Designed to bring you a fully customizable, adjustable fit that eliminates interior slippage, discomfort, and injuries related to ill-fitting shoes, you'll be able to make cuts, change directions, and execute with shoes that can hold up under pressure.
This is a major advancement in the otherwise fixed-fit sizing of other high tops on our list.
Add in the speed lacing system with sturdy eyelets, and you're getting a shoe that, since its inception in the 1990s, has and continues to revolutionize the market as new editions continue to release.
Speed and ankle support
Boasting a herringbone pattern, the Shaq Attaq's lean-on grippy, all-court traction is meant to support your top speed, no matter if you're creating space beyond the arch, pick and rolling, or setting up a post-fade.
Note, however, that I felt that this basketball shoe is not so grippy on outdoor courts. Plus, based on my tests, the shoes will wear off more easily if you play outdoors.
Check out this article if you want shoes designed for outdoor play.
Meanwhile, the ankle support on the Shaq Attaq's is top-tier, especially for Centers and big men. Engineered with an additional layer of durable leather and cushioning along the collar, the Attaq's are a comfortable shoe made to protect the ankle joint and catered to championing the responsibilities of the 5.
Size: 7.5'14
Best For: Indoor play (also good for outdoors)
Highlight: Create shot opportunities and make quick cuts past defenders with Sprintframe plate engineering designed to optimize your on-court stability.
If you're looking for speed but have a little more bankroll than the Lockdown 6's, we'd recommend checking out the Adidas Adizero Rose 1.5 RestoMods. The signature shoe of 2011 MVP Derrick Rose, these puppies are perfect for Guards at the 1 or the 2.
Pros
Lightweight Sprintframe plate optimizes stability as you change routes
Adiprene cushioning offers ample impact protection
Leather upper and plush collar materials gives you a snug fit that lasts
Puremotion outsole gives you the confidence to penetrate with increased traction
Strikes a nice balance between cushioning and responsiveness through the midsole
Cons
Insole is cheap; recommend swapping it out for an older Rose model
I bought these shoes last summer for outdoor play and wear them as my backup outdoor shoes.
Sprintframe With puremotion
The Adidas Rose 1.5's Sprintframe technology is intended to provide you with exceptional stability as your best defender when you drive the lane. After all, how else are you going to break ankles like D Rose?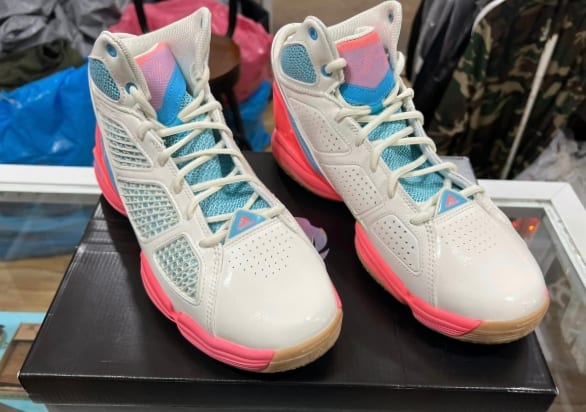 For a shoe to be able to keep up with such dynamic, lateral cuts, you'll need exceptional traction, introducing the Puremotion.
First championed by Adidas in 2011, Puremotion engineering features a pattern of flex grooves strategically placed along the sole to allow for natural foot movement and a more responsive feel underfoot.
I felt that the first time I played in them during a pro game in Potenza, Italy.
You'll be able to penetrate and stretch the defense while simultaneously knowing your shoes are fit for any challenge or defender thrown your way.
The brass tax
With the Adidas Rose 1.5's, I found that they're right where they should be when it comes to cushioning and responsiveness.
The Adiprene cushioning brings you fantastic impact protection and shock absorption, while the midsole's torsional support ends right before the flex zone.
This means you have great flexibility up front and through the toe box, but you have no over-twisting or supination through the midfoot.
Add in the leather upper and padded collar, and you're getting a snug, plush fit that will last you season after season, whether that's at the rec league or the pros.
Features To Look After In The Best High Top Basketball Shoes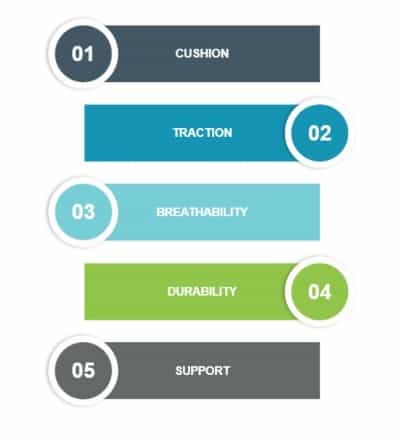 Cushion
For a high top's cushioning, we're looking for enough protection to safeguard your joints and ankles when exploding and returning to the ground, but not too much as to limit court feel stability, responsiveness, and breathability.
In fact, a number of studies conducted by Harvard Prof. Daniel Lieberman suggest that, in actuality, cushioning just reduces the sensation of impact deceptively while more force is extended to the heel in the process.
For cushioning, we're looking for impact protection that's right in the middle of responsiveness and comfort. The Zoom Air unit—as seen in the Jordan Max Aura 4's Zoom Air—is the forerunner in the cushioning department because of its lightweight cushioning technology that keeps the shoe flexible while also keeping your underfoot additionally supported.
Traction
To keep up at either end of the court, optimal traction is going to be your go-to.
Herringbone 'V' treads are synonymous with impressive sneaker traction because each step you take creates multiple points of contact with the ground, allowing for better grip and stability during quick movements, cuts, and route changes.
But don't overlook traction patterns like the Adidas Rose 1.5's Puremotion, where the outsole's traction is engineered to support your natural foot mechanics while offering a grippy, tensile bite. This type of traction pattern I found worked best on indoor courts.
Breathability
Breathability and proper ventilation in your basketball shoe prevents sweaty and uncomfortable feet while reducing interior slippage and the risk of blisters or other foot injuries, allowing for better overall performance on the court.
The best ventilation we came across in our research into the best high-top basketball shoe is the UA Lockdown 6s, with a lightweight, breathable upper with a perforated hole design along the tongue and midfoot.
Durability
Just like you bet on yourself on the court, we're looking for a shoe you can bet on for game after game, year after year.
Luckily, high tops are generally designed with high-quality, premium materials. The incorporation of genuine leather allows your shoe to mold to the shape of the feet over time, providing a comfortable fit and feel while still offering protection and support.
What's more, the thermoplastic polyurethane (TPU) heel construction found in the Air Jordan Two Trey or Lockdown 6s, for example, is an incredibly durable source material.
At the same time, this material is also lightweight and as pliable to your individual foot shape as you've come to expect from quality basketball sneakers.