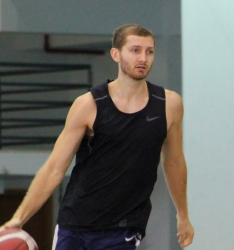 Latest posts by Adam Gotelli
(see all)
If you love basketball like I do, playing just one game usually isn't enough. When we get a chance to play, we want to play for a long time. Hooping all day is tough if your feet can't handle it.
Players with high arches know what I'm talking about, as their feet can become tired quicker than those with a neutral arch.
If you have high arches, then for the sake of your feet, consider one of the top basketball shoes for high arches. We spent hours testing all the most popular brands, looking for the best blend of performance and comfort.
Quick answer: The best basketball shoes for high arches in 2023 are "Nike LeBron 19."
Getting the right fit for your unique foot shape will automatically improve your game and, more importantly, prevent injury, so you can keep playing all season long.
Let's dive right in!
Best Basketball Shoes For High Arches – A Comparison Table
Image
Product
Features
Price

Best Overall

Size: 3.5 - 18
Ankle: High-top
Lateral and medial cages work together to support arches from all sides

Check Latest Price

Premium Choice

Size: Unisex 7.5 - 16
Ankle: Mid-top
Strength and style are combined to support your arch on and off the court

Check Latest Price

Budget Choice

Size: Unisex 6 - 13
Ankle: High-top
Specifically designed to add support to all aspects of your foot

Check Latest Price

Size: 3.5 - 18
Ankle: High-top
Stiff upper and grippy traction offers great support for your arches and ankles

Check Latest Price

Size: 6.5 - 15
Ankle: Mid-top
Barebones basketball shoe that provides excellent traction, arch support, and Achilles support

Check Latest Price
How We Reviewed
We put in a lot of effort in order to bring you nothing but honest, trustworthy reviews. Being a professional basketball player, I know the importance of wearing the right basketball shoe, especially if you have a specific foot condition.
Here's the approach our expert team and I followed to unravel the most appropriate shoes for players with high arches:
Invested a total of 51 hours of research that included reading buyer feedback and reviews
33 products considered based on features such as ankle and heel support, toe and ball support, traction, cushioning, price, and others
I tested 4 pairs of shoes myself to closely examine their performance and feel
Consulted a professional basketball player from my team in Messina, Italy, who has high arches, as well as a certified podiatrist.
Now, let's see the shoes in more detail.
Best Basketball Kicks Suitable For High Arches – In Depth Reviews
Best Overall
Size: 3.5 - 18
Ankle: High-top
Lateral and medial cages work together to support arches from all sides
At first glance, you can see the support throughout the midfoot and ankle area. These are meant to support high arches and anyone who wants to feel complete security in their basketball shoe. What makes these great is the cushioning setup and its interaction with the outsole. By having large Air Max units placed under high-stress points, your foot sinks into this shoe perfectly. With every angle of your foot feeling support.
Pros
Heel and forefoot Air Max units provide exceptional forgiveness
Split mid-foot design strengthens arch support
Lateral and medial support cages are tightened with the laces for a custom fit
Hybrid booty works great with the tongue to maximize comfort
Heel to toe transition is seamless due to the curvature and Air Max units
Cons
Outsole is not durable enough for regular outdoor play
Along the lateral and medial sides, a cage connects the outsole to the laces. This allows you to customize your fit around the arch and midfoot region. When pulled tight, they feel incredible on foot.
To support a high arch, you also must support your ankle, and this shoe does just that. The inside uses, what I'm calling, a hybrid boot-fit that works in conjunction with the tongue.
This gives you an incredible, all-encompassing feel before you even tie the laces.
While there is not much Achilles support, this high-top design lets you tighten the laces high up on your ankle. There are two support pods on either side to help fit your ankle in the most athletic position.
This works great with the shoes' heel-to-toe transition. Because the Air Max units are so large, you can effortlessly glide down the court, even with heel-dominate strides.
The shoe is quite stiff to counter the Air Max units, which helps keep your arch supported and your ankle from twisting.
As great as these shoes are, they are designed to perform best on indoor courts; the cleaner, the better. Its unique setup is excellent for supporting high arches, but it creates a split outsole that has less contact with the court.
The little nubs on the bottom are not durable, so keep them indoors to extend the life of these shoes. If you're playing as a power forward, you will also like these shoes. And for more shoes for power forwards, check out this article.
Related resource: "Do High-Top Basketball Shoes Prevent Ankle Sprains?"
Premium Choice
Size: Unisex 7.5 - 16
Ankle: Mid-top
Strength and style are combined to support your arch on and off the court
These shoes are classified as lifestyle shoes, and therefore, you may not see them on a lot of 'best basketball shoe' lists. But we had to try them anyway and were pleasantly surprised with how well they performed, especially in the arch support category.
Pros
Oversized caged midsole improves lateral stability and supports high arches
Herringbone traction pattern helps on fast stops and starts
Heavy-duty canvas material secures your whole foot to the footbed
Internal lacing system allows for accurate tightening around the sides of your foot
As a lifestyle shoe, it's made with more attention to aesthetics
Cons
Not very good ventilation
This shoe has a very thick and sturdy midsole cage that is evident on both sides. It kept my foot centered on the footbed even when I stopped and started aggressively.
There's a herringbone traction pattern to help you grip the floor even more. This is something you won't see in other lifestyle-type shoes. It's proof that they want you to play in this shoe and not just wear it around town.
The large Air Max unit that resides in the heel is another great playing feature that will help you perform better on the court. It pitches your foot forward, which accelerates your heel-to-toe transition and, by extension, your overall speed.
It also provides excellent impact protection for those who need it.
The internal lacing system is a massive contributor to supporting high arches. They use an internal system that pulls a broader range of material over your foot. It recreates the feeling of a booty or sock-style upper.
The designers from Nike used many different materials to make this shoe, but they're all high-quality and durable.
The synthetic/patent leather upper is more indicative of a lifestyle shoe, but it also works great on the court. The stiffness may take a game or two to break in, but it will provide more stability than any type of mesh that other shoes have.
Around the laces is a canvas-style material that's as durable as the season is long. It's great for getting the perfect fit around all angles of your foot, so your arch can stay supported. Plus, those are great for everyday use.
#3 Joomra Men's Stylish Sneakers High Top
Budget Choice
Size: Unisex 6 - 13
Ankle: High-top
Specifically designed to add support to all aspects of your foot
Players with high arch support tend to put more pressure on other parts of their foot since they have less contact with the floor. That's why high-top shoes can be the best option for those with high arches, and they don't have to be from a big, flashy brand to get the job done.
Pros
Blade rubber outsole supports high arches phenomenally
Outer ankle roll cage locks down your heel and keeps ankle upright
Extra-long tongue allows for a better fit
Many color options are available
Cons
Minimal impact protection
These high-top basketball shoes put more focus on performance and less on aesthetics. The first evidence of this is on the outer ankle of the shoe.
This support system works the same way as a roll cage on a race car. The support bars are set at just the right spots to keep your ankle upright, stable and contained.
The laces can adjust the tension of the support bars, since the top two lace eyelets are directly connected. When pulled tight, you can feel the entire roll cage fasten to your ankle on both sides.
For a superior fit, this shoe comes with a longer tongue, so you can tie your shoes all the way up and as tight as you want. The tongue supports all along the top of your foot.
The blade rubber outsole is another key selling point of this shoe. It performs great for players with a high arch because it supports all the other areas of your sole.
There is lots of compression in the heel and forefoot; as you compress in those areas, the blade rubber sole remains stiff in the arch region. This may be a new sensation for some, but you'll see why they designed it that way once you're used to it.
Even though the design is simplistic, we love that it's available in so many colorways. You can match any team you're on or grab a couple of pairs, so you always look your best.
I really liked how these fit to my feet and stay stable during long games.
#4 Unisex UA HOVR Havoc 4
Size: 3.5 - 18
Ankle: High-top
Stiff upper and grippy traction offers great support for your arches and ankles
Under Armour has been churning out some great shoes with Steph Curry, but they have other options for players who may not like the high-end shoes. For performance and support, these HOVR Havoc 4s are a great option that will help you play better and avoid injury.
Pros
Solid rubber sole increases contact with the court for more control
Unique traction pattern allows for multi-directional movements
Stiff material is used around the ankle to keep it in place
HOVR cushioning relieves stress from other parts of your foot so your arch can perform
Exposed midsole provides excellent lateral containment
All great shoes start with a solid foundation, and this one is no different. The solid rubber outsole makes a lot of court contact, so fast stops, and explosive starts are made easy.
The multi-directional traction pattern helps to keep your foot anatomically correct by allowing more heel pivoting. The forefoot area is designed to keep you moving forward effortlessly.
The next layer of this shoe is the HOVR cushioning. It lands on the firmer end of the cushioning spectrum, which makes it great for players with high arches. It allows your arch to drop comfortably and align with the rest of your foot more closely.
This action takes the pressure off other areas of your foot, so no one aspect is overworked. It runs the length of the shoe, but is more prominent in the heel, where you need more cushioning for heel strikes.
The upper is made from a unique material that feels cheap to the touch, but is super comfortable when on your foot. Its rigidness is unnoticeable in gameplay, which is what matters most.
It complements the exposed midsole to add lateral containment when moving side to side.
Those with high arches are more susceptible to hammertoe and bunions. We recommend you always have a little extra room in the toe box to prevent this.
Since UA shoes fit snugger than other brands, it's probably best to order a half size up from your normal size.
This will give you the space you need to take advantage of all the other incredible aspects this shoe has.
Size: 6.5 - 15
Ankle: Mid-top
Barebones basketball shoe that provides excellent traction, arch support, and Achilles support
For a non-flashy basketball shoe, these can still hold their own on any court. Don't judge a book by its cover or a basketball shoe by its appearance. This basketball shoe has excellent support for high arches and even better traction to keep you one step ahead of your opponents.
Pros
Excellent court feel and interaction
Minimal materials used to create the lightweight feel
Sits very low to the court to protect ankles
Firm footbed supports the arch and provides responsiveness to the rest of the foot.
Strategically positioned herringbone traction pattern for more grip
Cons
They look like your Dad would mow the lawn in them
The first thing you'll notice about this pair is how close to the court you are. Since there's no excessive technology here, you get a great feel for the court. This will help many old-school players who just want a shoe that does the job.
You may notice how thin the forefoot is; this is to maintain a firm feel. It's great news for those with high arches because the whole shoe is angled slightly forward.
This design helps you use all of your foot and arch to gain more control and relieve the rest of your foot.
Many of the more popular shoes can't compete with this shoe's on-court interaction because their shoes have so much cushioning. This raises you higher off the court and can encourage more instability in the form of ankle twisting.
Towards the back of the shoe, you'll find more support. This has an exaggerated Achilles support, which keeps your foot angled forward and in a more athletic position.
The sides of the ankle are left exposed, so you can either have more mobility or plenty of space to wear an ankle brace without interfering with your shoe.
Lastly, the traction is incredible for a shoe at this price range. The herringbone pattern is optimized for the high wear areas of your outsole. A high concentration is located right under the ball of your foot, which is typically the most heavily trafficked area.
The quality and durability make this shoe a high-performer on outdoor courts. If you can get past the "Dad" vibes that this shoe gives off, you'll improve your game and comfort to play longer and more often.
Still, these are among the best basketball shoes for high arches on the market today.
Choosing The Best Basketball Sneakers For High Arches
To support high arches and prevent injury, certain features will help you play better and for longer. This is a very niche type of shoe to be shopping for, so we recommend you be sure that you need this before purchase.
Having too much arch support can be really uncomfortable and will be a waste of money since you'll never wear them.
Understanding High Arch Support
I've heard many people say they need more arch support, but in most cases, they don't. Needing arch support is more than just being comfortable. It's about preventing injury and being able to play longer without pain.
High arch people will experience issues in other areas of their foot since their arch is not touching the ground, so it cannot provide any help.
Heel
Your style of play will dictate how much pressure is on your heel. But high arch players will always use the heel more than others.
Since your strides will be more heel-dominant, you can get tired quicker than if you stay on your midfoot or the balls of your feet.
Ball
The majority of your balance will be centered with the balls of your feet. Since your arches sit so far off the ground, the nearest point of contact is the balls for stability and responsiveness.
Protect this and get a shoe that supports the balls of your feet without being too soft.
Having a firm section here will help your arch drop and take some of the pressure off the balls of your feet.
Toes
Your toes will also experience more wear and tear with high arches. The most common ailments are bunions and hammertoe. To prevent this, we encourage you to get a shoe that has more room in the toe box.
Allowing more movement lets your toes move freely as they look for traction that your arch cannot provide.
You may need to order a half size or full size larger than your true size to get this extra space, especially if you are getting Under Armour.
Supporting Features
To properly fit your foot for the best basketball shoes for high arches, there are a few aspects to take a close look at.
If you're an avid player, you already know about your preferences, but if you're just getting into the game, find a pair of shoes that cover these features equally.
Cushioning
As the most obvious factor to consider, you might be surprised to find out what kind of cushioning will help you most. Many think that softer is the way to go so that it rises to your arch at the slightest bit of pressure.
Unfortunately, it's the opposite. A firmer bed will allow your arch room to drop closer to the footbed when the rest of your foot is under weight. With this cushioning setup, there's less of a chance to lose your grip laterally as well.
With a firm cushion bed and exposed midsole, your foot will be locked into the center of the footbed.
As other impact points compress under pressure, your arch will slowly but surely start to relax and can make contact with the floor more. This will help your feel and court responsiveness.
Avoid shoes that are not meant for basketball, such as the so popular Vans, for example, because they lack proper cushioning.
Ankle Support
Since a high arch doesn't make direct contact with the footbed within your shoe, other parts of your foot have to pick up the slack when keeping you balanced. Your ankle bears the brunt of this burden.
Having a high-top shoe is the best way to support your high arches, as they will keep your ankle aligned, so your whole foot can work in unison.
High arches also put a lot of pressure on the outside of your foot, the lateral side. This is a recipe for ankle sprains that can sideline you for months.
Keep your ankle safe and secure, so the rest of your foot can do its job without fear of turning over. Vertical leapers should be extra cautious because landing from jumps improperly can twist their ankles easily.
Traction
As the last piece of the puzzle, traction plays a significant role in supporting high arches. Keeping your foot stable within the shoe is one thing, but keeping it stable on various court surfaces is quite another.
First, identify where you'll play most of the time. Clean hardwood courts are the best because they are predictable. You'll be able to put a lot of stress on the lateral part of your shoe since the floor will grab it so well.
If you play outdoors, ensure you get a shoe with hard rubber and deep treads. Losing your footing or sliding out can be more common for high arch players, since they have a smaller footprint and apply less pressure when stopping.
This is most noticeably outdoors, so get a shoe to counteract this. Making the most contact with the ground is a priority for those with high arches, and that can be achieved with proper traction, especially on dusty courts.
4 Aspects To Avoid When Looking For Shoes For High Arches
Some shoe reviews can make a shoe sound really good even if you don't need what it offers. We see it all the time as competitors try to look for the positives about popular shoes so that they can sell more.
Watch out for these tricks and ensure you get what will help you the most by avoiding these features;
Cushioning That's Too Soft — Having air units is common and can help some. But if it's too soft, it will not help those with high arches. There is not enough firmness to keep your arch responsive, and this could cause fatigue in the rest of your foot. Soft cushioning can also invite ankle sprains and twisting.
Low-tops — With no ankle support, your high arch is left to fend for itself. Low-tops offer mobility, but with more movement comes an increased chance of injury in any player. So if you already have an issue like high arches, you want the rest of your foot to be taken care of.
Flat Heel-to-toe Transition — All the shoes on this list have excellent heel-to-toe transition, and that's on purpose. Added curvature in the heel and forefoot allows you to get up to speed without too much strain quickly. A flat-footed shoe is to help flat-footed people get more comfortable. It's the opposite of what you're looking for.
Thin Upper Material — You need stability, so the rest of your foot can make up for the less court interaction you'll have. You can't do that with a shoe made from an ultra-light mesh material. Choose something a little more rugged, so your foot feels fully encased within the shoe, and there won't be any stretching after extended use.
FAQs
What basketball shoes are good for high arches?
Basketball shoes that are good for high arches are high-tops. They keep the ankle safe, so the rest of the foot can work hard without fear of injury. You still want mobility, so ensure that the type of high-top you get doesn't cramp your heel movement too much and still provides comfort.
What are the top basketball shoes for high arches?
The best basketball shoes for high arches are the Nike Lebron 19 Basketball Shoes. These high mid-top designs keep your ankle sturdy but in an athletic position. It also has an amazing cushioning system that provides a firm footbed but ample impact protection, which is hard to find.
Do Nike basketball shoes have good arch support?
Yes, Nike basketball shoes have good arch support. However, there are so many Nikes to choose from that you want to ensure you get a pair that supports your arch support the best way possible. With the exception of the Lebron 19s, most Nikes with a full-length Air Max unit will be too soft for high arch players. If you want Nikes, then stick to the Lebron 19s.
What basketball shoes to avoid if you have high arches?
Basketball shoes to avoid if you have high arches would be anything in a low-top design. This style of shoe is designed to provide the player with more mobility. As a high arch player, you may need to sacrifice some mobility to play pain-free and for longer periods of time. Avoiding injury should be at the top of your list for shoes with high arch support.