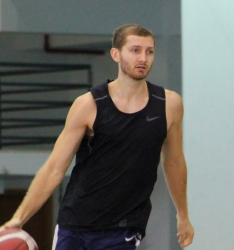 Latest posts by Adam Gotelli
(see all)
The Power Forward position has evolved at an exponential rate since the days of Karl Malone or Charles Barkley. What started out as a basketball position meant for big men in the paint has grown to become a position for versatile players; hence, stretch 4 offense.
To this day, dominating the boards and posting up is a necessary part of being a Power Forward, but as more Power Forwards spread the floor and the game changes, so do the shoes.
In this article, I will show you the best basketball shoes for power forwards, based on expert testing and research.
With a greater sense of dynamic, you want a basketball shoe that can keep up with your game, whether it's in the paint or knocking down threes from beyond the arc. A shoe that elevates you as a Power Forward with support, stability, and tenacity.
That's why we're here: we've culminated hours of research into bringing you the best basketball shoes for the modern Power Forward. Getting the unique, right fit for you is what we aim for, with a blend of performance, comfort, and security.
Best Basketball Shoes For Power Forwards – A Comparison Table
Image
Product
Features
Price

Editor's Choice

Size: 3.5-18
Ankle: Low-Top
Computer-generated, molded groove outsole optimizes traction

Check Latest Price

Premium Choice

Size: 7-16
Ankle: High-Top
Protective, full-grain leather high-top

Check Latest Price

Budget Choice

Size: 6.5 - 14
Ankle: Low-Top
Breathable comfort with mesh topline, mid, and upper sole that cools and dries as you play

Check Latest Price

Very Grippy

Size: 7-16
Ankle: Mid-Top
Stability and traction above all else, this shoe stays grippy under all court conditions

Check Latest Price

Good for Casual Wear

Size: 6.5 - 19
Ankle: Mid/High-Top
Proven traction design that's great both on and off the court

Check Latest Price
Review Methodology
We put a lot of sweat and time on the floor to bring you the most trustworthy, honest, and thorough reviews. As a professional point guard, I want my teammates at the 4 to have the most stable and best-performing basketball shoes they can, so we can allplay high performance basketball.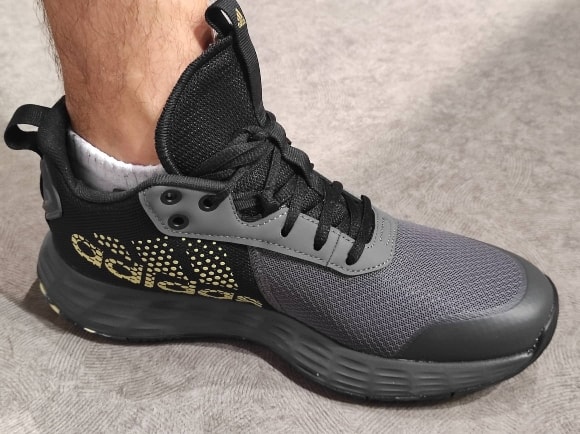 Make your rebounds, blocks, and close-shots without worrying about your basketball shoe blowing out or twisting your ankle; that's why we love our top picks.
Weighing performance and durability, here's the approach our team of experts and I followed to bring you the best of the best basketball shoes for Power Forwards:
Invested over 40 hours of research into the best products, which includes reading buyer feedback and reviews
33 pair of shoes considered based on stability, traction, ankle and heel support, cushioning, price, and look, among others
I personally tested our top 5 picks, looking for performance and court feel
Consulted a professional Power Forward from my team in Messina, Italy, as well as a certified orthopedic surgeon.
Power Forwards Basketball Shoes Reviews
Now let's take a closer look, beginning with our best overall basketball shoes, the Nike Zoom Freak 3's.
#1 Nike Zoom Freak 3 - The Best Basketball Shoes For Power Forwards 2022
Pros
Molded grooves in the rubber outsole paired with a computer-generated design optimize traction and impact protection
Foam cutouts in the rubber outsole make this shoe lightweight
Hoop-and-look strap wraps hug the lower laces of the shoe to reduce inner foot movement and improve your full-court stops
Nike air zoom cushioning compresses and returns energy for low-impact movement
Lightweight TPU stabilizes your foot for safe and effective lateral routes.
Cons
Not meant for outdoor basketball
The signature shoe of one of the G.O.A.T Power Forwards, Giannis Antetokounmpo. These low-top, lace-up basketball shoes are exactly the high-performance sneakers you'd expect him to wear.
The hoop-and-look strap wraps connected to the shoe's waist below the lower laces customize how tight you prefer your fit to feel along the arch and midfoot, reducing inner foot movements as you make strides.
Paired with the computer-generated grooves in the design of the outsole, you'll see a noticeable difference in your heel-to-toe traction on the court. Perfect for full-court stops like Giannis, or driving the hoop without slipping and sliding.
At first glance, this is a true-to-fit, cushioned shoe along the toecap, mid, and outsole. The Zoom Air plush cushioning design and foam cut-outs in the rubber outsole are meant to reduce impact when rebounding or blocking in the paint.
That's where this basketball shoe separates itself from the rest of the pack: by providing a low-impact, safer alternative to finishing in the paint. This isn't something you see every day from a low-top.
While the Freak 3's aren't made for outdoor basketball, they are an excellent choice for Power Forwards on indoor courts everywhere, whether it's the Deer District or the YMCA. The unique foam cut-outs and blend of herringbone on the bottom-most part of the outsole work best on parquet courts.
Premium Choice
Size: 7-16
Ankle: High-Top
Protective, full-grain leather high-top
Featuring elements from the 7 shoes Michael wore to win his 6 championships, the Air Jordan 6 Rings, or "His Airness" are the best basketball shoes for prosumer players who want to get the most out of their game in a safe, reliable way.
Pros
A protective leather high-top in the ankle area for assured security and protection
Breathable mesh overlays for improved ventilation
A durable blend of rubber and herringbone in the outsole makes for better traction and drives to the basket
Comfortable and soft, compression-molded phylon in the midsole
Responsive and flexible Nike Air Zoom heel
Cons
Leather creases quickly after repeated use
The ankle area is made up of full-grain, durable leather without the grainy feel you would expect from lesser shoes. This material feels like a Teflon vest and ensures you'll only be breaking the ankles of your opponents.
That's the biggest concern for the modern Power Forward, as ankle trauma makes up over 1800 injuries in NBA players in the average year.
No one wants a season-ending injury like Kevin Durand coming down in the paint. The Jordan 6 Rings takes this concern seriously and delivers, giving you a protective basketball shoe you can depend on as much as you depend on your body.
This shoe's blend of rubber and herringbone for the outsole gives you solid support and stability wherever you play; at the neighborhood hoop or the indoor court. Better traction and better drives to the basket.
And with the Zoom Air heel, you get responsive, low-impact mobility that still protects your feet. The midsole is made from compression-moulded, cushy phylon that also acts as a shock absorber.
It should be noted that while the leather ankle-top of the shoe is stable and strong, after repeated hard use it creases and requires a little extra effort to put the shoe on.
Nothing a shoehorn can't fix, but for the player that wants to double their shoes as a casual sneaker? You may need to weigh other options depending on how big a deal breaker creasing is.
Pros
Molded, TPU lockdown heel
Mesh topline, mid, and upper sole make for great ventilation that cools as you play
Durable outsole
Blend of rubber and synthetic herringbone sole for improved traction
Snug ankle support
Cons
No drip; looks a little too amateur for the serious hooper
I own these shoes for almost a year now and they continue to amaze me with locked fit and incredible comfort.
With snug support hugging your ankles and a durable outsole, these are the shoes that are meant to last game after game for the role of a Power Forward; with longevity and impressive durability.
The molded TPU lockdown heel combined with the blend of rubber and synthetic herringbone outsole will make you a great defender for man-on-man defense. These features are meant to help you stop on a dime and change routes effortlessly.
The Own The Games also have a mesh design in the topline, mid and upper sole which gives you refreshing ventilation. You'll be able to beat the heat and log more minutes with these cooling shoes that give you breathable comfort.
The downside here is that these aren't what you would consider drippy or a flashy basketball shoe. You're ultimately getting what you pay for, and while the shoe functions at a professional grade, it may look a little too amateur for the serious hooper.
Very Grippy
Size: 7-16
Ankle: Mid-Top
Stability and traction above all else, this shoe stays grippy under all court conditions
The UA Lockdowns are built for fans of Michael that want to perform like Lebron; traditionalism meets new school. A retro design with modern functionality makes this shoe great for the Power Forward who loves a good sky hook shot equally as much as a step-back jumper from the arc.
Pros
Bottom coverage at its fullest and with classic herringbone traction
Flatter, more compact design to maximize court interaction
Air mesh tongue
Odor-reducing sock liner
TPU film toe cap
Cons
A little chunky based on the shape of the outsole
With the new school comes new features meant for the contemporary Power Forward, starting with the tongue. Made from air mesh, the tongue wraps around your foot easily, letting your foot breathe and reduce sweat. With less sweat comes less risk of your foot sliding.
Your foot will be firmly in place in the Lockdown's unique mesh material. It also uses synthetic overlays for added durability and strength for playtime, training, and casual performance.
The outsole utilizes the sturdiest of herringbone for improved traction across the parquet floor; herringbone tends to be the kryptonite of outdoor ball courts.
This is a very flat outsole that provides maximum court interaction. Due to this design, it can be stiff at first, so take care to break them in a bit. Under the heel, there's a cutout that channels debris and moisture to keep it away from the traction pattern.
The toe is also something special as it adds extra protection compared to other basketball shoes with a TPU film toe cap. This tech is a must for Power Forwards.
With all that time in the paint, the Lockdown minimizes the risk of an opponent doing some serious damage to your feet.
This is also one of the best basketball shoes designed for heavy, daily training that won't stink up your gym bag. The lining of the inner sock is rimmed with anti-odor material that prevents the growth of odor-causing microbes.
#5 Adidas Pro Adversary 64 
Good for Casual Wear
Size: 6.5 - 19
Ankle: Mid/High-Top
Proven traction design that's great both on and off the court
This pair of basketball shoes encompass everything a Power Forward needs in their sneaks: decent ankle support, good traction, and impeccable balance. An added plus is the integrity and slick, clean look of the shoe that holds up on and off the court.
Pros
Full herringbone pattern
More treads in high-wear areas
Works on and off the court: recreational or casual
CloudFoam cushioning gives you the court feel with excellent response
Cons
Not the best shoe for arch support
Like many shoes designed for Power Forwards, the Pro Adversary 64s use a herringbone pattern for superior grip. This is the most effective traction pattern for basketball shoes and allows movement in any direction without running the risk of getting crossed over.
For this kind of mobility, the trade-off is better arch support. That said, if you have high arches, you might want to look for a different pair.
The traction pattern of the 64s is optimized to protect high-wear and hard usage in the areas of the outsole. Under the ball of your foot, you have treads woven closer together meaning there are more of them. This helps retain traction through multiple seasons of gameplay.
The CloudFoam system is intended to stabilize and support all the regular movements a Power Forward executes: running and jumping with intensity.
This cushioning system runs the full length of the shoe and is noticeably thicker in the heel. And while there is some compression, the best basketball shoes for Power Forwards should be stiff with a bit of give to them. What I like about these kicks is that they don't cause any blisters, and they are perfect for casual wear.
Choosing The Best Shoes For Power Forwards
Here are the most critical shoe features to look after if you want to excel as a power forward.
Traction And Balance
Your job as a Power Forward demands intense and vigorous movement and the ability to switch routes, jump, and land seamlessly (not to mention, all without fouling). It's arguably the toughest position amongst all basketball players.
The traction of the shoes in our top picks supports this kind of dynamic movement, and you can rely on being able to bang in the paint without slipping or risking serious injury. This superior traction is a result of thermoplastic polyurethane (TPU) material and/or herringbone.
Herringbone — One of the most dependable traction patterns in many of the best basketball shoes, the herringbone's characteristic zig-zag pattern allows for better traction at any angle of play. The deeper the treads, the more grip you'll have.
TPU Material — Typically found in the toe, heel, or midsole of the shoe, TPU material is aimed at improving your ability to switch routes while also adding an additional layer of protection to your feet for sustaining close contact.
Ankle Support
Ankle support is crucial for a Power Forward to have a long-lasting, sustainable career at the 4. With ankle trauma being one of the leading causes of injury among the top ballers in the NBA, Power Forwards need a shoe that can handle bully ball and hard play in the paint.
Your ankles bear the brunt of the work, and especially if you have high arches, you need tons of support to distribute balance and stability to other parts of your feet.
High-Tops — Generally the way to go, with an added layer of protection around the ankle area, lacing above the ankle bones. High-tops keep your foot aligned, so your feet can work in unison with the ankle and perform complex functions in support of each other. And contrary to what most people think, high tops don't prevent ankle injuries.
Mid to Low-Tops — Though lacing below the ankles bones and without the protective layer of leather, phylon, etc. around the ankle, mid to low-tops can still be an excellent basketball shoe for Power Forwards as they promote mobility and speed. That said, they must have protective cushioning.
A great example of this is our best overall Nike Zoom Freak 3's, with a Zoom Air cushioning system that provides impact protection up and down the court.
Without some form of rubber cushioning running the full-length of the footbed or compression molded rubber in the midsole of your shoe, you increase the risk of injury by using a mid to low-top that doesn't protect your ankles from the high-intensity, up-and-down work as a Power Forward.
Stability
According to a study done by "Research Gate", players end their ball possession differently based on their position. As a power forward, shoe stability matters immensely for you.
Is your shoe going to hold up under pressure? Or fold? Here are some things to consider.
Outdoor vs. Indoor Shoes. Just like you don't take an inside ball to an outside court, the same goes for your shoes. Outdoor basketball sneakers for Power Forwards require more cushioning in the insole and outsole to play on uneven surfaces. They're built sturdy and to withstand the elements.
Indoor court basketball shoes require better ventilation and are a thinner, lighter design composed of synthetics with suction grip on the outsole for effortless traction on smooth surfaces.
Stiff vs. Comfy. While it should be freer in the toe box, be cautious of basketball shoes that are too "comfy."
Too cushioned can cause greater leg stiffness and impact loading on your feet; too stiff can give you blisters and discomfort. Like Goldilocks, you want something right down the middle that promotes blood flow and joint mobility, especially if you're a big guy.
FAQ
What Are The Best Basketball Shoes For Power Forwards?
The best basketball shoes for Power Forwards are the Nike Zoom Freak 3. With these you get mobility without the risk of falling and support that hugs the ankle tightly. You also get stability that can support the functions of your foot as a Power Forward through sprints, route switches, rebounds, blocks, and shots in high-traffic areas on the floor.
Are High-Top Basketball Shoes More Suitable For Power Forwards?
Yes, high-top basketball shoes are more suitable for Power Forwards because of their support. Due to the nature of the position impact protection and ankle collar support are necessary to prevent injury and continue playing great with the best basketball shoes for power forwards.
What Shoes Do NBA Power Forwards Wear?
The shoes that NBA Power Forwards wear will have cushioning, a custom fit, and flexibility in all the right places. They also provide exceptional support since the position of Power Forward can get a little rough sometimes.
What shoes does Antetokounmpo wear?
The shoes that Antetokounmpo wears are his signature shoe and my best overall pick, the Nike Zoom Freak 3's. The 3's are a low-impact, cushioned shoe that effectively balances support and stability with comfort and wearability. A 10/10 shoe for a 10/10, generational player.