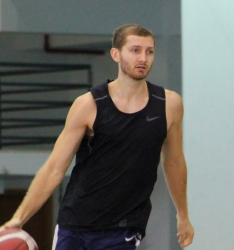 Latest posts by Adam Gotelli
(see all)
What comes to your mind when you hear the term "Dusty Courts"?
Probably an outdoor basketball court, right?
Well, let me ask you – Would you sacrifice your indoor basketball shoes just to enjoy some hoops on dusty courts?
Absolutely not!
Quick answer: Our tests determined that the best basketball shoes for dusty courts are "Nike KD Trey 5."
You'll need the top basketball shoes for dusty courts if you want to outperform your opponents.
That said, our expert team spent 88 hours doing intensive research unraveling the shoes with a durable upper, a flexible and grippy outsole, and a comfortable midsole.
Take a look at the best dusty courts basketball shoes as rated for 2023.
Best Basketball Shoes For Dusty Courts – Comparison Chart
Here is the comparison chart of the top-rated basketball shoes for dusty courts, available on the market.
Image
Product
Features
Price

Best Overall

Ankle: Low-top
Outsole: Translucent rubber strong bite
Very soft cushioning

Check Latest Price

2nd best choice

Ankle: Low-top
Outsole: Split rubber with unique pattern
Shallow treads resist dust

Check Latest Price

Budget Choice

Ankle: Low-top
Outsole: Rubber with split traction pattern focuses on high-wear areas
Great outdoor option with deep treads for any type of court

Check Latest Price

One Of The Best Shoes For Dusty Courts

Ankle: Mid-top
Outsole: Rubber with classic herringbone design
Thick treads and hard rubber

Check Latest Price

Stephen Curry's Signature Basketball Shoes

Ankle: Low-top
Outsole: Rubber with modified herringbone pattern
Incredible bite that is great on dusty indoor courts

Check Latest Price

With Zoom Air Cushioning

Ankle: Low-top
Outsole: 100% rubber with deep pattern
Features Air Zoom midsole

Check Latest Price

Good Traction Basketball Shoes

Ankle: Mid-top
Outsole: Flexible rubber
Foamy midsole with boost cushioning

Check Latest Price
Our Review Methodology
I'm a professional basketball player from California, currently playing in Messina, Italy. As you can imagine, basketball shoes play a key role in my career.
In order to pick up the most reliable basketball sneakers for dusty courts, our team and I:
Invested a total of 88+ hours of deep research
Our intensive research led us to consider 50+ products, of which we shortlisted the top 7
I tested 6 pairs of basketball shoes myself on dusty courts
I asked fellow teammates who have used the shoes for their honest feedback
We carefully looked at the following features – outsole quality and grip, durability, cushioning, support, fit, price, impact absorption, and others.
When it comes to reviews, our mission is to deliver only honest feedback, based on thorough research and meticulous testing.
Read on!
Top 7 Best Basketball Shoes for Dusty Courts
#1 Nike KD Trey 5 – Best Basketball Shoe For Dusty Courts 2023
Pros
Absorb maximum impact and shocks.
Offer strong traction on dusty courts
Best shoes for aggressive b-ball players
Prevents the feet from injuries. Feet remain comfy enough. Durable rubber outsole ensures longevity
Cons
Support is not as good as with other basketball shoes
Cheap materials
These bestselling basketball shoes from Nike are all about reliability, support, comfort, and stability. I've used them in several pro basketball games already, and I'm stunned by their overall comfort and traction.
That's why they are also featured on our list of the top shoes for narrow feet, as well as the top-notch sneakers for bad knees.
Men's KD Trey 5 are meant to withstand cold and harsh weather conditions. The basketball shoes possess the ability to keep you away from unnecessary dust and debris.
Breaking it down, the best basketball shoe for dusty court comes with a specially engineered mesh upper. Not only it supports the upper feet area, but it'll also keep your feet breathable enough.
Renew Foam Midsole is the Major Highlight!
This foamy midsole could absorb most of the shocks that you'll have to endure after jumping. Hence, it keeps the feet away from probable injuries.
Along with that, it offers a balance of comfort and impact absorption, hence allowing players to play their game peacefully.
Rugged Rubber Outsole for the Win!
I usually keep my focus on the rubber outsole of a shoe a lot while playing outside. As far as KD Trey 5 is concerned, it comes with a durable and flexible enough rubber outsole. It, therefore, ensures longevity and offers enough grip to move forward aggressively.
Kerry, one of my friends, have recently purchased this basketball shoe and this is what he said about them:
"Right after I wear them, I forget about all the worries of playing the game outside, and I feel extremely comfortable. Probably the best investment I've made in terms of basketball shoes for dusty courts."
---
#2 NIKE ZOOM FREAK 3 - Most Reliable Basketball Shoes For Dusty Courts
2nd best choice
Ankle: Low-top
Outsole: Split rubber with unique pattern
Shallow treads resist dust and the pattern is unlike any other shoe
For a simpler shoe that strips away all the bells and whistles that other shoes promote, the Zoom Freak 3 focuses on traction and speed. Giannis Antetokounmpo's third shoe is excellent on indoor courts and provides grip for players who want to move fast.
Pros
Tread design repels dust and requires little to no maintenance
New traction pattern improves specific movements
Heel to toe transition is smooth
Zoom unit in the forefoot provides comfort and stability
No-frills design places focus on comfort and traction
Dust has little effect on this outsole since the treads are shallow; there's no place for dust and debris to get lodged. If you do pick up dust, it's very easy to give these a quick wipe, and they're as good as new.
The pattern is unlike any other. It improved some movements and restricted others. Maybe it's designed specifically for Giannis. Ultimately, I took this as a sign that the traction is top-tier.
For general movements such as heel-to-toe transition, these shoes excel. Due to their simplistic nature, the heel and the forefoot curves are very natural. This helps propel you forwards with less effort.
The only advanced tech in these shoes would be in the forefoot Zoom units, but they are bottom-loaded and don't provide much bounce. They're great for responsiveness and adding a bit of springiness.
Like most great shoes for dusty courts, this one comes with a firmer cushioning setup. This helps keep your foot stable on the footbed, so if you do slide a bit, your whole foot slides as one piece and won't roll.
Around midfoot, you can see the outsole splits and doesn't actually touch the ground. While this looks cool, it does not affect performance.
---
#3 Nike Precision 5 – Most Versatile Basketball Shoes For Dusty Courts
Budget Choice
Ankle: Low-top
Outsole: Rubber with split traction pattern focuses on high-wear areas
Great outdoor option with deep treads for any type of court
This is a great pair for outdoor ball sessions when you don't want to wear your indoor shoes. The value is incredible, and the traction is excellent for asphalt and other outdoor surfaces. Check them out!
Pros
Deep treads provide excellent bite on outdoor courts
Spilt design adds more traction to high-wear areas
Fluid heel to toe transition
Great value
Simple design focuses on performance
This my go-to pair for outdoor courts.
These have deep treads, which will keep you grounded on the uneven courts that are common when playing outdoors. They have fantastic grip and will be a considerable advantage if you're playing against guys wearing indoor shoes.
Keep these clean, and they will repay you tenfold. Because the treads are deep, dust and debris can easily get picked up and hinder your traction. Keep a close eye on this and wipe them frequently. Keeping the treads exposed will ensure you're always playing your best.
The traction pattern promotes good outdoor play as well. With tighter treads in the high-wear areas along the ball and heel, you get a better bite when stopping and starting.
However, due to this design, the durability suffers a bit. Even though these are great outdoors, they will last longer if you use them indoors.
For dusty courts, having great heel-to-toe transition is a must. You only want to contact the court when necessary and be mobile. Being able to pick up speed fast is a tremendous asset in this game.
The curvature on the heel and toe are prominent here and helps any player stay more fluid in their movements. They are very minimal and light on foot, so you stay refreshed on the court.
The value of this shoe is amazing, but there is not much technology to speak of because of that. These are perfect for a second pair to use when you head to the local park or want to throw down in your driveway. Plus, they are not expensive at all.
---
One Of The Best Shoes For Dusty Courts
Ankle: Mid-top
Outsole: Rubber with classic herringbone design
Thick treads and hard rubber (make this great for dusty courts)
This is one of the best-looking shoes for dusty courts and could be a part of Lebron's signature line based on that alone. The thick grooves and hard rubber counteract any dust buildup and provide great traction for anyone who needs it.
Pros
Classic herringbone design is perfect for multi-directional players
Thicker treads prevent dust and debris from attaching
Hard rubber makes these durable for outdoor use
Full-length Air Max unit stabilizes entire foot
Cons
Upper mesh is cheap to the touch
The design is text-book herringbone. This is great for multi-directional movement and makes it easy to clean. Having a towel handy is always a good idea if you routinely play on dusty courts. While these perform well, they still require some wiping to ensure you get the most out of them. Yes, even the best basketball shoes for dusty courts do.
This shoe features a full-length Air Max unit that you can see from a mile away. It adds to the curb appeal, but not a lot to the performance. It looks more comfortable than it is.
The cushion performs well and is set up for incredible speed and responsiveness, but there is not as much impact protection as expected.
This is made up for in the heel-to-toe transition, though. It's not for players who are fighting for boards every minute; it's made for players who want to move in and out of tight spaces quickly.
Major curvature in the forefoot gives you a head start on every stride. The heel has some complimentary curvature, but it's a bit clunky due to the huge Air Max unit. It's not noticeable, though, due to the performance of the forefoot.
At this price, this shoe is in a league of its own with dusty court traction and full-length foot support.
---
Steph Curry's Shoes
Ankle: Low-top
Outsole: Rubber with modified herringbone pattern
Incredible bite that is great on dusty indoor courts
After trying these shoes, it makes sense why Steph Curry is so fast. The traction on these is just as good, if not better than the Curry 8s, which were already impressive. Dusty courts need to be really dusty to affect the bite these have.
Pros
Newly modified herringbone traction pattern provides exceptional bite
Elongated treads channel dust away from points of contact
Excellent heel to toe transition keeps feet light and mobile
Firm cushioning places foot lower to the court for better feel
Tight-knit upper will last longer under stress and support entire foot
Cons
Minimal impact protection
The pattern itself hasn't changed much, but that's good. The only change is in the forefoot, where the treads are elongated more to channel dust and debris away from the contact points.
There is a slight break-in period to activate the maximum traction. It's not perfect out of the box, but it only takes a couple of games, and you'll see an improvement.
Be mindful during your first few uses, as the bite is so good that you may trip if you drag your feet at all. The midsole is fully exposed and is made from the same material as the outsole so it can snag. But that's how good this traction is.
Complimenting the grip is the full-length cushioning. It provides a firm and responsive bed to stay low to the court and have a better feel.
The heel-to-toe transition is a massive contributor to this shoe. The curves in the heel and forefoot are exaggerated. This keeps your feet off the court unless absolutely necessary. It makes you more nimble and ready for anything.
Lastly, the fact that the upper doesn't stretch much will prolong the life of your shoes. Due to the bite, these create a lot of stress on the upper. This is taken care of by using a tighter knit material that breathes well and holds up under pressure.
---
Pros
Supportive and comfortable shoes for dusty courts.
Durable enough.
Could withstand harsh conditions.
Air-sole unit minimizes the impact on heel area.
Ideal for aggressive basketball players.
Flexible rubber outsole offers proper grip.
Cons
Not suitable for wide feet.
Doesn't provide enough support to the toe area.
Nike excels in making basketball shoes that have the ability to withstand harsh weather conditions without any hassle.
The "Versatile Air lii" continues to be one of my favorite footwear options for dusty courts. These stylish basketball shoes helped me keep a proper posture and remaining comfortable enough while I challenged my friends out on a bleak evening.
Insanely Good Upper Construction Will Make You Wow!
I just loved the overall upper construction as it's been made up of 100% textile and synthetic materials. Visible perforations are also there to maintain proper airflow.
Midfoot Saddle for Immense Stability!
Nike gets that players want footwear, which could keep their feet supportive and comfortable enough. For that purpose, it uses the midfoot saddle in Air Versitile to keep the feet as stable as possible.
Talking of the midsole!
It's cushioned enough. An air-sole unit is there to absorb the extra shock to keep players away from injuries. More than that, the midsole also keeps the feet in a natural posture for a long time.
The main reason I love them?
It's because these basketball shoes have an amazingly durable rubber outsole. Deep groovy traction offers enough traction on a dusty court and helps aggressive players improve their reflexes and footwork at the same time.
---
#7 Adidas T-MAC Millennium
With Great Traction
Ankle: Mid-top
Outsole: Flexible rubber
Foamy midsole with boost cushioning
The popular "T-mac Millennium" from Adidas wowed us with extravagant design. Furthermore, the shoes could protect your feet from unwanted stepping and bad injuries. So, if you want to have one of the best traction basketball shoes for dusty floors, give these a try!
Pros
Breathable enough upper.
Perfect for basketball coaches.
Midsole prevents the extra impact.
Durable and rugged rubber outsole with grooved pattern.
Mid-top design protects the heels and ankle.
Adidas, one of the fiercest rivals to Nike has also introduced shoes that cater to the needs of players who have to play on dusty courts every once in a while.
The "T-mac Millennium" basketball shoes surely have an attractive design. That allows you to wear them casually. Plus, the shoes offer immense traction and grip on dusty courts. That's one of the reasons to purchase them.
Anyways, moving along:
The best basketball shoes for dusty courts feature a 100% synthetic construction. Not only is it durable, but it also makes the shoe lighter in weight. So, you'll have no worries while moving around the court.
On the other hand, I, for one, prefer the shoes with a mid-top design and Tmac Millennium offers JUST that.
The mid-top design keeps the heel and ankle area secure and protected enough. So, you can challenge your opponents without facing any problems.
Apart from these features, the midsole is cushioned and lightweight enough. It offers proper support, especially to the heel and toe area, and maintains the posture of feet in a natural position. Shock absorption is also well up to the mark.
Last but not least, the basketball shoes for dusty courts feature a wide-traction pattern rubber outsole to prevent any accident or mishap during the gameplay. Meanwhile, the rubber outsole is rugged enough to maintain the durability of the shoes for a long time.
My basketball practice coach, Jose, often prefers wearing Adidas Tmac Millennium shoes. As per his words, "The shoes keep me agile and push me to new limits every day. I often wear them to play some hoops with my fellows outside."
---
Frequently Asked Questions
Read on to learn the answers to some truly important questions that people often ask.
How do I keep dust off my basketball shoes?
Taking care of the basketball shoes means you are extending their lifespan. That said, one of the easiest ways to remove dirt is to use a damp soapy cloth and scrub it over the shoes.
Other than that, you could try an old toothbrush to remove stubborn stains from the shoes. Use a toothpick to remove small pebbles from the outsole of the shoes. That's how you take care of them.
Sure enough, wiping your shoes also helps.
How To Improve The Traction Of Basketball Shoes On Dusty Courts?
Here are a few proven methods to enhance the grip of your shoes when playing on dusty courts:
Wipe your shoes often
Use a gel or spray that improves the outsole grip
Use a sandpaper on each outsole
For more insightful tips on how to improve grip, check out this article.
What are the best basketball shoes for traction?
"Nike KD Trey 5" are undoubtedly the best basketball shoes for traction. The shoes feature a flexible enough rubber outsole. Plus, they also boast a deeply grooved pattern that ensures multidirectional traction.
You could thus enjoy your time playing on a dusty court with these shoes without any worries.
How To choose the best basketball shoes for dusty courts?
Never compromise on durability as the shoes have to endure extra harsh conditions. Secondly, the upper must offer enough stability, ruggedness, and breathability.
Go for a shoe that offers a soft and cushioned midsole. Finally, make sure that the traction it offers is well up to the mark. According to a scientific study, the tread pattern significantly impacts the amount of slip. The outsole should have a multidirectional pattern or a herringbone pattern to provide firm grip.
Follow these steps, and you'll end up getting the best basketball shoes in 2023.
Conclusion
That'd be all from me regarding the basketball shoes for dusty courts. Bear in mind that never use indoor basketball shoes on a dusty court. You'll end up ripping them apart and that too after a single game.
Go for the options that I've mentioned above and choose your footwear accordingly.
Dropdown any important question you wanna ask and I'll respond to it as soon as possible.
Good Luck!!