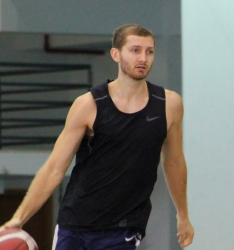 Latest posts by Adam Gotelli
(see all)
As a basketball referee, you must have the right shoes. Not just any shoes will do. You need shoes that will provide you with the traction and stability you need to run extensively on the court.
The bad news is that finding the right shoes is a tough process?
The good news?
Our expert team did the heavy lifting for you!
In this article, we will be discussing some of the best basketball referee shoes on the market today. We will also provide you with a buyer's guide to help you choose the right pair of shoes for your needs.
We know that buying shoes can be an exhausting experience. We've spent many hours researching which brands offer quality kicks with durability and comfort in mind. Whether you are refereeing a basketball game, running, or walking around town, these will always look great while keeping your feet happy all day.
Want an immediate answer?
The best basketball shoes for referees are "Nike Air Vapormax 2021 FlyKnit". These sneakers are perfect for any referee who wants a quality shoe that will last.
Read on to learn more!
Best Basketball Referee Shoes – A Comparison Table
Image
Product
Features
Price

Editor's Choice

Size (US): 6-15
Material: Recycled FlyKnit fabric
Iconic silhouette with visible Air

Check Latest Price

Premium Choice

Size (US): 7-15
Material: UA IntelliKnit
With ultra-breathable, SpeedForm® 2.0 sockliner

Check Latest Price

Budget Choice

Size (US): 6.5-18
Material: Leather
With injection-molded EVA foam midsole

Check Latest Price

Lightweight Choice

Size (US): 6.5-14
Material: Breathable mesh and synthetic upper
Innovative Zig Energy Bands non-marking outsole

Check Latest Price

Durable Choice

Size (US): 6-15
Material: Leather upper
Lightweight foam midsole with a full-length encapsulated Air-Sole unit

Check Latest Price
Our Review Methodology
In order to compile this extensive guide and unravel the most suitable shoes for basketball referees, we invested a total of 63 hours doing intensive research and testing.
Being a professional basketball player for more than 10 years, I know a thing or two about shoes. I tested 5 pairs myself and considered more than 90 pairs to get this information.
In addition, I interviewed 3 referees who have used some of the shoes professionally, officiating multiple games wearing them.
Our thorough research led us to compare the following important factors for each pair:
Weight – crucial for running (something that basketball referees do a lot)
Cushioning – Paramount to the comfort of the shoes
Traction – Ability to stay in place on indoor or outdoor courts
Durability – The lifespan of the shoes
Support – arch, heel and andkle
Appearance – because that matters for basketball referees
Best Basketball Shoes For Referees Reviews
Editor's Choice
Size (US): 6-15
Material: Recycled FlyKnit fabric
Iconic silhouette with visible Air
The Nike Vapormax Flyknit is a high-performance and comfortable basketball referee shoe that I highly recommend. It won our top pick with a very large margin. With a wide range of colors to choose from (including some exclusive ones), you'll be able to find your perfect fit for any occasion.
Pros
You can use it for multiple purposes like light exercises, walks, and simple outdoor activities.
It offers the greatest level of comfort.
It's one of Nike's lightest sneakers, so it won't slow you down during your game.
It is also eco-friendly. The shock-absorbing air bubbles are created by a renewable wind energy method.
Cons
Because of its narrow design, it isn't the ideal choice for wide-footed consumers.
The shoe occasionally squeaks, especially if you move quicker than usual.
The Nike Air Vapormax 21 FK is a lightweight, breathable running shoe perfect for any referee officiating a basketball game.
Their unique ventilation system keeps you cool and refreshed during your intense job, while also being very light so as not to slow you down.
Long-time Nike advocates rave about how comfortable the shoe is. They say it's because of its glove-like fit that makes them love wearing these sneakers so much. They fit like running shoes.
I tested the shoes myself, playing 3 games in them. I was impressed by the snug feel and the overall support they provided. Running in them is as comfortable as it gets. And that's important for every referee.
The Nike Vapormax is an excellent choice for those who enjoy wearing them while walking, light exercising, or doing outdoor activities.
Like the UA HOVR, this shoe's upper has excellent ventilation, allowing you to stay fresh during your workout session no matter how long it lasts.
This low-top sneaker also provides extra heel support. It "locks the foot in place" quite powerfully and has a futuristic form that is among the most sought-after sustainable sneakers out. Plus, the fabrics are eco-friendly.
I love how it fits perfectly every time I wear it, and the colorways are amazing. I would recommend this shoe to any referee. Just note that they might require some break-in time.
Premium Choice
Size (US): 7-15
Material: UA IntelliKnit
With ultra-breathable, SpeedForm® 2.0 sockliner
Under Armor's new HOVR sneakers are all about fashion. Their woven design is elegant, and the vibrant colors pop off your feet. This is an excellent choice if you're seeking a modern shoe with a bold color palette.
Pros
UA HOVR cushioning decreases impact, returns energy and aids in propelling you forward.
The UA IntelliKnit upper is breathable, with stretch and support where you need it.
Plush inside cushioning and a molded midfoot panel for extra structure.
The SpeedForm sock liner is ultra-breathable and delivers softer underfoot support.
Cons
Its heavy weight can make it difficult for you to keep track of lengthy basketball games.
This may not be the ideal option if you're searching for performance. However, if comfort and sleek materials are your primary priorities, you'll enjoy these.
This shoe is true to size in terms of both width and length. The heel has plenty of room for expansion, which means that those with wide feet will also find it comfortable.
The mid-top UA HOVR sneaker, unlike the Nike Vapormax FlyKnit, is somewhat heavy. It weighs 11.5 ounces (327 grams), which is a lot for a running shoe (the average weight of a road running shoe is 9.7 ounces/270 grams).
Refereeing involves a lot of running, thus making some people skeptical about these shoes.
However, the breathability of this shoe is pretty good. The knit material provides great ventilation and lets plenty of airflow through at a standard rate.
It makes it perfect for any activity where you need maximum comfort with minimal heat buildup or discomfort from sweaty feet.
The HOVR Phantom 2 has an excellent grip. It's full-length with a knobbed texture that provides a rocky feel for added traction on multiple surfaces. Upon testing, it performed admirably on both dry and rainy roads, as well as on dirt and modest paved trails. Not to mention that these are not expensive.
Budget Choice
Size (US): 6.5-18
Material: Leather
With injection-molded EVA foam midsole
Do you want a low-cost sneaker that will go with any outfit? You'll be able to take on any task with ease and confidence if you use the New Balance Men's 608 Cross Trainer. With their low price, they stole the show; that's why they're our budget choice.
Pros
The athletic-looking upper, iconic New Balance branding and secure lace-up clasp make these sneakers stand out.
Recommended for people who have feet issues such as plantar fasctiitis or knee pain.
Flex grooves at the forefoot encourage natural flexibility.
ABZORB is an extra cushioning unit used in the heel. This foam technology absorbs shock and dissipates it quickly, preventing lower-extremity discomfort.
Cons
It's not as durable as the Nike Vapormax FlyKnit.
They have a relatively narrow width, making them unsuitable for people with wide feet.
The perfect blend of supportive technology and stylish design make these cushioned shoes a must-have for anyone who spends their day on two feet.
ABZORB cushioning in the midsole provides comfort while also helping prevent damage from daily impacts by providing compression resistance against your weight so you can keep moving forward without any issues.
Unlike the UA HOVR, which is a bit heavy, the lightweight materials and durable construction make the "New Balance 608" perfect for referees. The reinforced collar foam provides extra cushioning to enjoy comfortable feet throughout your busy schedule.
These low-top trainers have an integrated midsole shank construction for added stability and support, ideal for indoor games. They're also ready for outdoor use, thanks to their non marking durable rubber outsole.
Want more?
You will love the comfy IMEVA midsole that provides tight fit while at the same time being super flexible and well cushioned. Exactly what you need for running on the court.
Not long ago, I trained in these shoes the whole day without my feet getting wet. So go ahead and practice in style, knowing that these trendy sneakers will keep your feet dry no matter what Mother Nature throws at you this season.
Lightweight Choice
Size (US): 6.5-14
Material: Breathable mesh and synthetic upper
Innovative Zig Energy Bands non marking outsole
When Reebok released the futuristic Reebok men's sneaker, it broke away from the traditional running shoe design. Its wavy sole layout, which is popular among Reebok Zig sneakers, has a purpose in improving your experience. Get all of this and more at a price that won't break the bank.
Pros
This shoe is well-known for keeping the foot comfortable throughout the day.
With its zig zag sole, this is one of the more upbeat-looking running-inspired kicks to dress up.
The shoe's tiny tongue and mesh covering make it feel practically weightless when walking.
Each stride is cushioned, and the foam foundation expands and shrinks as you walk.
Cons
Visible glue marks form along the seams of the upper, which is an eyesore and makes the sneaker appear somewhat messy.
The toe box is too narrow.
Reebok's Zig sneaker is a lightweight and comfortable shoe that feels like you're wearing nothing at all. The tongue has just enough cushion for your feet, while the mesh material keeps them cool during warm weather or heavy use.
The zigzag sole of this low-top Reebok sneaker gives you an upbeat running-inspired shoe that's fun to style up.
It has a foam base, which expands and contracts during movement thanks to its special design – it makes each step feel cushiony.
Unlike the New Balance Cross Trainer, this basketball referee shoe is designed with an added layer of material underneath the sole, preventing rocks from getting lodged between crevices.
When I initially put them on, I was blown away by the double-sided padding, the wrapped, snugged feel, and the arch support. All that makes them suitable for other sports as well, such as tennis or volleyball.
Durable Choice
Size (US): 6-15
Material: Leather upper
Lightweight foam midsole with a full-length encapsulated Air-Sole unit
Do you want your shoes to provide optimal support and comfort simultaneously? Don't worry; the Nike Air Monarch Cross Trainer is built for comfort, featuring a robust leather upper for support. A lightweight foam midsole cushions every stride in the Nike men's shoe with a full-length encapsulated Air-Sole unit.
Pros
It's a true-to-size kick that's quite comfortable.
This shoe is exceptionally supportive of various activities, including everyday walks, moderate exercise, jogs, work, and errand running.
The shoe's inflated sole section allows it to absorb impact effectively. It also returns to its former state instantaneously.
The mesh upper and airy internal lining add to the fresh in-shoe sensation.
Cons
After a while, the rubber outsole provides discomfort and makes a squeaky noise.
After a few weeks of wear, the outsole pulls away from the front, needing glue.
These low-top sneakers are the perfect accessory for any outfit. They come in various colors and styles, so you can always find one to match your taste.
Like the New Balance Cross Trainer, the leather upper provides extra durability while also looking great with its simple design that's comfortable from start to finish of the activity you want to use it for.
You can wear the shoes with activewear such as track pants and a gym vest for a trendy look, whether working out at the gym or out for a jog. You may also wear them with denim, shorts, and joggers for a more casual look.
Taking care of these shoes is also straightforward. What we usually do with our Nike Air Monarch Cross Trainers is wipe them with a wet cloth.
To eliminate any odors, we hang them to dry. Placing tea bags in the pair can also eliminate odors. Avoid severe temperatures, such as direct sunshine. When not in use, place these shoes for basketball in a shoe bag. In that way, you'll protect the upper too.
Choosing The Best Shoes For Basketball Referees
Since being a basketball referee involves a lot of running on the court, the most appropriate shoes for referees have most of the characteristics of a running shoe.
There are many things to consider when choosing the best basketball referee shoes. Let's look at some crucial features to look after when hunting for such shoes.
Weight
Did you know that referees run 4-5 miles per night when officiating a game?
Needless to say, that would be even more tiresome when done with the bad shoes. And in this case, bad shoes mean heavy shoes.
Wearing heavy sneakers will only slow you down and make running more difficult.
So, make sure that you choose the lightest shoes possible. That will immensely contribute to your pace and overall performance.
Fit
According to a recent scientific research, the role of footwear construction in running biomechanics is pivotal.
The fit of the shoe is important for basketball referees for two reasons. First, you want a snug fit so that the shoes don't come off while refereeing.
Second, you want to ensure that the shoes provide good traction (opt for a rubber outsole) and support. You don't want to be slipping all over the place while trying to make a call.
A good-fitting shoe should be snug but not too tight just like the Under Armor HOVR model. As for the profile of the shoes, opting for low-top (like the Reebok Men's sneakers for smooth mobility) to mid-top would be best. High-top shoes are usually heavier.
Durability
Durability is an important factor to consider when purchasing a new pair of shoes. You want a shoe that will last through multiple games and seasons.
Look for a shoe made with high-quality materials that can withstand wear and tear like suede and leather for the upper materials and rubber for the outsole.
As a referee, you don't want to worry about your shoes falling apart during a game. Do your research and find the most durable option like the Nike Air Monarch Cross Trainer.
Comfort And Cushioning
Comfort is one of the most important factors for the best basketball referee shoes. You'll be on your feet for hours, so you need a pair of shoes that will keep you comfortable.
Look for a pair with good arch support and cushioning like the Nike Vapormax FlyKnit. Good cushioning will abosorb the shock that comes from extensive running.
Traction
Having basketball kicks that offer firm grip on any court surface is crucial when running for miles while officiating a basketball game. It's important for both basketball players and referees.
Look for a pair of shoes that have rubber outsole and multidirectional thread pattern. That ensures a more solid grip. To maintain that grip, make sure to wipe your shoes regularly.
Color And Style
One of the most important factors to consider for the best basketball referee shoes is their appearance.
You want something that will look good and professional on the court. Black is the standard color. In fact, NBA referees are not allowed to wear shoes with any other color. In addition, their shoes should not have any explicit logo, trademark or brand name visible on the kicks.
You'll want to stick with a simple, solid style like that of the New Balance Cross Trainers for refereeing.
Price
Price is always a factor to consider, especially when it comes to referee shoes. You don't want to spend too much money on something you're only going to wear a few times a year.
However, you also don't want to skimp on quality and end up with shoes that fall apart quickly.
If you are on a budget, there are a few things to keep in mind when looking for the best basketball referee shoes.
First, consider how often you will be using them. If you only plan to referee a few games a year, you don't need to spend a lot of money on top-of-the-line basketball shoes. Many good, affordable options are available, like the New Balance Trainers.
Size
One of the first things to consider when purchasing referee shoes is size availability. Not all brands carry every size, so it's important to research and find a brand that offers a wide range of sizes. This will ensure you get the perfect fit for your feet.
Some basketball shoes like the Reebok Men's sneakers also come in half sizes, so it might be good to go with the half-size if you're between sizes.
Furthermore, some brands offer shoes that are not true to size. Make sure to consult buyer's reviews to verify that and picks the right size for you accordingly.
FAQ
Why Do Basketball Referees Wear Special Shoes?
Basketball referees wear special shoes to help them officiate the game better. The shoes have a cleat on the bottom that helps them stay in place while running around and making calls. The durable rubber outsole provides stability and traction.
Do Basketball Referee Shoes Have to Be All Black?
For the most part, basketball referee shoes are all black. Black shoes help them blend in with the rest of the court and not be a distraction to players or spectators. However, no rule states they must be all blackSome referees choose to wear shoes in other colors, as long as they are not distractive.
What Kind Of Shoes Do NBA Officials Wear?
Referees must abide by the official NBA rules, which state that the match official must wear black basketball shoes. Besides, there must be no logo or trademark on the kicks. The most common brand that NBA official referees wear is "New Balance" and their "990v5" model.