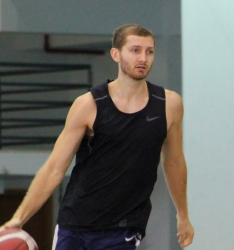 Latest posts by Adam Gotelli
(see all)
When basketball is life, you don't need specialized basketball shoes; you just love being out there whenever possible. The truth is, even though we all love this game, we can't play it as much as we used to.
Other things need our attention, like careers and families; not everyone can afford to have a dedicated pair of shoes for basketball, especially if you're playing less now.
This is what the 5 best non-basketball shoes for basketball are for. The UA Charged Pursuit 2 is a shockingly well-rounded shoe that performs great on many surfaces.
During testing, I struggled to determine what ISN'T basketball about them. They look like the blueprints of Steph Curry shoes and feel great on foot. They still look great with a pair of jeans, so you don't have to keep them tucked away in your locker.
Wait to learn more about our top pick – the "Nike Air Monarc IV" too.
Non-basketball shoes were invented so you can continue to enjoy the game without injury and without having to shell out big bucks for the latest "basketball shoe."
Ready to see them?
Let's dive in!
Best Non-Basketball Shoes For Basketball – A Comparison Table
Image
Product
Features
Price

Premium Choice

Size: 7 - 15 (available in wide options as well)
Ankle: Low-top
Premium materials

Check Latest Price

Editor's Choice

Size: Unisex 6 - 14
Ankle: Low-top
Durable shoes that are great for more than just basketball.

Check Latest Price

Budget Choice

Size: 6.5 - 13
Ankle: Low-top
Ultra-stable shoe that stands out and is excellent on outdoor surfaces.

Check Latest Price

Size: 6.5 - 13
Ankle: Low-top
Outstanding heel impact protection

Check Latest Price

Size: 6 - 13
Ankle: Mid-top
Incredible traction

Check Latest Price
How We Reviewed
You'll never hear me complain about my job. I get to test new basketball shoes all the time. I've been a pro basketball player for more than 10 years, and I can say a thing or two about basketball shoes.
I spend hours in them and pick apart all the features—my younger self high-fives me all the time. But at the end of the day, it's for business, and I need to collect all the data to make informed recommendations.
I want to know what makes these shoes tick and what the manufacturers thought when creating them. I want to know who they'll benefit most and how they perform on different surfaces. To do this, I meticulously evaluated over 60 pairs, taking note of the following on each;
Traction
Cushioning
Durability
Support
Impact protection
Price
To do that, me and my expert team, dug deep into product reviews, read buyer feedback, and spend long hours analyzing top features.
I also tested a lot of basketball shoes myself, playing on an outdoor and indoor court.
Over my 82+ hours of research and intensive testing, I narrowed it down to the top 5 best non-basketball shoes for basketball. Now comes the fun part, you get to choose the best ones to help your team and embarrass your opponents.
Non-Basketball Shoes For Basketball Reviews
Pros
Thin breathable mesh upper
Unique traction pattern excels on the hardwood
Pivot point built into the heel
Flexible midsole does not require any break-in time
Smooth heel-to-toe transition
Foam padding around the back of the ankle to keep the heel locked down
Cons
Very low cut, no ankle support
Of course, I would rather have a pair of Curry 5s if I needed maximum traction, but Under Armour makes great shoes across the board. Even at this price point, UA shoes are hard to beat, and that's why you see them on almost every basketball court.
Starting at the top, the thin, lightweight mesh is perfect for long games on hot days. It allows superior breathability and is one of the premium basketball features you get with this non-basketball shoe.
If you play on hardwood, then you'll get the most out of this traction. The pattern is unique, and I wish it was herringbone, but that might be too grippy for a shoe that will see many surfaces.
Two deep trenches run across the forefoot, which allows for incredible flexibility right out of the box. There's no break-in time with these. When I put them on, they fitted like a glove.
They also work to channel debris away from your high-wear areas. It works great on outdoor courts.
Another premium feature is the heel pivot point. If this shoe wasn't meant for hooping, why would it have this to help you be more mobile with one foot planted?
The outsole also has an exaggerated curve in the toe and heel. This helps you pick up speed quickly since the shoe promotes a smooth forward transition. Joggers will especially love this feature, and this shoe has quickly become a favorite because of it.
#2 Nike Air Monarch IV — Best Non-Basketball Shoes For Basketball
Editor's Choice
Size: Unisex 6 - 14 (Wide options available as well)
Ankle: Low-top
Durable shoes that are great for more than just basketball. Lots of colors to choose from and excellent midsole support.
These kicks wowed us with fit, performance and traction. Nike is very good at making a versatile running shoe, which has made this shoe so popular. Its durable features and unassuming design make it a top choice among young and active Dads who refuse to slow down.
Pros
Full-length Air-Sole midsole cushion
Thick rubber outsole
Added protection in high-wear areas
Tons of colorways to choose from
Work great in everyday life
Cons
Not the most up-to-date style
Because of their firm rubber sole, these cross trainers are great for basketball on outdoor courts and practically any surface other than ice.
They provide great traction and extends up to the toebox to prevent scuffing in a high-wear area. That's why we consider them as the best non-basketball shoes for basketball.
This midsole is excellent for anyone with bad knees. It cushions impact very well and allows for a much smoother transition from heel to toe.
To help you play for longer, the midsole contains a full-length Air-Sole unit, a smaller Air Max. This takes a lot of stress off the pressure points, but still gives an incredible feeling of athleticism.
The medium thickness of the tongue allows for a conformed fit to any size foot. I like it when tongues aren't anything too crazy, since it's so important to get the correct tension in the laces; they should all be flexible, like this one.
Choosing a color would be a tough decision because this shoe comes in many colorways. Thankfully, the price is fair, so you can get more than one pair to match all your workout gear.
These shoes are excellent for off the court and make perfect walking shoes for recreation or travel. There's nothing worse than walking through an airport with uncomfortable shoes. Last but not least, I know a power forward who wears them and he loves those!
#3 Srenket Running Shoes — Cheap Non-Basketball Shoes For Basketball
Budget Choice
Size: 6.5 - 13
Ankle: Low-top
Ultra-stable shoe that stands out and is excellent on outdoor surfaces.
Ironically, the best-priced shoe is inspired by one of the most expensive shoes you can get. These bear a striking resemblance to Nike's Air Max line, but at a much lower cost.

However, their performance did not reflect the price drop. The shoe does a great job supporting your foot from all angles due to the specially designed upper portion.
Pros
Upper mesh is thin and breathable
TPU accents help keep your foot stable
Re-engineered lace loops pull on accents to center your foot
Interesting traction pattern lasts long on outdoor courts
Fashionable design inspired by a premium model
Cons
Heel unit doesn't do much in the way of performance
The thin mesh is complemented by TPU accents. This provides a skeleton outside your foot to maintain stability and proper foot alignment. The mesh is perfect for long basketball games, as it keeps your foot cool and allows moisture to dry.
The fit is customized even more with the unique lacing system. The loops force the laces to pull on the TPU accents, so your foot gets locked down to the footbed. It also keeps your heel firmly in place and prevents any sliding.
The traction is excellent for outdoor courts, but you may find some slipping if you play indoors. The tread pattern is unlike any other, and I'm not sure what they were thinking to be honest. So be careful on firmer and smoother surfaces.
You'll probably want to wear this shoe out a lot, since it looks fantastic. For this reason, an added insole provides exceptional comfort for long days on your feet.
If you're wondering why I haven't mentioned the air unit in the heel, that's because it's so tiny that you can barely feel it. Even playing games and landing hard, I felt support, not from the air unit but from the thick midsole. The air unit looks cool, though and these kicks are far from being expensive, which is good for those on a budget.
#4 Socviis Men's Fashion Sneaker Air Running Shoes
Size: 6.5 - 13
Ankle: Low-top
Outstanding heel impact protection makes these shoes great for intense games above the rim.
Balling hard is more difficult without basketball shoes, but you can go hard for the boards in this pair. They are supportive from top to bottom, and for the price, you can get one for yourself and the rest of your team.
Pros
Massive air unit in the heel
Caged midsole provides stability
Added protection around the toe
Rigid upper material locks your foot in the center
Many colorway options are available
Cons
Not suitable for indoor courts
I really like the casual look of these!
What makes these great for intense play is the large air unit in the heel. You can see it from a mile away and feel it as soon as your heel touches down. It's the perfect density to keep your response time short and your impact protection high.
It's tough to find basketball shoes with this kind of support at this price.
To keep your foot from sliding around, the midsole acts as a cage to the lower half. This keeps you centered on the footbed when cutting hard. It also extends up to the toe box, keeping your toes safe when battling in the paint, but also looking great for a long time.
The upper is made from a thin but rigid material. This is unlike other thin mesh uppers; it hugs your foot much more and is less breathable.
What you lose in breathability, you gain in support because the material and the thick stitched overlay combine to keep your foot aligned and stable.
The traction pattern is something special. It's unlike others and performs best on outdoor surfaces that have some texture. The nubs on the bottom are very far apart, which isn't ideal for smooth surfaces. Use these on your driveway or when you're out for a jog to see the best results.
The really fun part comes when you have to choose a colorway. There are lots of variations that will make the decision challenging but rewarding because you'll get precisely what you want. Last but not least, they don're require long break-in.
Size: 6 - 13
Ankle: Mid-top
Incredible traction makes this shoe versatile and amazing for players who ball on different court surfaces.
The last entry to this list is here because it's a great all-around athletic sneaker. You can use this on the basketball court and just as easily wear them to the gym or even around town with a nice pair of jeans. Check this bestselling model out before it's too late!
Pros
Outrigger teeth prevent ankle sprains
Solid rubber outsole for excellent traction
Mid-top cut adds ankle support
Laces attach to lateral supports to center your foot and align your ankle
Extra padding around the ankle
Cons
Material is thick and not very breathable
Let's get to business, though; the outsole is what shines on this shoe, and is designed based on other successful basketball shoes that use the same style. The rubber teeth act as an outrigger to prevent your ankle from turning over on hard cuts.
A large trench is also running down the middle to channel debris away from high-wear areas. This also adds to the flexibility, so you can move in any direction quickly and confidently.
Cutting out a chunk of the outsole reduces the weight and makes these some of the lightest shoes out there.
The mid-top design is excellent for players who want to protect their ankles. The laces tie up to the top, so your ankle stays in line with the rest of your foot at all times. There's also enough room for an ankle brace if you want to double down on support.
The laces attach to lateral supports that fasten tightly to the side of your foot. These shoes are easy to get on with the loop at the back, so you can focus on getting the proper tension every time.
Extra padding around the ankle helps keep your heel locked down and in an athletic position. These things combine to make this shoe incredibly versatile for other sports, not just basketball. But honestly, what sports are better than basketball?
Features To Look After When Hunting For Non-Basketball Shoes For Basketball
Not playing as much as you used to is something we all have to come to grips with. The love for the game is still there, but life has a tendency to pull us in many directions all at once.
While we want basketball to be a part of our lives, sometimes there are more important things that need our attention.
These non-basketball shoes are designed specifically with this type of player in mind. You can't dedicate one pair of shoes to playing basketball once every six weeks, so get a pair of these.
They are chosen to perform on the court but, but still have a place in your everyday life as well.
All these shoes will go great with a pair of jeans, and you can wear them in tons of different settings. They might get used more off the court than on, but once you lace 'em up for a game, it'll be just like riding a bike.
Here are 7 important features to consider when choosing the right pair of non-basketball shoes to play basketball in.
Traction
This is a crucial component in all types of shoes, even more so if you want to play good, solid basketball. The best traction shoes will have a strong rubber sole, ideally with a herringbone traction pattern.
I recommend a firm and durable outsole, so it can provide the same traction after long-term use. Don't be worried about adding weight. The rubber compounds used today are durable and ultra-lightweight for the most part.
Fit
No two basketball shoes are alike. Some non-basketball shoes are made for narrow feet, while others allow for more space. Knowing your foot shape is crucial to getting the right fit.
Many shoes are offered in a wide foot fit, so you don't have to order a size up and risk the shoes being too long for you.
Stability
If you play sporadically, this is the number one thing to concern yourself. Excellent stability helps with ankle support and will keep your feet centered within the shoe.
When you don't play as often, your ankles aren't as in shape as they used to be. Using strong materials within the midsole and a durable rubber outsole are two key factors to look for.
In addition, it'd be ideal if the shoe has a collar to further protect your ankle. According to a scientific research, there's a proven effect of basketball shoe collar on ankle stability.
Flexibility
You may think that a rigid rubber outsole prevents flexibility, but this is not true these days. Due to the particular compounds companies use, you should experience great flexibility.
Most non-basketball shoes don't have a break-in period anymore; if they do, it's not very long. There will always be flexibility in the upper part with the abundance of mesh being used.
Cushioning
To help give your feet the support they need on and off the court, a firmer cushion in the footbed is what I suggest. Some basketball shoes may feel more comfortable, but you won't be as fast in those.
A firmer cushion keeps you light on your feet and very responsive. This will compliment good arch support as well. Non-basketball shoes such as Vans, for example, don't have proper cushioning.
Arch Support
This is more of a concern for players who experience foot pain during long basketball sessions. The arch support is relatively neutral in all the on-basketball shoes on this list.
As long as your feet feel firm to the footbed and have good support in the arch, you shouldn't give it too much thought. It's better to have insufficient arch support than too much of it.
Responsiveness
Responsiveness helps players stay mobile and increase their stop/start capabilities. In this game, you want to be able to turn on a dime to leave your opponents in the dust. Suppose a shoe is too springy, then it's easier to lose control and lose your ankle support.
Unfortunately, this will affect your vertical, but it's a small price to pay to keep playing basketball. The high quality non-basketball shoes for basketball are responsive enough.
The Importance Of Basketball Court Surfaces
Asphalt
Black asphalt is probably the most common surface to play outdoor basketball with non-basketball shoes. Many public parks in northern regions use this because they resist cracking in freezing temperatures. It's also very affordable, which is why you see so many residential driveways with it.
Unfortunately, this is the least durable of all outdoor courts. Despite surviving the winters, it can splinter quickly and create rocks and pebbles. This not only gets caught in your shoes but can leave a pretty big hole in the court that is just waiting to attack your ankle support.
Concrete
More common in warmer climates, a concrete court provides a level playing surface at a much cheaper cost than acrylic. Many public and park-setting courts use this as it's easy to install and maintain and great for the ball's performance and response time.
However, concrete can chip and create pebbles and stones. If these get caught in your treads, you are at risk of sliding and pulling a hammy. The best non-basketball shoes will have thicker, spaced-out treads to prevent this from happening.
Related resource: "How Many Basketball Shoes Do You Need?"
Acrylic/Hard Court
This is the least damaging to any basketball shoe, but more challenging to play on with most non-basketball shoes. It's very similar to what you would find on tennis courts and is usually found in warmer climates where the temperature doesn't drop below freezing.
You will have very little to worry about on this surface besides dust. It provides a very level playing area, so non-basketball shoes with tighter treads will excel here.
FAQ
What Can You Play Basketball In If You Don't Have Basketball Shoes?
You can play basketball in non-basketball shoes, provided they have the proper support and traction. Even though these are titled 'non-basketball shoes,' they share many qualities that authentic basketball shoes have. Traction is the number one aspect to consider, so you can play your best and be safe out there.
What Type Of Shoes Are Best For Basketball?
The best type of shoes for basketball are ones that have incredible traction. Footwork is paramount when trying to play your best out there, and getting even a half step on your opponent could be the difference between winning and losing. For indoor courts, look for traction patterns that are close together to provide you with the best traction possible.
Are Running Shoes Okay For Basketball?
Yes, running shoes are okay for basketball. They aren't the best because they tend to be a little too flexible. Running shoes are made to be light and go in one direction. Depending on your style of play, you may need more protection and lateral support than running shoes have to offer.
Can You Play Basketball In Non-Basketball Shoes?
Yes, you can play basketball in non-basketball shoes. Some are better than others, of course, and you don't want to play in your crocs or loafers, but there are plenty of options that will serve multiple purposes in your life, not just basketball. Versatile cross-trainers and tennis shoes will suffice until you're ready to upgrade to a pair of dedicated basketball shoes.
Final Verdict
While the "Nike Air Monarch IV" is our top pick, it's very close to an actual basketball shoe. The other four on this list are all-around great athletic shoes that you can wear throughout everyday life.
Getting one of these is like getting a 2-for-1 sale; you get an outstanding basketball shoe and a comfortable and stylish shoe to wear with your favorite jeans. Plus, guys hate it when you beat them with your non-basketball shoes while they're wearing the latest Lebron's.
Ball is life!