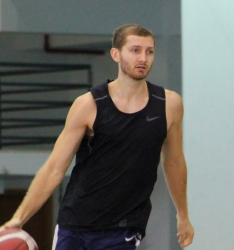 Latest posts by Adam Gotelli
(see all)
Here to find out the best headphones for basketball? Look no further as I've got your back.
Music and basketball are like bread and butter. They work so well together! Listening to music while warming up for basketball or during practice keeps you focused and mentally relaxed.
That's one of the reasons you see icons like Lebron James and Anthony Davis wearing those classy headphones before they enter the basketball court.
Cutting right to the chase, I've made a list of some top-rated basketball headphones with hours and hours of research. I also follow all NBA players closely, and it helped me choose the right gadgets for the right job.
Note: before we start the NBA headphones review, I want to clarify that all gadgets are wireless for obvious reasons. I haven't included any wired headphones because handling them while practicing would be one hell of a task.
Without wasting time, let us dig deep into the top 7 headphones for basketball in 2023.
Best Headphones For Basketball – Comparison Chart
Here is the comparison chart of the top-rated basketball headphones available on the market.
Best Headphones for Basketball Reviews
#1 Bose QuietComfort 35 II – Best Headphones For Basketball 2022
Editor's Choice
Three-level active noise cancelation
Over the ear headphones
Alexa Voice Control interface
Bose AR technology
20 hours playback time
Carrying case and charging cable included
Black Color
Choose Bose QuietComfort headphones and you'll never have to worry about external noise or poor sound quality. The basketball headphones come with a plethora of useful features and that's why some of the biggest NBA stars are using them.
Pros
Used by Klay Thompson
Sweat-proof
Immersive music listening experience
Offers access to Google Assistant
Universal compatibility
Excellent for deep focused basketball practice
Cons
Takes long time to connect
Ears get warm after prolonged use
QuietComfort 35 with a sleek and stylish design offer an enhanced music experience. The over ear headphones won't make any sweat, no matter how harsh your basketball workout routine is. Basketball legends such as Luka Dončić and Klay Thompson often use these headphones during their warm-up sessions.
What's so interesting about these headphones?
For starters, Bose QuietComfort 35 offer a three-level noise-canceling interface. Therefore, these headphones completely ignore the background noise to keep you focused on the beats.
Other than that, the NBA headphone pair comes with the Alexa Voice Control feature. You can use different voice commands to control the volume, change song, or turn off the headphones as per your will and wish.
Bose has tried the AR (augmented reality) technology with the headphones and so far it's working perfectly. Once you put on the headphones, you'll not be aware of the surroundings anymore, and that's what the Bose AR is all about.
The best headphones for basketball offer a 20 hour continuous playback time. Plus, the Bluetooth connectivity allows it to pair to Android and iOS devices easily. You should also check out the Bose Connect App, which helps you create custom headphone settings depending upon your mood.
Extra peripherals include a carrying case, an audio cable (to listen to music without battery power) a charging cable, and a user manual. I find that very convenient because you don't have to spend time and money for separate purchases.
---
#2 Beats Studio3 (Apple) – Best Wireless Headphones For Basketball
Premium Choice
Wireless connectivity
Compatible with iOS and Android devices
Over the ear headphones
Pure ANC technology
Active noise canceling technology
Matte black color
Up to 22 hours battery
Beats Studio 3 by Apple won't disappoint you. If you love music and basketball equally, then you'll love the easiness of use and impressive functionality of these highly praised headphones. Our tests concluded that their noise cancelling technology is among the best on the market today.
Pros
Used by Lebron James
Easy connectivity
Offers an immersive music listening experience
Comfy and durable at the same time
Long-lasting battery life
Ensure universal compatibility
Cons
With USB-C charging port which is obsolete
The sound quality on Bluetooth is lower than on the audio cable
Being used frequently by the likes of James Harden and LeBron James, Beats Studio 3 tops our list for being the top-rated basketball headphones. With a blend of powerful and noise-free music, sheer comfort, and ease of use, the headphones are a favorite of NBA basketball players these days.
For starters:
The noise-cancelling technology used in the headphones is well up to the mark. Apple uses updated sound drivers to cancel out surrounding noise completely. Hence, you'll listen to music and nothing else.
With a battery timing of more than 22 hours, the headphones offer a splendid music listening experience. This allows players like Anthony Davis, James Harden, and Jimmy Butler to enjoy their music whenever they are warming up before the game.
Although Apple has developed the headphones, the compatibility factor is universal. That said, Studio 3 works well with Android and iOS devices, therefore, ensuring versatility.
The story doesn't end here.
Apple uses a special Pure Adaptive Noise Canceling technology in the headphones to block external noise completely. Once worn, you will get immersed in a whole new world of full HD music and beats.
Last but not the least, I for one, am a big fan of Studio 3 headphones, as I idolize LeBron James. So I gathered enough money to purchase them. So far, I haven't had a better experience of listening to music as I'm having with the Studio 3 headphones.
---
#3 Silensys E7 -Best Cheap Headphones For Basketball
Best Budget Choice
Seamless Bluetooth connectivity
90 degree rotating earcups
Protein leather earpads
750 mAh battery
30 hours of playback time
18-month warranty
Silensys E7 continue to receive rave reviews and for a reason! These highly functional headphones are excellent for players who want to keep their focus on warming up before any game without breaking the bank. If you're on a budget, these are the headphones for you.
Pros
With Active Noise Cancelling technology
Improved battery life (750 mAh)
Super affordable
Durable and comfortable enough
Padded earcups.
Adjustable and lightweight
Cons
Non-foldable design
A little bulky
Another affordable headphone option you can consider is to get the Silensys E7. These basketball headphones are specifically designed to keep you away from external noise. That said, the active-noise cancellation option helps the headphones to ensure music with deep and rich bass, and with full clarity at the same time.
First things first;
Silensys E7 offer universal compatibility. Thanks to the upgraded Bluetooth technology, the headphones can easily get connected to iPhone or Samsung Galaxy smartphones without any hassle.
Adding to that, 45 mm wide aperture sound drivers will keep your brain focused on the basketball workouts you perform. Just put those on your ears, and you'll feel goosebumps all over your body while listening to motivational music.
Protein Earpad design along with the 90 degree swiveling ear cups ensures ergonomics, comfort, and ease of use respectively. The protein ear pads will keep your ears safe from extra fatigue and tiredness.
Wanna know the playback time of these cheap basketball headphones? 30 hours on one full charge. Is mouth wide open? Well, I was also surprised after discovering these hell of basketball headphones. 750 mAh battery being installed in it takes care of all your power shortage issues to keep you focused on your drills.
I, personally, loved the professional customer service of Silensys E7 as it's way better than Apple. The 18-month warranty coverage ensures peace of mind while you enjoy the lo-fi beats during intense practice sessions.
---
#4 Powerbeats Pro - Best Earbuds For Basketball
Best Earbuds For Basketball
9 hours playback time
Fast fuel technology
Ear hooks
Apple H1 Chip and Class 1 Bluetooth technology
Compatible with iOS and Android devices
If your workouts are fast and intense, you need earbuds instead of regular over ear headphones. Powerbeats Pro are among the best earbuds for basketball players on the market and boast with spectacular features. Check them out!
Pros
Sweat and water-resistant earbuds
Ideal for fast games involving a lot of movement and jumping
With Apple's H1 Headphone Chip for increased connectivity range and undisrupted sound
Comfortable and lightweight
Secure-fit hooks for stability
Cons
The earbuds heart your ears after prolonged use
Low battery life as compared to other headphones on our list
The earphones we discussed above were connected through a wire. Well, it wasn't a problem, but some people still had issues with such a design. To tackle this problem. Beats introduced the Powerbeats Pro as the latest wireless earbuds option for basketball players.
First off;
The best NBA earbuds offer a versatile music listening experience. Updated sound drivers being used in them ensure a deep and rich sound quality with a crystal clear voice.
On the other hand, the earbuds are completely resistant to water and sweat. Thanks to the premium quality materials used in it, you could expect them to last longer.
Despite being little in my opinion, the 9-hour playback time is more than enough for basketball players who have to perform intense exercise sessions. Improved battery charging means that you could get better playback time with less charge.
The ear hooks installed above help to adjust the position of the earphones. Not only that, but it also ensures stability and keeps the earbuds away from falling too often.
Powerbeats Pro uses the latest Apple H1 chip and Bluetooth Class 1 technology for long-lasting connectivity. You can connect them to your Apple Watch, iPhone, iMac, iPad, and Macbook easily.
Finally, the presence of four extra ear tips ensures convenience and handiness at the same time. You can replace the ear tips every once in a while to prevent them from slipping.
---
#5 Plantronics BackBeat FIT 500 - Best Headphones For Basketball Under 40
Best Headphones For Basketball Under 40
Bluetooth 5.1 connectivity
40mm sound drivers
Compatible with iOS and Android devices.
Pairs to 8 devices at once
3.5mm audio cable included
16-hour playback time
Nano-coating technology
Low on budget and still want high-quality over ear headphones for basketball? Plantronics BackBeat FIT 500 have everything you need for an immersive gameplay at a ridiculous price. Really, check those out!
Pros
Lightweight and sleek design
Sound drivers ensure deep and rich bass sound
Filters out distortion easily
Great battery life
Gets connected to two devices at once
Sweat-resistant body
Dirt cheap
Cons
Not very durable as compared to other headphones on our list
Not as comfortable as other headphones on our list. For example – the "Beats Studio 3"
"Plantronics" isn't as popular brand as "Beats" or "Bose". However, the brand is producing some innovative and powerful headphones since 2018. In this aspect, I've got to review the BackBeat FIT 500. First impressions: Headphones look sleek and stylish enough.
Starting with some basic features:
Plantronics basketball headphones have got updated 40 mm sound drivers. That said, you'll surely enjoy deep, bass-rich, and clear music during the basketball drills.
On top of that, the headphones are extremely comfortable. Use of memory foam padding ensures fatigue-free ears. Moreover, the sweat-resistant design keeps the wetness away even with harsh exercise routine.
I've tested these basketball headphones in different circumstances and up till now, the performance is satisfactory. The Bluetooth connectivity is also on par. The latest 5.1 Bluetooth update ensures connectivity to two different devices at once. More importantly, the headphones also get paired to 8 devices without any problem.
Often regarded as the best cheap basketball headphones, Plantronics offer a 16-hour playback time. You could use the 3.5 mm cable to connect them directly to your phone. Do this only when the battery dies after continuous listening.
It's a no-brainer that the headphones are affordable. Hence, you'll have to compromise on some of the aspects, such as durability. The headphones could wear out within 3 to 4 months. So, use them with due care and precautions.
---
#6 Powerbeats 3 - Sweat-proof Headphones For Basketball
Sweat-Proof Headphones For Basketball
In-ear design
Defiant Black color
Active Noise Cancelation
Compatible with iOS and Android devices
12 hours running time
Refurbished but in great condition
The spectacular Powerbeats 3 headphones ensure long-lasting comfort, full HD sound, and superb noise cancellation. If you like in ear headphones and want a pair with an amazing balance between quality and price, then these are the ones for you.
Pros
Ergonomic earphones.
Get adjusted into ears properly
Soft buds keep the ears comfortable enough
Provides immersive sounds with deep bass and crisp clarity
Active noise canceling cuts you from the surroundings
Affordable compared to Studio 3 headphones
Cons
Random connectivity issues with Android devices
Refurbished (but with no signs of wear and tear)
Not a big fan of using over the ear headphones? Well, don't worry at all. Powerbeats 3 are here to enhance your music experience while you warm up or practice basketball. The earphones are wireless, and you can connect them to your phone without any wire.
More than that:
Powerbeats 3 offers compatibility with iOS devices. This means you can connect them to an iPhone without facing any problem. The earphones use the Apple W1 chip for iOS connectivity.
Moreover, I don't think the 12-hour battery timing is insufficient. Just look at the price tag Powerbeats 3 has got and compare it with the Beats Studio 3 I discussed above. You'll get what I'm talking about for sure.
The best NBA earphones also feature updated sound drivers. The Active Noise Canceling is well up to the mark. Plus, I loved the ergonomic design of the earphones, as they won't fall no matter how intense your warm-up gets.
Finally, Beats offer the Fast Fuel interface in the earphones. That is, with a 5 minute charge, the earphones offer playback of more than one hour. That's quite awesome, especially when you frequently forget to charge your gadgets.
One problem, however, with the earphones is the horrible customer service. Apple doesn't cover the in-ear part of the earphones. So, if damaged, you won't be able to get them repaired even with warranty coverage.
---
#7 Bose SoundLink - Deep Bass Basketball Headphones
Deep Bass Basketball Headphones
Sweatproof headphones
30 feet wireless range
Latest Bluetooth connectivity
Black color
With advanced EQ
Bose SoundLink boast with impeccable quality and long-lasting durability, courtesy of the reputable brand that "Bose" is. If you don't want to make compromises with your basketball headphones, then you can't go wrong with these.
Pros
Lightweight and around-ear comfortable
Ensure a crystal-clear, deep bass listening experience
Sturdy
Long-lasting battery
Impeccable connectivity on all devices
Cons
Poor noise cancellation
Low bass range
The best headphones for basketball review section ends with Bose SoundLink headphones. Famous for their durability, comfort, and enriched music listening experience, SoundLink headphones will keep you focused on achieving your goals.
Besides:
The latest Bluetooth technology that Bose SoundLink uses ensures easy connectivity. It also keeps the headphones away from random disconnecting issues.
Adding to that, the premium quality construction improves the lifespan and keeps the headphones safe from sweat. That's one of the reasons I call them the best sweatproof headphones for basketball.
Last but not the least, the wireless range of about 30 feet along with a 15-hour battery timing improves the music listening experience drastically. You can wear headphones to listen to music while enjoying basketball workout drills.
So if you want to hook up with a basketball player, get him these headphones. He's gonna love those!
---
Choosing the Best Headphones for Basketball in 2022: What You Need to Know?
Making the right choice when it comes to basketball headphones is not easy. Inflation has caused a price hike, which means that you have a bigger chance of wasting your money on an uncomfortable and unworthy headphone pair.
In such circumstances, I need to guide you properly about what to look for in a basketball headphone pair. Here are the main features to consider before purchasing basketball headphones:
Comfort Comes First
Do you know the main reason why NBA players choose those expensive headphones?
Let me tell you why.
Expensive brands such as Apple (Beats) and Bose keep comfort, their top priority. The headphones these brands offer are lightweight, properly cushioned, and don't burden the ears at all.
That said, comfort should be the priority for you. I'm not forcing you to purchase expensive basketball headphones. However, you can check out the construction of earcups and see whether they are properly padded or not.
Moreover, don't forget to adjust the size of the headphones and make sure that they fit perfectly. This way, you'll not only enjoy music but also keep your focus on performing different basketball drills without facing any problem.
Sound Quality Matters
The sole reason for purchasing high-quality basketball headphones is that they offer a deep and rich music experience. Mind you, sound quality matters a lot when you are looking out for the best headphones for basketball.
The headphones must have updated sound drivers. More than that, they must offer full HD sound quality with a rich and deep bass feeling at the same time.
That's why most of the headphones I've reviewed are from Bose or Beats. These two brands prioritize sound quality a lot, and that's one of the reasons many professional basketball players use them.
Last but not least, ensuring that your headphones have an Active Noise Cancelling technology will greatly improve the sound experience and allow you to focus better.
Avoid Wired Headphones
There's no point of investing in wired basketball headphones. The tangling cord will constantly get stuck anywhere and will either rip apart the headphone or disconnect it from the device.
I always recommend going for wireless headphones no matter what sports you play. You hit a gym, you play basketball, or any other sport, you choose only wireless headphones.
Wireless headphones remove the hassle of tangling wires and ensures convenience. So, once you connect them to your smartphone, you could then focus on your workout completely while listening to music.
Connectivity
Because, we're discussing wireless headphones, the connectivity method will always be Bluetooth. Look for headphones that use the latest Bluetooth version, which is version 5.3.
That will ensure smooth pairing and no connection drops. The headphones should come with a connect app that allows you to access personalized settings and easily obtain future updates.
Device Compatibility
My advice would be to look for basketball headphones that you can easily use on both Android and iOS devices. You might have an iPhone now, but in future you might get a Samsung Galaxy or vice versa. Universal compatibility will ensure that you can use your headphones on multiple devices.
Sweat proof
Don't forget that you're getting these headphones not only to listen to your favorite tracks, but also to warm-up when playing basketball. Often, you will be sweaty and if your headphones don't have a decent sweat resistance level, they will get damaged.
That's why, look for headphones that have an "Ingress Protection" rating system that shows the waterproof level. Aim for headphones that have at least an IPX4 rating, which means they are splash resistant.
Warranty
Once I bought some very expensive headphones from eBay that didn't have a warranty. I liked them so much that I didn't care about that. Call it bad luck or poor judgement (maybe both), they broke after two weeks of use. And I couldn't do anything about it.
Needless to say, choose basketball headphones that come with manufacturer warranty. Better be safe than sorry.
Frequently Asked Questions:

What headphones do NBA players use?
Stars such as LeBron James, James Harden, Anthony Davis, and Jimmy Butler use the Beats 'Studio 3 by Apple'. On the other hand, Luka Dončić along with Klay Thompson uses 'Bose QuietComfort 35'. Both headphone brands are reliable and offer top-notch sound quality with comfort and a long-lasting battery.
Are earbuds good for basketball?
Yes, earbuds are good for basketball. Earbuds are the latest wireless earphones that offer a deep and rich music experience without any surrounding noise. You should try the brand new Powerbeats Pro from Beats, as they offer a versatile music listening experience and are quite ergonomic.
What headphones do athletes use?
Most basketball athletes prefer using Powerbeats 3 as they offer portability and compactness without compromising on sound quality. However, many players now use the AirPods, mostly because they are the most portable music listening devices available in 2022.
What headphones does Giannis wear?
As of 2022. Giannis wears "JBL Tour One" and "Endurance Peak II" Freak editions headphones because he has a contract with JBL.
What headphones are best for basketball?
Wireless, sweat proof headphones are best for basketball because they allow you to move freely without the obstruction of cables and ensure that the moisture won't damage them.
What headphones does Kyrie use?
As of 2022, Kyrie Irving uses SkullCandy Crusher Wireless headphones. In a recent interview, he said that he uses the headphones daily.
What is the official headphones of the NBA?
The official headphones of the NBA are Beats by Dre. The brand is a proud NBA sponsor.
---
Final Verdict
That would be all about the best headphones for basketball from my side. I've tried my best to keep you guys updated about the latest headphones that most NBA players use.
More precisely, I've shed light on some important aspects of choosing a basketball headphone. So, make up your mind, check out the list of top-rated headphones and make your choice accordingly.
OR, if there's still confusion, then simply get the latest Beats Studio 3 by Apple wireless headphones or "Bose QuietComfort 35 II". Believe me, you won't regret your decision even after two to three years.
Sure, the headphones are expensive, but think of them as a one-time investment only and just go for them with closed eyes. One more thing! Ask me relevant questions about the main topic so that I can clear your ambiguity as soon as possible. So, shoot me some comments in the section below!