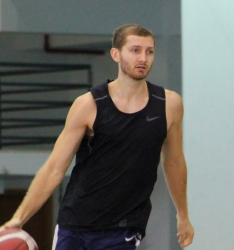 Latest posts by Adam Gotelli
(see all)
As sneaker culture continues to thrive, basketball shoes have evolved beyond the court to become a fashionable choice for everyday wear.
We've carefully curated a list of our top three basketball shoe models that seamlessly blend style and performance, offering the perfect combination of comfort, durability, and neck-breaking aesthetics.
Quick Answer: The best basketball shoes for casual wear in 2023 are "Nike Blazer Mid '77 Vintage".
Whether you're a sneaker enthusiast or simply seeking versatile footwear, join us as we explore these top picks that have captured the hearts of both basketball players and casual wearers alike.
Best Basketball Shoes For Casual Wear – A Comparison Table
Top Choice
Size: 3.5—15
Ankle: Mid-Top
Highlight:

Stylish high-top silhouette
Premium Choice
Size: 7.5—14
Ankle: Mid-Top
Highlight:

Responsive, Air-Sole unit
Budget Choice
Size: 6.5—15
Ankle: Low-Top
Highlight:

Adidas Bounce
How We Reviewed
To bring you the best basketball shoes for casual wear, our team of expert researchers scoured the internet and trusted scholarly sources, looking for in-depth reviews, buyer feedback, engineering analyses, as well as brand and ideology.
Meanwhile, as a pro baller, I hit the court and hit the strip, rocking our top 3 picks and judging not only basketball performance but also aesthetics, feel, fit, stand-out features, and of course, how many compliments we got.
Below, you'll find a more detailed approach to how we came to our top 3 picks list and why you should trust our definitive rankings:
Our team invested over 30 hours of research into our best products, which includes studying buyer feedback, transaction trends, noteworthy features, and the buzz through social media and trusted sources
Locked in on the key features basketball players look for when sourcing the best basketball shoes for casual wear
Over 25 products were considered based on stability, weight, traction, support, durability, cushioning, price, and aesthetics, among other essential factors
I personally tested our top 3 picks, judging the fit and feel
Consulted a certified podiatrist as well as avid sneakerheads both online as well as through my home team in Potenza, Italy.
So if you want to wear basketball shoes casually and are looking for some good picks, read on!
The 3 Best Basketball Shoes For Casual Wear: In-Depth Product Reviews
Top Choice
Size: 3.5—15
Ankle: Mid-Top
Highlight:

Stylish high-top silhouette

with vintage-inspired, throwback details
With an emphasis on simplicity without stripping away the "WOW" factor, the Vintage focuses on the old-school ball roots but with a modern twist. These casual-use shoes are storytelling at their finest, from the envelope-pushing masters of shoe design: Nike.
Pros
Vintage-inspired midsole with versatile wear appeal
Herringbone traction pattern with non-marking rubber outsole
Long-lasting durability with autoclave, robust build
Mid-top profile with high-top silhouette, offering optimal ankle support
Breathable, comfortable design via upper perforations
Time-tested brand quality
Cons
Longer than average break-in period due to genuine leather materials
At the 1 spot, we have the ever-classic, flagship casual basketball shoes for hoopers and non-hoopers alike: the Nike Blazer Mid '77 Vintages. I own these, and they're my favorite casual shoes to date.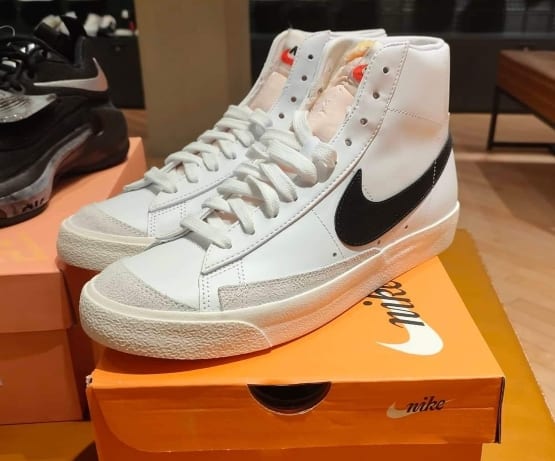 And with Nike in mind, you're getting a time-tested shoe that incorporates premium materials into construction. The Vintages further Nike's legacy of bringing you basketball shoes of only the highest quality with genuine leather, ensuring you're investing in only the most reputable and reliable casual shoes out there.
Vintage Is Here To Stay
The Vintages are exactly as they sound, a vintage-inspired fashion statement that simultaneously offers you a classic design while maintaining a decent amount of versatility for a number of looks.
What I really love about the Vintages is how much of the thrifted individuality they offer, whether you're dressing up or dressing down to a casual outfit.
With the Vintages, you're getting optimized quality and the opportunity to express yourself:
Palmer and Clark (2005: 197) argue that the rising popularity of thrifting and vintage fashion is by and large, a direct counter-response to the culture of "fast fashion." As more consumers turn to their local shops rather than big-brand outlet malls, the growing trend is that of shoppers prioritizing style, quality, and expressing their own unique individuality.
And this is where the Blazers come in. The Blazers have been in the basketball sneakers world for just over 50 years, having first been designed by George "The Iceman" Gervin in 1972. This was only the 3rd shoe ever produced by Nike before adopting the staple Swoosh signature.
The Blazer now stands as a nod to Nike HQ's team, the Portland Trailblazers, and has since been reduced, remixed, and customized by visionaries like Virgil Abloh. Nike's time-tested brand identity and quality shine through in the Vintages.
With its retro charm that still leaves room for self-expression and harmoniously blending into your style, the Blazer Vintages aren't going anywhere any time soon.
It even stands as one of Nike's bestsellers, with tons of colorways and customizable options available. And their construction is suitable for players with Achilles tendonitis.
High-Quality Sneaks To Up Your Casual Shoe Game
The Vintages embrace their retro design by leaning into a 1970s silhouette, sporting that high-top ankle support you don't seem to find among mids.
The Vintages are a secure, comfortable fit around the ankle, ensuring you're protected; these are perfect for everyday wear and/or a variety of other activities, whether that's playing basketball or training in the gym.
Moreover, the herringbone traction pattern gives you a firm, reliable bite on several different surfaces; herringbone has a higher tread width with higher reactionary force, making it an excellent traction option that's high-performing and supportive, especially outdoors.
The durable rubber outsole with non-marking materials keeps the Vintages as a strong, long-term shoe that won't scuff up the court or your own floors (believe me, we tried).
And for more on the build, the Vintage's autoclave construction fuses the outer sole to the upper, resulting in a streamlined look with a robust structure sourced from premium leather. This is a solid basketball shoe that's really as durable as it looks.
With the Vintage's foam-padded tongue and collar, you'll experience less pressure, friction, and overall discomfort. Wear it day and night; you'll be changing your outfit more than you will your everyday use shoes.
The Vintages also feature a breathable upper with strategically-placed perforations, allowing for naturally cool, refreshing airflow that's perfect for the summer.
All in all, the Vintage's stand at our 1 spot for a reason. Perfected over the course of 50 years with thoughtful, thorough design features that are excellent for everyday use, the Vintage's are an eye-catching, durable shoe that will fit perfectly in your wardrobe with their vintage-inspired, classic throwback aesthetic.
You can jump in them all day long!
Premium Choice
Size: 7.5—14
Ankle: Mid-Top
Highlight:

Responsive, Air-Sole unit

in the 1's heel for a springy, supported ride
At our number 2 spot, we have the Air Jordan Retro 1 Mid's, a great shoe from the legendary Jordan Brand that can be worn casually. More than 100 million pairs of the Air Jordan 1s have sold internationally, and for good reason. And you can pair these with everything! Check them out!
Pros
Responsive Air-Sole unit encapsulated in the shoe's heel
Durable, full-grain leather upper material
Smooth nubuck overlays for a premium look and feel
Perforated toebox for a breathable, cooling fit for extended wear
Available in a wide range of expressive colorways
Cupsole construction for a basketball shoe that's just as suitable for active wear as it is for casual wear
Cons
Online reviewers highlight the midsole's lacking durability
The Jordan Brand, a subsidiary of Nike, was established in 1997, inspired by basketball legend Michael Jordan's iconic career. Jordan completely revolutionized sneaker culture by releasing the Air Jordan I in 1985, defying the NBA's sneaker rules and ultimately becoming a cultural phenomenon.
Today, Jordans have transcended sports as an enduring symbol of streetwear fashion and legacy.
Streetwear & More Than Shoes
If you're a self-described sneakerhead and enjoy dressing in the unique blend of hip-hop with a sports aesthetic, you really can't go wrong with the Air Jordan Retro 1 Mid's. If you happen to play as a power forward, you'll like them too. I've even played volleyball in them several times with no issues.
The Mid's take the culture of the Vintage's with their retro, throwback vault appeal and push it more into the cousin of vintage: the streetwear market.
Dr. Delisia Matthews writes in a fascinating study that streetwear and sneakerhead culture as style statements are ultimately ways in which to fill a material desire from childhood. What's more, she also concludes that its more than just shoes; Jordan's brand identitiy is synonymous with self-excellence while also representing a timestamp of a histroical context and a special time in basketball.
If you're aiming to level up your wardrobe, what better way to start than with the Air Jordan Retro 1s, a shoe that practically defines why people wear basketball shoes.
A Big Bag Of Tricks
Starting off with the overall look, I love the Retro 1s because they retain that premium, high-class look that keeps me coming back to them on my shoe rack. And it seems they add a little bit to my height.
Jordans have been in style since 1985, and the variety of expressive, creative colorways that continue to be made available give you ample room to find what you're into while keeping the Retros exciting and new.
The smooth nubuck overlays only add to that luxurious, top-quality feel you get from the Retro 1s. Add in the durable, full-grain leather upper, and that type of quality will last wear after wear.
Moving onto the heel construction, the 1's Air Sole unit is a responsive, impact-absorbing shoe that makes every stride comfortable. Incorporating foam with a cushioned shell makes each step like walking on a cloud, or in this case, a set of extraordinary, everyday life shoes.
But don't let their casual wear shoes namesake fool you; the 1s are engineered with multi-use in mind. The cupsole construction makes the 1's an excellent shoe for both activewear and wearing shoes casually.
Whether it's with everyday clothes to catch a game or a high-performing shoe for checking into the game, the 1s hold up under pressure.
And for the perforated toebox, the 1s are made to have a breathable, cooling fit; you get a shoe that's made for not only turning heads and performing with refreshing support but a comfortable shoe that's made for extended wear as well.
Budget Choice
Size: 6.5—15
Ankle: Low-Top
Highlight: Featuring

Adidas Bounce

, the 2.0's sport cushioning that retains the perfect blend of comfort with a low-to-the-ground, reactive feel
Finally, with the number 3 pick, our team selects the Adidas Own the Game's 2.0, a shoe that strikes the ideal balance between style, performance, and support both on the court and off. A great all rounder you will definitely like.
Pros
Adidas Bounce cushioning for a responsive energy return with each step
Long-lasting comfort with textile lining
Molded TPU heel for a secure, lockdown feel
Adidas Outwear sole for a grippy bite on a variety of surfaces
Lightweight, Lightmotion shoe that's made for extended wear
Maintains a lot of performance-driven specs for a versatile, multi-purpose shoe
With a reputation for comfort, durability, and versatility, Adidas consistently delivers trendy, functional sneaks that continue to be fashion-forward and comfortable everyday shoes. I've been owning those for 2 years and I love their comfort, style, and durability.
Whether you're wearing the 2.0 shoes casually or looking for a shoe you can take from the dog park to the ballpark, I love the practicality of the 2.0s and how they work both as a lifestyle and a performance shoe. You'll always be ready for tip-off now with a ton of strategic, highly researched design features.
Lightweight Lightmotion & Bounce
Adidas Lightmotion tech is right up there with the cutting-edge design features of innovative performance wear, all from a budget shoe you can wear casually (crazy, right?).
The Lightmotion tech integrates lightweight materials and responsive cushioning in the shoe's midsole, giving wearers a smoother, more energy-efficient stride.
The Lightmotion midsole is made to adapt to your movements over time, offering superior shock absorption and stability while keeping the shoe light and bouncy.
Add in Adidas' trademark Bounce cushioning, and the 2.0s just scream extended wear with excellent cushioning and maximum comfort, whether that's for long walks, running errands, bar crawls, or balling out on the basketball court.
And for balling out, the 2.0's have a solid traction pattern with the Adidas Outwear sole, keeping its grip and a repeatable bite over a wide variety of surfaces.
Cut, change, routes, and stop on a dime with the 2.0's, a shoe that surprisingly holds onto much of the performance-driven engineering that you don't see in many basketball shoes for casual wear, including in Converse.
Extended Wear, Don't Care
My tests revealed that these shoes were so easy and comfortable to wear, I practically forgot I had them on. My feet are a bit narrow, so these fit like a glove.
The textile lining and breathable mesh upper materials keep these comfortable shoes cooling and soft, while the TPU heel design gives the 2.0's a secure, lockdown feel. With the 2.0s, you finally don't have to sacrifice comfort and fit for style.
For more shoes on a budget, check out my article on the top ones under $150 and the best ones below 50 bucks.
4 Crucial Features To Look For Before You Buy
Before you buy, consider the 4 factors below to help you make the most informed decision when choosing the right basketball shoes for casual wear for you.
Durability
The best basketball shoes for casual wear are only as good as how long they last. To outlast the demands of everyday activities, various surfaces, as well as inclement weather, you need a durable pair of shoes to prevent any premature wear and tear or frequent replacements.
A basketball shoe like the Blazer Mid '77 Vintage's features a robust build sourced from durable, full-grain leather that's made to outlast and outperform lesser shoes casually worn that you may need to frequently replace.
With that in mind, you should be regularly cleaning your basketball shoes of all colorways, not just white basketball shoes.
Aesthetic purposes aside, cleaning your basketball sneakers helps rid your shoes of any dust, dirt, and debris that may otherwise collect in your shoe's materials and cause it to break down and wear out ahead of its lifespan.
You can check trusted, time-honored brands like Nike for well-researched guides on how to best clean the shoes they offer.
Traction
Wearing basketball shoes casually doesn't mean you have to forget about traction. In-game, basketball shoes require solid traction in order for you to perform at the highest level, with structurally supported cuts, route changes, and safe landings from the air.
Off the court, traction is significant because it provides the essential stability to prevent slips and falls during everyday activities. Reliable traction gives you a firm grip on various surfaces, ensuring each step you take, you can do so with confidence.
Herringbone continues to be a traction pattern reserved for the best basketball shoes. The multi-directional bite signature to herringbone effectively grips any surface regardless of conditions; you can find this grip in the Nike Blazer Mid '77 Vintages.
Style
When you wear basketball shoes casually, you're making a statement. Basketball sneakers have and continue to take the world by storm for their expressive, wide range of colorways, with some of the most creative designers in the world at the helm of their engineering.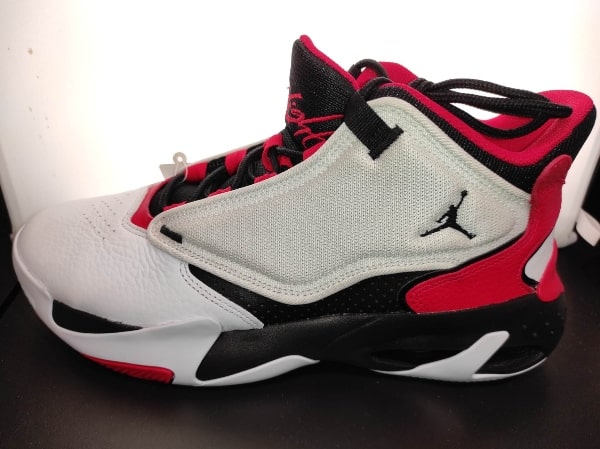 Consider your own style and how you want to present yourself: are you going for vintage-inspired? Streetwear? Loud and colorful? Or simple and understated. It's entirely up to you and your preferences; the best basketball shoes for you depend on what you got in your closet and what excites you about your style, no matter if it's long jeans or shorts.
With a shoe like the Air Jordan Retro 1 Mid's, Jordan offers a wealth of colorways; I love the "Wild Berry" for its pop of color and fun, bold look.
Fit
Wearing basketball shoes casually for an extended period will largely boil down to how good they feel on your feet and the overall fit and feel of the shoe.
A basketball sneaker that fits properly should have ample toe room, a snug heel fit, no pinching or pressure points, comfortable width, secure lacing, minimal foot movement, and no pain or discomfort while wearing them.
What's more, you should look for shoes with proper cushioning. I observed that the Own The Game 2.0's Lightmotion with Bounce cushioning makes every step supported with advanced cushioning that also makes for a smooth heel-to-toe transition. You don't want shoes that cause blisters.
FAQ
Can Basketball Shoes Be Used For Casual Wear?
Yes, basketball shoes can be used for casual wear. Many modern basketball shoe designs prioritize style and comfort, making them suitable for everyday activities. Our top 3 picks in the Nike Blazer Mid '77 Vintage, the Air Jordan Retro 1 Mid, and the Adidas Own The Game 2.0's retain much of the best basketball features to elevate your game while complimenting your style with expressive colorways and a unique blend of cushioning, stability, and support for extended wear.
What Shoes Are Good For Casual Wear And Basketball Wear?
The best shoes for both casual wear and basketball should offer a balance of style, comfort, and performance. Look for designs with versatile aesthetics, responsive cushioning, durable materials, and reliable traction for everyday activities and on-court play, ensuring an optimal experience both on the court and off.
What Type Of Footwear Is Best For Basketball?
The best footwear for basketball should provide excellent support, cushioning, and traction to enhance performance and reduce the risk of injuries. High-top basketball shoes with features like ankle support, responsive midsoles, and herringbone traction patterns are commonly recommended for optimal stability and agility on the court for Big Men and their positional needs. For Guards, look for a lightweight, low-profile shoe that makes route running and cuts efficient, supported, and speedy.
What Are Some Popular Basketball Shoe Brands For Casual Wear?
Some of the most popular basketball shoe brands for casual wear are Nike, Adidas, and Jordans, housed under the Nike umbrella. Known for quality craftsmanship and comfortable materials, they offer a blend of fashion and performance, appealing to both sneaker enthusiasts and folks seeking stylish and versatile footwear. Add on top of that the celebrity athlete endorsements, and you can truly feel like a part of the culture and the conversation, only with Nike, Jordan, and Adidas.
Can Jordan's Be Worn Casually?
Yes, Jordans can be worn casually. While originally starting out as performance basketball shoes, the Jordan brand releases numerous lifestyle and casual shoe models. These designs offer iconic Jordan aesthetics, comfort, and style, making them popular choices for everyday wear, even if you're not hooping or hitting the court.
Can I Wear Sports Shoes Casually?
Yes, you can wear sports shoes casually. Many sports shoe brands create lifestyle and casual shoe models inspired by their performance counterparts. These casual designs offer comfort, style, and versatility, making them suitable for everyday wear, whether you're running errands, meeting friends, or taking part in a light game of ball.