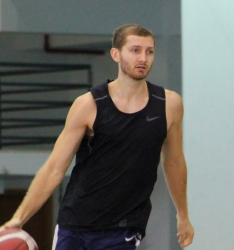 Latest posts by Adam Gotelli
(see all)
I've been a basketball fanatic for as long as I can remember.
I love the game and everything about it: the players, the fans, the strategy.
Most of all, I love the shoes.
60% of my life is spent thinking about or wearing basketball shoes.
How about you? Some people might think that's strange, but basketball shoes are works of art to me.
When you bless yourself with the right kicks – you feel like a million bucks! But the hard truth of the matter is this: You don't just throw on any old pair of these things and go.
It takes some serious thinking to ensure that your purchase will work for you.
Fortunately, we've done research to help you make an educated decision.
After researching more than 34 pairs and investing 27 hours doing so, we put the top 7 pairs to extensive testing.
We determined that the Nike Unisex-Adult Precision 4 are the best basketball shoes for casual wear in 2023.
In fact, I own them and I love them!
Let's go!
Best Basketball Shoes For Casual Wear – A Comparison Table
Image
Product
Features
Price

Top Pick

Size: 6.5-13 US
Ankle: Mid-top
Minimal break-in time and has an amazing price point

Check Latest Price

Runner-Up

Size: 7-16 US
Ankle: Mid-top
Lou Wiliams cartoon logo

Check Latest Price

Best Budget Choice

Size: 6-13 US
Ankle: High-top
Distinctive feature: Massaging, super squishy sole. Hybrid old-school/New-school look.

Check Latest Price

Very popular

Size: 4-20 US
Ankle: Mid-top
Web-pattern traction

Check Latest Price
The Best Casual-Wear Shoes For Basketball Reviewed
#1 Nike Precision Iv Basketball Shoes
Pros
Superior ankle support & containment to keep you safe on your feet
Get a grip on slippery surfaces.
Very durable construction
You get a lot for your money
Cons
If I were to nitpick, these are relatively inexpensive. However, some might say the shoes lack higher price point materials. (These shoes are still our top pick!)
Fit is best for normal to narrow foot
The Nike Precision IV basketball shoe is the best option for casual wear and all-around performance.
I've been owning these shoes for 8 months now and these are my favorite pair to go out with.
These shoes look gorgeous – sleek yet powerful.
I've to tell you, this shoe fits like a glove. And I'm talking about out of the box!
I had no trouble putting them on, and they were ready to go right away. The next best thing about this shoe is the ankle support and containment. They offer fantastic Achilles support.
I was impressed with how well these lockdown to my ankle and forefoot.
Also, the heel of the foot has some lovely padding, so those who need a little more support on their ankles will love these shoes.
The soles also have an outstanding grip for all types of surfaces. I've never had problems with that. One reviewer even mentioned that he uses these shoes for all-around mountainous journeys.
Now the cons, and there aren't many.
The first drawback is that these shoes lack any premium materials. Perhaps that's because the price point is low.
Moreover, they fit best for normal to narrow feet.
Of course, most people can't expect them to fit perfectly, but they should do the job for most casual users who don't have a wide foot or a high instep.
All in all, you get a quality product in return! In my opinion, it's even more quality than more expensive pairs that I've owned through the years.
I'm sure these shoes will last even longer.
#2 PEAK Basketball Sneakers For Casual Wear
Pros
You're not just getting a quality product. You're also getting amazing value.
Friends will admire the aesthetics
The mesh is very breathable - good for people who have sweaty feet or just need a little extra ventilation in their life. It's also a lot sturdier than I thought
These sneakers are perfect for any athlete who wants to have a shoe that's both comfortable and stylish. The breathable mesh upper ensures your feet are always comfortable, while the synthetic leather overlays provide extra support!
They're a perfect concoction of breathability, comfort, and style.
In addition, the durable rubber outsole provides better cushioning than you would expect from a shoe with "casual" written all over it!
I feel like it's almost Nike Air style with its breathability and lightweight design but shaped well enough so that your feet don't get sore after wearing them all day at work (or doing whatever activity).
This shoe is like Nike's Flyknit, but with a seemingly durable synthetic rubber. The mid-sole has been designed to give it a cushioning feel and aerodynamic look.
Last but not least, they are appropriate for players with narrow feet who need reliable shoes for jumping. Power forwards will appreciate them too.
#3 Joomra Casual-Wear Basketball Shoes
Pros
Your feet will feel so good, you'll forget you're wearing shoes!
Massaging sole is very squishy and absorbs impact
Affordable for anybody
Old school boot, yet modernized outer sole gives it a clean hybrid look
Cons
Materials might not be as breathable
Joomra is a fairly unknown brand
When I first saw the shoe, it had a very appealing look.
The visuals are just as good in person and there's no slippage when walking with these babies on your feet!
The comfort level is nice too, out-of-the-box. I've worn them for about 3 days straight now and they're just as comfortable as the previous day.
That being said Joomra has been an excellent surprise because not only do these sneakers offer great cushioning without sacrificing any style points (you can even wear them with jeans),
When you press on the shoe's sole, it feels like a massage. You can feel them near your toes as well as around the heel area.
From a durability standpoint, I am delighted with the quality. Since they came in the mail, I have been wearing them regularly and have had no problems.
From an aesthetic standpoint, they look fantastic, too. The synthetic leather composition gives it an old-school boot, but the outsole gives it a modernized look. As a result, you can wear these casually.
They are beautiful, comfortable shoes that give great support to my arch. They are also suitable for playing other sports such as volleyball.
If I had one complaint, it would be that the materials might not be as durable as a more premium brand. They also get a little hot in warmer weather, but that is normal with any high-top.
These won our top budget pick for a reason! And if you're on a budget, check out our guide on the best basketball shoes under $50 this year. Then continue with our article on the top ones below 150 bucks.
Related read: Basketball Shoes vs. Running Shoes.
#5 Adidas D.O.N. Issue #2 Basketball Shoes
Pros
Dynamic Colors
Woven looks are great with casual clothes.
If you love Spida (Donovan Mitchell), this is your shoe!
Very bold and aggressive aesthetics that pop off your feet!
Fit and feel is very comfortable. Feels like a luxury shoe!
Very accessible price point for most buyers
Cons
The sole has limited traction, and it might wear over time if you put these under stress (this shouldn't be too big of an issue for casual wear)
There may be concerns around the sole durability because of the light materials.
They have a fantastic design with the "Spida" Mitchell fashion web pattern, which gives them traction in many different directions!
This shoe includes a lot of textiles that are lightweight and breathable. It's durable so far through our tests!
There is also rubber on this design plus synthetic – making sure you get good support without any discomfort or risk to your feet while doing your favorite activity.
The lockdown and fit of these shoes are unparalleled. They're soft yet supportive enough for any activity you want to do in them!
In terms of looks, they come in very bold colors. Compared to the original D.O.N model, these are upgrades from a visual standpoint. They're narrow- especially here at mid-foot section where you'll notice some discomfort if not broken in correctly (which can be done by wearing them regularly).
But once they've molded around your feet all is well again.
The best part?
They don't break the bank and add those important inches to your height that make you more competitive. Don't believe me? Check out my article on "How Much Height Do Basketball Shoes Add".
---
Features To Look After When Buying Basketball Shoes For Casual Wear
When looking for the best basketball shoes for casual wear, it is essential to consider the factors below:
Size
When you are looking to buy basketball shoes, you must get the correct size.
Different brands have different sizes, so it is important to measure your feet and compare them to the size chart of the basketball shoe brand you are purchasing from.
Consider both length and width when you're measuring.
Upper material
Most casual shoes have a fabric or mesh upper, so it shouldn't be too stiff.
The shoe's upper material should be breathable and lightweight, as this will improve comfort and reduce the risk of blisters.
Sole/Outsole
The outsole is the part of the shoe that comes into contact with the ground and provides traction.
The best basketball shoes for casual wear should have a hard rubber sole, as it will provide excellent shock absorption and traction on different surfaces.
This is especially important if you intend to wear your basketball shoes at school or work during wet conditions.
It is also recommended to get a shoe with a flat sole, as most casual shoes have an average heel height.
Related resource: "How Many Basketball Shoes Should You Have?"
However, if the player needs more ankle support, getting at least a 1-inch heel is highly recommended. Something that Converse shoes can't really offer, for example.
Ankle Support
If you plan on wearing them for an extended amount of time or during competitive play, it is advised to get a basketball shoe with superior ankle support.
In casual wear, this factor is much less critical. It depends on the buyer's preference. Low-top shoes are more flexible and provide more aeration to be better for casual wear.
Durability
When choosing basketball shoes for casual wear, it is essential to consider the shoe's durability. A shoe that is not durable will not last long and may end up costing more in the long run.
The best basketball shoes for casual wear should withstand everyday use and should not easily show signs of wear and tear.
It is also essential to consider the type of material used on the shoe, affecting its durability.
FAQ
What type of basketball shoes should I get for casual wear?
Nike Precision III model is one of the best basketball shoes you should get for casual wear.
The value you get from them is excellent, as they last for a long time and match perfectly with your everyday clothes.
They offer excellent traction on both indoor and outdoor surfaces. The shoe also provides superior ankle support thanks to its mid-top design while providing breathability due to its upper textile material.
From my research, the shoes feel perfect. They're super comfortable and cozy. I didn't have to break them in, and they don't pinch or break.
Can you wear basketball shoes Casually ( off the court)?
Yes, you can wear basketball shoes casually. Most people wear basketball shoes on the court, but that doesn't mean you can only wear them when it's time to play.
Some people even wear their shoes for wrestling.
The versatility of basketball shoes is unparalleled. They're protective and stylish, with the ability to be worn both on the court or off – making them perfect for any occasion!
Just make sure that you avoid any fashion blunder while trying to wear the sneakers with your outfit. It's, therefore, recommended that you wear slim-cut jeans with the shoes to look sophisticated enough.
You could also try some light shorts with sneakers to get a more casual touch. Anyway, here are some other tips that you can follow to wear the basketball shoes with jeans or with other outfits:
In addition, don't go for the flashy colors.
Be mindful that you ain't wearing the shoes to a basketball court. It's better to choose a calm tone with light colors to avoid any unnecessary taunts or sarcastic comments.
What are the best casual basketball shoes?
​​The Nike Precision 4's. These all-purpose mids are perfect for any terrain. They provide a comfortable combination of cushioning and containment, making them lightweight with multi-directional traction on soft steps. Most Amazon reviewers say they're "the real deal" and give them 4.5+ out of 5 stars.