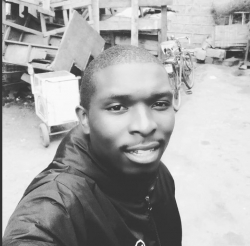 Latest posts by Nelson Nells
(see all)
In the 1990s, coaches and players had no idea how crucial an NBA player's wingspan was. Height was the critical factor.
With all factors in place, the longest wingspan in the NBA has the most value. Forget about height; wingspan is now a key part of the recruitment process, with many basketball teams paying attention to players' wingspan.
It's not surprising to see a league's scouting team with a comprehensive list of players wingspans. NBA history singles out Kevin McHale, one of the legendary forwards who stood at 6'10" and had a wingspan of about 8'0".
McHale had no problem touching his knees without bending. Indeed, he became a holy terror at offense and defense.
What's a wingspan? Why is wingspan crucial? What wingspan length is ideal? How do they measure the wingspan?
We've answered these questions below. Plus, find a list of the top basketball players with the longest wingspan in NBA.
Keep reading.
What is a Wingspan?
A wingspan is a fingertip to fingertip measurement when arms are outstretched. Everyone has a unique wingspan, but it gives an added boost to reach unimaginable heights for an athlete.
Often, a wingspan is equal to the height of a person. However, some players' wingspans are longer while others are shorter than the height.
Most people assume that a longer wingspan is a sure way to dunk and score or defend. Sadly, it's not, as skill and other factors contribute largely to scoring and defending.
Normally, a longer wingspan on a plane creates the same lift with less thrust, which is similar to basketball, where players with long wingspan seem to be swift in every move they make.
How to Measure a Wingspan
How do you calculate a wingspan?
Check out this little video below:
Being a basketball player, it's critical to know your wingspan as it comes with numerous advantages.
Once you understand how to utilize your arms lengths, you can reach greater heights.
It's very easy to calculate your wingspan with the following steps
Have a tape measure and an assistant for accuracy and help
Stretch your arms like an airplane wing and let your partner measure the fingertip of your left arm to the fingertip of your right arm.
Record the distance in inches
Benefits of a Wingspan in Basketball
Wingspan in basketball is an unseen blessing. A player with a longer wingspan finds it easier to dunk. A longer wingspan also helps players keep dribbles low in case of traffic.
Moreover, players with long wingspan easily block and contest shots without moving an inch. They'll still grab a basketball and pass it to their teammates.
Commonly, NBA players with a long wingspan have an added advantage in recruitment. The ape index size is key in the process, with most coaches preferring longer wingspans over shorter ones.
This doesn't mean that players with shorter wingspans are disadvantaged.
Surprisingly, Yao Ming and JJ Reddick are two examples of excellent NBA players with shorter wingspans but still very productive.
Having a long wingspan in the NBA is one thing but knowing how to take full advantage of it is key.
Good players with long wingspans become exceptional and an asset to the team with some training.
A player like Rakeem Christmas (who played in Indiana Pacers) had an impressive wingspan of 7'5" but couldn't utilize it fully in the NBA. This is just one example of how a wingspan can be a liability if not utilized.
Overall, a large ape index is intimidating to the opponents, and players who use it rightfully take teams to greater heights.
As a suggested read, check out our article on why is basketball so popular in Indiana.
Relationship Between Height and Wingspan
Do height and wingspan have any relationship? Ask this to a basketball player, and you'll be surprised at their responses.
First things first, height and wingspan are common topics when discussing basketball. In fact, the taller you are, the more fit you look as a basketball player.
Commonly, the height is always equal to the wingspan. However, there are exceptions where some players may have a longer arm span than their height while others possess a short arm span.
A slight difference in inches in either of the two scenarios results in a negative or positive span.
For instance, players with short wingspans have a height difference bigger than their arm span. This is also referred to as negative wingspan.
A positive wingspan is where the difference between the height and wingspan is positive. This means the wingspan is longer than the height.
Every June, the NBA draft occurs where the prospecting mainly focuses on the wingspan. Teams and scouts value arm length because it plays a critical role.
In addition, a player's height, weight, and general physique are also key factors.
One of the officials and longest wingspan in NBA history belongs to Tacko Fall, who is still the tallest NBA player. He has a staggering 8′ 2.25″ wingspan.
Overview of the Top 11 Players With the Longest Wingspan in NBA
Who is the tallest NBA player with a massive wingspan? Well, you guessed right. Tacko Fall's staggering measurements broke all the records ever in the NBA draft since the 80s.
Here is an in-depth analysis of the top ten players with the longest wingspan in NBA.
#1 Tacko Fall
Tacko Fall is popular for many reasons. Apart from being a regular scorer for the Cleveland Cavaliers, he is currently the tallest NBA freak of all time.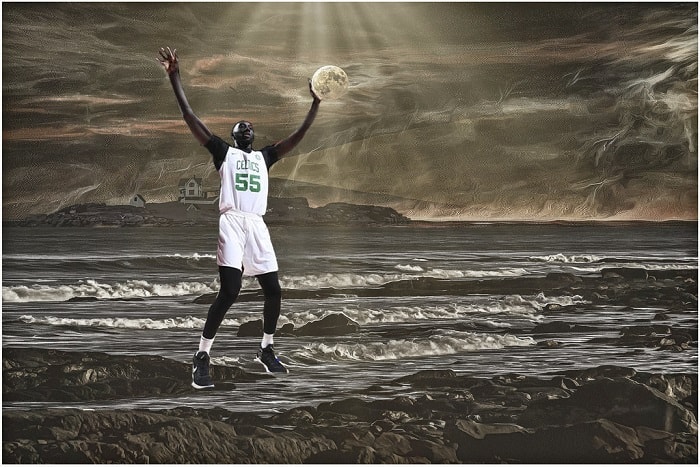 Better still, Tacko broke the records of the NBA player with the longest wingspan.
The Senegalese born is ridiculously tall. His wingspan stands at 8′ 2.25″ with a height of 7 ft 5.25 inches.
Tacko became famous in the basketball world during the Summer League. It's no doubt that his lengthy wingspan and height give him an additional advantage.
Fall is currently the active player with the longest wingspan. The late Manute Bol of Sudan's descent had the longest unofficial wingspan, which Fall could be the second.
#2 Kevin Durant
Kevin Durant, popularly known as KD, is an American Basketball professional player currently with the NBA's Brooklyn Nets.
The talented player has a long wingspan of 7ft 5 inches. His wingspan gives him an advantage over the opponents.
Currently, he's a lethal defender and an elite scorer in the top league.
In 2014 Durant won the most valuable player award, and later, he bagged several medals, including NBA champion, Olympic gold medalist, and the NBA Finals MVP.
Other than the top awards we've mentioned, Durant has more accolades on his name. With Durant's current form, I believe he's set to achieve more.
#3 Kawhi Leonard
Kawhi Anthony Leonard plays for NBA's Los Angeles Clippers. He stands at 6'7″ inches tall with a staggering 7'3″ wingspan.
Kawhi Leonards's wingspan lets him do amazing things on the court. For instance, he cuts down passing and tricky dribbling lanes.
He is known to express a suffocating defense where he has earned plenty of praise from coaches at all levels.
As positionless basketball continues to evolve, Kawhi Leonard's long arms might just be what every coach and team needs. Even more, the way Kawhi creates havoc on the opponents is thrilling.
I can't wait to see his next move and impact.
#4 Rudy Gobert
Rudy Gobert plays for NBA's Utah Jazz. He represents the French national team during the international competitions.
Gobert's wingspan is at 7 ft 8.5, which is advantageous to his defensive play. The long arms block opponents and rarely do players get past his solid defense.
During the 2016-17 season, Gobert was the NBA blocks leader.
He stands at 7 feet 1 inch. When combined with his wingspan, he has a superb shot-blocking ability. Fans and opponents refer to him as the "The Stifle Tower."
His wingspan is the sixth in NBA history, much bigger than the wingspan of other popular stars such as Vince Carter, for example.
#5 Rajon Rondo
Rajon Pierre Rondo plays for the Los Angeles Lakers. Rondo is very skillful and ranks among the best NBA point guards.
One thing that stands out is his height vs. the wingspan. At 6'1" inches, he has a wingspan of 6'9", which is massive.
Even though Rondo's height is below the average of an NBA shooting guard, his wingspan makes him a great shooting guard.
Moreover, his +8″ ape index is among the top in the NBA.
Despite Rondo's short height, he has a wingspan six inches longer than another famed NBA player – Stephen Curry.
#6 Lebron James
It's unusual for a full NBA discussion to end without mentioning Lebron James. He has earned himself a legendary status that compares to current legends even though he's still an active player.
LeBron Raymone James Sr. plays for NBA's Los Angeles Lakers. He likes to wear a t-shirt under his jersey, and his wingspan is 7 feet and one-fourth inch.
"King James" as nicknamed compares to legends like Mike Jordan. He knows the advantage of his wingspan and capitalizes on it during defensive and offensive situations.
James has countless blocks under his name, with some of the best blocks in NBA history. He's also known for his love for cigars. We talk about LeBron in our article on why do basketball players lose their hair.
#7 Mohamed Bamba
Mohamed Fakaba Bamba plays for Orlando Magic in the NBA. During the 2018 NBA Draft, he emerged as the 6th overall pick.
His ability to play stifling defense and protect the rim makes him famous. With a 7′ 10″ wingspan, Bamba undertakes wide court coverage and has a physical advantage over the opponents.
He has helped his team win major trophies. A similar player is Lamar Odom. Check out "Does Lamar Odom Still Play Basketball".
#8 Boban Marjanovic
Boban is a Serbian giant with 7ft and 3 inches in height. He has an incredible wingspan of 7ft and 8 inches. Boban plays for NBA's Dallas Mavericks and previously played overseas.
Although Boban doesn't frequently appear in NBA, his memorable plays are timeless. He has on-court and off-court antics that make him famous.
Boban is tall and has great body strength and mass, and because of his physique, he plays the center position. He uses his wingspan to block the center such that opponents find it difficult to penetrate.
#9 Joel Embiid
Joel Embiid is a Cameroonian professional basketball player currently playing for NBA's Philadelphia 76ers. In 2014, Joel got drafted and was the third overall pick.
He plays center and power forward and is a great force in the current success of his club. His height is 7′ 2″ while his wingspan is 7′ 6″ which is an advantage for his phenomenal performances.
Joel's name appears thrice in the NBA All-Defensive Second Team with the current foam for 2018, 2019, and 2021.
#10 Hassan Whiteside
Hassan Niam Whiteside plays for NBA's Utah Jazz. He plays as a power forward and center. Thanks to his 7' 7" wingspan, Hassan took the NBA blocks leader in 2016 and 2020.
Hassan has a record for playing in the top leagues because of his physique and massive wingspan. His presence boosts any team's morale to winning ways.
In 2017, Hassan was an NBA rebounding leader. Besides, he got selected third in the 2010 NBA draft.
Hassan plays alongside Gobert, meaning the team has a massive powerhouse for defense.
#11 Talen Horton-Tucker
Talen Jalee Horton–Tucker plays for the NBA's Los Angeles Lakers, that are currently in the Pacific Division. He formerly played for Simeon Career Academy, leading them to three consecutive City Championships.
Talen is barely 6'4", which is below a shooting guard's height, but his staggering 7'1.25″ wingspan makes the real difference.
With a +9″ positive ape index, Talen gets the advantage of shooting.
Talen is still young so, we expect to see more from him in his profession.
Legendary Mentions
Our top eleven list has the active NBA players, but some legendary features cannot go unmentioned.
Michael Jordan
Michael Jordan doesn't need an introduction because of his legendary status. He is the GOAT in basketball history, which earned him much respect.
His wingspan of 6'11" played a key role during his tenure in the NBAs history, where he won six championships with the Chicago Bulls.
A curious fact is that once he grabbed fellow player Dennis Rodman by the nose piercing to bring him back on the court.
Manute Bol
Another legend is Manute Bol, who has the unofficial largest wingspan in history. His wingspan was 8 feet 6 inches (2.59 m), which gave him an advantage over the offensive presence.
Sadly, Manute passed on in 2010 due to kidney failure.
Another mention would be the Greek Freak Giannis Antetokounmpo, who's one of the greatest European stars in the NBA. His wingspan is 2.21 m. or 87.1 inches. Or the Asian phenomenon Yao Ming (2.26 m or 89 inches).