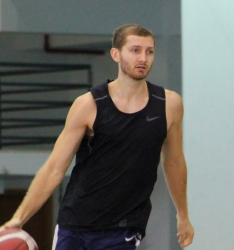 Latest posts by Adam Gotelli
(see all)
Allen Iverson was far from the tallest player on his high school basketball team.
But, despite his lack of size, he was an incredible player, starring for Bethel High School in Hampton, Virginia.
Iverson was mainly known for his scoring prowess, and he once put up an astounding 90 points in three halves at an AAU tournament.
So how tall was Iverson at 16?
Allen Iverson was just 5'11" feet tall at 16 years old. He would eventually grow to be 6'0″, but he was always one of the smaller players on the court.
This didn't stop him from becoming an NBA legend, as he is considered pound for pound to be the greatest scorer of all time.
How Tall Was Allen Iverson in His Prime?
The official NBA lineup card lists him at 6-foot, but that's incorrect. I've seen him listed anywhere from 5-foot-11 to 6-foot-1. So the truth is probably somewhere in the middle. I'd estimate he was about 6-foot even, maybe a little less. Much less than the height of Lamar Odom, for example.
During his prime, Iverson was virtually unstoppable, finishing first in the league in scoring four times and winning the MVP and Rookie of the Year awards.
He also led the Philadelphia 76ers (currently in the Atlantic Division) to the NBA Finals in 2001, where they ultimately lost to the Los Angeles Lakers.
Though he never won an NBA championship, Allen Iverson's impact on the game of basketball is undeniable. He changed how undersized players are viewed and paved the way for a new generation of small guards.
Still, Allen was taller than Steph Curry when he was 16.
Related read: "How Tall Was James Harden When He Was 15"?
Is Allen Iverson Short?
Yes, Allen Iverson is short. But, before we get to the main event, let's take a quick detour into the fascinating world of basketball physiology.
For those of you who don't know, the average NBA player is about 6'7″ tall, with a wingspan that's about seven feet. And yet, some players seem to defy those physical limitations.
Among them is Allen Iverson – he was listed at just 6'0″ during his playing days. But even that might be selling him short. In reality, Iverson was probably closer to five-eleven (and maybe even shorter).
So how did he manage to become one of the most dominant players in NBA history?
It all has to do with his incredible quickness and explosiveness. In addition, Iverson possessed uncanny speed and agility, which allowed him to blow by taller defenders with ease.
Combine that with his tremendous strength and willingness to absorb contact, and you have a recipe for success.
Iverson was also an excellent shooter, both from long-range and mid-range. And he was a gifted passer, often finding open teammates when double-teamed.
In short, he was a once-in-a-generation talent whose on-court abilities transcended his physical limitations.
Here is a collection of Iverson's most mind-boggling plays:
Is Allen Iverson 6ft?
Yes, Allen Iverson is 6 feet tall. Numerous sources, including the NBA, listed him at 6 feet when the '76rs drafted him in 1996.
"I'm 6-0 on a nice day," Allen Iverson said during his final training camp with the Sixers in 2006. He was wearing a royal blue do-rag and had just finished working out.
Given the evidence, it seems safe to say that Allen Iverson is, in fact, 6 feet tall.
Iverson is one of the shortest players in NBA history. He's only six inches taller than Muggsy Bogues, who is officially listed at 5'3″.
So when people say that Iverson is too small to play in the NBA, they're not wrong. He's definitely on the small side for a professional basketball player.
As a related read, check out about the controversial trading of Vince Carter from the Toronto Raptors.
What Is Allen Iverson's Position?
Simply put, Allen Iverson is a point guard. He has the skill set to be a combo guard, but if you look at his career numbers, it's clear that he's most effective when he's running the point.
He has the ball in his hands and makes the decisions offensively for his team. AI controls the tempo, makes the calls, and essentially runs the show on that end of the floor.
Some guys who handle the ball as much as AI do it with methodical precision, carefully picking their spots and looking to set up their teammates.
Others freelance, using their athleticism or creativity to break down defenses and get into the lane whenever they want.
AI falls into that second category. No one in the league can stay in front of him off the dribble; he's just too quick, explosive, and crafty with the ball.
And when he gets into the lane, he either finishes himself or draws so much attention that he creates easy scoring opportunities for others.
That's what makes him such a dangerous player and why so many teams have had trouble containing him.
What's Allen Iverson's Wingspan?
Iverson had a wingspan at least two inches longer than his height. On paper, his wingspan was 6'3″.
The wingspan is the distance from the tips of one's outstretched arms, and it's a key factor in a player's ability to contest shots, grab rebounds, and block shots.
A player with a longer wingspan can cover more ground on defense and is more adept at finishing at the rim.
On the flip side, a shorter wingspan can be advantageous for quickness and ball-handling. In general, though, longer is better.
Iverson's 6′ 3″ wingspan gave him a slight advantage on the defensive end, and it helped him become one of the best perimeter defenders in the league.
On offense, Iverson used his quickness and (relatively) long arms to get to the basket at will. He was also an excellent shooter, and he had a knack for hitting tough shots in traffic.