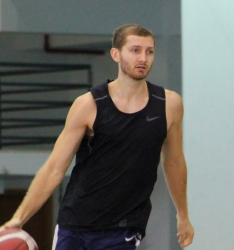 Latest posts by Adam Gotelli
(see all)
Steph Curry was always the smallest kid on his basketball team. He was scrawny and short in high school, barely clearing 5'10" midway through his high school career.
His coach told him that he'd never make it in the NBA because of his size. However, Steph's father, Dell, a former NBA player, encouraged his son to keep working hard and improve his game.
Against all odds, Steph kept improving. He became one of the best shooters in the country, leading Davidson College to the Elite 8 in 2008.
The Golden State Warriors drafted Steph in 2009, and he's been shattering records ever since.
So how tall was Steph Curry at 16? Read on to find out!
How Tall Was Steph Curry at 16 (In High School)?
Steph Curry was 5'6″ at 16 years-old. But don't underestimate him – he's come a long way since then. Today, Steph is one of the most successful players in the NBA, despite being told that he was too small to make it in the league. He even got a highly popular Masterclass on basketball. You can learn more about it in my article on the top basketball training programs in 2023.
Go ahead and take a look at Steph's epic highlights:
Steph Curry Growth Spurt
Steph started to grow substantially during his Junior and Senior seasons in high school. He went from 5'6 to 6'0 by the time he graduated. That extra inch and a half made a big difference for Steph, who could now see over defenders and get his shot off more easily.
In college, Steph kept growing. He was listed at 6'3″ during his time at Davidson College.
Steph Curry As a College Prospect
Steph did not receive scholarship offers from any major Division I schools. He was considered too small to play at the highest level of college basketball.
His father, Dell Curry's alma mater Virginia Tech was the only school to express some interest – they offered him a walk-on spot. Dell had a successful NBA career, and the Virginia Tech coaching staff hoped that Steph would follow in his footsteps.
Steph decided to go to Davidson College, a small private school in North Carolina. It was there that he would have the chance to play significant minutes and develop his game.
Coaches were concerned that Steph would get lost in the shuffle at Davidson. But he quickly proved them wrong, leading the team to the Elite 8 in 2008.
Steph Curry NCAA Dominance
Even though Steph has a 2-star body and was a 3-star recruit, he became a 5-star player at Davidson College. Steph averaged 25.5 points per game in his sophomore year and 5.9 assists per game.
He was named Southern Conference Player of the Year and led Davidson to the NCAA tournament.
In the NCAA tournament, Steph put up some incredible numbers. He scored 40 points against Gonzaga in the first round, 30 points against Georgetown in the second round, and 33 points against Wisconsin in the third round.
In the Elite 8, Davidson ran into a buzzsaw known as the Kansas Jayhawks. The Jayhawks were too big, strong and deep for Davidson. So even though Curry scored 25 points, Davidson lost the game by 2 points.
Even though Davidson lost, Steph had a great tournament. He proved that he could hang with the best players in the country and put up big numbers against top-level competition.
Steph averaged 28.6 points, 5.6 assists, and 2.5 steals per game during his junior year and was named Southern Conference Player of the Year for the second consecutive season.
Steph Curry had a significant impact on Davidson's success in just three seasons. The Wildcats posted an 85-20 record during his time there, for a .809 winning percentage.
They won 29 games during his freshman and sophomore seasons and never lost more than eight games in a season with him.
Curry was a key ingredient in Davidson's success. His offensive prowess and leadership helped the team to new heights, and they will always be grateful to him for his contributions. Thanks, Steph!
Steph Curry in the NBA
Recruits still had concerns about Steph's size when he entered the NBA draft. He was measured at 6'2″ with shoes on and 6'1″ without shoes.
The Warriors took a chance on Steph with the 7th pick in the 2009 NBA draft, and it has paid off in a big way.
Steph has turned into one of the best shooters in NBA history. He's a 2-time NBA MVP and has led the Warriors to 3 NBA Finals appearances.
In the 2016-2017 season, Steph became the first player in NBA history to make 400 three-pointers in a single season. He also set the record for most three-pointers made in an NBA Finals series.
Steph has accomplished all of this despite being undersized for an NBA player. He's proof that size doesn't matter and that heart and determination can take you far.
Related resources: "How High Can Steph Curry Jump".
"What are the 6 NBA Divisions?"
How Tall Is Steph Curry Now?
6'3″. He may not be the most powerful player on the court, but he's one of the best, and with an impressive vertical leap.
Steph Curry Had To Work Hard To Improve His Skills
Steph Curry has an uncompromising work ethic paired with natural talent and God-given ability.
When he was younger, Steph wasn't the biggest or the strongest player on the court. So he had to work hard to improve his skills and develop his craft.
His father, Dell Curry, was a professional basketball player, and Steph often went to watch him play. He would also go to NBA summer camps to compete against older and bigger players.
His improvement even accelerated once he entered the NBA. In his training regiment, they implemented shot-tracking technology that would help Steph become an even better shooter.
By the way, don't miss checking out "How Tall Was James Harden At 15".
FAQ
Let's see some popular questions similar to "How Tall Was Steph Curry At 16".
How Tall Was Rookie Steph Curry?
He was 6'3″.
How Much Did Steph Curry Weigh at 16?
He weighed 165 pounds.
How Tall Was Curry at 17?
He was 5'9″.
What Position Did Steph Curry Play in High School?
Steph played the point guard.
How Tall Was Steph Curry at 15?
He was 5'6″.
How Tall Was Steph Curry at 14?
He was 5'6″.
At What Age Did Steph Curry Start Playing Basketball?
He started playing when he was nine years old.
How Tall Was Curry at 18?
He was 6'0″ or 6'1.