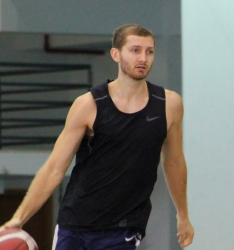 Latest posts by Adam Gotelli
(see all)
Basketball is one of the fastest-paced sports in the world today. To compete at the highest level, speed, agility, and flexibility are crucial to your game. To achieve this, you need the lightest basketball shoes possible.
Donovan Mitchell, PG for the Cavaliers, can run a ¾ quarter-length sprint off the court in just 3 seconds, Ben Simmonds can reach speeds of up to 20 miles per hour, while Jah averages a little over 6 points a game in the 2021 season just in transition.
Quick answer: Our expert testing and research showed that the best lightest basketball shoes of 2023 are "Nike Precision 5."
How do they do it? Beyond NBA training regiments, years of dedication, and unbelievable talent, a key factor of an NBA player's impressive top speed boils down to the shoes.
Lightweight basketball shoes, like the Nike Precision 5s, are designed to enhance a player's performance in the speed and flexibility categories. They are also relied on by many hoopers from the pro level all the way down to the casual pick-up games at the Y.
We're here to bring you the most lightweight basketball shoes that will have you making supported movements in a fast and secure way. Let's take a closer look, beginning with our research process.
Best Lightest Basketball Shoes – A Comparison Table
Image
Product
Features
Price

Editor's Choice

Size: 7-15
Ankle: Low-Top
Weight: 9.9 oz.

Check Latest Price

Premium Choice

Size: 7.5-14
Ankle: Low-Top
Weight: 12.6 oz.

Check Latest Price

Best Budget Choice

Size: 6.5-15
Ankle: Low-Top
Weight: 11.7 oz.

Check Latest Price

Size: 7-16
Ankle: Low-Top
Weight: 11.8 oz.

Check Latest Price

Size: 7-16
Ankle: Mid-Top
Weight: 13.4 oz.

Check Latest Price
How We Reviewed
To carefully bring you the most thorough and accurate review, our research saw many shoes come and go, with the remaining 5 in our top picks list being the highest-performing shoes.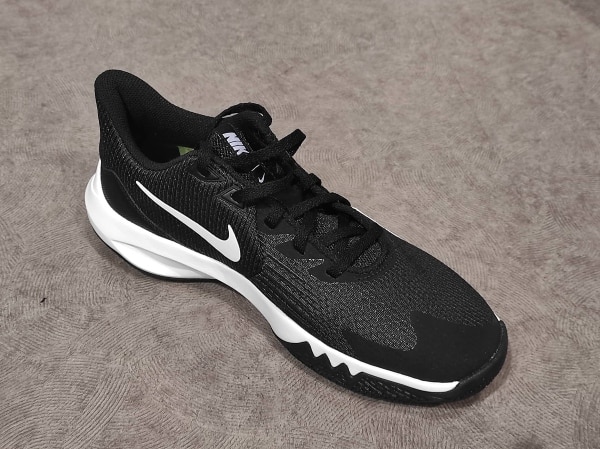 We found these shoes to be the cream of the crop when weighing traction, durability, support, and cushioning. For a shoe to be lightweight but also dependable and strong, we tested each pair at every angle of play on the court: from the boards to mid-range and back beyond the arc.
Below is the approach our team of experts and I took to bring you the 5 lightest basketball shoes of 2023:
Invested over 18 hours of research into the best products, which includes reading buyer feedback and reviews.
Over 56 products are considered based on stability, traction, ankle and heel support, durability, cushioning, price, and look, among other factors.
I personally tested our top 5 picks, judging performance and court feel.
Consulted my LBA teammates for product testing in Messina, Italy, as well as a certified podiatrist.
Most Lightweight Basketball Shoes: 2023 Reviews
#1 Nike Precision 5 — Most Lightweight Basketball Shoes 2023
Pros
Low collar for improved ankle mobility
Sculpted foam midsole
Herringbone traction pattern with dependable grip
No sewn overlays for added durability
I have owned these shoes for more than a year now and have played multiple games in them. I just love how they look and feel.
But don't let their sleek, lightweight frame fool you; these shoes are designed with strength and reliable, robust performance in mind.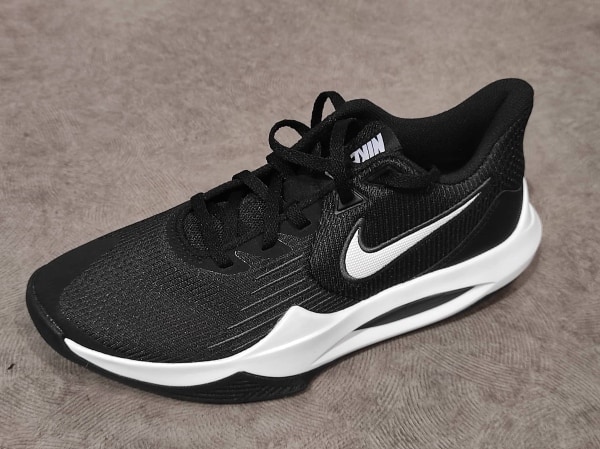 The low-top, low-collar design allows for a mobile experience on the court when it comes to ankle flexibility. The stripped-down collar engineering is great for your sprint speed and jump heights, and is ideal for guards trying to cut to the basket.
You'll be able to drive with security, as the herringbone traction pattern gripping the outsole of the 5's is ideal for multi-directional movement, even on outdoor courts.
Herringbone is made to flex and not allow court material transfers to stick, reducing your risk of slipping and sliding; nobody likes getting crossed over, and with the Precision 5's, you won't have to be.
The sculpted foam midsole paired with the toe box leaves little to no dead space when it comes to fit. Add in the lack of sewn overlays, and you get a snug, dependable fit that feels tailored to you.
The downside to the 5's is while they are lightweight and fit true-to-size for the hooper, there is little impact protection. These shoes are best for players who already have some experience in safely exploding and returning/recovering.
For novice players or more casual hoopers, you will certainly be icing your feet as you break them in.
Pros
Lace closure with wings for lockdown, tailored fit
Abrasion-resistant toe cap
Responsive and supported Zoom Air Strobel unit
Broken-in feel
Sleek, fashionable design
Cons
Minor slippage in heel structure
At the 2, we have the Nike KD 15's, the latest from Durant's signature shoe collection, released in April 2022. These are premium shoes for the prosumer baller looking to take their game to the next level.
The impressive Zoom Air Strobel tech supports all the court movements you can bank on: cutting, running, and jumping. What's more, the unit is made to have supported energy return and impact cushioning; jump higher than before and hit that bank shot, all in a safe and responsible way.
Meanwhile, the lace closure with wings offers a lockdown fit that will have you trusting your step-back shots again. Stretch-four, just like KD in the patented 15s, the 6'10" Power Forward swears by.
The 15s are shipped to the hooper with an already broken-in feel to them. This kind of engineering ensures your shoes are already stretched to your feet for that game-ready, comfortable fit. No more blisters and band-aids that go along with breaking in a new set of ball shoes.
Meanwhile, these shoes look just as good on the court as they do off, with stylish designs in black, university red, and light crimson.
All of this stellar performance from such a lightweight shoe—at only 12.6 oz. or 0.78 lbs.—is crazy, considering Nike shaved off 3.5 ounces when weighing the KD 15 and 14.
That said, when tested, the heel structure does have some minor slippage; there are some things you can do to fix slippage yourself.
Watch the video below for more info.
#3 Adidas Own The Game 2.0 — Best Cheap Lightweight Basketball Shoes
Pros
Cushioned tongue and collar for a comfortable fit
Breathable, dual-material mesh
Lightmotion midsole
Molded TPU lockdown heel
Cons
Runs a little on the wider side
Lacking arch support
With breathable, dual-material mesh, sweat and water-resistant vapor that would otherwise be trapped in the shoe, these shoes are just amazing for their price.
This offers you, the hooper, a more secure fit without interior slippage, as well as a more comfortable, cooler shoe as you work up a sweat. I use these shoes when I play both professionally and casually, and I can vouch for their comfort and fit.
And speaking of comfort, the cushioned tongue and collar give you a padded, plush fit that still feels secure enough and flexes enough to ball.
This type of material reduces pressure caused by traditional stitching patterns for a firm fit with a little more give than you'd expect.
Beyond fit, the molded TPU lockdown heel gives you additional stability around the base of the heel, making lateral routes and stop-starts that much easier. Add in the "Lightmotion" insole, and you'll be able to switch lanes faster than ever.
The "Own The Game 2.0" do run a little on the wider side, which is great for players with wider feet.
But, for players with narrower feet, be cautious of how loose the fit is: too much dead area in the shoe space may lead to some painful side effects (i.e., too much pressure in the toes/balls of your feet and/or disrupting your natural stride, etc.).
As with many low-top designs, the problem with the Own the Game 2.0 is a lack of arch support, missing the mechanical support and buttressing action that comes with high tops.
Size: 7-16
Ankle: Low-Top
Weight: 11.8 oz.
The Kyrie signature shoe of 2022, the Flytrap 5, brings you an improved, lightweight performance designed especially for an Irving-level play-style. Known for his complete control of the ball, handles, and supreme court vision with play-making, Kyrie needs a shoe that can hold up under pressure. The Flytrap 5s do just that.
Pros
Firm heel support to prevent slippage
Webbing straps for a secure fit
Fore-foot energy return
Lockdown rubber outsole
Cons
Poor durability
Not meant for outdoor courts
Weighing all of 11.8 oz., the firm heel with lockdown TPU handles ensures you'll stay on your feet, ball-in-hand when running routes and getting creative matching up against defenders.
The webbing straps firmly lock your foot in place, allowing you to move with full confidence. The fore-foot energy return design is meant to propel you forward through the midsole: perfect for rebounds and second-chance points.
These shoes work best on indoor courts with parquet flooring; the traction pattern along the bottom of the shoe grips flat, smooth surfaces in a suction-like fashion.
The Flytrap 5 focus most of their pioneering on mobility and, therefore, lack a lot of the durability you'll need to rely on these shoes for multiple seasons, whether at the Rec League or beyond.
The lockdown rubber outsole also isn't the sturdiest, as many online reviewers noted significant tears and cracking in the material, especially when playing outside. This might explain the attractive price tag of less than $100. For more budget-friendly kicks, check out this article.
Pros
Herringbone outsole for maximum traction
Strategic ventilation along midsole, toe, and heel cap
Added ventilation in mesh tongue design
Relieving joint and ankle support
Cons
Narrow fit
Cheaper source materials in construction
The Under Armour Jet 21 bring a light, carefully designed shoe to the table that's sure to satisfy many hoopers looking to improve.
For mid-tops, the added material surrounding the ankle area offers increased ankle support while relieving most of the joint pain associated with intense play and rigorous motion. Play harder and for longer without worrying about your body giving out.
And with sustained play and logging more minutes, you're still able to have the comfort of a shoe designed to have strong ventilation. This is a breathable fit with a mesh tongue design and strategic ventilation along the midsole, toe, and heel cap.
The herringbone outsole is made for optimal traction, ensuring you get the best grip, and can depend on the integrity of all your movements on the court.
The Under Armour 21's have a narrower feel to them; we'd recommend that players with wider feet consider the Adidas Own the Game 2.0's.
While the shoe is also made for high performance, the cheaper source materials and construction impact its durability and the overall style appeal of the model. However, I find these shoes to be excellent for lifting.
---
Choosing The Best Lightweight Shoes
So, how do you find the best lightest basketball shoes out there?
Here are the most important featured to look after, based on years of extensive experience.
Weight
What it's all about, right? The weight of your basketball shoe goes hand-in-hand with your performance and directly impacts your success on the court.
A study at Sirnack University in Turkey by Bereket Köse found two groups of 10 male basketball players performing vertical jumps and sprint tests with lightweight vs. traditional, medium-heavy shoes.
The data was later analyzed with Friedman repeated measurements to determine the variances.
The study found that the focus group with the lighter shoes was able to jump 2.1% higher, with sprints also improving by 1.6%. In a game of inches where every basket counts, these stats illustrate just how important the weight of your shoes can be.
Lightweight shoes are best for players who don't need an excess of cushioning. For Guards, Small Forwards, and Power Forwards, speed and flexibility are crucial to your game.
The lightest shoe on our list and best overall, the Nike Precision 5s come in at only 9.9 oz. and have strong ankle mobility, a sculpted foam midsole, and a heavy-duty herringbone traction pattern.
These features, paired with their light body, make the 5s ideal for the players mentioned above.
If you're a Center who relies on repeated, intense up-and-down mobility, you should be looking for shoes with more weight via increased cushioning and arch/ankle support.
For weight, a number of factors will determine just how light your shoe can be, mainly material, cushion, and support.
Material
For lightweight shoes, most manufacturers rely on phylon or polyurethane materials, especially along the midsole. These materials are considered lightweight while maintaining a strong amount of elasticity and shock buffering. All of our top picks have layers of phylon woven into their engineering.
For shoes leaning more into a protective, mobility support design, nylon-12 is the most common compound you'll find. Nylon-12 has decent strength with an emphasis on rigidity and a secure, sculpted fit; the design favors injury prevention along the foot and joints.
Simultaneously, nylon-12 is chemical resistant, making it virtually unaffected by sudden temperature changes. This is a big plus if you're playing at the neighborhood park or otherwise outside.
To cut the fat and make sure basketball shoes aren't too bulky, many companies often compromise the durability and integrity of the shoe for one that will be lighter in weight. Let's break that down for you, as you may find your shoes wearing out in the following spots:
Midsole—Take the FlyTrap 5s, for instance, with a thin midsole made to offer a lighter feel with less compression. Because there's less material in the midsole, the shoe can perform slightly stiffer, which can not only crack and tear easier but also alter your foot's biometrics.
Outsole—With thinner, synthetic rubber outsoles, like the Under Armour Jet 21s, for instance, the friction as a result of contact with the floor is more likely to wear out your outsoles faster as opposed to shoes with more cushioning and, thus, more material.
For lightweight shoes, it's easy for manufacturers to undermine the quality of the shoe's materials for something that will perform better in the short term. For instance, Adidas lightweights, after daily hard activity and heavy play, tend to last roughly one year.
Always keep durability in mind when shopping around, and remember to look for materials like synthetics or textiles; these are big green flags for the buyer.
Cushion
Cushioning is just as it sounds: protective and comfortable padding to support the basketball player's daily movements.
What's most common in the lightest shoes now is what you can call a Zoom Air or Air Zoom unit. This "air-sole" is made by injecting highly pressurized gas into a synthetic rubber sole and creates a protective, cushioned layer around the foot to reduce impact while performing.
Championed and originally engineered by Nike, you can now find variations of the Zoom Air Unit in the Air Max line, among others (i.e., the Nike KD 15 and Kyrie Flytrap 5 shoes).
This technology is great for the hooper because it gives you a softer underfoot experience while also offering a high energy return ratio that gives you a snappy feel as soon as you lead off from the toes.
Other shoes, like the Adidas Own The Game 2.0's feature a cushioned tongue and heel collar, which reduce the pressure on your foot while still giving you a secure fit. The extra cushioning in these areas gives you a comfortable fit just under the ankle bones.
Support
For support, most of the lightweight shoes we have on the list of our top picks are low-tops and will naturally lack the ankle support and added material you've seen from mid to high-tops.
If you find a shoe like the Under Armour Jet 21's, a mid-top, it's worth taking a second look; prioritize support in the ankle area when you can.
Or the Flytrap 5's, with a TPU lockdown heel, supporting all those stop-and-start motions with maximum security and efficiency.
Considering that ankle and/or Achilles-related injuries are the leading cause of injury in basketball, it's worth considering training and running drills like the ones linked here to ensure you're strengthening and executing your play on the court safely.
While lightweight shoes function for the basketball player looking for improved speed and agility, they more often than not serve as a less supportive shoe.
Lacking mechanical support and buttressing action, the muscles within the foot and ankle areas are more active when playing in a low-top or lightweight shoe. They support the foot complex's function rather than the engineering of the shoe itself.
Lighter shoes may be exactly the push you need to take your game to the next level. With that said, keep in mind that you will have less structural support on the court.
These shoes prioritize performance over reinforcing the foot, with notable features like added ventilation, explosive energy return, and dense traction patterns. Support is also an essential feature of shoes for big guys.
Traction
For traction, it's crucial to your performance to be able to accelerate, decelerate, and change directions on a dime. Traction is also synonymous with injury prevention and load management when the stakes are high, and the speed is up.
Herringbone is the most dependable traction pattern currently found in basketball shoes. Perfect for multi-directional footwork, herringbone is stacked diagonal grooves across the outsole or a horizontal plane.
This material makes for smooth transitions between play and a firm grip you can count on.
With lightweight shoes, the improved breathability within the shoe's design also makes a fundamental difference in traction based on one thing: moisture.
Over the course of playing minutes, you can expect to see a lot of sweat and moisture build up within your shoe.
This can lead to interior slippage and compromise the integrity of your biomechanical movements as you drive, shoot, rebound, or otherwise do everything you can to come out on top.
The ventilation, with the breathable mesh you'll find in shoes like the Adidas Own The Game 2.0 and the Under Armour 21, ensures you won't be slipping and sliding up and down the court as you work up a sweat.
FAQ
What Is The Lightest Basketball Shoe Of 2023? 
The lightest basketball shoe of 2023 is the "Nike Precision 5", weighing in at an impressive 9.9 oz. Despite having such a small footprint, the 5's boast some impressive stats, including a mobile, low collar, sculpted foam midsole, herringbone traction pattern, and improved durability for a shoe that lasts game after game. 

Should Basketball Shoes Be Light Or Heavy?
Basketball shoes should be light and comfortable, offering the hooper cushioned support and allowing the foot and ankle areas to function with mobility and flexibility. Basketball calls for various physical movements like jumping, running, landing, and/or side-to-side routing; a lighter shoe with cushioned support allows you to execute these movements with speed and flexibility for sustained, reliable performance. 

What Is The Lightest Lebron Shoe? 
The lightest Lebron shoes are the Lebron 20, released in September 2022. Weighing in at a little over 14 oz., these shoes feature breathable mesh with a comfortable, cushioned step, digitally-generated traction patterns along the outsole and shoe bottom, as well as a responsive Zoom Air unit along the forefoot and heel. 

What Are The Lightest Jordans? 
The lightest Jordans are the Air Jordan 34s. Weighing 13.1 oz., the 34's sport an Eclipse Plate, with two Pebax units and a Zoom Air insole, designed to make transitioning between midfoot to forefoot effortless for a controlled and faster jump. The Jordan line's groundbreaking tradition is only amplified with the 34's, their lightest shoe to date.