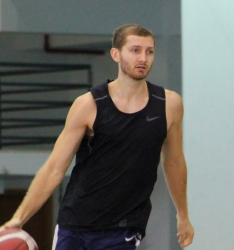 Latest posts by Adam Gotelli
(see all)
Racial diversity in the NBA continues to expand as the league enters its 76th year. What started off as a "white's only" club has grown to include a now majority of BIPOC players, standing today at
But this begs the question: where are the Asian NBA players? Asian ballers make up only 0.4 percent of the league today, an enormous disparity when compared to the world's growing Asian population: now at 59.76%.
Despite current player numbers being low, Asian NBA players have made—and continue to make—some of the biggest contributions on the floor and to the sport overall.
We're here to break down the best Asian NBA players from diverse backgrounds. Let's begin with currently active NBA players.
Best Active Asian NBA Stars 2023
Image
Player
Facts
Highlights

Rui Hachimura

Current team: Washington Wizards
Descent: Japanese
Position: SF, PF

Watch highlights

Jordan Clarkson

Current team: Utah Jazz
Descent: Filipino
Position: PG, SG

Watch highlights

Jalen Green

Current team: Houston Rockets
Descent: Filipino
Position: SG

Watch highlights

Yuta Watanabe

Current team: Brooklyn Nets
Descent: Japanese
Position: SF

Watch highlights
#1 Rui Hachimura
Current Team: Washington Wizards
Position: SF, PF
Career Stats: 161 GP., 12.9 PPG., 1.4 APG., 5.2 RPG.
Birth Country: Japan
Accolades: NBA All-Rookie Second Team (2020)
Japan's very own Rui Hachimura made history in 2019 as the first Japanese player to be drafted in the 1st round, with the Washington Wizards selecting him ninth overall.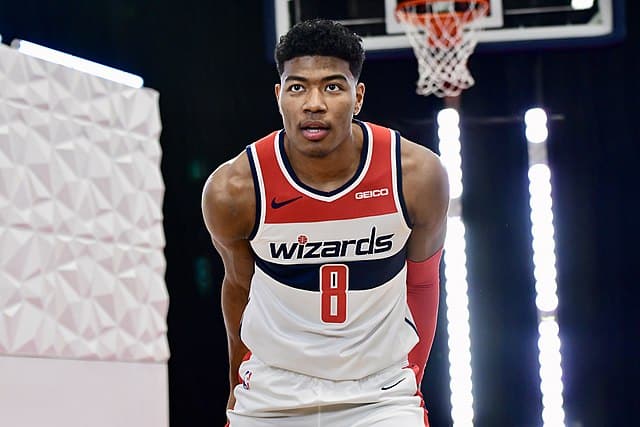 For the Wizards, who lack a real defensive core, Hachimura delivers, especially on a switch-heavy scheme common in the NBA today.
Where Rui leaves some analysts concerned is in his court appearance and, thereby, consistency. The Power Forward, as of the start of the 2022 season, has only appeared in 161 games in the past three seasons of his professional career.
With a smaller body of work to draw from, it's harder to project just how far Rui will go in the NBA, though he made a dramatic improvement in his 3-point shooting since his rookie year, with his conversion rate at 47% in 2021, an increase of over 12%.
Nevertheless, it looks like Rui is here to stay, with former trainers and staff of the Washington Wizards having the utmost faith in him. Some even claim he could be the next Giannis.
#2 Jordan Clarkson
Current Team: Utah Jazz
Position: PG, SG
Career Stats: 615 GP., 15.4 PPG., 2.6 APG., 3.3 RPG.
Birth Country: United States
Accolades: Six-Man Of The Year (2021)
Since the 2nd round of the 2014 draft, where he was acquired by the L.A Lakers, Jordan Clarkson has made a splash at the pro level.
While a 2nd round 46th pick may be a tough hill to climb for some, Clarkson defied the odds by earning a spot on the NBA All-Rookie First Team. As a late draftee, this is incredibly rare.
The 6'4" Point Guard is widely considered one of the best Asian-American players currently on the hardwood, with an average of 15.4 points per game, 2.6 assists, and a dangerous free throw percentage of over 80%. He also boasts an impressive vertical leap. If Clarkson can draw the foul, safe to say he'll be converting on the chance.
This kind of output and play-making court vision off the bench earned Clarkson the 2021 Sixth Man of the Year Award.
#3 Jalen Green
Current Team: Houston Rockets
Position: SG
Career Stats: 80 GP., 18.0 PPG., 2.7 APG., 3.5 RPG.
Birth Country: United States (Philipino descent)
Accolades: MVP of FIBA Under-17 World Cup (2018)
Going 2nd overall in the 2021 draft class, Jalen Green, the 6'4" Filipino guard at the 2 spot, had a breakout rookie year with the Houston Rockets.
Averaging 17 points a game with a competitive field goal percentage of almost 43%, Green started his rookie year in an expected slump, but really turned it around in February 2021. In those remaining 30 games, he had a season-high 5 consecutive 30+ point games.
The last player to achieve those numbers as a rookie was Allen Iverson in 1997.
Green has explosive ability with an aptness for attacking off the catch and/or catch-and-release shooting. Meanwhile, he has room to improve in his pick-and-roll reads and finishing consistency. So far this season, he's averaging almost 22 points per game, with 4 rebounds and 3 made three-pointers.
If you haven't heard of Green, think of him like a Victor Oladipo pre-quad injury.
#4 Yuta Watanabe
Current Team: Brooklyn Nets
Position: SF
Career Stats: 132 GP., 4.0 PPG., 0.6 APG., 2.5 RPG.
Birth Country: Japan
Accolades: East Asian Basketball Championship Bronze Medalist for Team Japan (2013)
Before college ball, Watanabe had already played for the Japanese National Basketball team at only 18 while also earning a bronze medal in the EAB Championship for Team Japan. In 2018, the 6'9" Small Forward entered the NBA, finding himself in Memphis on a two-way contract.
He spent two shortened seasons with the Grizzlies (Southwest division) after a dazzling Summer League appearance before his move to the Raptors, where he averaged 4.4 points per game and 3.2 rebounds after 14 minutes of play.
With Brooklyn this year, he's averaging a little over 6 points a game off the bench. While he's getting more playing time—now at 16 minutes—his small sample size and that nasty postering by Anthony Edwards in 2021 has him at the 4th spot.
Former Notable Asian Players In The NBA
Image
Player
Facts
Highlights

Yao Ming

Last team: Houston Rockets
Descent: Chinese
Position: C

Watch highlights

Jeremy Lin

Last team: Beijing Ducks
Descent: Taiwanese
Position: PG, SG

Watch highlights

Raymond Townsend

Last team: Indiana Pacers
Descent: Filipino
Position: PG

Watch highlights

Yi Jianlian

Last team: Guangdong Southern Tigers
Descent: Chinese
Position: C

Watch highlights

Omri Casspi

Last team: New Orleans Pelicans
Descent: Israelite
Position: SF, PF

Watch highlights

Ha Seung-Jin

Last team: Portland Trail Blazers
Descent: South Korean
Position: C

Watch highlights
Yao Ming—The G.O.A.T
Current Team: Retired
Position: C
Career Stats: 486 GP., 19.0 PPG., 1.6 APG., 9.2 RPB.
Birth Country: China
Accolades: 8× NBA All-Star (2003-2009, 2011), CBA Champion (2001-2002), FIBA Gold Medalist for Team China (2001, 2003, 2005)
Way up there with the greatest of the great big men, it's safe to say Yao Ming was built differently. The staggering, 7'6" Center hailing from Shanghai, China, made history in the NBA and for Chinese players with pro hoop dreams.
Posting insane numbers in his professional debut with the Shanghai Sharks, Ming finished one playoff game with a record 38.9 PPG and 20 RPG on 76% shooting. The man was unstoppable in the paint with impressive footwork as well as the agility, height, and strength to block out as well as execute buttery hook shots.
The NBA caught wind of Ming in 2001, and he would later be signed by Houston with the first pick in the draft. Ming posted a double-double nearly every game, with impressive averages of 19 points per game, 9.2 rebounds, and a 52% field goal percentage.
In 2011, Yao Ming retired after a foot injury caused him to miss the entire 2009-2010 season, which he himself stated could prematurely end his career. The 8-time All-Star was rightfully inducted into the Basketball Hall Of Fame in 2016 after a storied career in the NBA.
Jeremy Lin
Current Team: Guangzhou Loong Lions (CBA)
Position: PG, SG
Career Stats: 480 GP., 11.6 PPG., 4.3 APG., 2.8 RPG.
Birth Country: United States (Taiwanese descent)
Accolades: NBA Champion (Toronto Raptors, 2019); the first Asian-American to win a title
A young Taiwanese-American kid from California goes unrecruited out of High School, earns his way to Harvard's ball team, goes undrafted after college, and continues to work on his game. He's signed by the Warriors, waived by the Warriors, signed by the Rockets, and waived again.
This brings Jeremy Lin to the Knicks, where management attempts to waive him a third time, wanting to save the $788,000 salary cap space to sign a different player. They give him one shot: a game against the Nets on Feb. 4, 2012.
With a 2-11-0 record so far, Knicks head coach Mike D'Antoni was undoubtedly looking for some kind of spark to set the ball rolling: Jeremy Lin did just that.
After logging only 55 playing minutes from the start of the season, Lin went on to score 25 points, 7 rebounds, and 7 steals while logging a 52% conversion rate from the field in 36 minutes. Thus began Linsanity, and Jeremy Lin rode that wave until a knee injury in his 2013-2014 season with the Lakers. Afterward, he returned to Houston and penned a 28 million dollar deal; a real Cinderella man.
Famous for waving off Kobe and insisting on shooting the game-winner himself, Lin's versatile, fearless style of play saw him consistently attacking the rim and taking risks despite turnovers. His tenacity took him all the way to the Finals, making him the first Asian-American to win an NBA championship.
Raymond Townsend
Current Team: Retired
Position: PG
Career Stats: 154 GP., 4.8 PPG., 1.4 APG., 1.0 RPG.
Birth Country: United States (Filipino descent)
Accolades: FIBA Intercontinental Cup Champion (1984), NCAA Champion (1975), First-Team All-Pac-8 (1978)
Raymond Townsend made history when he was the first Filipino to be drafted by the NBA, going in the first round at pick number 22 by the Golden State Warriors in 1978.
Before carving a lane for Filipino players in the big leagues, Townsend had an absurd 125 scholarship offers to play at the college level; he decided to join John Wooden at UCLA. Townsend went on to earn conference honors at the First-Team All-Pac 8 level (later known as Pac-12) and brought home an NCAA National Championship in 1975.
Towsend played 3 seasons in the NBA between the Warriors and the Pacers, with brief stints in the CBA, Italy's LBA, and FIBA, where he won an Intercontinental Cup.
Today, he is one of the most prolific coaches/trainers in the Bay Area, inspiring the next generation of Filipino ballers. In 2008, Townsend was responsible for organizing the NBA's first Filipino Heritage Night at the Warrior's home stadium, Oracle Arena.
Yi Jianlian
Current Team: Guangdong Dongguan Tigers (CBA)
Position: C
Career Stats: 272 GP., 7.9 PPG., 0.7 APG., 4.9 RPG.
Birth Country: China
Accolades: 5× CBA MVP
While lauded as "the next Yao Ming" upon his entrance into the NBA, Yi Jianlian had a great deal of injury and adjustment struggles to life in the NBA.
A native of Heshan, Jiangmen, China, Yi was drafted 6th overall in 2007 by Milwaukee.
Yi's highest priority in joining the NBA was playing for a team that represented a city with a vibrant Asian community. After 66 games as a rookie, Yi demanded a trade from Milwaukee and found himself on the Nets' roster.
After back-to-back knee injuries in the 2008 and 2009 campaigns, Yi played for Washington and then Dallas before his homecoming to the CBA.
He still plays in the CBA to this day, where he led the Guangdong Dongguan Tigers to their title season and is now a 5× CBA MVP, where he's averaging nearly 15 points a game and 7.3 rebounds off the glass.
In the NBA, when Yi Jianlian was healthy, he posted 12 points and 7.2 rebounds per game as a starter with the Nets from 2009-2010. His first head-to-head with Yao Ming and the Rockets was estimated to have been viewed live by over 300 million fans in China.
Omri Casspi
Current Team: Retired
Position: SF, PF
Career Stats: 588 GP., 7.9 PPG., 1.1 APG., 4.0 RPG.
Birth Country: Israel
Accolades: 4× Israeli Basketball Super League Champion, Israeli Super League Sixth Man of the Year (2008)
With his first game as a Sacramento King in 2009, Omri Casspi became the first Israeli to play in the NBA. He was also named the first Israeli-born player to be drafted in the first round, going 23rd overall in the draft of that same year.
In his first start of the 2009 campaign, Casspi tied for the most points ever scored by a Kings player, with a tally of 22 between mid-range and the glass. This was the first time the record was in jeopardy since the team moved to Sacramento in 1985. On April 7, 2015, Omiri would score a career-high 31 points with the Kings off of just a 12-20 clip against Minnesota.
Known for running the floor hard for lay-up chances and/or free-throw opportunities, Casspi never got the chance to advance past the solid back-up or spot-starter role with any of the teams he played for (the Kings, Cavaliers, Rockets, Pelicans, Timberwolves, Warriors, and Grizzlies).
He found himself back in Israel with Maccabi Tel Aviv, penning a 3-year contract in 2019. Within the Israeli Basketball Super League, he was a 4-time champion and Sixth Man of the Year before retiring in 2021.
Ha Seung-Jin
Current Team: Retired
Position: C
Career Stats: 46 GP., 1.5 PPG., 0.5 APG.,1.5 RPG.
Birth Country: South Korea
Accolades: KBL Champion (2009, 2011), Finals MVP Award (2011)
Entering the NBA as the 46th overall pick in the 2nd round by Portland, Ha Seung-Jin was the first Korean to join the league.
The big man was guarded in one game against the Lakers by 3 rotating defenders—Chris Mihm, Brian Grant, and Jumaine Jones—and he still managed to put up 13 points and 5 rebounds. Against the 7'3" Chinese giant, the Lakers lost 106-103.
Seung-Jin only averaged about 7 minutes a game and never ended up starting for Portland. In 2006, he was traded to the Bucks on a 4-way player deal, where he was later waived before the start of the season.
Ha played 11 years in the KBL before retiring in 2019 after the Jeonju KCC Egis declared him a free agent. He won 2 championships with KCC while also winning the Finals MVP Award in 2011, where he put up a game-high 33 points in the playoffs against the Anyang KGC.
FAQ
Are There Any Asian Players In The NBA?
Yes, there are Asian players in the NBA. Today, the highest-profile Asian players are Jordan Clarkson for the Utah Jazz, Rui Hchimura of the Washington Wizards, Jalen Green for the Houston Rockets, and Yuta Watanabe playing for the Brooklyn Nets. 
How Many Asians Are In The NBA?
According to racial equality activist Richard Lapchick, the NBA is currently made up of 0.4% players from Asian backgrounds. Players in the NBA are, at large, 82.4% BIPOC, with 71.8 percent of that number being African-American. There is a clear disparity in Asian NBA players compared to population numbers, where Asians make up 5.6% of the total population of the U.S and 59.76% of the world's population. 
Who Is The Best Asian NBA Player As Of 2023?
The best Asian player as of 2023 is Jordan Clarkson. Posting 15.4 PPG., 2.6 APG., and 3.3 RPG, Clarkson's impressive output and play-making capabilities make him a serious threat off the bench against any team. It was these attributes that earned him the Sixth Man Of The Year in 2021. 
Who's The Best Asian Player In The NBA Ever?
The best Asian NBA Player ever is Yao Ming. It's hard to compete against the 7'6" giant's 19-point-per-game average and 9.2 rebounding numbers; his aggressive yet controlled play earned him the nickname "The Beast From The East." Over 200 million Chinese fans tuned in every night to Rocket's games to watch Ming dominate. 
Is There A Filipino NBA Player?
Yes, there is a Filipino NBA player: Jalen Green. Drawing comparisons to Victor Oladipo, Green's averaging 22 points per game, with 4 rebounds and 3 made three-pointers so far in the 2022 season. His explosive attacking off the catch has earned him the starting 2nd guard position with the Houston Rockets.