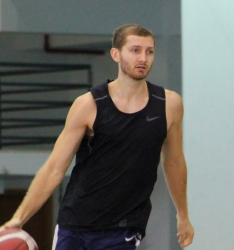 Latest posts by Adam Gotelli
(see all)
How do you know a video game is not just for nerds? An NBA player wears shoes that are custom-made to represent his video-game persona.
Even if you don't play video games, you've heard of Fortnite. It's now being played by people of all ages, and is not just for those living in their parents' basement.
A new and younger generation is starring in the NBA, and that should give you a hint as to which LA Laker wore Fortnite-inspired sneakers in an actual game.
Lots of fun shoes get made that guys wear in practice or even game warm-ups. But not all of them see actual NBA game time like these did.
When you play at this level, you need all the help you can get, so maybe having his favorite video game painted on his shoes helped his performance?
Read on!
Which LA Laker Wore Fortnite-Inspired Sneakers?
Josh Hart wore Fortnite-inspired sneakers on February 24, 2018. It's no secret that he's a big fan of the video game, and apparently pretty good at it as well. This is one of the perks of being a professional athlete; if you want a pair of shoes that don't exist, you can simply have them made for you.
Here's How Josh Hart Performed
While he didn't have the best game, he did well and even managed to throw in a Fortnite reference after one of his three-pointers. You can see him celebrate his made shot by using the healing sign that is used in the video game.
The Lakers who play in the Pacific NBA Division went on to win that game 113-108, and Hart had 10 points, 6 rebounds, and 5 assists. Not one of his greatest games, but he was probably too excited about his new kicks.
How Do The Fortnite-Inspired Shoes Look?
The shoes themselves are adorned with the signature Fortnite color scheme. These are custom-made for Hart, though, so they have a large graphic of his in-game character on the lateral side of one shoe.
They also have his name on them with the quote "Eliminated By" right above JoshHartNova, which is his gamertag. Hart is a faithful participant on Twitch with over two-thousand followers, so you can sign in to see if he's better at Fortnite than basketball.
Fortnite Is Very Popular
Every now and then, a video game comes along that transcends the market. Even if you have no idea what the game is about, you've heard the name Fortnite.
They've been somewhat lucky in their rise to fame, as they gained a lot of notoriety through social media platforms. By being the subject of so many memes, they got a lot of free publicity, which helped them skyrocket to the top of the gaming world.
Another huge selling point is that they are not 'selling' it at all; it's free. This has made the game accessible to an enormous amount of people around the world. It has many layers to it that make it easy for non-gamers and gamers alike to enjoy.
Its graphics are closer to a cartoon, which also makes it more welcoming. It's not as gritty as some other popular games, such as Call Of Duty.
If you know how much Hart loves Fortnite, then you know exactly which LA Laker Wore Fortnite-inspired sneakers. Celebrities and athletes like Josh Hart are playing this game more and more.
The idea of being able to join them online is another reason why so many people are getting hooked. It seems Fortnite will be around for a while, or at least until the next big thing hits.
How To Get Your Hands On A Pair Of Fortnite Branded Shoes
These are easier to get than you may think. They are Kobe AD mid-rise and were released in 2017. You can easily grab a pair at Amazon, but they won't look the same as Josh Hart's.
To get the complete Josh Hart treatment, you'll have to enlist the help of famed artist Salvador "Kickstrodamis" Amezcua. He's a Los Angeles-based artist who has worked his way up from humble beginnings to earn the reputation he has now.
These days he designs shoes for some of the most famous NBA stars, including James Harden, Zion Williamson, Karl-Anthony Towns Jr., Russell Westbrook, and Terry Rozier, to name a few. He has also worked with MLB and NFL players.
He has shot to stardom and has been featured in the LA Times and Forbes. If you want to turn your shoes into one-of-a-kind pieces of art, you have to go to "Kickstradomis."
FAQ
Does Josh Hart play Fortnite?
Yes, Josh Hart plays Fortnite. He plays it so much that he has a Twitch account with almost 3000 followers. You might be able to join him if you can find him. His gamertag is JoshHartNova, and based on how much he talks about it; he's probably online more than his coaches would like him to be.
Does Josh Hart Love Video Games?
Yes, Josh Hart loves video games. He is part of a large community that still enjoys playing video games well past their childhood years. He has a Twitch account with thousands of followers where he plays Fortnite primarily, but is also known for getting down on some Call of Duty: Modern Warfare.
What Is Josh Hart Known For?
Josh Hart is known for being a professional basketball player. He was drafted 30th overall by the Utah Jazz, but was traded that night to the Los Angeles Lakers. Since then, he has played for the New Orleans Pelicans before being traded to the Portland Trail Blazers, where he currently plays.
Did Josh Hart Play A Game In Fortnite Shoes?
Yes, Josh Hart played a game in Fortnite shoes. It was on February 24, 2018, in Los Angeles. The Lakers won 113-108, and Hart scored 10 points with 6 boards and 5 helpers. He also made a celebratory gesture referring to the famous game after making one of his 3-pointers.