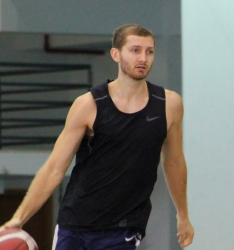 Latest posts by Adam Gotelli
(see all)
In the annals of basketball history, Steph Curry won't go down as somebody who could touch the sky.
So how high can Steph Curry jump?
You'll never see him posterizing a defender with a high-flying dunk. But that's not his game. Instead, he's content to let the ball fly from long range.
You might see Steph try to take off and get airborne on rare occasions. But even then, his vertical isn't going to "wow" anybody. But what he lacked in leaping ability, he made up for it with his deadly shooting.
Still, Scouts doubted his ability to make it in the NBA because of his "small stature and lack of athleticism."
But Curry always had a knack for making shots no matter where he was on the court. And that's what has made him one of the most captivating players over the last decade.
Read on to learn more about Steph!
How High Can Steph Curry Jump?
Curry's max vertical jump is around 32 inches.
For comparison, that's about 4 inches above the average NBA player. So his vertical is respectable, but it's nothing special for a guard.
So while Curry might not be able to touch the clouds, he can still get up there and make plays happen.
Still, Curry is incredibly effective despite his lack of explosiveness. He's one of the best shooters the game has ever seen and revolutionized basketball.
Even though he can't jump out of the gym, Curry has still found a way to be one of the most entertaining players in the NBA. So don't sleep on his ability just because he's not the biggest or strongest player.
Related resources: "How Tall Was Allen Iverson At 16"; "How Tall Was Steph Curry At 16", "Can Dwight Howard Shoot".
Can Stephen Curry Dunk?
Yes, Steph Curry can dunk. It's a rare occurrence, though, and according to him, the conditions need to be right for it to happen.

He typically needs a lot of space to do so and plenty of time to set up the shot.
He also needs to have the proper grip on the ball and sufficient lead to feel comfortable attempting a dunk. "It doesn't just happen by accident," Curry says on the topic of dunking.
All of this means that Curry is unlikely to dunk in traffic. But if he has the opportunity to set himself up for a dunk, he can do it.
So you can get a better idea of what a Steph Curry dunk looks like, here is a highlight reel showcasing some of his dunks:
Steph Curry still has commendable finishing ability around the basket, despite his lack of leap. He's not the biggest guy out there, but he's smart and knows how to use his body. Of course, all that is trainable and something you can even do with the right online basketball training program.
He generates horizontal space between himself and defenders by using other intangible skills like his change of pace, ball handling, and trickery.
This allows him to get to his sweet spot and finish with a soft touch or a floater.
Curry is also an excellent free throw shooter, which gives him another way to score when he's unable to get to the basket. He's currently shooting a career-high 93.7% from the charity stripe, which is absurdly efficient.
So while Curry might not be able to dunk like some of his counterparts, he more than makes up for it with his ability to score in various ways.
In addition, check out why Vince Carter was traded from the Raptors.
How Tall Is Steph Curry?
Steph Curry is six feet, three inches tall. However, Curry more than makes up for his lack of height with his shooting ability.
He is a three-time NBA champion and two-time NBA MVP. In addition, he holds the NBA record for most three-pointers in a single season.
Curry is one of the most popular players in the NBA and has legions of fans worldwide. Though he may not be the tallest player on the court, there is no doubt that he is one of the best.
Want to jump like Stephen and even more? Check out our list of the best vertical jump programs.
What was Steph Curry's Vertical at the Combine?
At the 2009 NBA combine, Curry scored a 29.5″ no-step vertical jump height. His maximum vertical jump height was 35.5″, which is not too shabby.
At this stage of his career (over ten years later), he's lost a few inches of vertical, but is still an excellent shooter.
Want to improve your own vertical? Check out this Elite Vertical Academy review.
What Is Steph Curry's Wingspan?
Steph Curry's wingspan is 6'3.5″. The wingspan is an important factor in basketball because it affects a player's ability to shoot, rebound, and block shots.
A player with a longer wingspan can shoot over defenders, grab rebounds outside their reach, and swat away shots.
Unfortunately, Steph Curry has an average wingspan for his height.
This doesn't mean that he can't be successful – he's an incredible shooter with amazing handles – but it does limit his ability to play some positions on the court.
One of the ways he makes up for his average wingspan is because he has an incredibly quick release. This allows him to get his shot off before the defense has a chance to close out on him.
Still, Steph is at a disadvantage in certain scenarios. He wouldn't be able to defend most centers, for example, because they would just shoot over him. So while wingspan isn't everything, it's a factor to consider when evaluating players.
Steph Curry: A Brief History (Childhood, High School, College)
He was born on March 14, 1988, in Akron, Ohio.
As the son of an NBA sharpshooter Del Curry, it made sense that Steph would pursue a career in basketball.
Curry started playing basketball when he was just a toddler and played his first organized game at six. In high school, he led his team to the state championship game.
After graduation, he attended Davidson College, where he became one of the most prolific scorers in college basketball history. They even made a deep run in the NCAA tournament, showcasing Curry's talents.
The Golden State Warriors drafted him in 2009, and he has since won three NBA Championships with the team.
He's now one of the few players in the NBA to sign multiple $200 million contracts.
In addition to his success on the court, Curry is also known for his charitable work off the court. He has worked with organizations like Nothing But Nets to help raise money to fight malaria.
Can Steph Curry dunk in 2k22?
Yes. Steph Curry can dunk in 2k22. However, his dunking ability is not as good as some other players in the game. This is due to his lack of height and wingspan.
Curry is still one of the best players in 2k22, thanks to his shooting ability and handles.
You won't see him dunk too often, so we'll have to enjoy watching him hit threes from absurdly long distances.
FAQ
How High Is Steph Curry's Vert?
Steph Curry's vert is around 30-33 inches. Back in 2009 it was measured at 35.5 inches.
Who Has The Highest Vertical Jump In The NBA?
Retired NBA legend Michael Jordan still holds the record of the highest vertical jump in the NBA. It's 48 inches. As of 2022, the New Orleans Pelicans star E.J. Liddell has the highest vertical jump, measuring at 35.5 inches.
Is a 22 inch vertical good?
Yes, a 22-inch vertical jump is considered as good based on the current NBA standards. The average jump height in the NBA is 28 inches.
How high does JA Morant jump?
JA Morant's has a record vertical leap of 44 inches. That was a long time ago, before he was drafted by the Memphis Grizzlies.