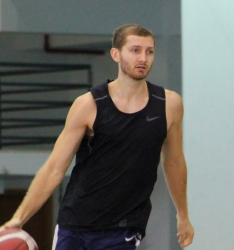 Latest posts by Adam Gotelli
(see all)
An NBA player's mouthguard is vital when you think about it. It protects their teeth from getting shattered by a thunderous elbow or a flying basketball.
But what you may not know is that these mouthguards can also be works of art.
Just take a look at LeBron James. His mouthguard adorns the Roman numerals 'XVI,' his initials, and the Nike swoosh.
Or take a look at Steph Curry's mouthguard, which features his surname and the number '30', which refers to his jersey number.
So, do NBA players wear mouthguards? The answer is a resounding yes! Here's why they wear them:
They can help protect your teeth from getting knocked out.
Mouthguards can also help reduce the risk of concussions.
Read on to find out more!
Do NBA Players Wear Mouthguards And Why?
Yes, NBA players wear mouthguards even though the rules don't require them. That's mostly because they want to protect themselves from hard physical confrontations with other players on the court.
Are NBA Players Required to Wear Mouthguards?
No, NBA players are not required to wear mouthguards. However, many players choose to wear them to protect their teeth from damage. Mouthguards can help absorb the impact of a fall or a collision, preventing severe injury to the teeth.
They can also help reduce the risk of concussion by absorbing the force of a blow to the head.
In addition, mouthguards can help players to avoid developing TMJ problems.
As a result, there are many benefits to wearing a mouthguard, and it is no surprise that so many players choose to do so. It's more or less similar to when playing with glasses.
Mouthguards In Basketball: A History
The mouthguard is a relatively new invention, but it has already made a significant impact in sports.
The first mouthguards popped up in the late 19th century, and boxers initially used them to protect their teeth from being damaged by blows to the head.
However, in basketball's early days, players did not wear any protective gear, and dental injuries were common.
One of the first basketball players who wore a mouthguard was Dick Perry, a star player on the UCLA team.
According to legend, Perry's dentist had created a custom-fitted mouthguard designed to prevent dental injuries during gameplay.
This invention led many of Perry's fellow players to start wearing mouth guards. Other dentists quickly copied Lilyquist's design, and mouth guards became standard equipment for basketball players. Asian NBA players wear them too.
Why Do Basketball Players Need a Mouthguard?
Basketball is a high-contact sport that can result in serious dental injuries. According to the American Dental Association, basketball players have the highest rate of dental injuries in any sport.
The high incidence of dental trauma in basketball players is due to several factors. First, studies show that dental trauma among basketball players is much higher than that in other contact sports, such as football.
For every 100 athletes involved in basketball, the injury rate is 10.6%, compared to only 2% for football. On average, seven dental injuries occur for every 16 basketball players, compared to just 21 for similar numbers of football players.
While there are many possible explanations for this phenomenon, including equipment design and the dense positioning on the court, some experts believe that one underlying cause is the relatively high speed and physicality of games like basketball.
Regardless of the exact reason behind this trend, it is clear that players must take action to protect the teeth and well-being of basketball players at all levels of play.
Mouthguards work by absorbing impact and distributing forces evenly across the teeth.
Mouthguards also help prevent other types of mouth injuries, such as cuts and bruises. Some studies have even shown that mouthguards can reduce the risk of concussion.
Basketball players should wear a mouthguard during games and practice for all these reasons.
What Are Mouthguards Made of?
The most common material for mouthguards is thermoplastic rubber, which is flexible enough to fit comfortably in the mouth yet strong enough to prevent injuries to the teeth and gums.
Some athletes prefer to use custom-made mouthguards made from TPE, a biocompatible and hypoallergenic material that better fits the shape of the individual's bite.
In addition, some manufacturers incorporate metal or composite materials into their product design to provide extra protection and reinforcement again impacts.
Did Michael Jordan Use a Mouthguard?
No, Michael Jordan never wore a mouthguard. As one of the greatest basketball players, he was notorious for chewing gum and sticking out his tongue on the court throughout his storied career.
Though many people have speculated about Jordan's habit of sticking out his tongue, the truth is that it was primarily just a reflexive habit born out of intense concentration during games.
Despite some initial resistance from team trainers worried about damage to his teeth, Jordan ultimately never felt the need to wear a mouthguard.
Does LeBron Play With a Mouthguard?
Yes, LeBron James does play with a mouthguard. He has been doing so since his days at St Vincent-St. Mary High School up to his glorious days in La Lakers in the Pacific NBA Division.
While many players do not wear mouthguards, LeBron believes that they provide an important level of protection.
In particular, he is concerned about the risk of concussions. Given the number of hard fouls (PFs) that he takes on a nightly basis, a mouthguard helps to reduce the likelihood of suffering a severe injury.
Additionally, LeBron also wears a mouthguard to help prevent other dental injuries. Because he is constantly slamming into other players, there is a risk of tooth damage.
By wearing a mouthguard, LeBron can help to protect his teeth from chipping or breaking. He's also known for wearing expensive headphones for basketball.
When Did NBA Players Start Wearing Mouthguards
NBA players began to wear mouthguards more frequently during David Stern's tenure as league commissioner, which lasted from 1984 to 2014. Stern noted that the increasing number of elbows thrown in games contributed to players' want to protect themselves.
Mouthguards help to absorb the impact of a blow to the face and can prevent serious injuries, such as concussions and shattered teeth.
For example, Dwayne Wade began wearing a mouthguard in 2013 after the infamous blow he received to the face during a game against the Chicago Bulls.
Other notable players who started to wear mouthguards include Kobe Bryant, Shaquille O'Neal, and Kevin Durant.
Which NBA Players Wear Mouthguards?
Many NBA players wear mouthguards while playing. Some of the most well-known players who use this protective equipment include LeBron James, Stephen Curry, Blake Griffin, Rajon Rondo, Tim Hardaway Jr., and Kevin Durant.
Steph Curry is the most notable player in the NBA who wears a mouthguard. His signature style is to chew on the mouthguard and leave it hanging out of the side of his mouth.
After he received a mouth injury while playing at Davidson College, Curry began wearing a mouthguard to help protect his teeth.
Either way, there's no denying that Steph Curry is the king of the mouthguard.
Notable NBA Players Who Don't Wear Mouthguards (And Lost Their Teeth)
Reggie Evans
Reggie Evans is a tough, gritty player who never shies away from a challenge on the basketball court.
So when he took an elbow to the mouth during a game against the Charlotte Hornets and lost a tooth, he didn't panic.
Despite the blood pouring from his mouth, Evans calmly walked over to the scorer's table and placed his tooth in its proper spot.
Then, he returned to play with a grimace on his face, but never wavering in his focus on the game.
Isaiah Thomas
During a tense playoff game between the Washington Wizards and the Boston Celtics, star guard Isaiah Thomas found himself in the line of fire against Washington's Otto Porter Jr.
To guard Porter and keep him from making a critical shot, Thomas stepped in front of an attempted pass, which resulted in his tooth falling out onto the court.
Thomas refused to leave the game despite his tooth loss, determined to help lead his team to victory.
Steve Nash
One of the most prolific point guards in NBA history, Steve Nash, took a brutal hit during a game against the Utah Jazz back in 2006.
During the intense battle for a rebound, he was elbowed in the mouth by Jazz center Carlos Boozer, causing him to lose part of his front tooth.
Here's a hilarious interview Nash did after he chipped his tooth:
Goran Dragic
One matchup with Atlanta was a tough one for Goran Dragic. First, he took an elbow to the mouth from Al Horford, resulting in the loss of a tooth. Then, to add insult to injury, Dragic committed a foul on the play.
As a result, the Miami Heat point guard ended up on the floor, and the Atlanta Hawks took possession of the ball. Thankfully, Dragic could get up and finish the game, but it was still a rough evening for him.
(Featured image via rayburndds)