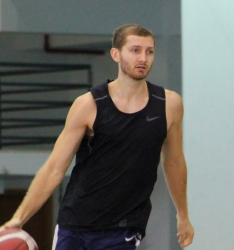 Latest posts by Adam Gotelli
(see all)
As kids, we all dreamed of being like Mike.
We wanted to dunk, sink three-pointers, and hug the NBA Championship trophy like him.
Part of that dream was emulating MJ's style (and shoes).
That's why we all needed to get our hands on a pair of his Air Jordan Model 1's!
So, can you play basketball in Jordan 1?
Yes, you can, but the 1985 Jordan 1's are not optimal for playing basketball in today's era. Now, the Jordan 1's are more useful for vintage fashion wear.
If you're looking for a pair of kicks that can hold up on the basketball court, then it might be best to use the Jordan XI (11's) or Jordan XII (12's).
So can you play basketball in Jordan 1?
No, they are not the best option for playing basketball anymore.
As a professional, MJ wore these sneakers back in 1985, and they were generally great basketball shoes – but nowadays, the technology is slightly outdated!
For nostalgic purposes, you can still play basketball in Jordan 1's, but better options are available.
There is a reason why today's NBA players wear modern shoes, and it's because of high-performance technology that makes their game better.
Even though they are not up to today's performance standards, the Jordan 1's will occupy a place in the history books as one of the most popular basketball shoes of all time.
If you plan on wearing them casually, though, they are an excellent choice. Converse basketball shoes would be another cool option to consider. Just note that they usually don't last long as compared to professional basketball shoes.
In fact, the same answer applies to the question "can you play basketball in Air Force 1s."
Are Jordan 1's banned in the NBA?
First off, Air Jordan 1's are not currently banned.
Jordan I, or the "Banned" Jordan 1's were banned from the NBA in 1985.
The NBA banned the infamous black and red Jordan 1s because they were too flashy and violated their dress code.
The banning was short-lived, but it did cause Nike to change the color up a bit for future releases.
Did Jordan break his foot wearing Jordan 1's?
Yes, Michael Jordan famously broke his foot wearing the Air Jordan 1s.
On October 29, 1985, Michael Jordan broke his left foot against the Golden State Warriors during the third game of his sophomore 1985-86 season.
"Air Highness" went up for a lob and landed awkwardly on his foot.
After that, he missed 65 games.
Did the wrong shoe choice cause the injury, or was it a typical basketball injury?
There is no way to know for sure.
Do NBA players wear retro Jordans?
Yes, some NBA players do wear retro Jordans on occasion. Take a look at the best Jordans for wide feet, for example.
You can always see them on the feet of die-hard Jordan fans, but stars less commonly wear retro Jordans in the NBA.
Don't get me wrong – some players still rock retro Jordans in the league!
For example, in a 2013 playoff game, Nate Robinson famously switched shoes to his Jordan XIIIs after a poor first-half performance.
From then on, he played like a beast.
He went off for 29 points in the fourth quarter and overtime quarters alone!
Why do players wear retro Jordans?
It's simple – to show respect for the GOAT Michael Jordan. MJ helped pave the way for contemporary players.
At the same time, he helped the game become more popular and influential around the world.
How expensive are Jordan 1's?
Jordan 1's originally retailed for $65 when they came to the market in 1984-1985.
The price changed dramatically over time, but Nike currently sells remastered Jordan 1's at a price point of $160.
On the StockX marketplace, the special editions resale at a higher price.
In our research, we found asking bids well over $250 for a pair of Jordan 1's. So that's why we couldn't include those in our list of the top shoes under $200.
When did the Jordan I ban come out?
The ban happened in 1985, just a year after he entered the league.
MJ and his iconic shoes ran into trouble with the NBA.
The NBA stated that the red and black Jordan I's were too flashy and violated their uniform policy.
MJ quickly appealed the decision, saying that he was trying to express his creativity and individuality with his sneakers.
The NBA allowed him to wear them on game days (off the court), but not during official games.
He went on to win the 1985 All-Star Dunk Contest in his signature shoes anyway, which helped their popularity skyrocket even more.
What makes a Jordan basketball shoe so good?
With their cushioning, lightweight build, and snug fit, Air Jordans are synonymous with basketball excellence.
With his Jordan sneakers on, MJ performed a gravity-defying dunk from the free-throw line in 1985—a shot thought to be impossible.
MJ drained countless game-winners, most notably the controversial "push-off" over the Utah Jazz guard Byron Russell in Game 6 of the 1998 Finals.
MJ crossed over defenders on national television, exposing the sneaker's durability in the process.
The proof is in the pudding – Jordan shoes are built for hoops!
Let's break down the characteristics that make Jordan shoes unique:
Partnership with Nike
Jordan Brand and Nike started their match made in heaven in 1985.
Jordan brand benefited from the company's experience in creating superior quality performance footwear.
Nike's massive budget and superior technologies helped them create the shoes we know and love.
This partnership eventually produced the Air Jordan line of sneakers that revolutionized the game.
Wide Recognition of the Jordan brand
Many people around the world love and admire the Jordan Brand.
Players like Nate Robinson, P.J. Tucker, and Chris Paul are just some NBA stars who represent this brand on their feet.
In 1998, Time Magazine featured Jordan on the cover, which helped spread awareness for his brand and give it a reputation as a cultural icon that deserved mainstream attention.
Now, celebrities like Jay-Z, Kanye, and Nas wear these shoes to show love for the GOAT.
The Jordan logo reaches far and wide into the entire sports universe. That extends beyond basketball! Jordan brand is even leaving a mark on European soccer teams – can you believe it?
Jumpman logos adorn Paris Saint-Germain kits, proving that it seems like Jordan is king no matter the sport! It seems like you can't go anywhere nowadays without running into the iconic silhouette of MJ himself.
Jordan's famous Jumpman logo is one of the most recognizable emblems globally, rivaling only the Coke logo in terms of familiarity with consumers.
A historical shoe
Most importantly, Air Jordans are an iconic piece of basketball history.
Any player who slips on a pair of Jordans experiences the same feeling that MJ had when he wore them during his illustrious career.
Here are a few significant historical moments:
Jordan shoes were famously on display at the 1985 NBA Slam Dunk Contest.
Michael also wore them for the first time on the world stage during the 1988 Olympics.
Michael Jordan won his first championship in 1991, wearing Jordan sneakers during the playoffs.
Now, Jordans are classic staples that will never go out of style.
Sneakerheads everywhere can vouch for that.
Uniqueness
The timeless design proved its versatility over the years.
Consumers instantly recognize their bold color schemes, which is why Nike wasn't afraid to come out with over 35 retros in all the different styles during the MJ heyday.
Jordans' unique styles and authenticity are not found with any other brands. The contours and color schemes are just right to pull off an exquisite appearance.
They are popular with those who like unique shoes, while also appealing to those who want quality.
Rarity
Rarity also contributes to their appeal. Nike first released the Air Jordan I model in 1984, but it wasn't until after release of the Jordan XI that Nike started focusing on limited editions.
For instance, in 2015 they released a special edition with the Chicago flag colors.
Some Jordans come in very limited quantities, making them more valuable to collectors and fans.
Can you run in Jordan 1's?
Yes, but probably not for long, and the same goes if you wear Vans.
Jordan sneakers are athletic shoes, so it is technically possible to wear them for running. However, they aren't designed with runners' necessary support structure to avoid injury.If you're wearing Jordan 1's and decide to run a marathon, there's a high chance that your feet will feel uncomfortable.
Even if you feel comfortable wearing Jordan 1's for casual purposes, it doesn't mean they're ideal for running.
For more on the topic, read our guide on basketball shoes vs running shoes.
Can you play basketball in Jordan 4's (Jordan IV's)
Yes, you can play basketball in Jordan 4's.
In the 1988-89 season, Michael wore an Air Jordan IV and achieved his overall best statistical campaign with averages of 32.5 points per game (ppg), 8 rebounds and 8 assists.
Clearly, you can play some great basketball in Jordan 4's.
Today's technology is slightly better if you're looking for peak performance specs.
Can you play basketball in Jordan 5's (Jordan V's)
Yes, you can play basketball in Jordan 5's.
Jordan lit up the Cavaliers for a career-high 69 points wearing these bad boys before taking home the scoring title.
The Jordan V was the first shoe to feature a clear sole, which would become an even bigger trend in the years after it.
What are the best retro jordans to play basketball in?
There are many opinions on the best retro Jordans to play basketball in.
If you ask Jordan himself – he will tell you that Jordan XI's are his favorite shoe. I heard this firsthand when I attended Michael Jordan basketball camp in the early 2000s!
Real Jordan enthusiasts say you can't go wrong with any classic Jordan shoe.
The fact is that there are many qualities in a good retro Jordan to play in.
Let's examine the criteria that make a retro Jordan shoe good for playing basketball:
The durability
Durability is crucial if you are looking for a shoe that can withstand the rigors of basketball.
The outsole needs to be solid and made from a high-quality rubber compound that will resist wearing down even if you have been playing for hours on end.
The upper also needs to be made from a durable material that won't tear or crack as you play, making sure your feet are safe as you compete hard on the court.
The Jordan brand made these criteria a priority with its design team so you can be sure of their structural integrity.
Cushion
We recommend the Air Jordan 12 because it has Zoom Air in both the heel and forefoot (not isolated in the heel like other models).
Zoom air is an air cushioning technology that was first introduced by Nike in the early 1990s. It provides better impact protection and responsiveness than traditional foam cushioning.
If you want another opinion, professional player and self-proclaimed shoe addict P.J. Tucker said the Jordan III's are also very comfortable.
Traction
It's no wonder the Jordan XII remains one of Nike's best sellers.
The Jordan XII combines superior traction with incredible ankle support, making it perfect for any type or condition you can throw at them!
So if you're looking for a shoe with great traction, I suggest going with the Jordan XII because it leads the pack in more than one criteria.
The comfort of playing in them
You want to feel comfortable in your shoes without feeling too restricted.
We think that the Jordan 11s are the most comfortable.
They were once the pinnacle of performance, and they are still very playable even today.
Ankle Support
The high-top VIII is a manifestation of the power of protection.
Jordan 8's offer all the protection you could ask for, without any compromise in style or design!
The stability
The Air Jordan 13s are shoes that provide maximal stability.
This shoe has lateral stability, which is great for linear movement, and heel stability, which is great for providing support.
The midsole is filled with foam on the heel and forefoot, making it super comfortable. It also has a low-profile and springy cushioning, making it great for bigger guys.