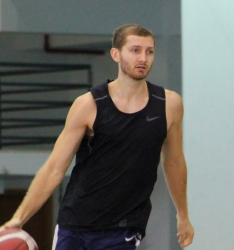 Latest posts by Adam Gotelli
(see all)
3-point shooting isn't typically associated with traditional big men in the NBA, but Howard shows that he can knock down shots from long range.
In the 2022 season, he shot 53.3 percent from the three-point range (in 15 attempts), which is a career-high mark.
While Howard isn't going to win any awards for his shooting prowess, it's clear that he worked on his outside game and is now capable from beyond the arc.
So, can Dwight Howard shoot? The answer is yes – and he's gotten better at it over the years. So, keep an eye out for him to fire from deep next season.
Can Dwight Howard Shoot Free Throws?
Yes, he can shoot free throws, but he's been wildly inconsistent throughout his career.
Howard is a career 58.8 percent free-throw shooter, which is good for a big man. However, he struggled with his free throw shooting at times, particularly in the playoffs.
In 2015-2016, Howard shot just 49.2 percent from the charity stripe in the playoffs. This was a big reason the Houston Rockets lost to the Golden State Warriors in the Western Conference Finals, as Howard missed critical free throws down the stretch.
Now Howard is towards the end of his career. However, his shooting numbers are showing improvement. In the 2021-2022 season, Howard shot 65.8% from the charity stripe and showed some impressive vertical leap.
Why Does Dwight Howard Struggle With His Free Throws?
Most people who wonder if Dwight Howard can shoot, probably want to know why he's constantly struggling with his free throws.
Some speculate that it might be nerves, as free throws are often crucial in close games.
Others suggest that Howard doesn't have the same touch from the foul line as he does from the field. In addition, most big men have big hands, which can make it harder to control the ball when shooting free throws.
As far as his technique is concerned, it's quite sound. Howard has a smooth shooting motion and follows through on his shots. However, he often doesn't have the same confidence in his foul shots as to when taking jumpers or dunks.
In my opinion, he doesn't fully extend his arms on many of his free throw attempts. As a result, his arms often look like they're slightly constricted and bent, which can affect the trajectory of his shots.
Here is a video showing Dwight's technique:
How Do Teams Exploit Dwight Howard's Terrible Free Throw Shooting?
Teams exploit Dwight Howard's poor free-throw shooting by fouling him intentionally, also known as the "Hack-a-Shaq" strategy.
This is often done late in games when the opposing team is trying to come back from a deficit. By fouling Howard, they can send him to the line, where he is likely to miss crucial free throws.
Another way that teams exploit Dwight Howard's poor shooting is by not guarding him towards the perimeter. Instead, the defense sags off of him, daring him to shoot.
Since the opposition doesn't respect his shot, they will sag off of him and clog the middle of the lane. Therefore, his poor shooting makes it harder to space out the defense and get clear driving angles to the basket.
Does Dwight Howard Have Permission To Shoot?
Lakers recent coach Frank Vogel gave Dwight Howard the green light to shoot three-pointers this season.
Of course, that doesn't mean he should be shooting them every time down the floor, but it does show that the coaching staff has trust in his outside shot.
Still, Vogel knows that Dwight's main value is as a rim-runner and interior defender.
So when asked about the green light, Vogel said "It's not like we're saying, 'Dwight, go out there and shoot 15 threes a game.' We want him to be Dwight.
And part of Dwight's DNA is catching lobs, being around the basket, making plays around the basket, and being a defensive presence."
Dwight even went on Instagram Live recently and recounted a conversation between him and LeBron. LeBron said Dwight could shoot a three for every 2 blocks he makes per game.
Dwight Howard has the green light to shoot threes, but don't expect him to turn into Steph Curry overnight. He has to train harder for that.
What are Dwight Howard's Strengths?
Dwight Howard was at one point one of the best defenders in the NBA.
He is a 6-time All-Defensive team member and 3-time Defensive Player of the Year. He is an elite shot blocker and rebounder. His size, strength, and athleticism make him a nightmare for opposing players.
On offense, Dwight Howard is one of the best pick-and-roll big men in the league. He has good hands and is an excellent finisher around the basket.
You'll see him catching lobs and slamming them home with authority.
Dwight Howard has added a three-point shot to his repertoire in recent years. He's not going to win any shooting contests, but he's shown that he can knock down the outside shot when left open.
What changes did Dwight Howard make to his shot over the years?
Dwight Howard has always been a great athlete, but he's also worked hard to improve his skills. As a result, he's become a much more polished player and now has an impressive array of moves in the post.
As for his shooting, Dwight has made some notable changes. Early in his career, he had a very low release point and often shot the ball with his arms extended out to the sides. This made it difficult for him to generate much power on his shots.
Over the years, Dwight has worked on raising his release point and now has a very high and quick release. This has helped him become a much more efficient scorer.
While Dwight Howard will never be mistaken for a great shooter, he has made significant improvements to his shot.
Of course, his biggest strength is still his athleticism, but he's now a much more well-rounded player than he was early in his career.
As a related resource, click to find out how high Steph Curry can jump and also check some of the best headphones for basketball players in 2022.
How Many 3s Has Dwight Howard Hit in His Career?
He's made 22 3-pointers in his 14-year career. That's not a lot, but it's worth noting that he's only attempted 50 3s total. So while he's not a great shooter, he's not afraid to take the occasional three.
Can Dwight Howard Shoot Threes?
Yes, Dwight Howard can shoot threes. He's not a great shooter, but he's shown that he can knock them down when left open. His biggest strength is still his athleticism, but he's now a much more well-rounded player than earlier in his career.