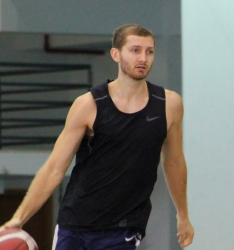 Latest posts by Adam Gotelli
(see all)
We all started playing basketball outside. Whether it was with family or school friends, chances are everyone's first shot was on an outdoor court. This setting is rooted in the game's tradition, evidenced by the millions of outdoor courts worldwide.
Since only a few talented players ever get to play on hardwood full-time, we should all have a pair of the top outdoor basketball kicks.
Quick answer: The best outdoor basketball shoes of 2023 are the "Nike Lebron Witness 7."
These shoes are in a special category, since not many sports are played on such rugged terrain. Football and baseball are on grass, and hockey is on ice, so those athletes only ever need one style of footwear.
To play your best, you need the proper equipment; you need the best outdoor basketball shoes.
This article is packed with all the info you need to pick the right pair for you.
Let's dive in!
The Top Basketball Shoes For Playing Outdoors – A Comparison Table
Image
Product
Features
Price

Best Overall

Size: 3.5—18
Ankle: Mid-Top
Highlight: Full-length Nike Air Max Unit

Check Price At Finish LineCheck Price At Amazon

Best Premium Choice

Size: 7.5—14
Ankle: Mid-Top
Highlight: Futuristic, multi-surface traction pattern

Check Price At Finish LineCheck Price At Amazon

Best Budget Option

Size: 3.5—18
Ankle: Mid-Top
Highlight: Heel-to-toe curvature for smoother strides

Check Price At Finish LineCheck Price At Amazon

Size: 7.5–14
Ankle: Low-Top
Highlight: Ultralight propulsion system

Check Price At Finish LineCheck Price At Amazon

Size: U.S M 7.5—15
Ankle: Low-Top
Highlight: Lightweight BOUNCE midsole

Check Price At Finish LineCheck Price At Amazon
Our Review Methodology
You'll never hear me complain about my job. I'm fortunate. I'm a professional basketball player and I get to test the best basketball shoes available! Because of this love for the game and the business, I spend hours testing them and picking apart all the features.
I want to know what makes these shoes function and what the makers thought when creating them. I want to know who they'll benefit most and how they perform on different surfaces.
To do this, our expert team and I evaluated over 45 pairs of outdoor basketball shoes, taking note of the following on each:
Traction
Cushioning and impact protection
Durability
Support
Price
Over our intensive 68+ hours of research, I narrowed it down to the top 5 best basketball shoes for outdoor play. I also did 5 in-house tests of the kicks, testing their feel on an outdoor basketball court.
Now comes the fun part, you get to choose the best pair to help your team and embarrass your opponents. Let's see some good shoes for outdoor basketball.
Best Outdoor Basketball Shoes Reviews
Best Overall
Size: 3.5—18
Ankle: Mid-Top
Highlight: Full-length Nike Air Max Unit, for an ultra-responsive court feel
The Lebron Witness 7's top our list at the starting 1 spot for the best outdoor basketball shoes. Crafted with precision and hosting a list of innovative design features intended to take your game to new heights, the 7's will have you putting numbers on the boards and playing as dynamically outside—amidst varied court conditions—as you would on inside.
Pros
Full-length Nike Air Max Unit for an ultra-responsive court feel
Reinforced stitching and web closure bring you a reinforced, lockdown fit
Partial cut-out outsole with herringbone pattern for superior traction
Foam wrap-up supports quick cuts and dynamic lateral movement
Lightweight, breathable mesh upper
Cons
A little stretchy in the toe box; could use some more premium materials here
The 7s are beefy, grippy shoes that I found didn't sacrifice court feel for security. You're getting the best of both worlds for a 'Bron signature shoe that's perfect for outdoor courts. It's also an excellent off court shoe.
Flexibility meets court feel
The 7s boast a heavy-duty, full-length Nike Air Max impact unit stretching the length of the shoe, allowing you to take flight and land with full confidence. You'll be able to not only count on your shoe's materials, but the inner mechanics of your feet, withstanding impact.
Air Max technology absorbs impact effectively while immediately returning to its original shape after any trauma to the shoe's curvature.
This type of engineering brings you a springy bounce that still retains a lot of the flexibility needed in your outdoor basketball shoes; the reinforced stitching with web closure blends this flexibility nicely with a fixed, lockdown fit.
A fascinating study conducted at High Point University revealed that the stiffness in your shoes in and surrounding the midsole and underfoot go hand in hand with injury prevention and improved performance.
Without a bit of give and flexibility during moments of high impact and multi-directional, dynamic movement, your shoes can open up a kinetic chain of compensation that can lead to a greater risk of injury (especially in the ankle area).
The 7's excel here in creating a flexible outdoor basketball shoe that can handle the rough and tumble outdoor courts with a superior amount of give that doesn't lose its lockdown, smooth court feel, and shock-absorbing features.
Flexibility in your shoes not only gives you a better court feel and a balanced lower center of gravity, but it also protects the biomechanics of your feet during intense, rigorous play.
Great Traction
On outdoor courts—whether they're asphalt or concrete—you can certainly expect your fair share of dust, dirt, debris, or otherwise chips and cracks in your playing surface.
With the Witness 7's, I found during my tests that maintaining top speed while changing routes, even on the toughest courts, was reliable and secure. This can open up your basketball creativity and the potential scoring opportunities on any court you play on.
This is thanks in part to the excellent traction pattern comprised of partial cut-outs along the outsole as well as a herringbone design.
The trademark herringbone bite breaks up debris and dirt nicely, while the partial cutouts provide additional stability. Each step feels like a jackhammer without the impact or weight of one.
The light, breathable mesh upper had me playing outdoors for hours longer than I thought I would, as this added ventilation promotes airflow for a cooling comfort that lasts game after game. Overall, this is a spectacular basketball shoe.
In 2023, "Nike" continues to be a market leader in the basketball sneaker industry, followed by "Adidas" and "Under Armour."
---
Best Premium Choice
Size: 7.5—14
Ankle: Mid-Top
Highlight: Futuristic, multi-surface traction pattern gives you a bite unlike any other
At the 2, we have the Jordan Max Aura 4s, a shoe for the premium baller that can afford a higher ticket price tag; you're looking for a stylish, supportive shoe that can withstand the demands of outdoor use, that's where the Jordan Max Aura 4s come in.
Pros
Futuristic, multi-surface traction pattern
Visible Air Max unit cushioning system
Ventilation in upper mesh fabric
Genuine leather with synthetic upper for a shoe that's incredibly durable
Timeless Jordan brand aesthetics
Cons
Missing torsion plate; doesn't protect your feet against explosive motion
What I like about the Jordan Max Aura 4s—and where they certainly stand out for most hoopers—is the insane bite that comes from their futuristic, herringbone traction pattern pads, where you're given excellent, multi-surface coverage.
I was able to test that multiple times already.
Traction For The Jetson's
The alternating herringbone traction pattern of the Aura 4's applies traction to where you need it most, giving you a grippy, responsive shoe that fits any playing surface.
The wavy herringbone pads help you keep the pressure on while giving you a boost of traction that features a deep tread design through multiple points of contact.
It's futuristic and makes the Jordan 4s fun to play in; each step feels stable and grippy. What's more, the Visible Air Max cushioning system protects you as you play, offering way better cushioning than traditional foam and never losing the responsiveness you need in an outdoor basketball shoe.
The 4's feature ventilation along the upper mesh fabric and collar that we found helped aerate the shoe. Most basketball shoes featuring genuine leather and synthetics are hot and heavy to play in as the game goes on. Based on my tests, that's just not the case with the 4s.
Timeless Jordans
I remember my first pair of Jordans like I just unboxed them; the Jordan brand is synonymous with excellence, and having a pair feels like you're on your way to MJ stardom. The Max Aura 4's are no different and will have you wanting to hit the court ASAP and put some shots up.
The classic Jordan feel is matched by its look, with high-quality, embroidered graphics and the Jumpman logo. Plus, the 4's genuine leather with synthetics mix makes the shoe durable and long-lasting; just like Jordan, these babies will never go out of style, especially as Nike outdoor basketball shoes. Plus, they make great lifting shoes as well.
Below, you'll find a comparison table weighing both the Witness 7s and the Max Aura 4s, with their most prominent features highlighted. We consider both excellent outdoor basketball shoes with competitive, high-quality traction.
| | | |
| --- | --- | --- |
| Shoe | Nike Lebron Witness 7 | Jordan Max Aura 4 |
| Traction Pattern | Full-length herringbone | Strategically placed herringbone traction "pads" |
| Ankle Cut | Mid-Top | Mid-Top |
| Heel To Toe Transition | Excellent | Excellent |
| Textile Upper Material | Excellent | Good |
---
Budget Option
Size: 3.5—18
Ankle: Mid-Top
Highlight: Heel-to-toe curvature for smoother strides
Unleash your inner Greek Freak no matter the court conditions, the Immortality 2s provide maximum traction and excellent support all the way through lateral, side-to-side movements at top speed; a shoe that feels so good and is so supportive, you'll forget you're playing on concrete.
Pros
Heel-to-toe curvature for smoother strides
1-1 feel fits like a glove, with a wider base and substantial outrigger
Ventilated breathability through engineered mesh overlays
Side-to-side support through grooved outsole pattern and internal strap wraps
Optimal responsiveness through foam cut-out design
Cons
Not a lot of substantial differences or additional creativity put into the 2's when comparing them to the 1's
As a Guard, I always look for shoes that have the perfect blend of responsiveness with impact protection and cushioning. I want a shoe that keeps me fast, especially when driving the lane, commanding the floor, and creating space.
That's where the Immortality 2s come in, and for a budget shoe, these exceeded my expectations and then some.
A smooth ride
The Immortality 2's will have you Eurostepping like Giannis, with a heel-to-toe transitioning curvature designed to promote smoother strides.
Meanwhile, the 1-1 feel fits like a glove, with a wider base and substantial outrigger designed to give you a stable base for cuts and lateral side motion.
That's where the Immortality 2s shine is in their lateral support, where the larger outrigger paired with the grooved outsole and internal strap wraps bring you an unshakeable fit.
You're getting total coverage, and for players playing outdoors, this kind of support and stability will make all the difference between winning and losing.
Cut-out breathability
My tests concluded that the foam cut-out outsole in the 2's provides you with a responsive, flexible feel.
By accessing strategically placed cut-outs along the lighter, flexible foam outsole (when compared to traditional rubber), the 2s bring you an explosive energy return that propels you forward as you cut, drive, and run.
As you work up a sweat, you won't be slipping and sliding; the ventilation along the upper collar and mesh overlays throughout the tongue and midfoot keep your feet dry and comfortable, ensuring longer minutes won't leave you feeling gassed or worse.
Traditional basketball shoes that don't incorporate mesh overlays, instead opting for a polyurethane midsole, often feature a fatigue factor, where a benchmark lack of breathability can increase the risk of injury based on compensation for discomfort.
For NBA players using polyurethane-based shoes, this is why you'll see them replace their performance sneaks every 7-10 days.
Overall, this is a well-performing outdoor shoe that also suitable for folks with bad knees.
---
Also great
Size: 7.5–14
Ankle: Low-Top
Highlight: Ultralight propulsion system keeps you supported while being explosive and unpredictable on the court
The D.O.N Issue #4s, the 4th in the line of signature shoes from Cavalier Donovan Mitchell, are a shoe that prioritizes maintaining your top speed with explosive engineering and great traction wherever you play, be it indoor courts or outdoor basketball games.
Pros
Ultralight propulsion system keeps even your most explosive cuts supported
LIGHTLOCK upper brings you a lightweight lockdown feel
Unique rubber outsole provides traction where you need it most
Full-length shank plate prevents overfolding and supination
3 extra eyelets
Cons
Could have better impact protection; mobile ankle unit
I love the D.O.N #4s because they're exactly what dedicated outdoor basketball shoes should be: able to withstand the bumps and bruises of outdoor play while supporting and elevating your game.
As a Guard, the 4's are perfect for that speedy, play-making style of ball, where innovative engineering takes these shoes up and beyond other low-tops.
Unique support
After playing 7 outdoor games in them I can say that the Issue #4s feature explosive technology that will have you blowing past defenders and dominating both ends; perfect for stretch 4, two-way play.
Whether you're playing half-court or full-court, the Ultralight propulsion has got you covered, with a supportive design that compliments the functionality and explosive power you'll need as a 1 or 2.
What's more, the full-length shank plate eliminates any over-bending or supination when you're dramatically accelerating or stopping, as well as landing; you'll be stopping and starting just like the Spida himself, and with full confidence, your shoes are up to the challenge.
And speaking of stopping and starting, the traction on the Issue #4's is based on bringing you traction down to the minute details.
The multi-directional pixelated pattern has thick, raised traction heads that prevent even the tiniest rocks, dirt, and dust from throwing off your court spread and biomechanics.
Fit & Feel
The Issue #4's LIGHTLOCK technology brings you that lockdown feel, but doesn't make it feel restrictive or too tight. It's a true-to-size feel that we felt was only amplified by the lightweight upper tech paired with the cushioned padding around the ankle (though it does sit a little low).
For the eyelets, Adidas has included 3 extra eyelets that help reduce heel slippage and give you a secure feel. The Issue #4s really got it down to the eyelets; that's the innovative, attention-to-detail that gets us excited about outdoor basketball shoes. Last but not least, it's good for players with high arches.
---
Pros
Lightweight BOUNCE midsole elevates cushioning
Contained support through careful placement of synthetic nubuck and leather
Breathable upper promotes airflow
Patterned rubber outsole lets you stop-on-a-Dame
Shoes are court-ready, with little to no break-in time required
Cons
A high-maintenance shoe, nubuck can be stained easier than other materials
For the Dames, I was really curious to test out the BOUNCE cushioning system. I found in my research that a lot of experts praised the BOUNCE cushioning on indoor courts but lacked the testing needed to determine if this tech—and if the Dame's generally–hold up as an outdoor shoe.
And let me tell you, the Dame's deliver and then some, especially if you're playing on the power forward position.
Bounce & Containment
I determined through my tests that the Dame's BOUNCE midsole provides you with responsive cushioning that's just as comfortable as it is stable.
The BOUNCE tech is nice and springy, while we found the lateral cuts and route changes supported by limiting excessive rolling and instability.
Meanwhile, the containment in the Dame's is based on the careful placement of synthetic nubuck and leather. This makes the fit feel firm and tailored to you.
Nubuck is stronger and more durable than traditional suede or mesh materials, making it perfect for harsh outdoor courts. But that's not to say there isn't breathability; the upper promotes airflow and cools as you play. I believe they're also available in black, so they would make great referee shoes.
Court-Ready
The Dame's are a court-ready shoe, making it the best outdoor basketball shoe for players who want to lace up and go without seeing a dive in their game as they break their shoes in.
And for court-ready performance basketball sneakers, the Dame's are as good as they come, with a patterned, intricately designed outsole that promotes quick cuts and even faster route changes. And they caused me no blisters.
Top Features To Look For In The Best Outdoor Basketball Shoes
Outdoor basketball courts require different equipment to play effectively. From different clothes to more durable basketballs, we can't forget about the basketball shoes.
Keep an eye out for these top features to look for in the best outdoor basketball shoe department.
Traction
At the top of the list, traction should be your number one concern.
According to a research done by Research Gate, the traction on basketball shoes is tightly related to athletic performance. 'Outdoor court' could mean a lot of things, and you want to be prepared for whatever condition it may be in.
Having lots of treads is a good thing; they help add points of contact to the ground while digging into all the different nooks and crannies you find on an outdoor court.
---
Related resource: "5 Best Non-Basketball Shoes For Basketball".
---
The pattern of the traction on your basketball shoes is also crucial, since you want to be able to move freely in any direction. The most popular traction design uses a herringbone pattern.
Companies seem to stick with the herringbone pattern, and my research shows this is a great idea. It's an optimal combination of grippy traction with multi-directional capabilities.
It's trendy amongst the best outdoor basketball shoes, although each manufacturer puts its own spin on it. The bottom line is that if a shoe has a herringbone pattern design, then it's good for outdoor play. The best outdoor basketball shoes have that.
Firm Full Length Cushioning
This may seem counterproductive since basketball courts can present tough and uneven playing conditions, but a firm footbed is what you need for impact protection.
Being able to feel the court is so important that your feet can react instinctively. You can't do that if a soft, pillowy foam midsole surrounds your feet. Unpredictable courts can cause ankle sprains if you don't have the feel of what's going on under your feet.
Besides impact protection, firm cushioning also provides a quick response time so you can spring into action from any position. The most beneficial aspect of this would be going from a standstill position.
Being able to pick up speed quickly means you're the first to the basketball and can make a play before anyone else.
Flexible Midsole
To counter a firm cushioning, you need a flexible midsole. If your shoe is too stiff, it will slow you down, and your feet won't be able to do what is most comfortable. This also helps with cuts so you can make adjustments on rugged court surfaces.
Be mindful of how flexible your feet are. A flexible midsole means less support during lateral movements. If you require ankle support, choose a basketball shoe with a firmer midsole. These don't provide extra support.
Try to maintain a firm footbed as well but not at the cost of comfort. You want to be able to wear these for hours at a time.
Price
Think about how much wiggle room you have within your price range, and at what point too much is too much.
For outdoor basketball shoes, you don't have to invest a fortune, but you certainly don't have to opt for cheap, shoddy materials.
Budget outdoor basketball shoes will cost less but be made from cheaper, non-durable materials; premium basketball shoes will bring you high performance, but ultimately won't last you as long as if you're wearing indoor basketball shoes.
Think about how much you're willing to spend and, if anything, try to stick to the mid-point of your price range; always check the source materials when buying new basketball shoes.
Durability
Not all basketball shoes feature durability. Only the great outdoor shoes feature an incredibly durable rubber outsole to stand up against rough terrain.
Look for outdoor basketball shoes that are made with a compound rubber sole. This is the most durable rubber sole you can get. There are varying degrees of compound rubber, but the basketball shoes on this list all feature a long-lasting rubber sole.
This is the category where you get your money's worth. Many outdoor basketball shoes promote a rubber sole, but can they stand the test of time? Will it still perform the same way in your 100th game as it did in your first?
If the answer is 'yes' to those, you found yourself one of the best outdoor basketball shoes.
Ankle Support
This is very important for those who have experienced ankle problems in the past. You want to play hard, but the fear of turning an ankle holds you back and reflects on your performance, especially on vertical jumps.
Most outdoor shoes are designed with mid to low-top cuts to add mobility to the player's movements. If you have ankle issues, this is the opposite of what you need.
Check out the "Lebron Witness 7" for hybrid ankle support that is between a mid and a high-top design. High-top outdoor shoes are usually more supportive at the ankle area, besides being quite popular.
And if you're interested in boosting your vertical jump height, then check out my "EVA" review.
Dense Upper Material
Choosing the right upper is more subjective since this is the part that will make the most contact with your feet.
Mesh upper is the most popular as it's lightweight and breathable, which sounds great. But players who find themselves on the outside more should opt for something a little thicker.
While you don't have to go all out and get leather high-tops, there is a range of mesh upper materials that you can choose from.
Typically, cheaper shoes are designed to save money on the full length cushioning and the upper, so you can start looking at the inexpensive shoes first if you prefer a minimal feel on foot. Keep in mind, though, that good cushioning is required for impact protection.
If they're a little too cheap or you're worried about durability, choose an upper with woven knit. This material is sturdier than mesh and will resist stretching a lot more.
Different Kinds Of Outdoor Courts
Hard Court/Acrylic
You will have very little to worry about on this surface other than dust, as hard courts are the least damaging. They provide a very level playing area, so having good outdoor basketball shoes that are low to the ground will excel here.
Concrete
A concrete court provides a level playing surface at a much cheaper cost than acrylic.
Concrete can chip and create pebbles and stones. If these get caught in your treads, you are at risk of sliding out. The best outdoor basketball shoes will have tight treads to prevent this from happening.
Asphalt
Probably the most common surface to play outdoor basketball on is black asphalt. It's also very affordable, which is why you see many residential driveways with it.
Unfortunately, this is the least durable of all outdoor courts. Despite surviving the winters, it can splinter quickly and create rocks and pebbles.
FAQ
Is JT1 Good For Outdoor Basketball?
The JT1's are not good as outdoor basketball shoes and are more so for indoor courts exclusively. The two featured traction pods make the shoes feel almost slippery on outdoor courts; the foam portions of the sole tend to offer more traction and forefoot support over the toe box rather than almost the entire length of the midfoot and heel. When playing on uneven courts, this is a no-go.
Are LeBron 20 Good For Outdoor Basketball?
The Lebron 20's are not good for outdoor basketball and are better as indoor basketball shoes. The combination of soft rubber with a thin groove design doesn't interact well with a blacktop or asphalt court. For better outdoor basketball shoes from the Lebron James signature shoe line, check out the Lebron Witness 7's.
Which Curry Shoes Are Good For Outdoor Basketball?
The best Curry shoes for outdoor basketball are the Curry z35's. With a multi-directional, thick traction pattern that is as durable as it is grippy and with ample stability through the forefoot and a TPE sockliner that adds another layer of comfort and low, underfoot compression, the Curry Z35's are perfect for outdoor use.
Is Kyrie 8 Good For Outdoor Basketball?
The Kyrie 8's are not good as outdoor basketball shoes; the 8's are more of a casual shootaround shoe rather than one made for competitive play. The outsole's durability has been known to be called into question when interacting with outdoor courts. We'd recommended considering shoes specifically designed for outdoor play for better longevity.
Is KD 15 Good For Outdoor Basketball?
The KD 15's are not good as outdoor basketball shoes, simply because the traction pattern didn't hold up during our product testing. We also noticed a bit of heel slippage during our quick cuts, and. for courts with poor playing conditions or a tonne of dust, dirt, or debris, this will make route changes and creating space that much harder.
Is Kyrie 5 Low Good For Outdoor Basketball?
The Kyrie 5 Low's are good for outdoor use and are more so intended for indoor, hardwood court play. The heat-map style traction offers a unique bite that is fit for any court, no matter the conditions. That said, many online reviewers highlight the lack of durability in the 5's construction and as a result, you should weigh that in when considering whether or not to use them through the varied court types and weather of outdoor ball.
Is Curry 10 Good For Outdoor Basketball?
The Curry 10's are not good as outdoor basketball shoes, though they have the traction pattern for it. Similar to the Kyrie 5's, the lack of durable materials make the Curry 10's unsuitable for outdoor use as they'll easily break down through hard, intense play. The Flow foam is responsive but too thin to handle textured courts unless they're parquet or smooth hardwood.
Is Kobe 6 Good For Outdoor Basketball?
The Kobe 6's are good as outdoor basketball shoes. Your hard cuts and pivots are supported by a stable, wide base while the cushioning system is perfectly balanced with a combination of court feel, comfort, and impact protection. The 6's will allow you to play at the highest level even on the harshest of courts.
Can I Wear Kyrie's Outside?
You can wear Kyrie's outside as outdoor basketball shoes. While Kyrie basketball shoes are primarily designed for indoor play, they can be worn outside, whether you're running drills or playing a pick-up game. However, it's important to note that the outsole—like in the 8's—may wear down faster on rough outdoor surfaces.
Can You Play Outdoor Basketball In Running Shoes?
You can play basketball in running shoes. Running shoes offer a lot of the features and protective engineering that basketball players need: impact protection, shock absorption, heel-to-toe transitioning, torsion, and with breathable ventilation. Keep in mind, however, running shoes are primarily low-tops and lack the ankle protection most popular basketball shoes for players like big men, have.